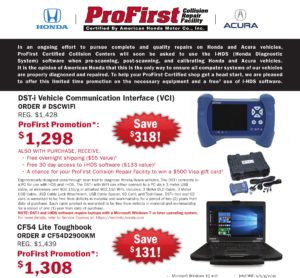 Honda wants ProFirst shops to use its i-HDS software to perform pre- and post-repair scans of customer vehicles.
"It is the opinion of American Honda that this is the only way to ensure all computer systems of our vehicles are properly diagnosed and repaired," states a promotional flyer referencing the mandate in conjunction with a scan tool sale. The document was sent to ProFirst shops Tuesday and shared with Repairer Driven News.
The promotion suggests that the rule is upcoming, but the requirement for an shop to have a tool equipped with Honda Diagnostic System software or sublet the work to someone appears to have kicked in late last year. Honda's final 2017 ProFirst equipment requirements state as much. However, OEM position statements recommending i-HDS in 2016 and 2017 imply the same thing to shops.
"We're a little concerned" about shop scan-tool capabilities, Honda collision marketing group manager Leigh Guarnieri said Wednesday. He observed that the 2018 Honda fleet was so complex, "I don't know how you can fix it without it now."
Though Honda can't control non-ProFirst shops, the requirement arguably sets the standard of repair for the entire industry by opening up anyone failing to follow what the OEM states should be done to accusations of negligence or incompetence.
The requirement doesn't mean a ProFirst collision repairer (or unaffiliated shop) must buy the Honda dealership DST-i device, Honda collision assistant manager Scott Kaboos confirmed.
"The key is the software," Kaboos said.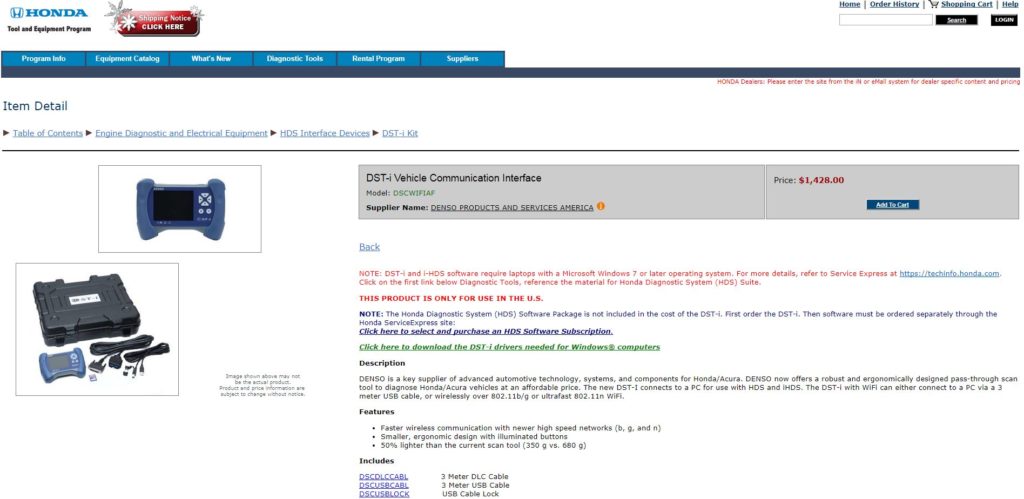 Therefore, the asTech, which patches the car to a Honda scan tool remotely, or a device like the AirPro, which can run the Honda HDS, should be fine, according to Kaboos. Both popular collision industry devices' manufacturers subscribe to the HDS software.
"We're fine with both of those devices," Kaboos said.
Under the "right to repair" agreement, it should also be possible to comply with Honda's requirement using a laptop running the HDS software — which requires a daily, monthly or yearly subscription — and any J-2534 or ISO 22900 "pass-through" device. (Obviously, the shop will need to know how to handle this setup on its own; Honda only provides technical support for the two scan tools employed by its U.S. and Canadian dealership.)
"As long as they have a way to do it," Guarnieri said Wednesday.
A shop with a tool running third-party software to scan or calibrate a Honda wouldn't be in compliance with Honda's standards.
For some tools, that should be pretty obvious. For example, a shop could buy something able to read Honda codes at Pep Boys, but the device would be insufficient for what Honda expects in a collision repair, according to Guarnieri. Kaboos also gave the example of a third-party tool unable to check beyond what's required under the OBD-II standard.
But the Honda requirement could also affect ProFirst shops who bought a professional-caliber aftermarket scan tool whose manufacturer licensed Honda's scan information but baked it into a third-party operating system.
Honda has no way of knowing if that incorporation was successful, and it's possible that a third-party licensee receiving the data once or a few times a year from an OEM would miss something updated in real-time by an automaker, according to AirPro operations Executive Director Chuck Olsen. (The latter scenario doesn't happen often for older vehicles, but it's possible that a bug reported to an OEM might be fixed earlier on the OEM's software than it would on the third-party OS, Olsen said.)
A shop whose scan tool can connect to the actual i-HDS software wouldn't raise those concerns. As an FCA collision manager discussing scan tools once put it, "We know ours is right."
The AirPro uses a blend of third-party and OEM software to scan and calibrate vehicles, but Olsen said the company could easily allow ProFirst shops to solely work off of i-HDS so that they're meeting the letter and spirit of Honda's requirement.
Shops looking to subscribe to i-HDS themselves and handle the entire diagnostic process internally (rather than lean on asTech or AirPro's diagnosticians to interpret results) might want to consider the four J-2534 devices Honda has formally discussed.
Two are just its U.S. and Canada dealership scan tools from Denso (the DST-i) and Bosch (the MVCI), respectively.
Honda also acknowledges that the manufacturers of the MongoosePro Honda (Drew Technologies) and the D-BriDGe Pro (the Dearborn Group) have "completed an independent i-HDS validation and (claim) it to function with the i-HDS software." However, the OEM warns "Honda does not provide ongoing validation, nor customer support" for the MongoosePro and D-BriDGe.
Honda's sale on the DST-i for ProFirst shops runs through March 2, knocks $200 off the price and provides free shipping and a month of free i-HDS access. A month's subscription is normally $133, and a year costs $1,547, according to the National Automotive Service Task Force, which has a fantastic scan tool resource page here.
Honda will also sell a "Toughbook" laptop meeting the minimum specs for the scan tool and software at a discount if the shop doesn't have a suitable computer.
"We just did it to try and help some of the shops … be able to do it," Guarnieri said of the promotion. "… We're just trying to make it convenient for them."
The promotion was sent to ProFirst shops Tuesday, and 50 people had already signed up to take advantage of Honda's offer, Guarnieri said late Wednesday morning.
"I think they get the need for it," Guarnieri said.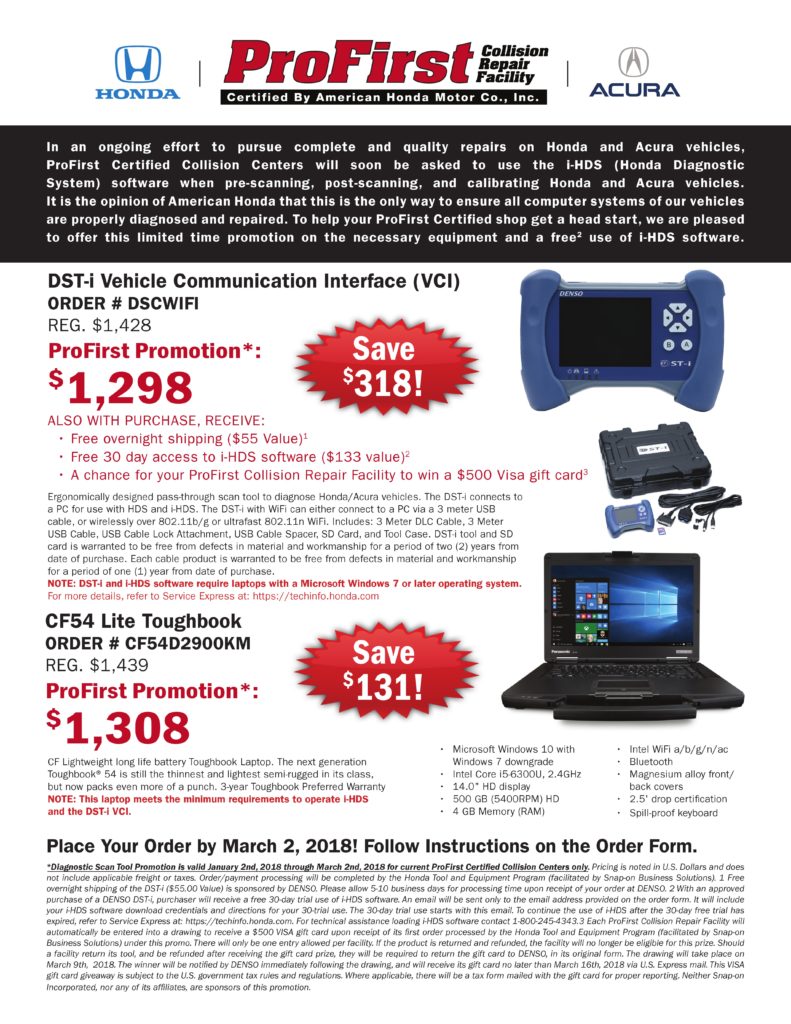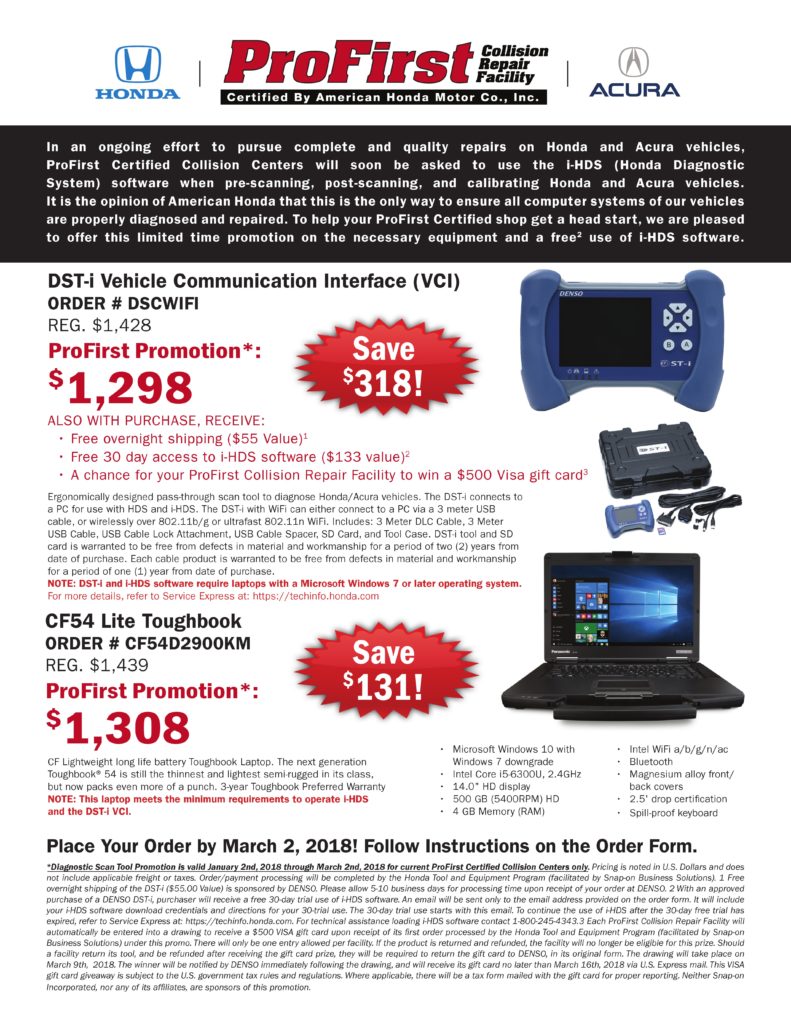 Non-ProFirst shops can still buy the Honda scan tool, laptop and i-HDS subscription; they just likely won't be offered the same discount, Kaboos said.
As mentioned above, the use-i-HDS-or-sublet requirement effectively existed before Honda's new promotion. Honda is just stressing the requirement more clearly, and, as Guarnieri noted, cutting ProFirst shops a deal on the equipment to make it easier.
"This shouldn't be new news to these shops," Kaboos said.
Kaboos doubted that Honda would ever exclude ProFirst shops from subletting scanning to Honda dealerships as an alternative to owning an i-HDS device. However, he noted that given the need for calibrations, a scan tool could be a "profit center" for any body shop handling the work in-house.
With as few as 10 Hondas a month, a shop could make a "ton of money" with its own diagnostics capabilities, Kaboos predicted.
Share This: