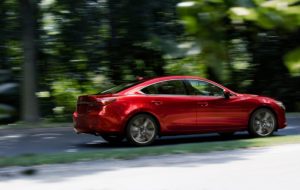 Mazda refreshes 2018 Mazda6 with thicker mild steel, revamped chassis; higher-strength steel BIW elements unchanged
By on
Repair Operations | Technology
Mazda announced late last year that the refreshed 2018 Mazda6 would receive body reinforcements and chassis changes meant to provide a quieter ride and greater capabilities.
Mazda spokesman Jacob Brown on Monday said the changes to the body involved thickening mild steel elements and didn't include increasing the tensile strength of the higher-strength steel parts.
The OEM thickened the mild-steel cowl crossmember from 1.2 mm to 1.8 mm, the Mazda6 front floor panel increased from 0.6 mm to 1.0 mm, and the rear wheel housings' inner walls doubled from 0.7 mm to 1.4 mm, according to Brown.
Mazda also retooled the chassis and suspension, which could affect certain collision repairs.
In this latest round of thoughtful improvements, engineers have revisited every aspect of Mazda6's chassis, with its suspension offering a smoother, more linear ride quality and greater NVH refinement similar to the ultra-quiet CX-9. Its steering rack is now rigid-mounted to the chassis, offering greater steering response and feel, and its SKYACTIV-CHASSIS has been stiffened in complement with the revised suspension to offer both a smoother ride and to improve outright dynamic performance.
Enabling this more comfortable ride without compromising the Mazda6's handling, the suspension geometry has been revised, with roll-steer changes that promote more neutral handling.
Additionally, body reinforcements, thicker sheet metal in the rear wheel-wells, reinforced chassis bracing and even thicker suspension trailing link mounts help improve interior conversation sound quality, putting Mazda6 into rarified air when it comes to quietness, refinement and capabilities.
Spokesman Jacob Brown was also nice enough to provide a look at the unchanged higher-strength steel elements on the 2018 model year and all 6s dating back to the generation's Job One, part of the 2014 model year. This might be of interest to shops and techs who don't see many Mazdas; the Mazda6 itself sold 33,402 units last year.
Anything in dark blue is ultra-high-strength steel of either 780 megapascals, 980 MPa or a whopping 1,800 MPa. The blue locations are 590 MPa, and the light blue components are either 390 MPa or 440 MPa.

Other potential elements of interest on the 2018 refresh:
For the painters: Customers can now buy the car in Soul Red Crystal, which like the Machine Gray Metallic coating already available on the Mazda6 can add additional complexities.
The Mazda6's paint job itself will "extend lower on the body," according to Mazda. It looks like painters might have a little extra surface on the two bumper fascias at least.
The car has a new grille.
Adaptive cruise control with "Stop and Go," a 360-degree viewer and a Windshield-projected Active Driving Display head-up unit are options.
LED headlights are standard with integrated fog lamps.
Here's the 2018 (Images 1 and 3) compared to the 2017 Mazda6: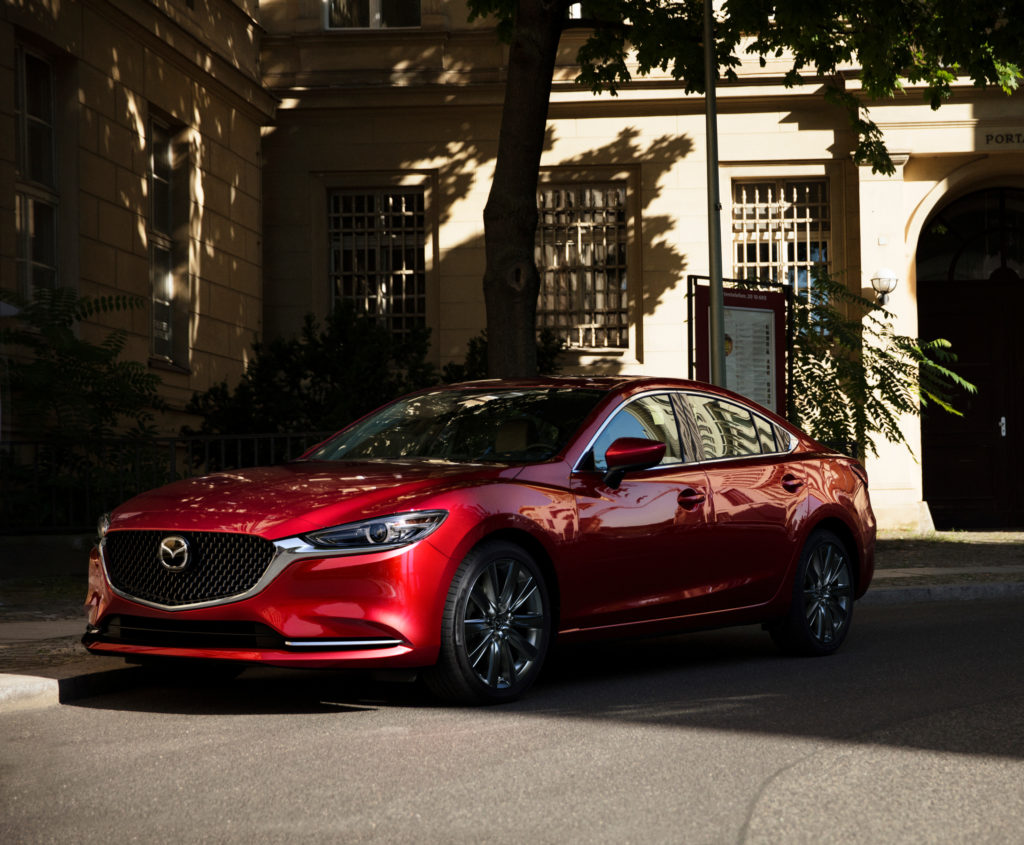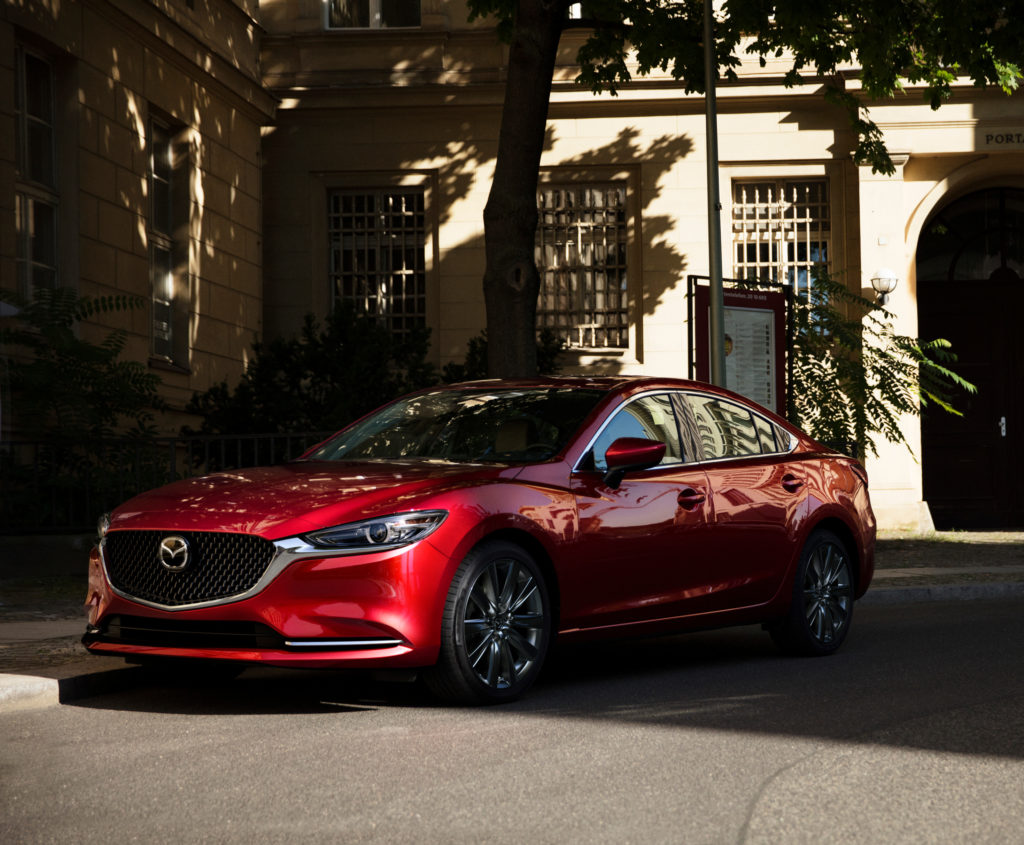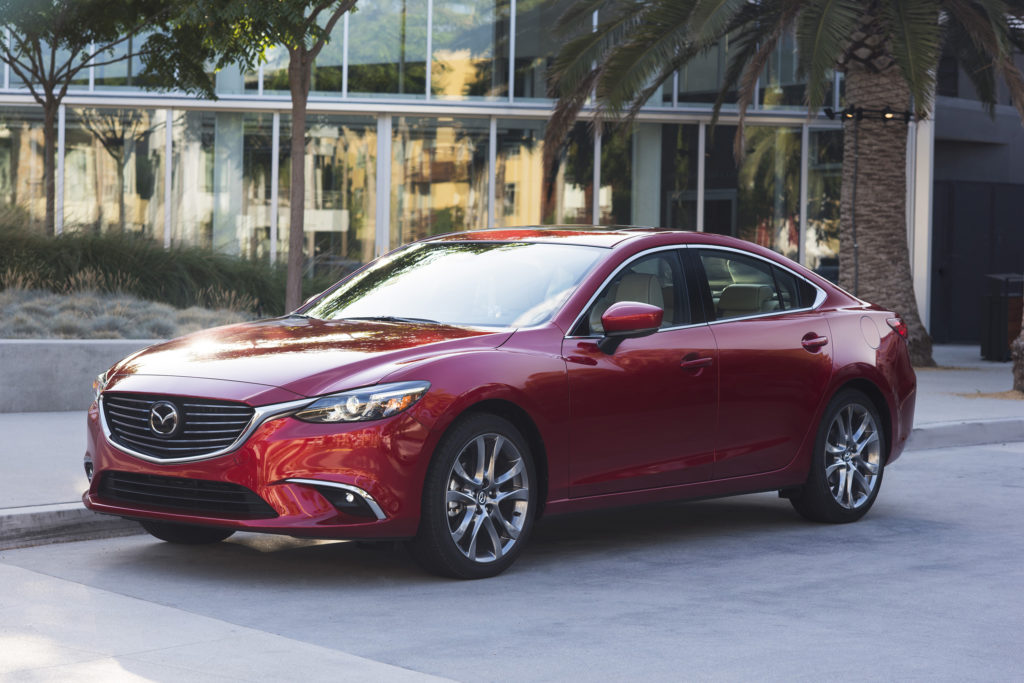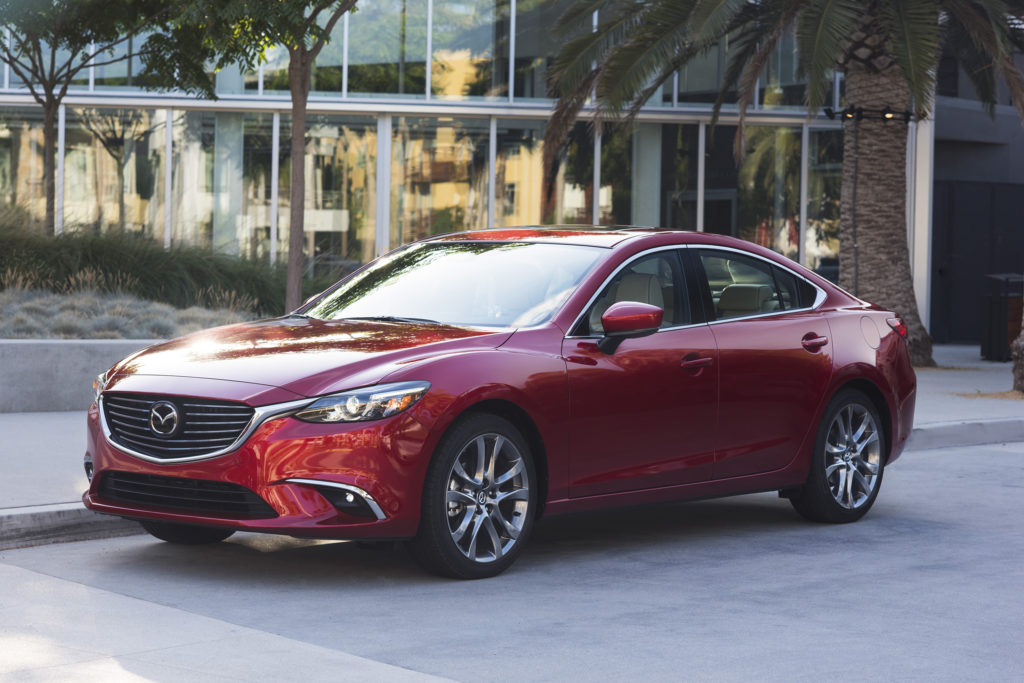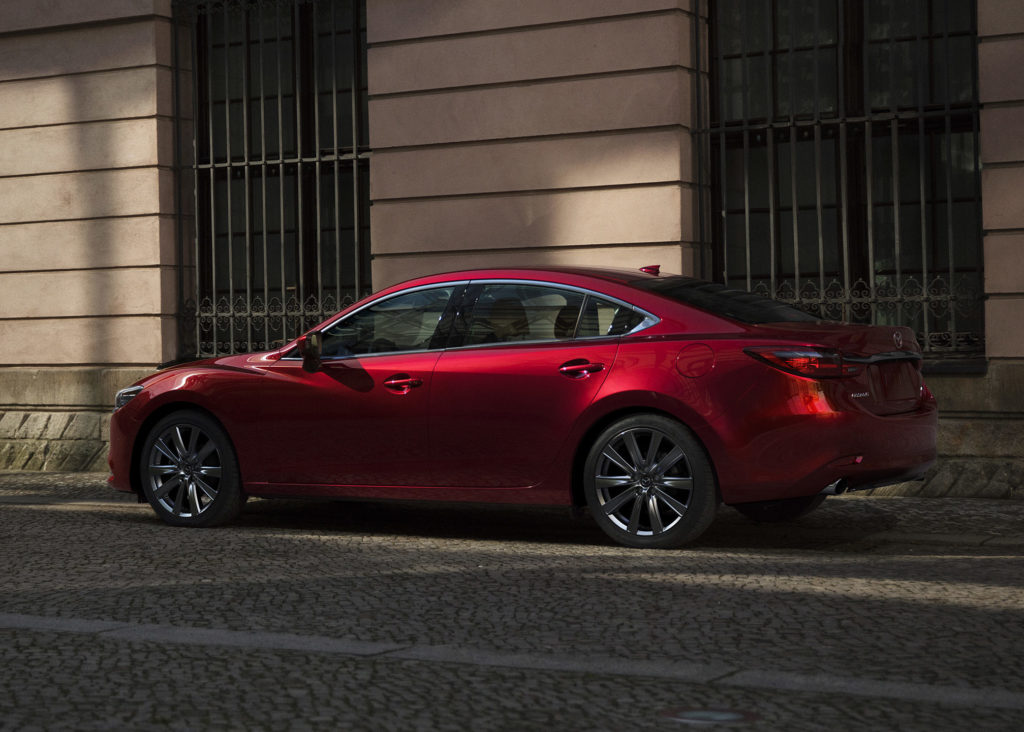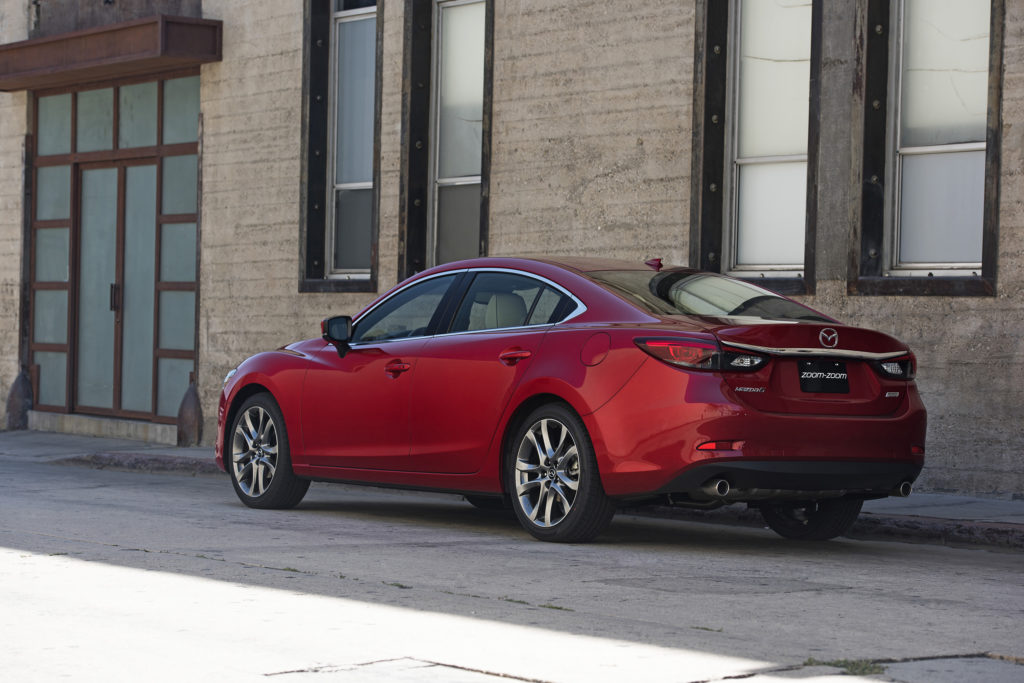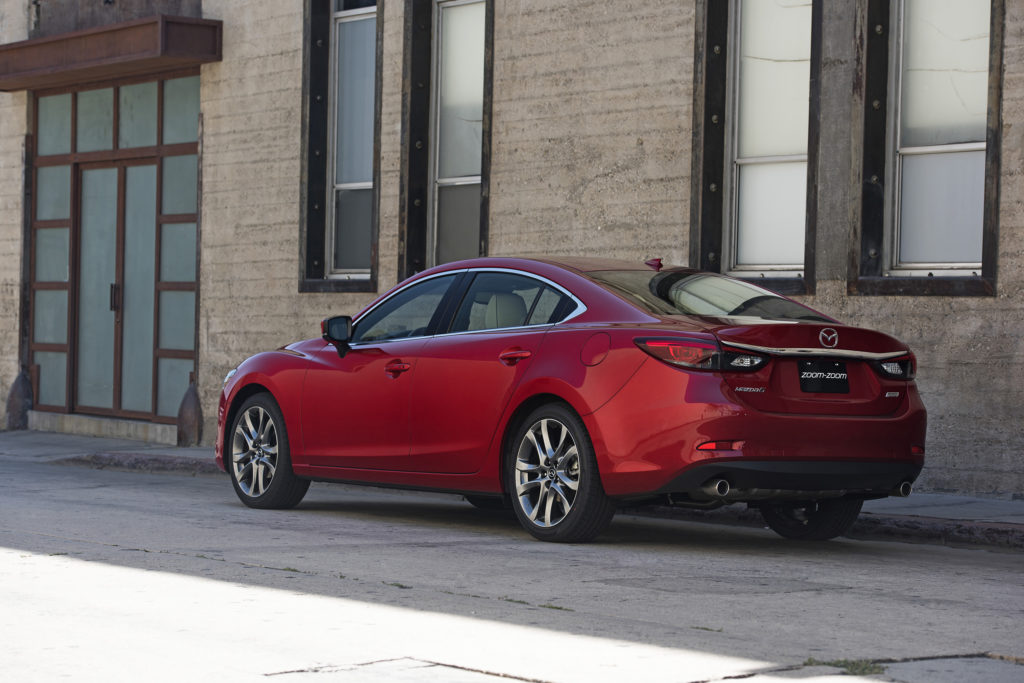 More information:
"RE-ENGINEERED, REFINED MAZDA6: MAZDA'S PATH TO PREMIUM"
Mazda, Nov. 29, 2017
Images:
The refreshed 2018 Mazda6 is shown. (Provided by Mazda)
The body-in-white of the current-generation Mazda6's Job One, part of the 2014 model year. Anything in dark blue is ultra-high-strength steel of either 780 megapascals, 980 MPa  or a whopping 1,800 MPa. The blue locations are 590 MPa, and the light blue components are either 390 MPa or 440 MPa. (Provided by Mazda)
The 2017 Mazda6 is shown. (Provided by Mazda)
Share This: