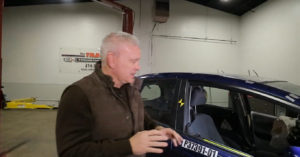 A new video from attorney Todd Tracy suggests how a passenger can be put more at risk when auto body shops use aftermarket parts or an unapproved repair method to fix a vehicle.
The film primarily concentrates on what Tracy in the video called "pass-through" — the length of seatbelt passing through the D-ring as the crash impact hurls the occupant forward before being halted by the airbag.
"When you mess around with the vehicle's tuning, devastating consequences can happen," Tracy said. "And don't take my word; … you trust the data from the scientific testing."
A control, unaltered black 2010 Honda Fit posted 8 inches of seatbelt pass-through during a 40 mph moderate-offset crash test Karco Enginering conducted for Tracy in December. Tracy described that "baseline" measurement as similar to the one found by the Insurance Institute for Highway Safety's identical crash test of a 2009 Fit years ago. (The 2009-13 Fits are part of the same structural design generation and were considered identical by Tracy and the IIHS for the purposes of crash testing.)
A red 2009 Honda Fit, which received Honda-unapproved repairs including a glued roof (Honda demands welds) and an aftermarket windshield (Honda doesn't recommend imitation parts), registered 12 inches of pass-through after another identical crash test.
"What does that do to the human body?" Tracy asked in the video, explaining that it affects "kinematics" — how the occupant moves forward and backwards to and from the airbag, respectively. It also can affect the Head Injury Criterion — your brain's ability to withstand crash forces without injury, according to Tracy — by having excessive airbag engagement send the occupant's head striking a different part of the head restraint, he said.
A blue 2013 Fit with multiple aftermarket parts, "actually allowed 13 inches of pass-through to go over" on a third moderate-overlap crash test, Tracy said.
That affects the HIC, as "you end up missing almost the entire head restraint," Tracy said. Footage shows the head of the aftermarket-parts passenger striking the head restraint and lolling around the side of it.
Tracy said the crash tests prove "when you change the assembly … and when you alter the material of the vehicle, than that has devastating consequences to the restraint system performance" seen on the seatbelts.
The two experimental Fits also showed more severe leg and ankle results, according to Tracy.
"These numbers are all increased dramatically when you alter the material and you alter the repair like we see in our vehicle's crash test," Tracy said.
More information:
"Crash Tests Prove Aftermarket Auto Parts & Non OEM Repairs Cause Serious Injuries"
Tracy Law Firm, Jan. 12, 2018
Featured image: Todd Tracy of the Tracy Law Firm said in a video that two experimental Honda Fits saw higher passenger-side seatbelt "pass-through" measurements than a control Honda Fit from the same 2009-13 design generation after a 40 mph moderate-overlap crash test. (Screenshot from Tracy Law Firm video)
Share This: