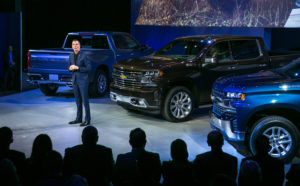 General Motors announced Saturday that a "mixed materials strategy" removed up to 450 pounds of weight from the next-generation Chevrolet Silverado.
"With the all-new Silverado, we've taken the best truck on the road and made it even better," GM global product development, purchasing and supply Executive Vice President Mark Reuss said in a statement. "It has a longer wheelbase, more passenger and cargo volume, and yet, thanks to our mixed materials strategy and mass reduction expertise, the new truck is 450 pounds lighter than the current model."
Though General Motors has poked fun at rival Ford's use of aluminum in the next-generation F-150, Chevrolet said Saturday the 2019 Silverado features aluminum "exterior swing panels" — the doors, hood and tailgate.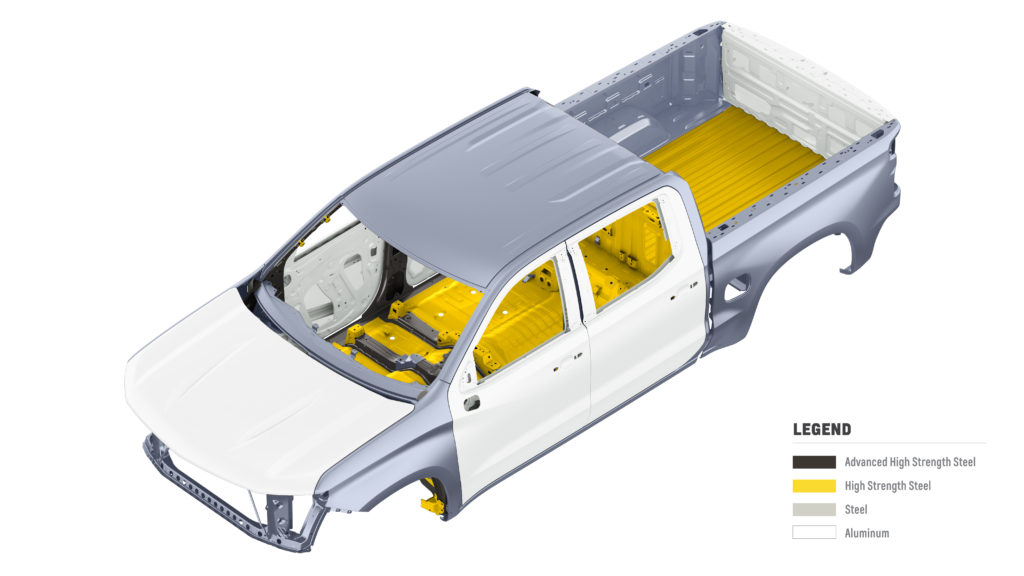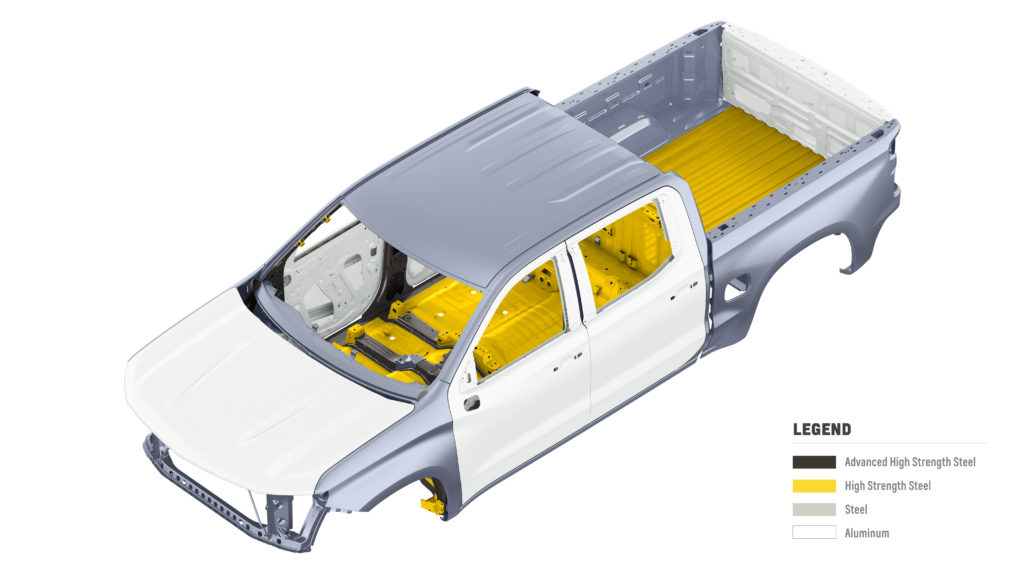 Silverado marketing and advertising manager Hugh Milne said Monday that both the inners and outers of those closures are aluminum, though he couldn't be sure of the material used for the door side-impact reinforcement beams. (The sliding doors on the 2017 Chrysler Pacifica, for example, contain ultra-high-strength steel beams inside of aluminum inners and outers.)
Chevy also used forged aluminum for the front suspension's upper control arms.
The bulk of the body still relies on steel, including a cab safety cage with "seven different grades of steel, each tailored for the specific application," according to Chevrolet. Overall, the 2019 Silverado's body weighs 88 pounds less than the 2018 Silverado.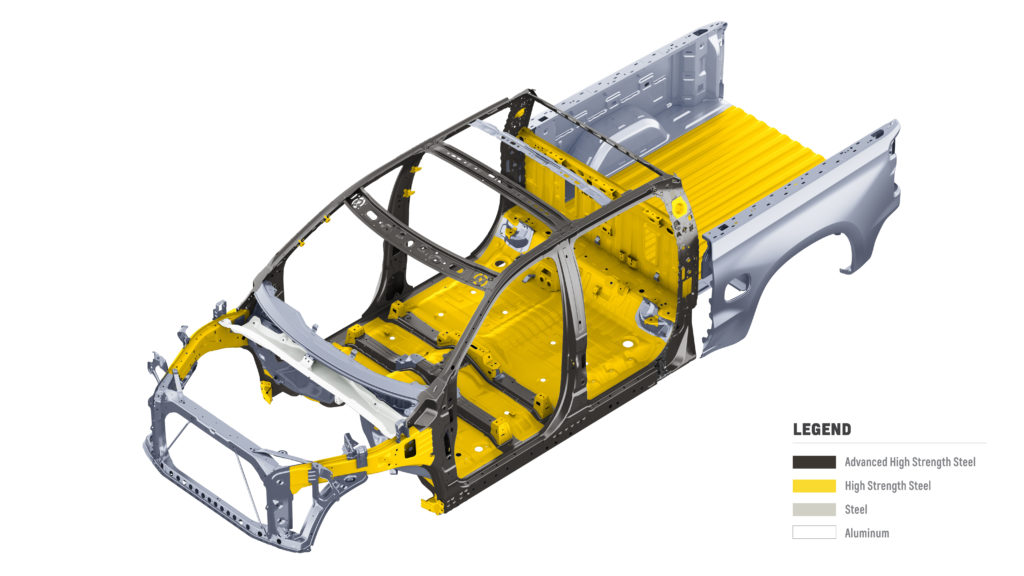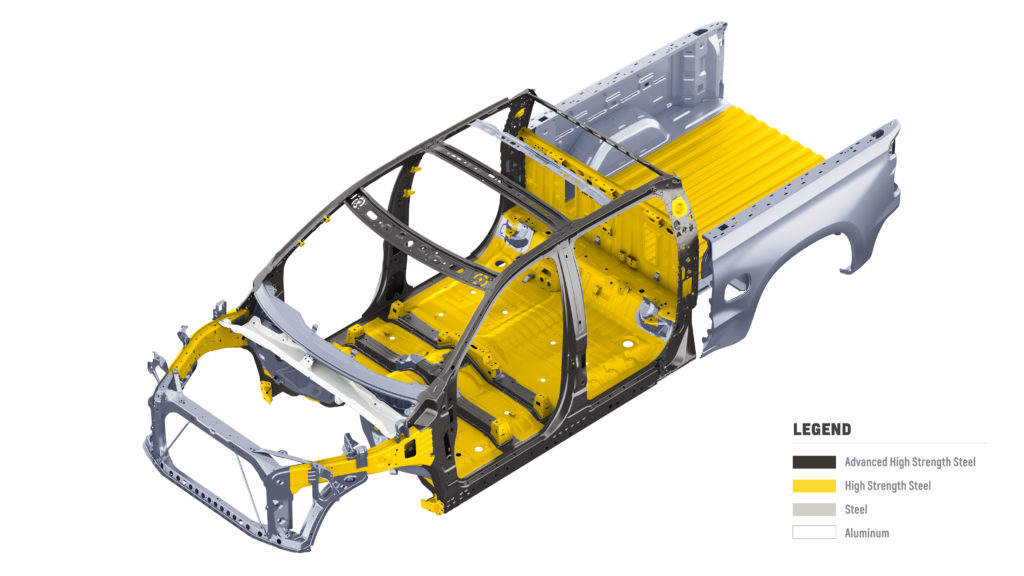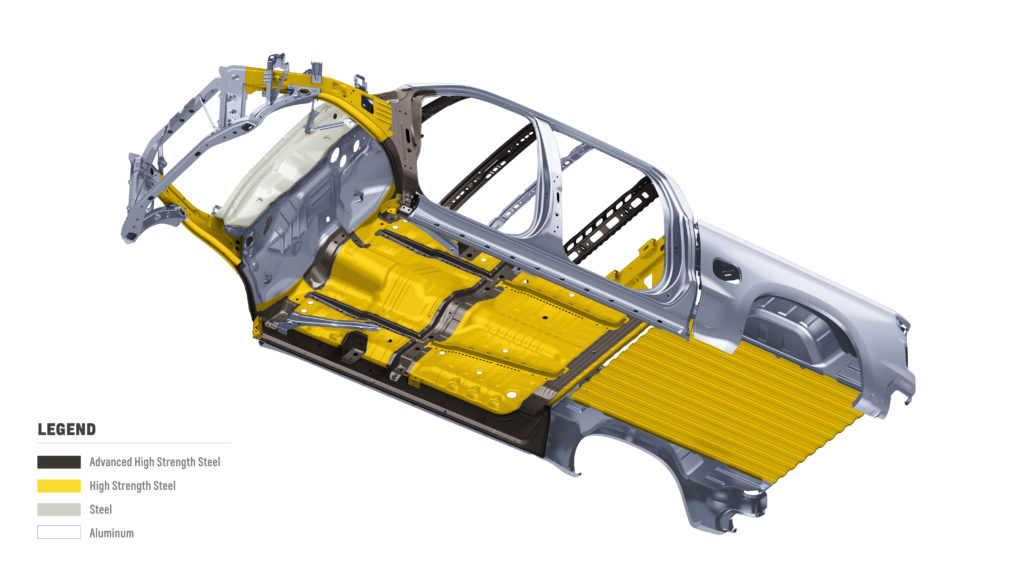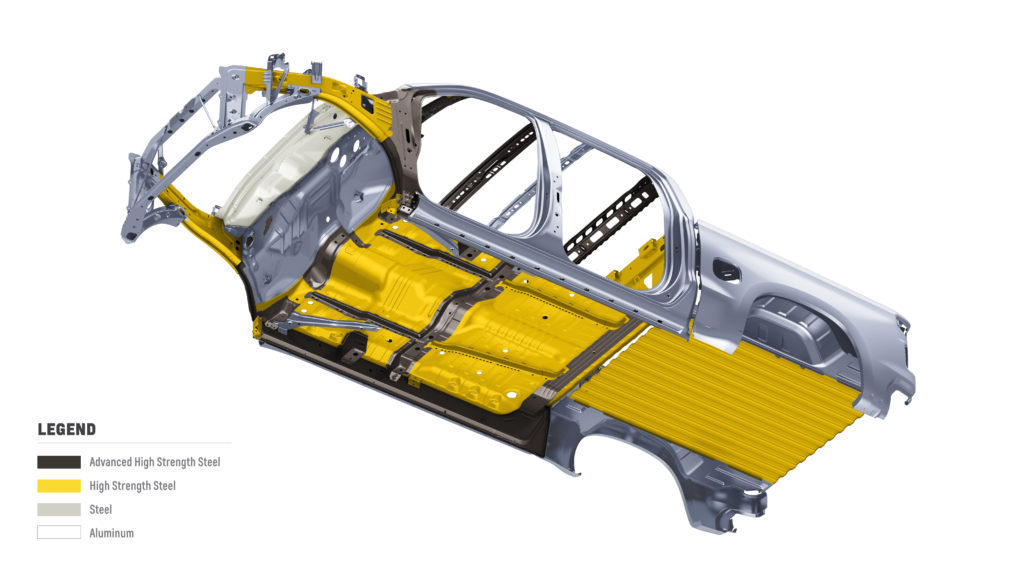 Though only a few parts are aluminum, a shop might still need to invest in tools and space to handle that material or risk corrosion.
Chevrolet also increased the strength of the Silverado frame itself for 10 percent better rigidity and 88 pounds of weight savings.
"Eighty percent of the frame is made of high-strength steel varying from 2 to 5 millimeters in thickness, and every millimeter is optimized for performance using a variety of processes, including hydroforming, roll forming, conventional stamping and tailor-rolled blanking," Chevrolet wrote in a news release. "As a result, frame sections, gauges, grades, processes and materials strategically vary to maximize strength, durability and stiffness without adding unnecessary mass."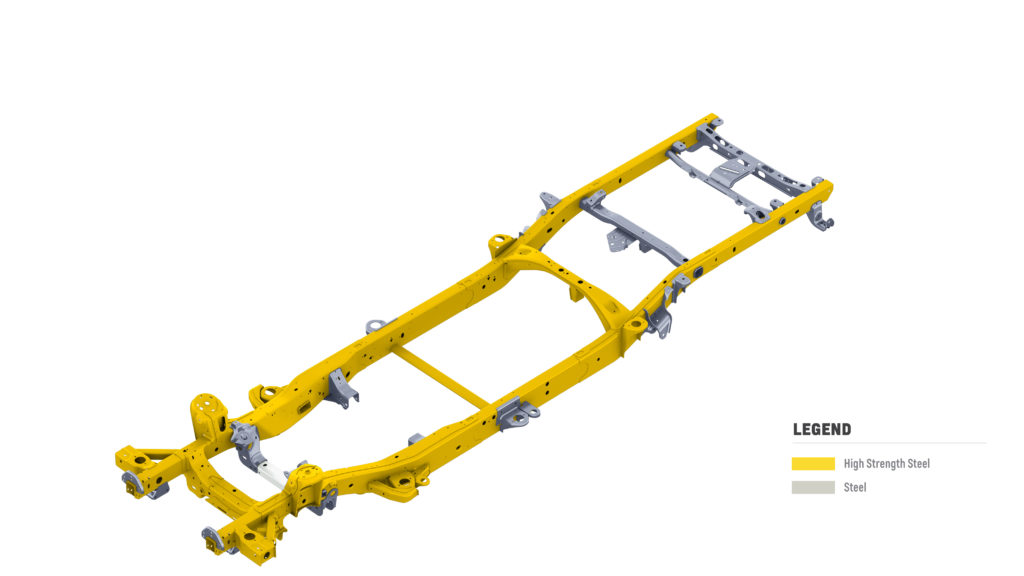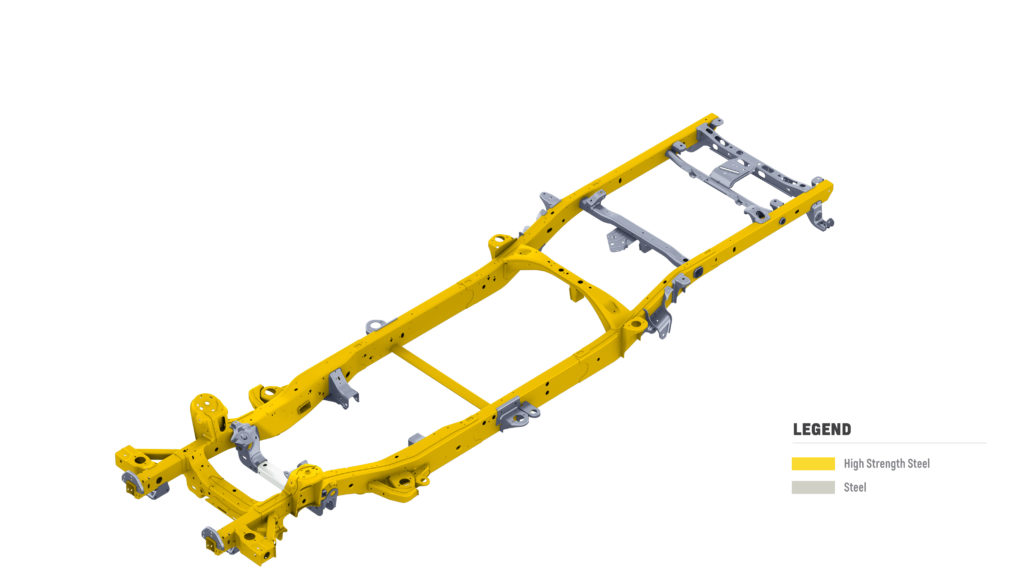 GM also has poked fun at Ford by showing the results of landscaping blocks dropped upon the F-150's aluminum bed and the Silverado's steel bed. For the 2019 model year, Chevrolet cranked up the yield strength on the Silverado's high-strength steel bed floor even further, from 340 megapascals to 500 MPa "for optimal strength and mass."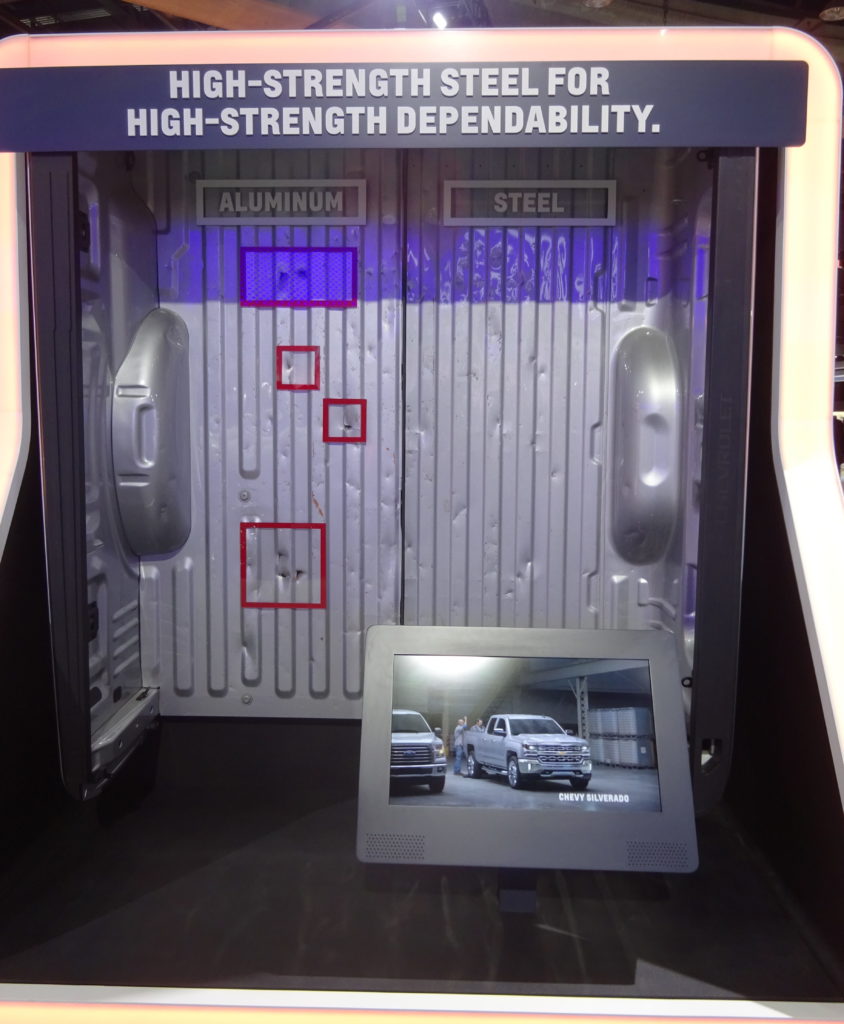 GM's descriptions of a variety of different metals tailored for specific applications should drive home that it will be impossible to properly repair the hugely popular vehicle without consulting OEM repair procedures. And the gadgetry on the eight trims of the vehicle means shops can't expect to perform a proper repair with only the free GM collision procedures; they'll have to ante up for the paid site and access to mechanical repair data.
But make no mistake — referencing collision and mechanical OEM repair procedures has been a necessity for GM vehicles long before the 2019 Silverado took the stage this month.
Chevy describes the eight trims as follows:
• Work Truck features "CHEVROLET" graphic across the grille and tailgate, blacked-out trim and 17-inch steel wheels for maximum durability. The interior features durable vinyl or cloth seats and 7-inch color touch screen.
• Custom features a body-color styling theme, 20-inch painted aluminum wheels, LED signature taillamps and available integrated dual exhaust.
• Custom Trailboss (new for 2019) adds off-road equipment to the Custom, including a 2-inch suspension lift and the Z71 Off Road Package with a locking rear differential, skid plates, Rancho shocks, 18-inch wheels and Goodyear Duratrac off-road tires. …
• LT features chrome accents on the bumpers, front grille and mirror caps, Chevrolet bowtie in the grille, LED reflector headlamps and signature daytime running lights. The interior features an 8-inch color touch screen and available leather seating surfaces
• RST (new for 2019) brings a street-performance appearance to the LT, with body-color trim, full LED lighting (foglamps, headlamps and taillamps) and up to 22-inch wheels with all-season tires.
• LT Trailboss (new for 2019) adds off-road equipment to the LT, including a 2-inch suspension lift and the Z71 Off Road Package, including locking rear differential, skid plates, Rancho shocks, 18-inch wheels and Goodyear Duratrac off-road tires. …
• LTZ features chrome accents on the bumpers, front grille, mirror caps, door handles and hockey-stick beltline as well as power folding and heated outside rearview mirrors. Leather interior trim is standard equipment.
• High Country features an exclusive front grille design with two-tone chrome and bronze finish, body-color accents plus chrome assist steps from wheel to wheel. It also includes the power up/down tailgate as standard equipment.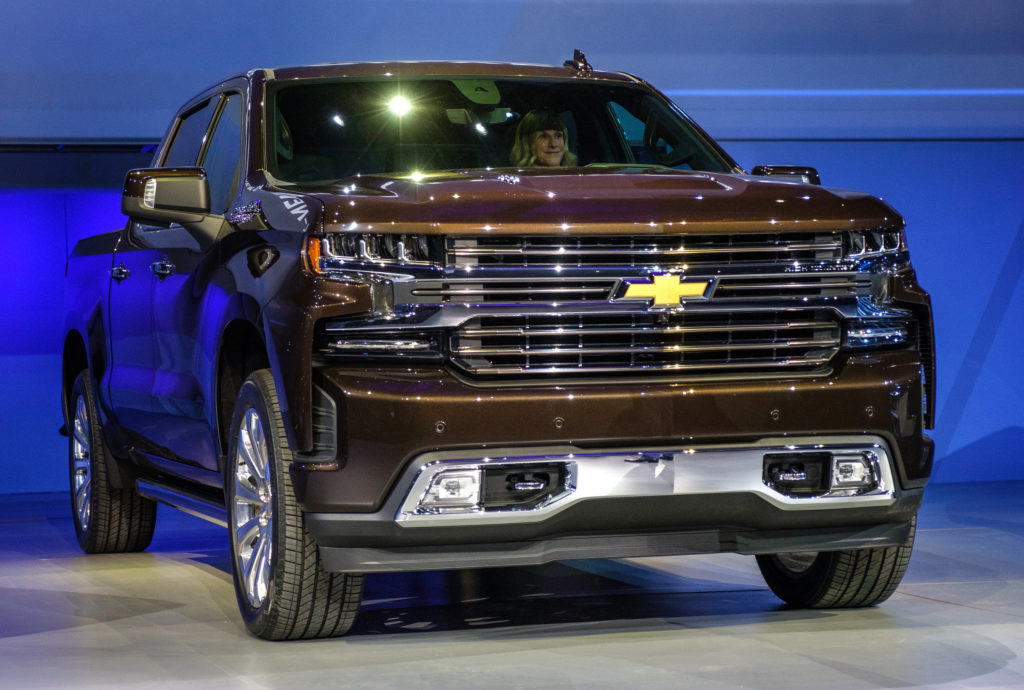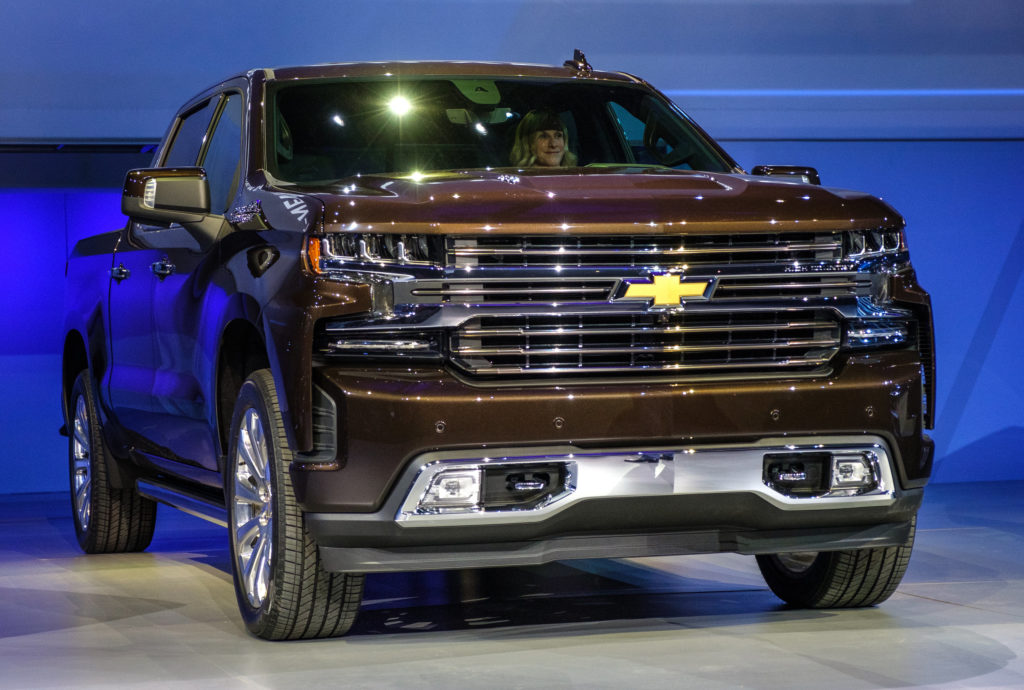 Build data has been crucial for a proper repair for years, but those unwilling to accept it or attempting to eyeball all of the options on a customer's vehicle should finally see the light when confronted with the 2019 Silverado's eight trims and various options within them.
One final bit of food for thought: When assessing your repairs and the like kind and quality nature of aftermarket Silverado components, consider that GM reported having "doubled many of the key validation metrics for the next-gen truck" and plans to have racked up 7 million miles of testing before its first Silverado sale. That's the pre-loss performance you need to restore.
"Truck customers told us they depend on their trucks for much more than just transportation," full-size trucks chief engineer Tim Herrick said in a statement. "Many use their trucks to earn a paycheck, or to do what they enjoy most when they're off the clock. Given how important trucks are to our customers, we set a lofty goal for exceeding the dependability and longevity of the current Silverado."
More information:
"INTRODUCING THE ALL-NEW 2019 CHEVROLET SILVERADO"
Chevrolet, Jan. 13, 2018
Collision repair documents on General Motors' Genuine GM Parts
General Motors ACDelco TechConnect full OEM repair procedures
Images:
General Motors global design Vice President Mike Simcoe appears Jan. 13, 2018, at a presentation featuring the 2019 Silverado 1500 LTZ, left, High Country, center, and LT. (John F. Martin for Chevrolet/Copyright General Motors)
General Motors announced Saturday that a "mixed materials strategy" removed up to 450 pounds of weight from the next-generation 2019 Chevrolet Silverado. (Copyright General Motors)
GM has poked fun at Ford by showing the results of landscaping blocks dropped upon the F-150's aluminum bed and the prior-generation Silverado's 340-megapascal (yield strength) steel bed. The 2019 Silverado has a 500 MPa bed. (John Huetter/Repairer Driven News)
The 2019 Chevrolet Silverado 1500 High Country was unveiled Jan. 13, 2018. (Steve Fecht for Chevrolet/Copyright General Motors)
Share This: