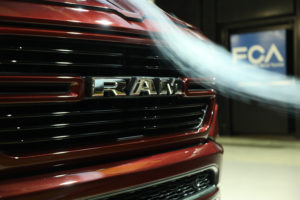 The next-generation 2019 Ram 1500 possesses what FCA called "class-leading aerodynamics," but this accomplishment could introduce additional complexity into the collision repair process.
The pickup comes standard with two aerodynamics-focused moving parts that seem like prime targets for being damaged in a collision, potentially adding to severity. Both are in the front of the truck, and Mitchell data from 2016 found that 45 percent of all crashes involve that side of a vehicle.
A standard air dam lowers itself 2.5 inches from the front of the 1500 whenever the truck nears 35 mph. The only exceptions will be Ram 1500s whose owners bought the air suspension option — as that aerodynamic feature drops the truck 0.6 inches, the air dam would have been scraping the ground, a spokesman explained — and the Rebel trim.
"It is the first of its kind on a high-volume production vehicle," air dam creator Magna wrote in a news release Wednesday.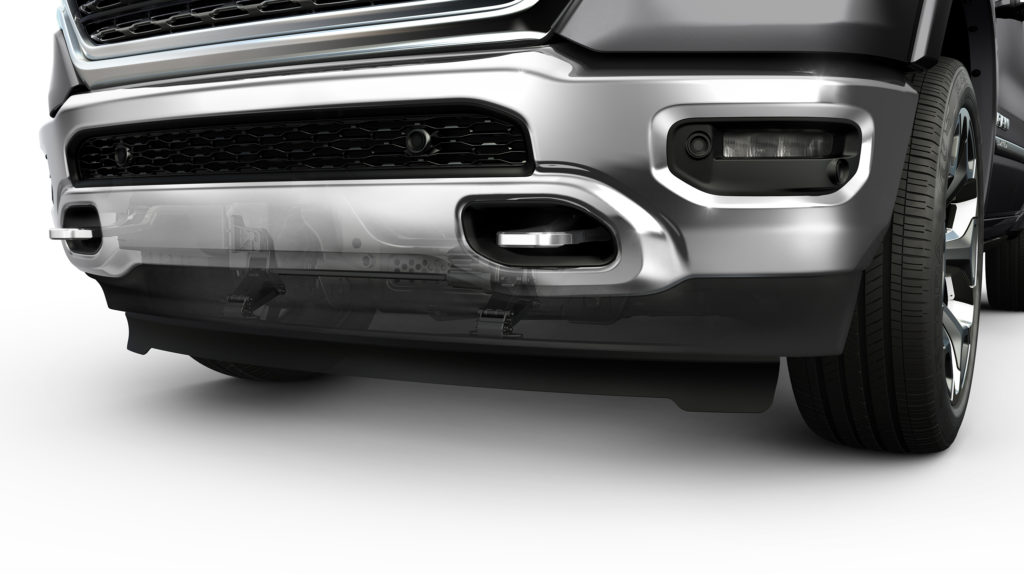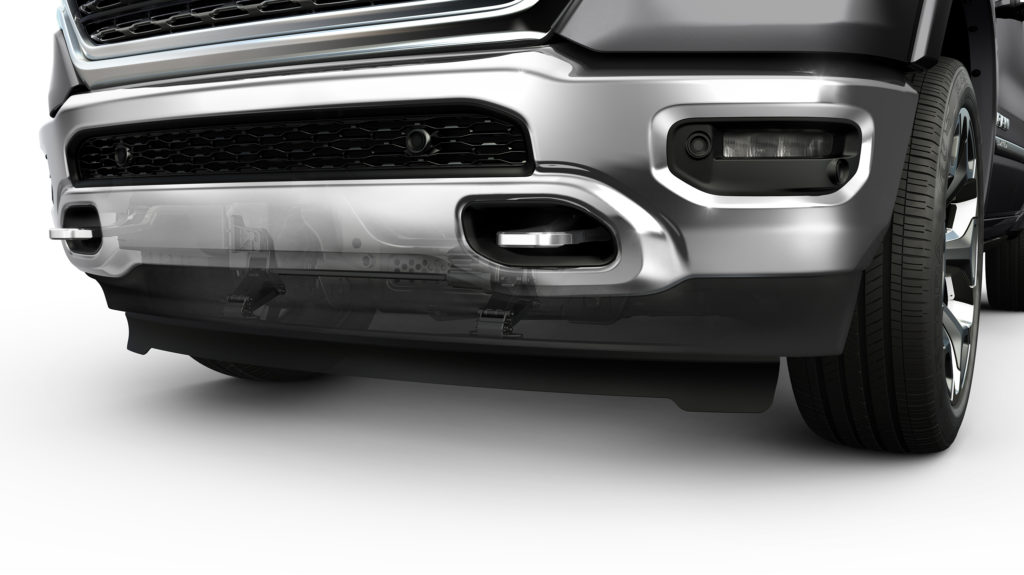 "We appreciate the opportunity to collaborate with the Ram engineering team and bring our new air dam system to market on the new Ram pickup," Magna Exteriors President Grahame Burrow said in a statement. "As automakers seek ways to meet emissions and fuel-economy targets, our innovative solutions are able to combine styling with aero to take vehicle performance to new levels."
All Ram 1500s will also come standard with active grille shutters, which can automatically close themselves when appropriate for optimal airflow. They're located behind the grille. Some shops might have encountered the technology as an option on prior 1500s or on other cars — Magna says more than 10 million of its active grilles are driving around today.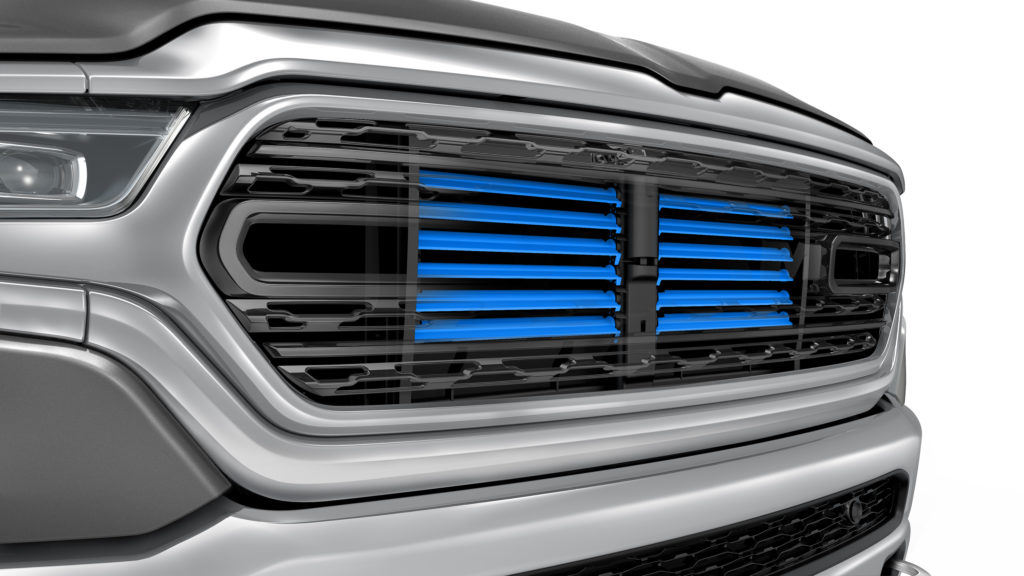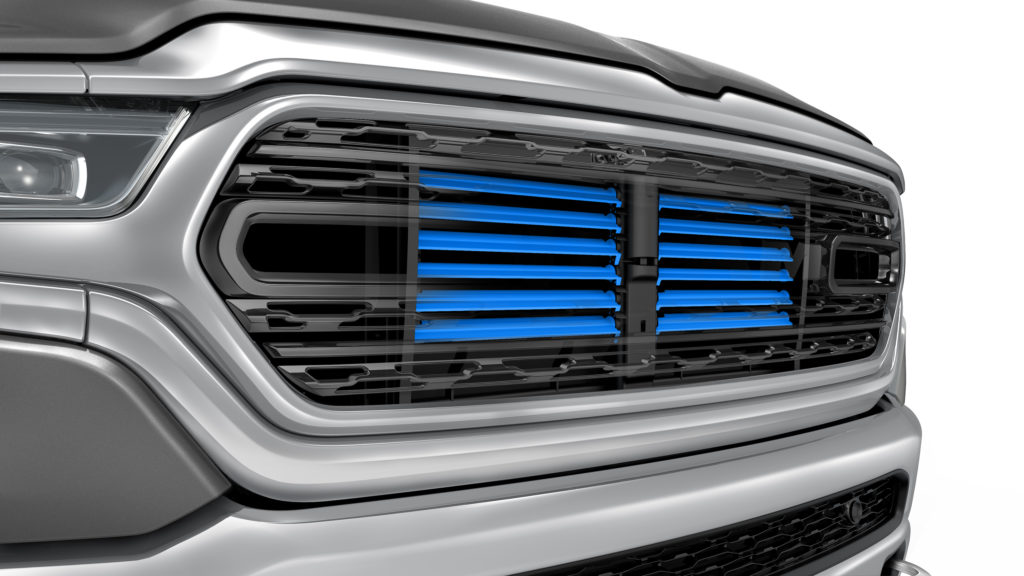 2019 Ram 1500 aerothermal manager Marc Babich said in an FCA video that the OEM moved the active shutters closer to the grille in the 2019 truck for better performance.
Magna wrote that its active air dam and active grille use "smart actuators" which "communicate directly with the vehicle's control systems and ensure the aero systems deploy correctly, based on vehicle inputs such as speed, temperature and drive mode." It seems as though some sort of calibration might be needed when a shop works on either system.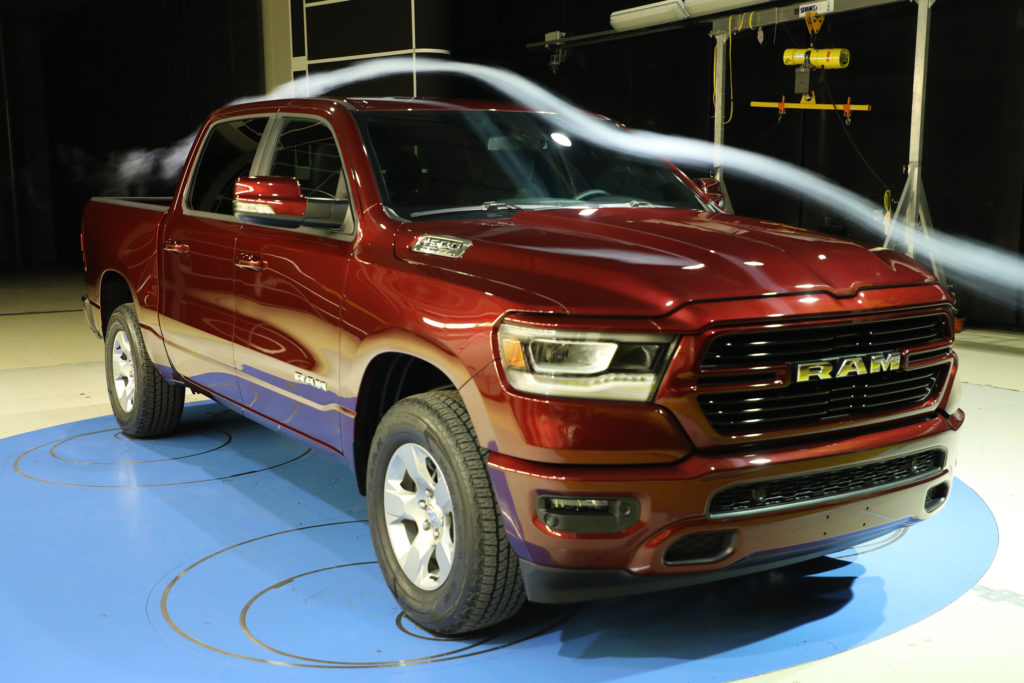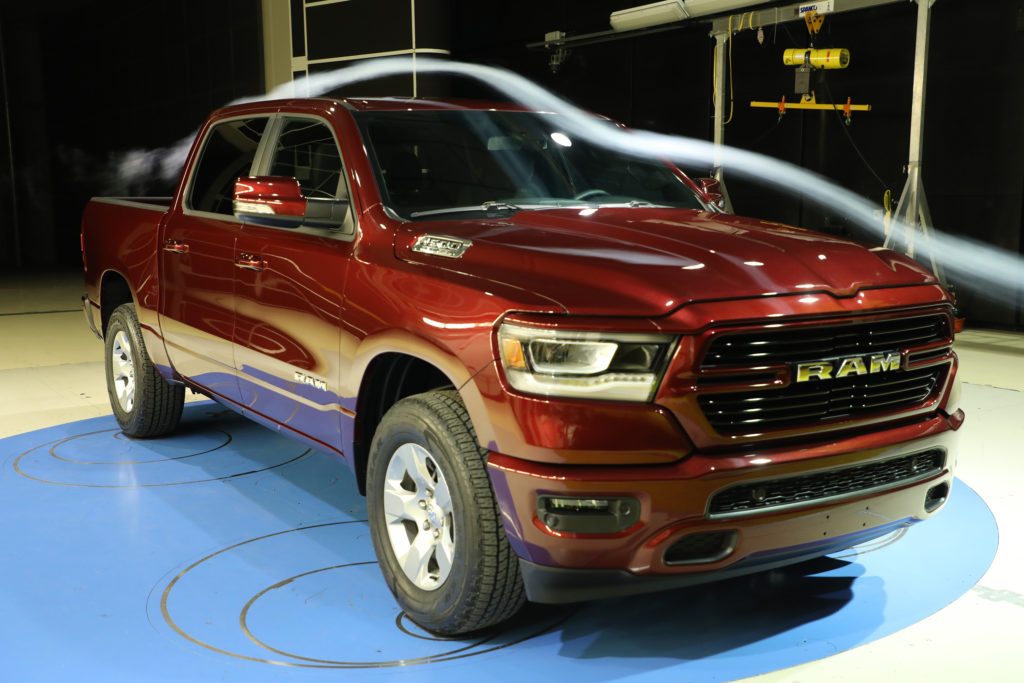 Magna reports that the active grille and air dam will help 2019 Ram 1500 drivers lose 7 percent of drag and save 1 mpg. "Across the Ram truck fleet, the active aero system is expected to save an estimated 10 million gallons of fuel annually," the Tier 1 supplier wrote.
It'd be hard for many shops to miss the Ram 1500 — FCA sold more than 500,000 last year — but even repairers and insurers in less truck-intensive areas might encounter such technology soon.
Magna reports that its active aerodynamics capabilities "has grown significantly in recent years," and it also can provide "active underbodies, active wheel deflectors and active rear diffusers, which can be applied across all vehicles from small cars to commercial trucks."
Passive aerodynamics
Besides the gadgetry of the active systems, 2019 Ram 1500 introduces passive exterior aerodynamics designs which might complicate life for body men and women:
The new Ram 1500's elevated hood better directs air away from the wiper area – improving overall aerodynamics and reducing wind noise. A new venturi roof design directs air back to the rear spoiler – making it the most effective pickup roof treatment to date.
Significant time was dedicated to designing the truck bed itself to increase usability and aerodynamics. Bed rails are raised by 1.5 inches to reduce drag as does a new spoiler on the new aluminum tailgate. The bed-to-cab execution is sub-flush to reduce disturbance alongside the body. A wheel-to-wheel tubular side-step design offers aerodynamic improvements by allowing air to pass around the truck more smoothly.
On the whole, the 2019 Ram 1500 has 9 percent better aerodynamics than the 2018 1500, and the Quad Cab 4×2 has a 0.357 coefficient of drag, according to FCA. The OEM's Ram aerodynamics video demonstrate some of the areas where sloppy body work could compromise what the engineers have accomplished.
Here's a few other highlights outside of aerodynamics that shops and the insurers trying to anticipate severity might find interesting:
Tailgate engineering: "Unlike most competitors, Ram uses a nitrogen- and oil-charged strut, which gives consistent assist in even the coldest or warmest climates and consistent assist through the entire tailgate swing. The latch-and-lock mechanism is now electronic, reducing the amount of moving parts and allowing owners to drop the tailgate with the interior switch, remotely with the key fob or unlock/open with passive entry."
Taillamps: One configuration apparently houses the blind-spot monitoring inside an LED lamp.
Bumper: FCA boasts of a "segment-exclusive full-width chrome stamped-steel rear bumper."
Extra lugnut, lots of wheels: "Sixteen new wheel designs align with an increased lug pattern —from five to six."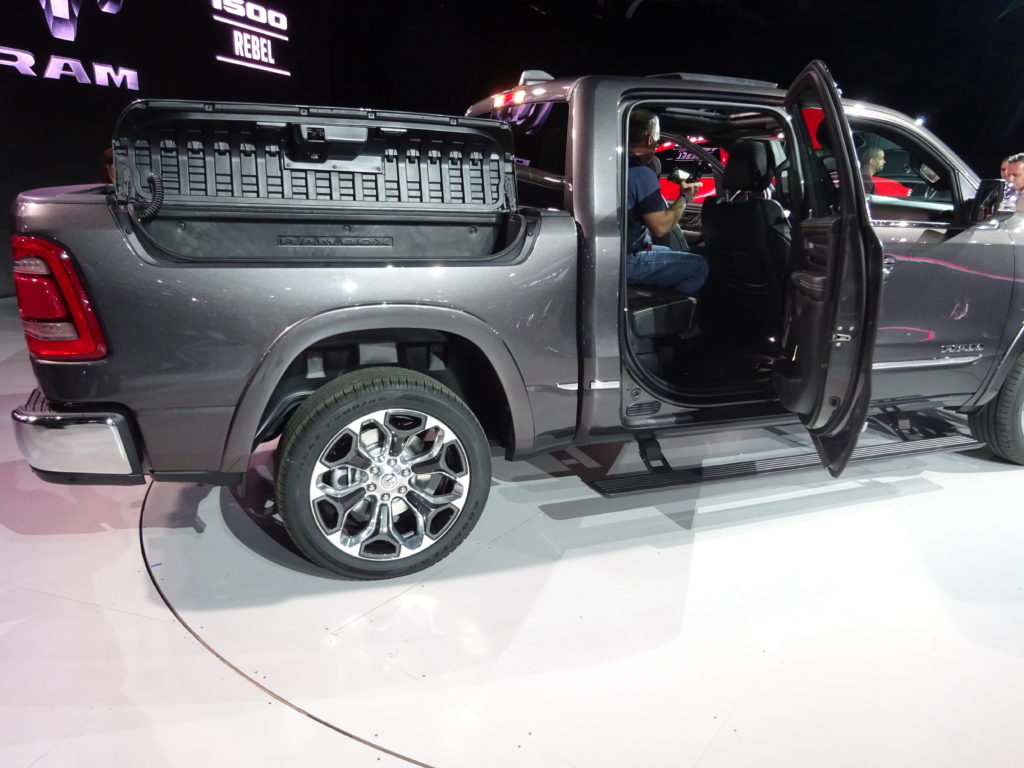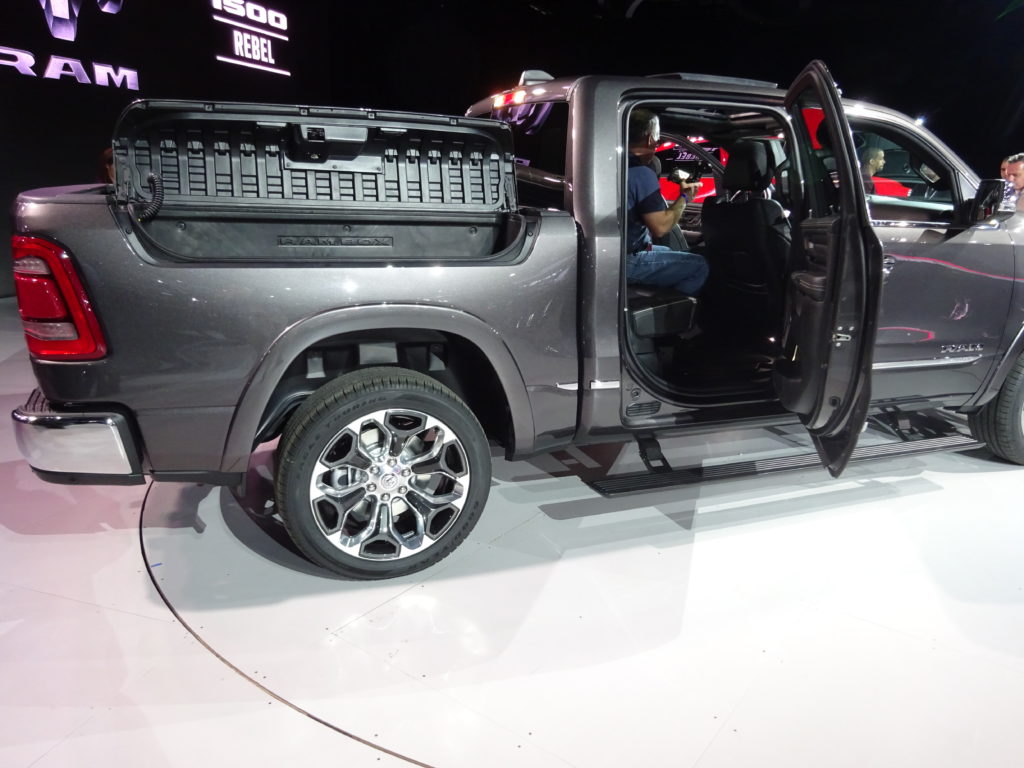 Tri-coat and two-tone paint options: "The 2019 Ram 1500 is available in 12 colors, including four new colors, and the first use of Tri-coat paint with Ram: Billet Silver, Tri-coat White, Patriot Blue, Diamond Black Crystal. Three two-tone color options carry through newly designed fender flares and the lower body."
Headlights: FCA's news release doesn't mention adaptive headlights which automatically switch between high and low beams. However, the truck will certainly offer the other type of adaptive headlight: Lights which automatically point wherever the car is going to travel; for example, tracking the car's direction around a turn.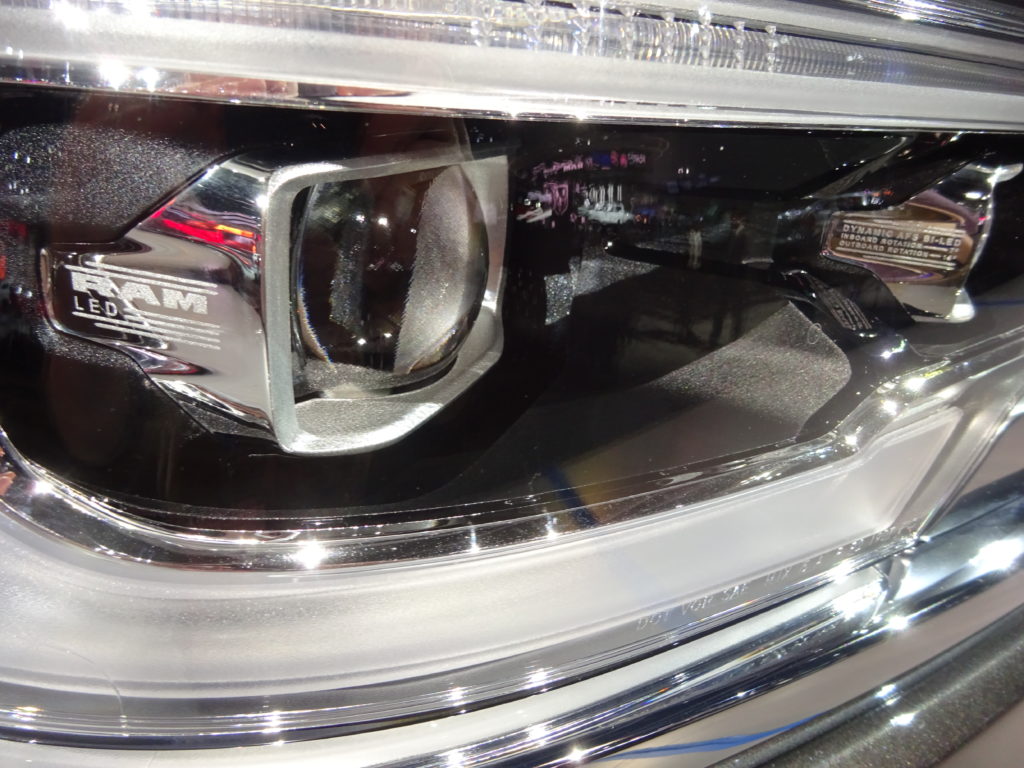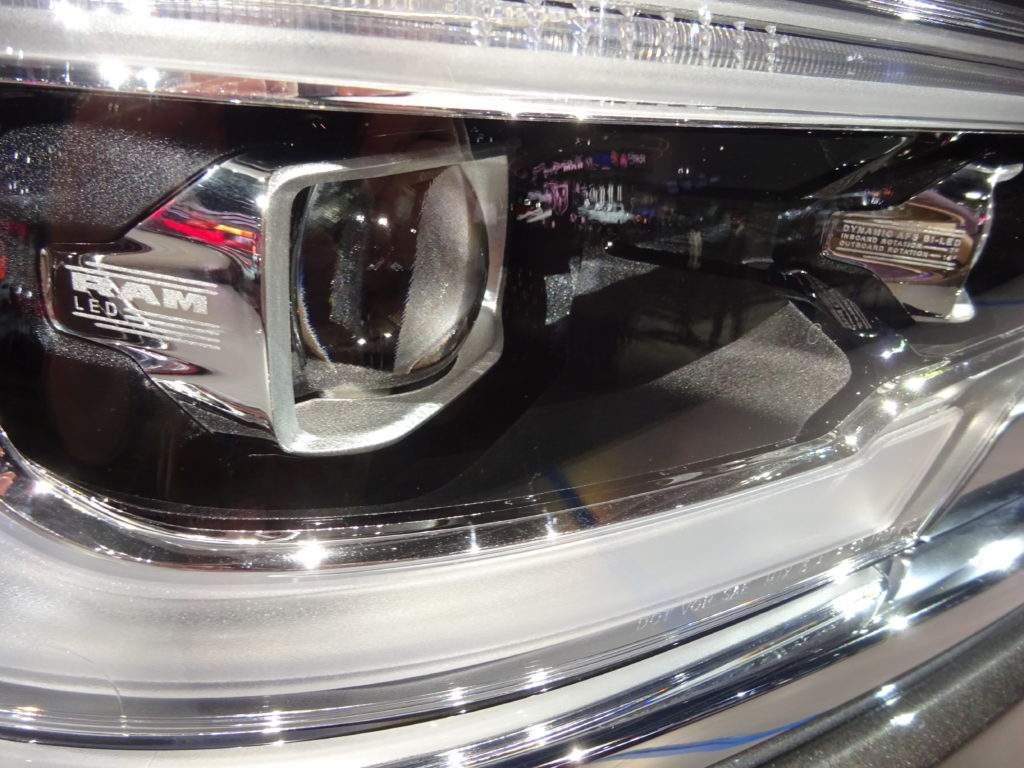 Tires: The horn honks once the tire pressure reaches the correct level.
Uconnect and emergency collision features: An FCA spokesman said neither the company's assist/emergency call handling or a request for the Uconnect infotainment system to find a local body shop refers customers specifically to the FCA certified collision network at this point.
More information:
"All-new 2019 Ram 1500 – No Compromise Truck, Leading in Durability, Technology and Efficiency"
FCA, Jan. 15, 2018
Interactive 2019 Ram 1500 site
"Magna Debuts Active Air Dam on 2019 Ram Pickup"
Magna, Jan. 17, 2018
Images:
On the whole, the 2019 Ram 1500 has 9 percent better aerodynamics than the 2018 1500. (Provided by FCA)
Many 2019 Ram 1500s will come standard with an active air dam. (Provided by Magna)
All 2019 Ram 1500s will come standard with active grille shutters. (Provided by FCA)
The new 2019 Ram 1500's six-lugnut wheel can be seen on this 2019 Ram 1500 Limited on Jan. 15, 2018, at the North American International Auto Show. (John Huetter/Repairer Driven News)
The 2019 Ram 1500 offers adaptive headlights which automatically point wherever the car is going to travel; for example, tracking the car's direction around a turn. (John Huetter/Repairer Driven News)
Share This: