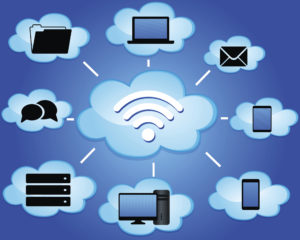 Editor's note: A new Collision Industry Electronic Commerce Association white paper points out that some shops' bandwidth — the amount of data which can flow through their Internet pipe at a time — might be inadequate to handle a growing number of online devices ranging from shop computers, employee phones and connected shop equipment. Drawing attention to this is part of a new CIECA initiative to help collision industry businesses beyond its typical role as the developer of software communication standards. Find out more in the white paper, which the inter-industry organization has allowed us to run as a guest column:
By the Collision Industry Electronic Commerce Association
CIECA has an ongoing conversation with collision repair executives. Most recently this group identified an area that has not generated a great deal of conversation within the industry: "The Connected Shop."
These serious requirements must be addressed to maintain shop productivity. Within "The Connected Shop," there are three defined areas that seem to be a priority:
The shift of estimating
With an initial group of insurers shifting to a more photo- or Web-based estimating process of a contemporary day, the estimator at the shop now communicates via FaceTime or videoconference with the desk auditor at the carrier to process the claim.
This shift requires specific needs within the shop in the form of devices, connectivity and bandwidth needs that may not be in place today.
This shift by the carriers will gain momentum among other carriers and create an even greater demand on The Connected Shop.
Security
The Connected Shop must be concerned with security within the shop among all the devices and equipment using their bandwidth and communicating within their network.
The greatest risk of a security breach is generally among their own employees with their personal devices or accessing unsecure URLs via company systems. While this is a daily concern for the IT experts and they are looking at the most secure strategy available to protect their network, it should be a concern of shop management also. Customers are not a concern as they are enabling the customer access to a guest access point that has no connectivity to their internal systems. (Editor's note: If you're not separating customers onto a different access point, you should be. Find out more about the risk here.)
 Bandwidth
As mentioned above, there are many devices and equipment using bandwidth within the shop. The IT folks are trying to estimate the size of their data flow and the size of data "pipe" that is best to maintain or gain productivity within the shop.  This is not just an IT issue; it is a business issue. Too much bandwidth adds extra cost; too little bandwidth drains productivity.
There are many pieces of equipment within the shop that use bandwidth, including paint room mixing systems, frame machines and all the way down to the state-of-the-art vending machine in the lobby or breakroom.
Concerns are how much bandwidth is needed and cyclical periods of use. If an outside vendor decides to do an update in the middle of a production day, it could logjam the entire network.
These are all real-time concerns, and as more elements are added to the repair mix that are connected, this draw on the data flow network will become a much greater issue and concern.
CIECA values the relationship and insights gained from this group of industry thought leaders. We are shifting our communications from highly technical in nature to one of delivering business solutions in a connected business environment to industry business decision makers. Although The Connected Shop is not a task for CIECA to solve, the conversation represents the value CIECA delivers to a connected industry by identifying an initiative that is technical in nature but has industrywide business ramifications.
CIECA from its inception in 1994 has a defined commitment to identifying and developing solutions for the collision repair industry to function as effectively and efficiently as possible while staying attuned to ever changing technologies. The work and products of CIECA have delivered this mission and vision time and time again based solely on the efforts of its members and those individuals that serve on the many varied committees.
The tedious and technical nature of the product generated by CIECA is invisible to most. There are billions of pieces of data flowing daily across CIECA designed and built solutions within our industry. The visible part of the CIECA product is the efficiency at which our industry operates, and that is the backbone of The Connected Shop.
Details: www.cieca.com.
Featured image: All the connected equipment, employee smartphones and other online devices in your shop could be constrained by inadequate bandwidth, CIECA pointed out. (Adyna/iStock)
Share This: