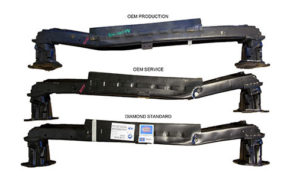 Aftermarket parts manufacturer Diamond Standard announced Tuesday it would conduct a 40 mph Insurance Institute for Highway Safety moderate-overlap crash test of a 2009-13 Honda Fit bumper reinforcement beam.
"The 2009 Honda Fit will be neither located, purchased, outfitted, or manipulated in any way by Diamond Standard," the manufacturer wrote in a news release, promising to post the VIN number as well. The release didn't specify who would handle the task of attaching the Diamond Standard bumper.
Phone and email messages to Diamond Standard on Friday have not yet been returned.
The test is likely a response to an identical crash test of a 2013 Honda Fit with multiple aftermarket parts on behalf of attorney Todd Tracy. Those parts included an NSF-certified bumper reinforcement beam made by Diamond Standard competitor Auto Power, based on an image shared by Burl's Collision Center owner Burl Richards, whose shop installed the parts for that test.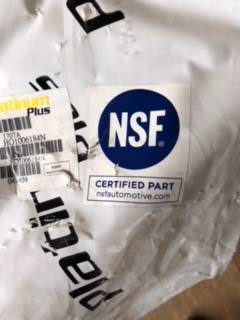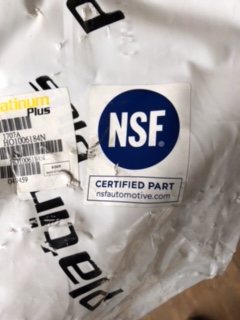 "The tests scientifically prove that a non OEM approved repair and the use of aftermarket parts affect restraint system performance, airbag performance, injury production, occupant kinematics, transfer and distribution of energy," the Tracy Law Firm wrote in an email Jan. 3.
Diamond Standard said MGA Research Corp would handle that crash test.
"Testing a single variable, as we do here, in order to isolate casualty is a key aspect of anything scientific," an unattributed statement in the release notes. "However, let me clear, this is not SCIENCE or SCIENTIFIC, it's the realm of a recognized standardized procedure and protocol that must be followed in order to reference the IIHS Protocol." (Emphasis speaker's. The quote is likely from either Diamond Standard CEO Michael O'Neal or former Department of Transportation Vehicle Crashworthiness Division Chief George Neat, who is quoted elsewhere in the release.)
The manufacturer also shared results of 8 mph MGA dynamic barrier sled test of a 2009 Fit production bumper beam, a 2013 service beam, and a 2009-13 Diamond Standard beam which appears to have been certified by NSF.
Diamond Standard noted that the OEM production beam was "visually different" than the aftermarket beam and even the Honda service beam, but all three came out about the same.
"However, that while visually different, all three reinforcements had nearly identical plots in the dynamic barrier test," another unattributed quote states.
MGA also at some point conducted a quasi-static test of a 2013 Honda Fit service part and a 2009-13 Diamond Standard bumper. Past Diamond Standard quasi-static tests involved 14-inch-wide pipes pressed into perpendicular mounted bumpers at rates of 10 inches per minute or 0.5 inches per second.
The consistent test results of the velocity reductions presented here demonstrate that comparable energy would be absorbed by each of the rebar/absorber combinations," Neat said in a statement. "It can be concluded that using Diamond Standard certified rebars would assure that safety performance would be maintained in the case of a crash."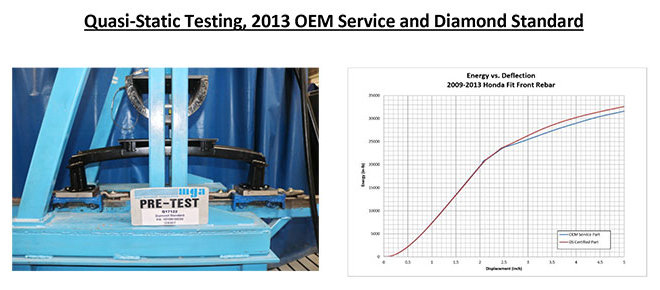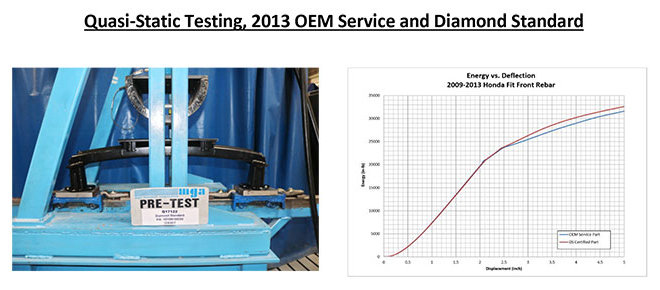 It'll be interesting to see Diamond Standard's moderate-overlap crash test results as they relate to the dummies and airbag timing within an actual vehicle. The driver dummy's left femur on Tracy's aftermarket Fit, for example, experienced a peak of nearly 1,700 Newtons, compared to more than 700 N on the glued-roof Fit and just under 180 N on the control Fit.
While the aftermarket Fit appeared to deliver Head Injury Criterion results similar to those found in Honda crash-testing, it subjected the driver's neck to nearly 500 N — nearly 100 N more than on the control Fit.
"A major function of the front and rear bumper assembly is to absorb and resist the energy in minor collisions and protect the rest of the vehicle structure from damage and designed to absorb energy in more severe crashes in order to protect the occupants," Neat has said. "The front and rear structural components, including the rebar and absorber are designed to meet this requirement. Airbags are deployed when certain conditions are met. Algorithms for this, which are proprietary, are becoming more complex, with data to accommodate occupant characteristics and to prevent inappropriate airbag deployment. These algorithms are based on characteristics of the unique front bumper structure of the manufacturer's vehicle, including the front rebar and absorber. Consequently it is essential that the performance of ANY replacement rebar and absorber be comparable to the performance of the original equipment"
Correction: An earlier version of this article incorrectly characterized neck and femur forces experienced by the "driver" in these Honda Fits. The article has since been corrected to reflect the accurate statistics.
More information:
"Honda Fit 2009 Production Model Reinforcement, Honda Fit 2013 Service Reinforcement, and 2009-13 Diamond Standard Certified Reinforcement testing"
Diamond Standard, Jan. 23, 2018
Images:
Diamond Standard on Jan. 23, 2018, shared results of 8 mph MGA dynamic barrier sled tests of a 2009 Fit production bumper beam, a 2013 service beam, and a 2009-13 Diamond Standard beam which appears to have been certified by NSF. Diamond Standard noted that the OEM production beam was "visually different" than the aftermarket beam and even the Honda service beam, but all three came out about the same. (Provided by Diamond Standard)
Burl's Collision Center owner Burl Richards said his shop installed this aftermarket bumper reinforcement beam on a 2013 Honda Fit crash-tested by the Tracy Law Firm. (Provided by Burl's Collision)
MGA has conducted a quasi-static test of a 2013 Honda Fit service part and a 2009-13 Diamond Standard bumper. (Provided by Diamond Standard)
A new presentation from Tracy Law Firm automotive safety attorney Todd Tracy indicates that "driver" heads, necks, femurs and toes were subjected to greater stress during the crash of two Honda Fits bearing aftermarket parts and repairs not approved by the OEM. (Provided by Tracy Law Firm)
Share This: