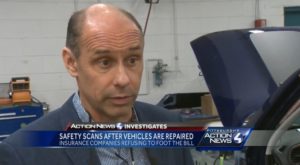 A Pittsburgh, Pa., television news station has exposed insurers denying post-repair scans, contrasting that position with footage and position statements from automakers supporting the procedure.
The Thursday WTAE report focuses on a denial of a $119 post-repair scan of a 2015 BMW X5 XDrive 35i that owner Scott Cheek said he bought specifically because of the safety features it could offer his family.
It's unclear what configuration precisely Cheek had, but WTAE implies some sort of advanced driver assistance systems were on the SUV. Possible 2015 X5 iDrive 35i options include a backup camera, a package containing both autobraking and lane-departure warning, and adaptive cruise control good for up to 130 mph.
WTAE reported that after a collision, Cheek took the vehicle to Kilkeary's Auto Body, a Mercedes-certified shop whose website indicates it's also one of the independent shops which has received formal BMW training. (BMW won't let non-dealerships be certified, but it will allow indies sponsored by a dealership to receive its training.)
State Farm refused to pay for a $119 post-repair scan (it's unclear what it said about a pre-scan line item shown in the broadcast), despite BMW instructions to scan the car after collision work, according to WTAE. BMW hasn't publicly issued a formal diagnostics position statement, but the repair procedures and the inherent complexity of a late-model, European luxury car — and really, any vehicle in at least the past decade or two — probably indicate that scanning was indeed a no-brainer here.
"Without one of these, you couldn't work on a car," an unidentified Kilkeary's employee holding an Autoland Scientech iSCAN II wt tells WTAE. (The usual caveat: Technically, the iSCAN II is not a BMW OEM official scan tool, nor does it appear to have the J2534 compatibility that would allow it to run official OEM software.)
"It doesn't make any sense to me that they're not following what the manufacturer requirements are," Cheek says on the WTAE broadcast — another indicator that customers are receptive to the position of repairers and I-CAR that OEM instructions are the standard of care for collision repair.
A State Farm spokeswoman, meanwhile, clung to the case-by-case fallacy in a statement to WTAE: "Scan activities may or may not be considered part of claim payment. … If a request is received, it is necessary to first determine the nature and extent of damage that is present on the vehicle."
WTAE cites unspecified repairers' reports that most major insurers are refusing post-repair scans (at least in the Pittsburgh area), and it quotes the National Association of Mutual Insurance Companies's view that "It is entirely appropriate, and in the interest of consumers, for insurers to make a determination about the necessity of scans before paying for them."
NAMIC is suggesting that insurers know more than auto body repair professionals and the OEM that built a vehicle about proper vehicle repair. WTAE exposes this absurdity by presenting multiple OEM position statements and 2016 Collision Hub NACE footage of automaker representatives declaring scans are always needed.
More information:
"Action News Investigates: Repair shops say insurers refusing to cover 'critical' scans"
WTAE, Feb. 1, 2018
OEM1Stop repair procedures portal
Featured image: Kilkeary's Auto Body owner Tim Kilkeary appeared on a Feb. 1, 2018, WTAE newscast about diagnostics. (Screenshot from www.WTAE.com video)
Share This: