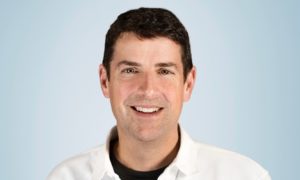 Tesla global sales and service President Jon McNeill, the former CEO of Sterling Collision, has been named chief operating officer at Lyft, the ride-sharing company announced Wednesday.
"During his time at Tesla, sales more than doubled, customer satisfaction increased to record levels, and his organization scaled to over 10,000 people across 32 countries," Lyft wrote in a blog post. "While scaling, Jon's teams also changed the auto industry by innovating mobile services as well as the in-store and digital sales experience."
Tesla CEO Elon Musk wished McNeill well and told investors during a Wednesday earnings call that the company had "no plans" to find a replacement for him.
"Going forward, I will be having the sales and service report directly to me," Musk said. (Special thanks to Seeking Alpha, whose transcript of the call helped us quickly confirm what was said and check quotes.)
Musk is kind of a busy guy, so it'll be interesting to see how much oversight he's able to deliver to the sales and service arm of Tesla — particularly the certified collision network revamped by McNeill and the Tesla replacement parts issues auto body shops and customers have reported.
A busy 2017
McNeill started at Tesla in 2015 and made collision repair headlines in 2017 with a series of Tesla decisions over the auto body repair experience for owners.
After a Tesla owner complained in March 2017 in the Motley Fool about the long repair time on his Model S, McNeill went nuclear on the Tesla Motors Club forum. He blamed Tesla-certified collision repairers for the delays, gave little acknowledgment to the Tesla parts issues reported by Tesla owners and certified shops, and vowed to solve the problem by adding 300 shops to the network.
Most of the customer complaints about body shops mentioned parts, so we focused on this issue. To date, we've reduced backlog by over 80%.
Even though we reduced part wait times, we continued to dig into the body shop complaints. What we found was astounding – cars sat at body shops for weeks and sometimes months before the body shops took action and, more often than not, the body shops blaming Tesla for parts delays were the very shops that hadn't even ordered parts or started the repair.
"If you have an issue with a shop, please PM me directly and our team will advocate and manage your repair," McNeill wrote on the Tesla Motors Club site.
"Tesla owners will get the service they expect from us – period."
Tesla then issued new requirements, dated April 3, 2017, for collision repairers which indicated it won't suffer slow, uncommunicative or unprepared body shops gladly. Shops were effectively given only have two chances to order parts from the OEM and were expected to do a teardown and repair plan to ensure two was enough.
Later that month, Tesla informed its certified collision repairers that it would replace its in-house training and welding requirements for curriculum held online and administered by I-CAR, respectively. Tesla-certified shops criticized the changes as watering down what had been a rigorous program, while other repairers no doubt welcomed the opportunity to obtain certification without having to send techs to Freemont, Calif.
Tesla told existing certified shops then that while it worked to "simplify the Tesla Approved Body Shop program, we are working on new pricing structures for parts and repair advisory that will take into account the level of engagement and investment made by our founding partners that will forever be 'Factory Trained'."
Tesla in May then announced plans to open its own body shops by the end of 2017. It's unclear if that has happened yet. There's no other mention of the initiative in the company's second- through fourth-quarter investor letters or, based on the two publicly available Seeking Alpha transcripts, on its third- or fourth-quarter calls to investors.
The OEM also added dozens of Service Kings — the company which bought McNeill's Sterling from Allstate in 2014 — sometime last year, with Tesla recommending a Service King location as early as June.
McNeill was notable for interacting directly with owners on the Tesla Motors Club forum, and posters there wished him well and had kind words Thursday. However, others were less kind about the customer service experience under McNeill
"He seemed to talk a lot but nothing really seems to have changed," jaguar36 wrote. "The body shop parts situation is still a disaster. He promised to open up service for third parties and owners, and that has only gotten worse as Tesla has pulled Toolbox access even for MA folks now." (We couldn't verify the poster's Toolbox allegation, but the site doesn't seem to allow new registrations.)
Lyft called McNeill "a world-class leader who brings deep experience as a highly successful entrepreneur and game-changing transportation executive."
It boasted that the company in 2017 had grown rides 2.3 times and increased market share.
"Jon is a proven leader who will build upon this momentum with his unique background of starting companies from scratch and managing at scale," Lyft wrote. "… Jon's passion to change transportation for the better goes back to his days as a founder and CEO. He has successfully started and run eight technology and retail companies that included the first national chain of automotive collision centers as well as multiple insurance related businesses."
Share This: