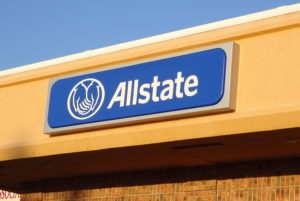 Allstate this week reported a 5.3 percent decrease in gross auto frequency in 2017, and an executive indicated reductions appeared to have occurred for other carriers as well.
"We were down a lot in frequency in 2017," Allstate brand President Matt Winter said on a fourth-quarter earnings call Thursday.
Actual paid frequency fell 5.2 percent as well. (Gross frequency refers to all claims filed; paid frequency refers to claims closed with payment.)
"42 states experienced a year over year decrease in property damage paid claim frequency in fourth quarter 2017 compared to fourth quarter 2016," Allstate's quarterly report states.
Newly promoted Chief Financial Officer Mario Rizzo reported that the Allstate auto brand's gross frequency in the fourth quarter of 2017 came out better than the higher levels in 2015-16, and favorable trends remained "geographically widespread." It was unclear if he was referring to the performance of both property damage and bodily injury trends combined or individual reductions in each of the two claims categories.
Allstate CEO Tom Wilson noted the volatility of frequency as a statistic during the call Thursday.
"Frequency jumped way up" in 2015, but "came way down" in 2017, and Allstate hadn't forgotten that variability, Wilson said. He also said frequency and severity can vary "a couple of percent each" every year and observed that if this frequency stuck around, Allstate could cut rates — but "you don't know" what the metric will do.
Still, the possibility of a flat or declining frequency still bears watching for collision repairers, particularly those on Allstate direct repair programs.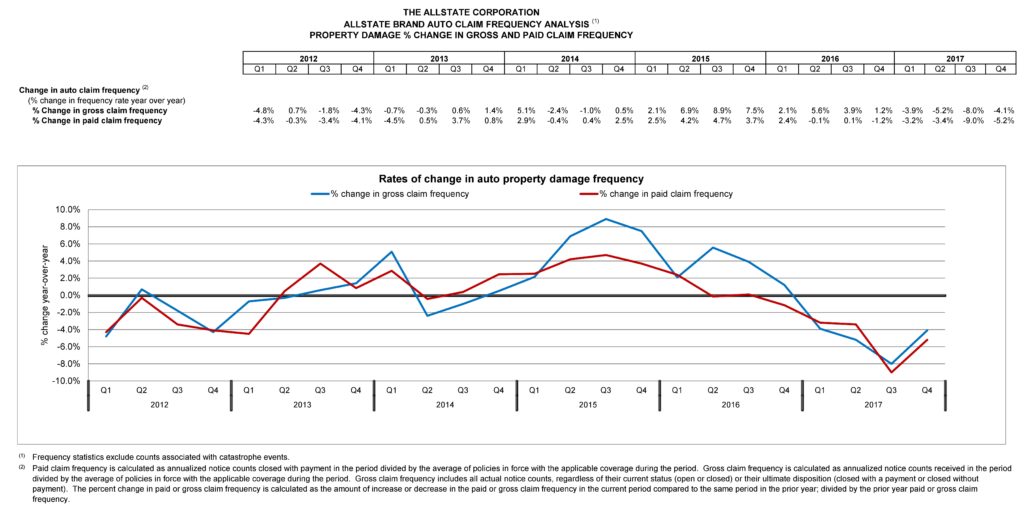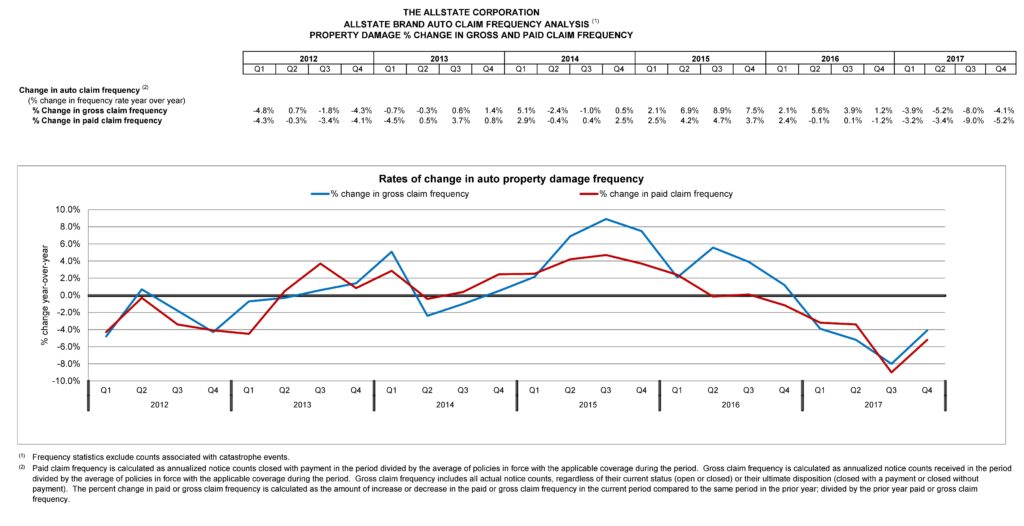 Winter hypothesized that the frequency improvement was largely driven by external factors, with some contribution from internal Allstate policy decisions.
Winter said the 2017 frequency decline was consistent across risk segments, customer tenure, rating plan, geography and accident type. He said the insurance industry as a whole experienced a similar decline — but Allstate has outpaced the industry by at least 1.5 points on property damage for each of the last four quarters.
Winter indicated that Allstate's reduction was in part fueled by its "segmented rate" increases in response to the frequency spike between late 2014 and early 2016. The carrier targeted riskier segments — i.e. customers who were likely going to be worse drivers crashing more frequently —  with higher premiums.
"That increased defection rates of those underperforming segments," he said.
The carrier's rate increases also reduced new business (which tends to have a higher loss ratio), according to Winter.
"We're not seeing anything dramatically different than the rest of the industry," Winter said, but Allstate seemed to be "benefiting a little better."
Paid property damage severity did increase in 2017, up 4.1 percent from the prior year, though this drew little commentary from Allstate executives or the analysts asking questions.
Winter said that on the whole, "a whole lot of good work" had been done in Allstate's claims organization to manage severity and loss costs. He cited QuickFoto Claim, Allstate's photo estimating initiative; enhanced "discipline and dilligence" on bodily injury claims; and "things like that."
Winter said this led to improvement in the overall underlying combined ratio, a measure of how much Allstate paid out in claims compared to the premiums it received. Unlike the combined ratio, the underlying combined ratio doesn't count catastrophic losses and reserve re-estimates, an exclusion which offers a better sense of what Wilson described as "how well do we think the business is run."
The Allstate brand's overall (auto, home, etc.) underlying combined ratio fell from 86.5 to 83.9 between 2016 and 2017, which means the company paid out 83.9 cents in claims for every $1 in premiums it took in. Allstate auto's underlying combined ratio fell from 96.2 to 94.2 in the fourth quarter of 2017.
Winter said of the underlying combined ratio progress that "we see nothing to indicate that that should be different" going forward except for the normal environmental volatility.
"Internally, the same stuff that's worked for us in the past should work for us going forward," he said.
In other severity containment news, Wilson announced that Allstate personal lines claims Executive Vice President Glenn Shapiro would run the Allstate brand after Winter's upcoming retirement. Wilson said Shapiro's claims leadership included "improving our processes to control cost" and introducing new technology like QuickFoto Claim.
More information:
Allstate fourth-quarter earnings call presentation
Allstate, February 2018
Allstate fourth-quarter earnings call
Allstate, Feb. 8, 2018
Allstate fourth-quarter investor supplement
Allstate, February 2018
Images:
An Allstate agency in Acme, Mich., is shown. (John Huetter/Repairer Driven News)
Allstate in February 2018 reported a 5.3 percent decrease in gross auto frequency in 2017. (Provided by Allstate)
Share This: