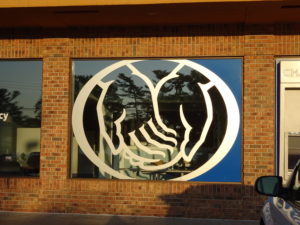 Despite lower frequency and a dramatically reduced tax rate, Allstate CEO Tom Wilson indicated Thursday that the company would perhaps raise rates less on policyholders but not necessarily start reducing premiums.
Allstate's tax rate fell from the "low 30s" to about 19-20 percent under the Tax Cuts and Jobs Act signed last year, Wilson said during the company's fourth-quarter earnings call. The company's gross auto property damage frequency dropped 5.3 percent in 2017.
Wilson anticipated that the Tax Cuts and Jobs Act wouldn't lead to a material impact on the company as a whole in the near term, though Allstate also reported using the increased margins tied to the tax cut for various business strategies and that it would show up in future rate filings.
The annualized average Allstate premium rose 4.5 percent in the fourth quarter of 2017 compared to the prior year, reaching $1,022. (Allstate's underlying loss and expenses only averaged $963.)
The company received approval for an additional 1.2 percent in premiums in the fourth quarter of 2017.
An analyst asked if there would be a slowdown in premium increases after rates rose nationally in the fourth quarter of 2017.
Incoming Allstate brand president Glenn Shapiro — currently Allstate's claims head — indicated the national uptick in the fourth quarter mostly just reflected a rate increase in California that skewed the entire total upward, but "we continue to look at our rates on a state-by-state basis."
Wilson also explained during the call that the view that a tax cut could immediately translate to lower rates was incorrect, though he indicated that some states could prompt Allstate to reflect the tax cuts in its rate filings.
The biggest component of rate pricing — 70-75 percent of it for auto insurance industrywide — was loss costs, Wilson said. The rest is expenses, which aren't impacted by the tax break, either, according to Wilson.
Therefore, if auto insurance premiums left a 5 percent underwriting margin after all losses and expenses were covered, it's difficult to translate that margin into a 5 percent reduction in premiums, Wilson said.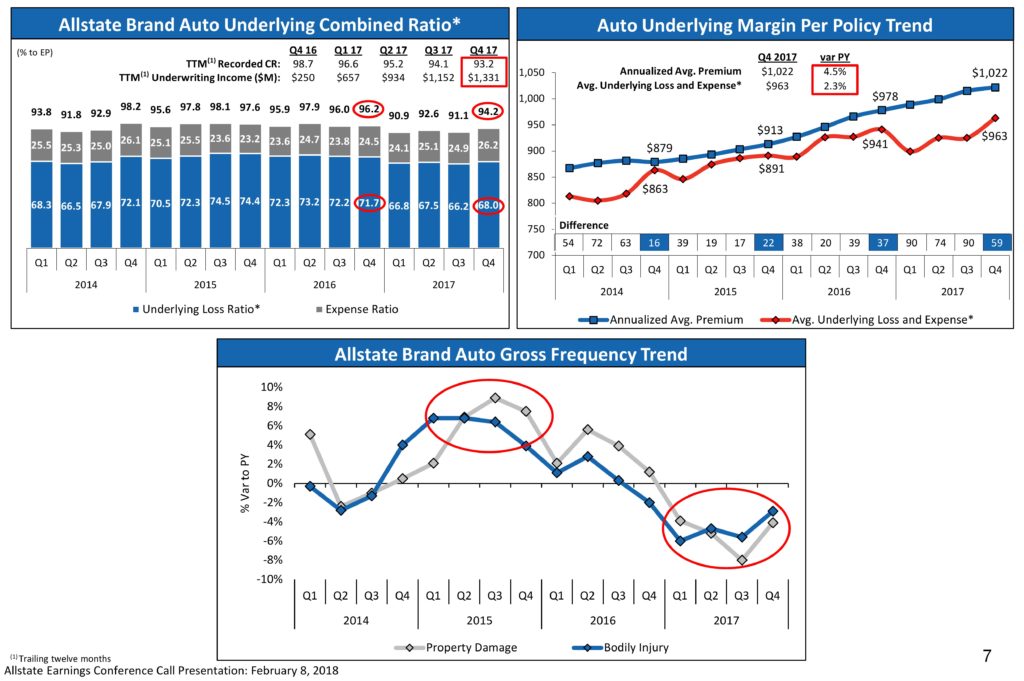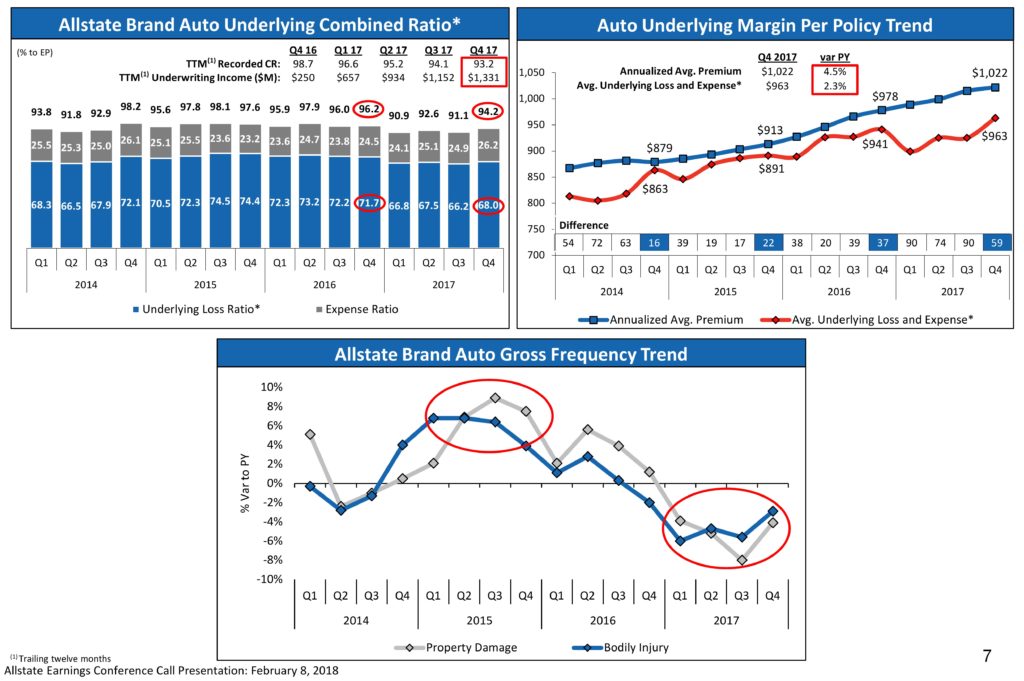 Though taxes are an expense — and Wilson encouraged an analyst to think of them as such — the distinction appears to be what expenses count towards a loss ratio (and therefore how much in premiums need to be charged) and which expenses are calculated after the fact.
However, Wilson and Allstate brand President Matt Winter also described using the additional revenue freed up by the tax break to cover other expenses, such as marketing and distribution channels like insurance agents, or improving margins.
Allstate's margins are "a very high return," and "we can drive a lot of shareholder value by growing our business," Wilson said.
The entire Allstate property-liability segment (which includes not just the Allstate brand of insurance but other businesses like Esurance) posted a combined ratio of 91.0, down 2.4 points, meaning that for every $1 it took in, it only spent 91 cents in claims and other expenses.
Its underlying combined ratio, which throws out catastrophic losses and reserve re-estimates and how Allstate prefers to be judged, fell 2.7 points to 85.7. The company wants to post an underlying combined ratio of between 86 and 88 in 2018, Wilson told analysts.
"We feel really good about our profitability," Wilson said. Allstate's view was that the best way to deliver value to shareholders was to grow, and so fewer price increases would be rolled out net year, according to Wilson.
But he didn't give any indication it would be cutting rates.
"We were down a lot in frequency in 2017," Wilson said. If this trend holds up and makes the rate increases of 2015-16 unnecessary, then perhaps customers could be offered a "better deal," according to Wilson.
However, "you don't know," Wilson said. Frequency can naturally be quite volatile, according to the CEO.
At an 86-88 underlying combined ratio, "we feel good about the business" and have "good control" over profitability, Wilson said. The best thing for Allstate was to preserve that profitability and grow the business, rather than reducing profitability.
Allstate could drive the combined ratio down further (presumably with higher rates), but "we do not think that that's the right way to drive shareholder value," Wilson said.
The carrier made it through the frequency boom, and "it's time to grow again."
Instead of cutting rates to attract customers, it seems as Allstate plans to spend more on marketing.
"We are going to increase marketing in 2018 when we reposition our brand," Wilson said.
Besides, the carrier might not need to cut rates to grow.
New applications for Allstate policies rose 10.3 percent in the fourth quarter, according to newly promoted Chief Financial Officer Mario Rizzo. He also reported that customer renewal rates rose 0.4 points to 87.8 percent — and that statistic is a larger influencer of policies in force.
With an eye toward the renewal rate, "we continue to focus upon improving the customer experience," Rizzo said.
Allstate is encountering reduced auto losses and lower taxes but keeping rates higher anyway as part of the company's growth and profitability strategy — and there's nothing wrong with that. That's Business 101.
But it's possible an Allstate adjuster or DRP contract negotiator might forget this from time to time and complain about a shop's charges being higher than the market or not decreasing after a new piece of equipment is paid off.
A repairer might want to cite Allstate's quarterly report and inform the adjuster that the shop owner's just exercising the same right to run their business like a business as the adjuster's CEO did. And a customer threatened with going out-of-pocket for such a cost can point out that this is no way to achieve the kind of retention the carrier places so much value upon.
More information:
Allstate fourth-quarter earnings call presentation
Allstate, February 2018
Allstate fourth-quarter earnings call
Allstate, Feb. 8, 2018
Allstate fourth-quarter investor supplement
Allstate, February 2018
Images:
An Allstate agency in Acme, Mich., is shown. (John Huetter/Repairer Driven News)
The annualized average Allstate premium rose 4.5 percent in the fourth quarter of 2017 compared to the prior year, reaching $1,022.. However, the company's underlying combined ratio and auto physical damage and bodily injury frequencies both fell over 4Q 2017. (Provided by Allstate)
Share This: