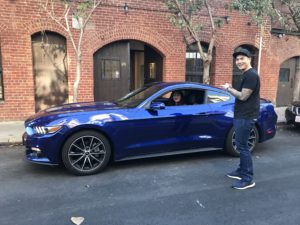 Collision repairers might want to pay attention to recent OEM forays into vehicle subscription services — particularly now that Ford announced plans to expand its own Canvas program in 2018.
The programs seem like leases, but they're far more flexible and inclusive. Generally, subscription services offer month-to-month car subscriptions with insurance and maintenance baked into the flat-rate price.
In the past, they'd largely appeared to be confined to luxury vehicles. Cadillac announced BOOK in January 2017, which lets a New York City user swap between any Cadillac they want for $1,500, and Porsche launched Porsche Passport in October 2017, which in its pilot offers Atlanta users a choice of various vehicles depending on if they have the $2,000 or $3,000 plan.
Automotive News reported Jan. 22 that Passport "is bringing new and younger customers to the brand at rates above its expectations," and 78 percent of users had never owned a Porsche before.
Volvo launched the $600-a-month Care by Volvo starting with the XC40 in October 2017, but this service does require a two-year contract.
Audi on Demand in San Francisco has the pricing inclusivity of other subscription services. However, it seems more like a fancy car rental service (a concierge picks up and drops off your car wherever you want) in that Audi demands participants return the vehicle within 28 days and charges by the rental. More options might be coming for consumers, though; Audi in March 2017 announced it would buy high-end car rental service Silvercar and work on new "mobility services."
Automotive News reported Jan. 22 that both Mercedes and BMW are thinking about some sort of subscription program.
If you live in a large metro area and work on or insure luxury vehicles, these kinds of programs seem like they could shake up your business.  For example, Cadillac said it will keep BOOK body work at maintenance at dealerships (though it seems likely the CT6 would require a few independents be used), and require only OEM parts. Volvo said Care by Volvo vehicles will be insured by Liberty Mutual.
Ford and Canvas
But Ford's in the game as well, and that could make life interesting for typical collision repairers, particularly those not affiliated with the regular and aluminum Ford networks. (Ford and Canvas representatives did not respond to an email Thursday asking how Canvas vehicles would be repaired and what parts would be used.)
Because when you do the math, what Ford's offering might look pretty good to vehicle owners, even if the cars are used. (They're off-lease, "lightly used Ford and Lincoln sedans, SUVs, and crossovers that are no more than two to three years old," according to Canvas.)
The average new car loan cost $502 a month and the average used car was $379, according to Experian's third-quarter data, its most recent. The average new lease was $412. And the owner/lessee still has to buy insurance, which averaged $84.12 a month nationally to have liability, collision and comprehensive coverage in 2015, according to the most recent National Association of Insurance Commissioners data.
Meanwhile, Canvas subscriptions start at $400 a month and include all three insurance coverages, policies written by Liberty Mutual. Similar to a lease, Ford wants to you handle the repair process and return the vehicle in mint condition (minus normal wear and tear).
"The claim process will be strictly between yourself and Liberty Mutual," Canvas wrote in a FAQ. (Emphasis theirs.) "We have the ability to monitor ongoing claims, and if you need help at any point in time, you can always contact us for assistance. We're here to help."
The Canvas FAQ doesn't indicate that the vehicles need to be taken to a Ford-certified shop or have OEM parts.
However, Ford Credit marketing and sales Executive Vice President David McClelland told Forbes in a Feb. 7 article that "we're sending customers to the dealer for service." Forbes also reported that "it's working to get Ford dealers more involved with vehicles subscriptions so Canvas isn't saddled with a big fleet of used cars. … If dealers make their used cars available on the Canvas platform, it gives them another opportunity for growth, with Ford Credit handling the financing."
Ford will charge Canvas subscribers for any damage not repaired, which seems to put the burden on them to seek out a body shop who knows what it's doing — i.e., a certified one.
"During your return, we will inspect the car together to assess any new damage," Canvas wrote. "At this time, the Canvas agent will point out anything considered outside of normal wear and tear. If there is damage found on the car, it will then be taken to the Canvas warehouse to determine the cost of the repair. Once the costs have been determined, they will be added to your final, close-out invoice."
While the Canvas vehicles are by definition off-lease, it still seems as though Ford and its dealers would desire only new OEM parts be used on vehicles, just as would be the case in a typical lease.
Liberty Mutual spokesman Glenn Greenberg wrote in an email Tuesday he didn't have information about the Ford-Canvas partnership. However, he did provide some details about how shop referrals and OME parts works under Care by Volvo:
Specific to Care by Volvo, we support the customer's preferred route of repair.  If the customer would like to go to a Volvo dealer for repairs, we support that; and if they are requesting other options we will offer them facilities within our network.  Regardless of the shop, genuine Volvo parts are used in the repair.
About 600 customers use Canvas in the San Francisco Bay Area and Los Angeles. The company has logged more than 3 million miles driven.
"Building on our success in 2017, we plan to further expand our platform and offerings in 2018 to meet even more customer needs," Canvas founder and CEO Ned Ryan said in a statement. "Month-to-month subscriptions are just the first step. As our product evolves over the coming year and beyond, we'll be focused on adding more customization to the platform, implementing solutions to improve the scalability of the business and offering bigger savings for customers who want longer terms."
More information:
"SUBSCRIPTION VEHICLE SERVICE CANVAS CELEBRATES GROWTH, LOOKS FOR CONTINUED EXPANSION IN 2018"
Ford, Feb. 8, 2018
"Ford Explores Alternatives To Car Ownership With Canvas Vehicle Subscription"
Forbes, Feb. 7, 2018
"Mercedes, BMW wade into subscriptions"Automotive News, Jan. 22, 2018
Featured image: A vehicle is delivered by Ford's Canvas service. (Provided by Ford)
Share This: