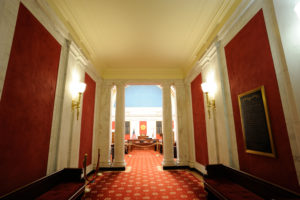 A new West Virginia Senate bill would only allow new OEM parts on vehicles 3 years old or younger, closing off the opportunity for collision repairers to install recycled components when fixing cars at the behest of an insurer.
The bill comes less than four years after the West Virginia Supreme Court of Appeals held state law demanding "genuine crash parts sufficient to maintain the manufacturer's warranty" (unless the owner consented in writing) only restricted aftermarket parts. The court declared that if the Legislature desired to exclude salvage parts, it would have said so in the law.
Under Senate Bill 308, the Legislature would say so.
It revises the law to state "motor vehicle body shops must use genuine new original equipment parts sufficient to maintain the manufacturer's new vehicle warranty for fit, finish, structural integrity, corrosion resistance, dent resistance, and crash performance."
Automotive Recyclers Association CEO Michael Wilson had not yet returned an email request seeking comment early Tuesday afternoon.
The Washington Metropolitan Auto Body Association supports the bill but would like more information about it, according to board member and West Virginia point man Steven Krieps (Collision Safety Consultants).
Kreips said the bill eliminated "all the bad things" that made the existing law "kind of worthless." He said the  most important element was closing the opportunity to use recycled parts by defining acceptable parts as "genuine new original equipment."
It also clarifies that the restriction on body shops only applies on repairs which would be "paid in whole or in part by an insurance company," which means aftermarket and used parts could be used on customer-pay vehicles.
The bill also removes a provision that allows insurers and shops to use aftermarket parts if the customer consents in writing. Kreips said there'd be no reason to secure customer consent, for "you're going to get brand new parts" without question under the law.
Finally, the bill preserves the law's existing scope for body shops, applying to vehicles "in the year of their manufacture or in the two succeeding years thereafter."
Interestingly, the bill would mean different parts restrictions on insurance carriers than for collision repairers doing insurer-pay work, though the rules for shops might make this a moot point.
"No insurance company may require the use of aftermarket crash parts when negotiating repairs of the motor vehicle with any repairer for a period of the current model year plus two years," the bill would state, a different time frame than the "year of production plus two" language previously applied to insurers as well.
Kreips said that in his own personal opinion (and not on behalf of WMABA), allowing the year of manufacture plus two was flawed, as it was possible for a vehicle bought in early 2017 to have been made at the end of 2016 — which means the customer lost a year without having done anything. He argued that the date of sale would be a better starting point and that the bill should instead define a duration as equal to the manufacturer's warranty, which could last longer than three years.
The specific ban on only aftermarket parts for insurers carries over from the prior bill, even though auto body shops wouldn't be able to use any part that isn't OEM on insurer-pay work.
A phone message for lead sponsor Sen. Randy Smith, R-Terra Alta, had not yet been returned.
Co-sponsor Sen. Sue Cline, R-Brenton, said the point was "just to make sure they put good parts" on a customer's vehicle.
"We're just trying to make it safer for people," Cline said.
A customer should get new parts and know they're not going to get items from a car involved in a wreck, she said.
Be heard: West Virginia legislator contact information can be found here and here.
Featured image: The hallway to the Senate Chamber in West Virginia's Capitol is shown. (aimintang/iStock)
Share This: