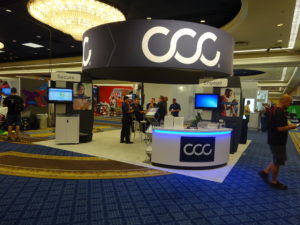 CCC announced Thursday that its Open Shop software had reached more than 500,000 insurer assignments to non-DRP shops annually.
That seems like a pretty good track record given that the system debuted in 2012.
"Open Shop is the industry's first tool to provide insurance carriers with the ability to electronically send assignments to repair facilities outside of their direct repair program (DRP) network and enable those shops to accept the assignments, create estimates, and electronically upload them to insurance carriers," CCC wrote in a news release.
CCC's 2018 "Crash Course" shows the small but steady increase in Open Shop usage over the past few years, from barely a hint of a presence in 2013 to nearing parity with independent appraisers in 2017. CCC in a news release called Open Shop's current estimate load "a meaningful portion" of all CCC assignments.
The rise of the service would seem to bode well for shops who haven't obtained a seat on many direct repair programs or who are pursuing an alternative business model.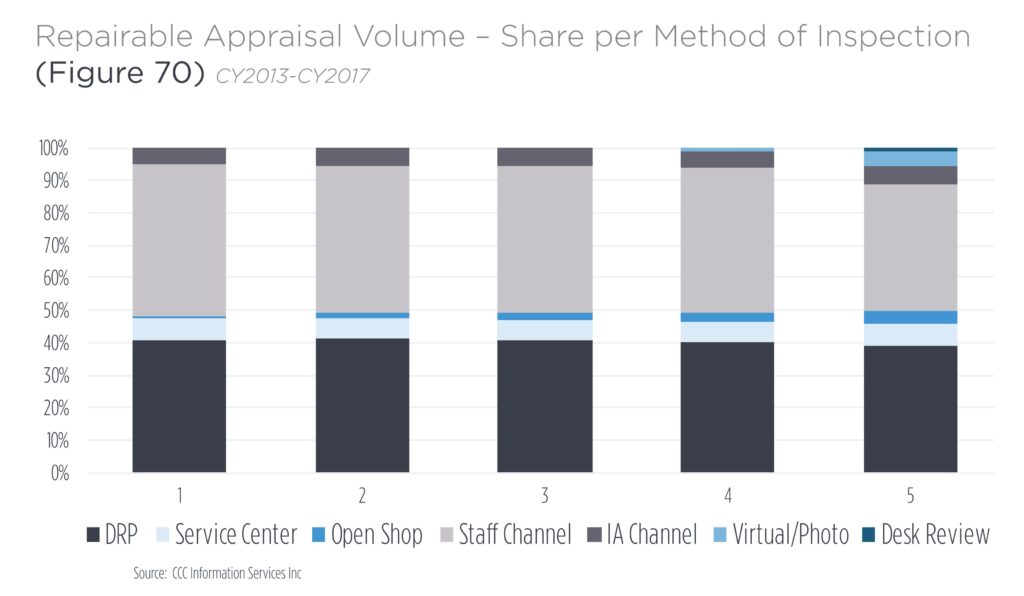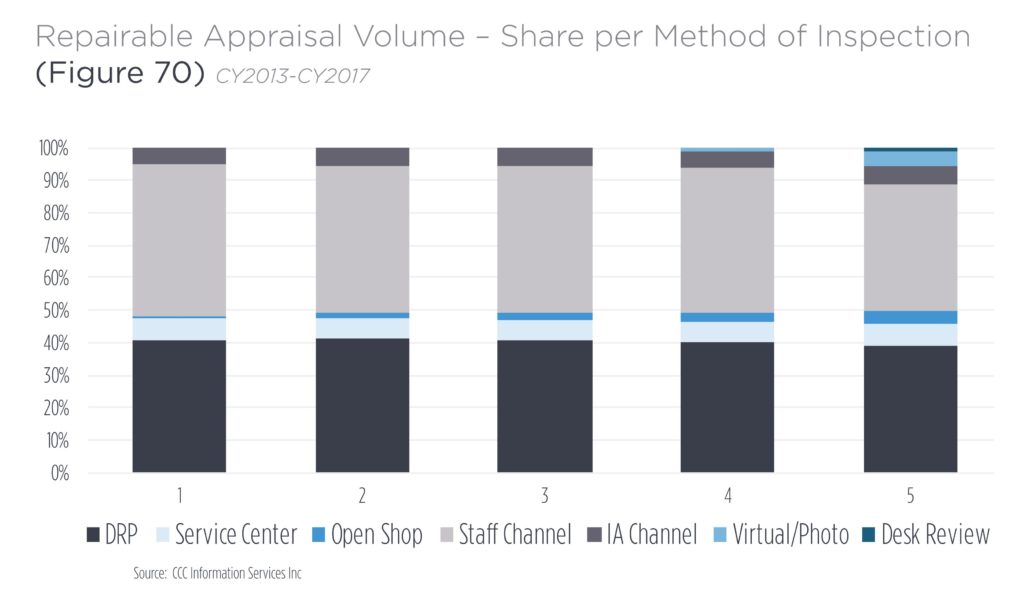 "The CCC Open Shop solution has had a significant impact on my business," Knoxville, Tenn.-based Harper Collision Center manager Graham Adams said in a statement. "We don't have any DRP relationships so we use Open Shop all of the time. It can really speed the process for us and it provides customers with a better experience. Before Open Shop, a customer might need to coordinate to meet with an appraiser, get multiple estimates, and do a lot of running around. With Open Shop, they can bring their car to us, we can quickly get the estimate written and approved, and then move on to the business of fixing their car."
Asked for her take on the increase in Open Shop reported by her latest Crash Course, CCC Director and analyst Susanna Gotsch said it indicated that technology supported such a workflow.
Prior to Open Shop, a customer who didn't want to use a direct repair program had to use a drive-in facility or wait for an appraiser, she said. Open Shop made it feasible to start the process at the shop of choice.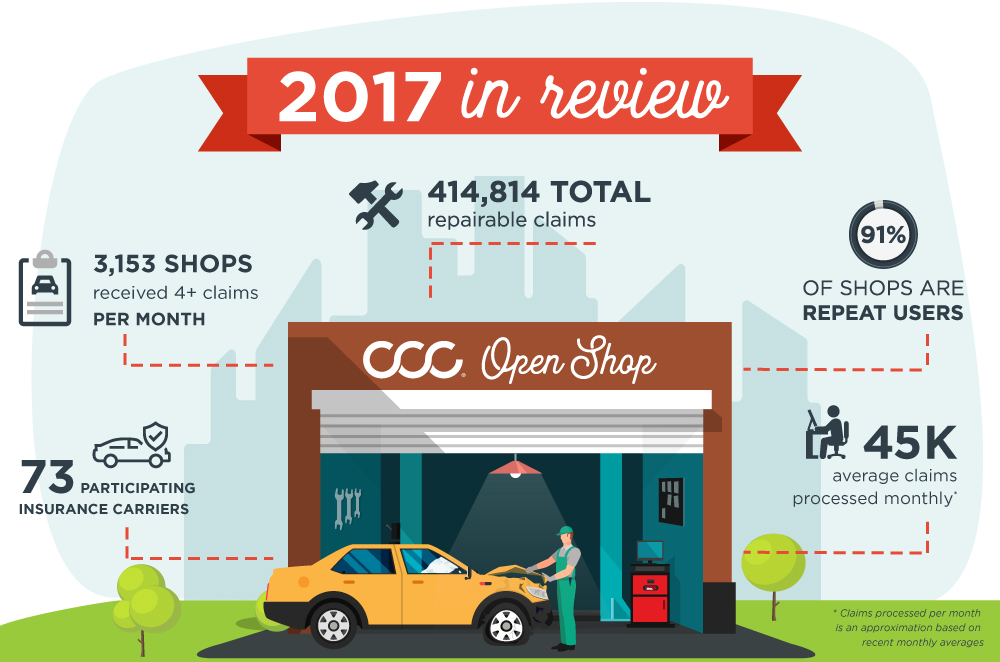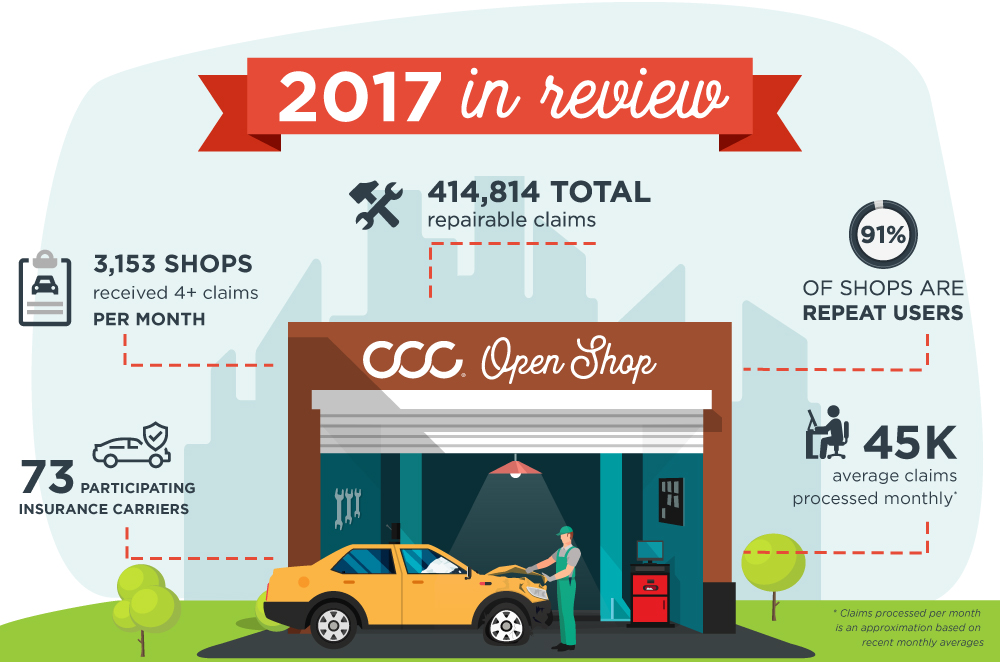 "We're thrilled that our Open Shop solution has been so well received by the industry," CCC market solutions Vice President Mark Fincher said in a statement. "As CCC continues to grow its network, our ability to connect parties for mutual benefit grows as well. For CCC Open Shop, insurers and repairers that weren't previously working together can now do so with ease, creating new opportunities for everyone, and making the process that much easier for consumers."
She said the initial estimate logged into CCC could have come from either the shop or carrier, depending on the insurer. Some insurers might accept the shop's, while others might still send someone out to produce an initial estimate anyway, according to Gotsch.
As Crash Course observed, the growth in Open Shop and other newer inspection formats such as desk review or photo estimating have come at the expense of insurers sending staff out to the scene.
"Repairers today take on an ever-increasing share of the automotive claim. Direct repair programs continue to account for a significant share of the industry's overall vehicle appraisal count annually," CCC wrote in "Crash Course." "Add the volume share appraised via other programs such as Open Shop (also known as shop-of-choice), and programs where the carrier has a staff appraiser stationed in a repair facility (also known as service center), and shops are seeing 49.6 percent of all appraisals generated within their four walls. Another key development in claims handling is the introduction by carriers of mobile apps that allow the customer to take photos of the damage to their vehicle and submit them for appraisal generation. Carriers introduced this capability in response to consumer demand to submit a claim on their own schedule via their preferred method. … (A) growing share of appraisal volume is generated annually via new and different methods of vehicle inspection such as virtual or photo inspections (over 4 percent), with most of the volume share loss from insurance staff appraisers inspecting the vehicle in the field or in a drive-in facility."
Vehicle Information Services attorney Erica Eversman has recommended shops write their own estimate from Day One rather than work off of the insurer's, and the rise in Open Shop would seem to facilitate that practice.
More information:
"CCC® Open Shop Surpasses 500,000 Assignments on an Annualized Basis"
CCC, March 22, 2018
Images:
The CCC booth at SEMA 2017 is shown. (John Huetter/Repairer Driven News)
CCC's 2018 "Crash Course" shows the small but steady increase in Open Shop usage over the past few years, from barely a hint of a presence in 2013 to nearing parity with independent appraisers in 2017. CCC in a 2018 news release called Open Shop's current estimate load "a meaningful portion" of all CCC assignments. (Provided by CCC)
CCC announced March 22, 2018, that its Open Shop software had reached more than 500,000 insurer assignments to non-DRP shops annually. (Provided by CCC)
Share This: