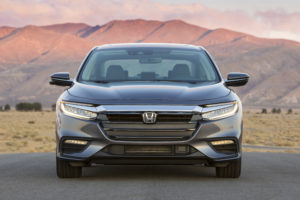 Collision repairers who've worked on the current-generation Honda Civic should see a familiar body design on the OEM's resurrection of its Insight hybrid for the 2019 model year.
"The Insight shares its basic platform architecture with the highly-praised 10th-generation Civic," Honda wrote in a news release Monday. "In keeping with its premium compact sedan character, the Insight gets numerous engineering enhancements to further improve ride quality, cabin quietness and efficiency. The body features Honda's Advance Compatibility Engineering™ (ACE™) body structure."
However, Honda said the 2019 Insight will carry an aluminum hood not found on the 2016-present Civic, creating yet another instance of a vehicle for which repairers might need dedicated steel and aluminum tools and aluminum infrastructure.
"Aluminum is aluminum … corrosion is corrosion," Honda collision repair expert Chris Tobie wrote in a 2017 email regarding the notion of F-150-type gear on a steel vehicle carrying aluminum body parts. "And yes, (aluminum) repair all requires the same precautions. Parts cost is a big part of whether to repair or replace aluminum components, so that will factor into the equipment a shop requires.  Aluminum bumper beams, like steel ones, are replace only. Never repair these!"
The Civic has an aluminum front bumper beam (which is a good bet to appear on the Insight as well), and Honda has used aluminum hoods on other Honda and Acura models, including the 2018 Accord.
Honda's 2018 Accord Body Repair News states, "Minor damage to the aluminum hood may be repaired by body shops that have dedicated aluminum repair facilities and tools." (Emphasis Honda's.) The OEM also states in the Accord and Civic Body Repair News documents that some aluminum fasteners are one-time use because of galvanic corrosion.
Honda also reported that the Insight includes "additional sound insulation in the engine bay, front fenders, front firewall, and front and rear floor" for improved quietness over the Civic.
The 2019 Insight goes on sale in early summer and will cost less than the Honda Clarity plug-in hybrid and Honda Accord and Accord hybrid, but more than the Civic, according to Honda and spokesman Chris Martin. Martin said Honda's goal was to compete with the Hyundai Ioniq and Toyota Prius on price.
"The Honda Insight shows consumers that the efficiency of a hybrid car doesn't mean sacrificing style, refinement or performance," Honda Senior Vice President Henio Arcangeli Jr. "The Insight is another symbol of a new era in the evolution of Honda electrified vehicles, where customers can have everything they want with no compromises."
The previous-generation Insight only sold a few thousand in its final full year, 2013. (Honda ceased production in summer 2014.) The Toyota Prius, in contrast, sold more than 200,000 units that year. However, the next-generation Insight might give the iconic Toyota model a challenge with its more-upscale-than-the-Civic vibe but cheaper-than-the-Accord price and 55 mpg city fuel economy. The non-plug-in Prius gets up to 58 mpg in the city.
Though the Civic structure should be somewhat familiar to collision repairers at this point, shops working on the Insight will still need to pay close attention to the OEM repair procedures.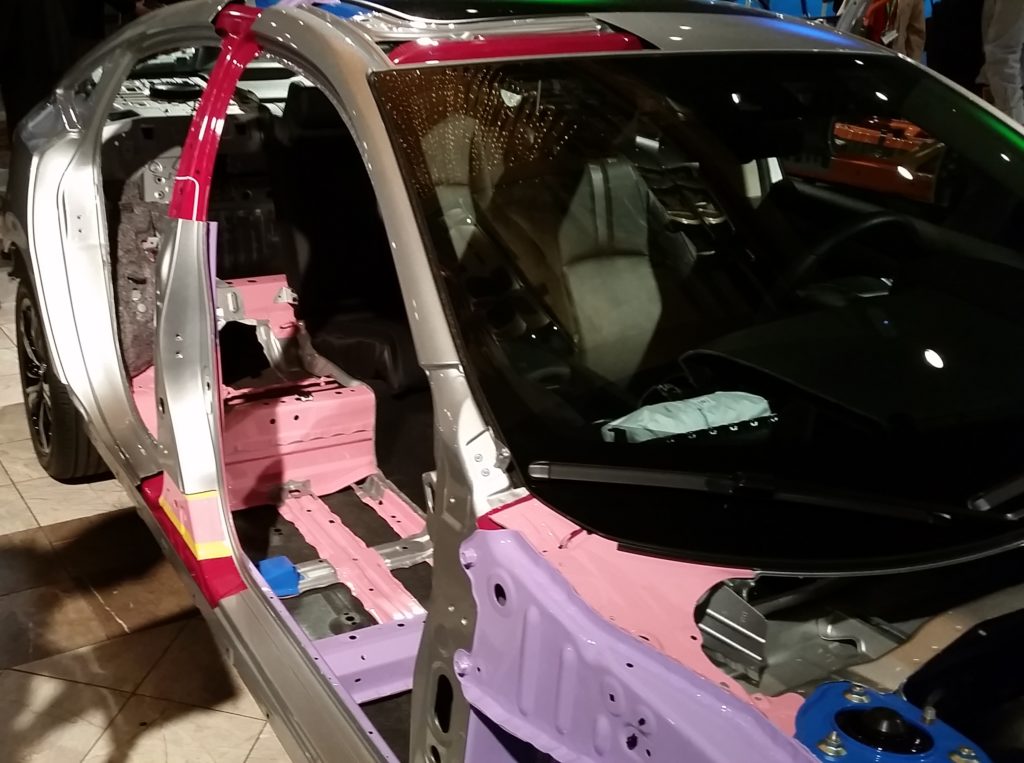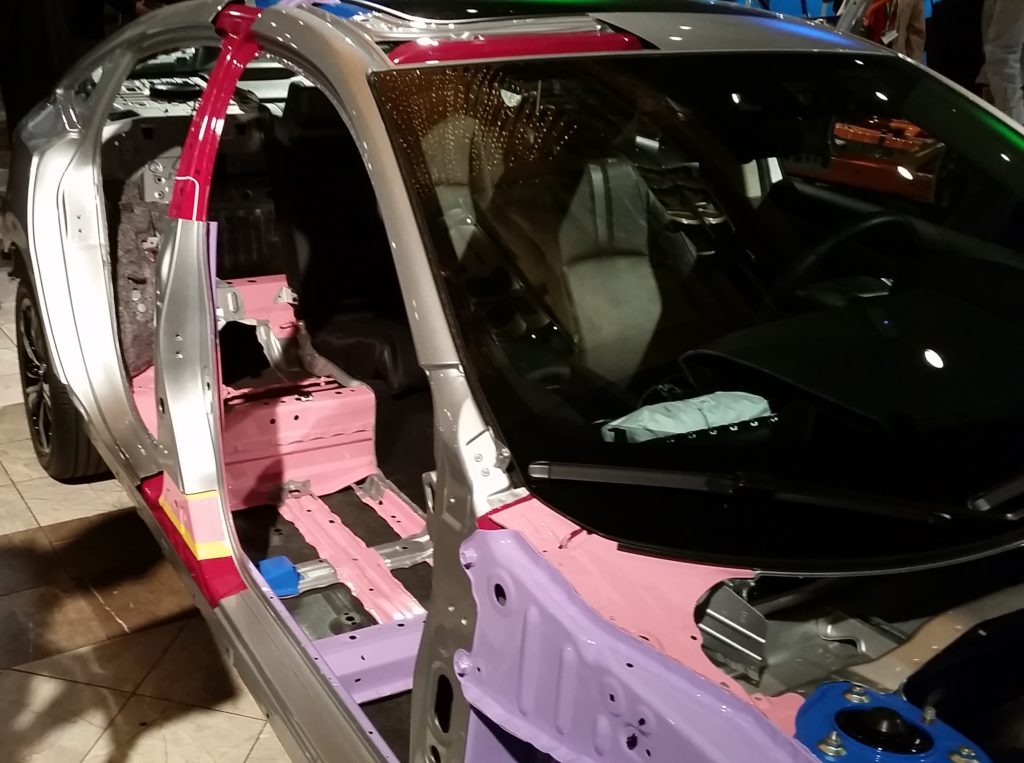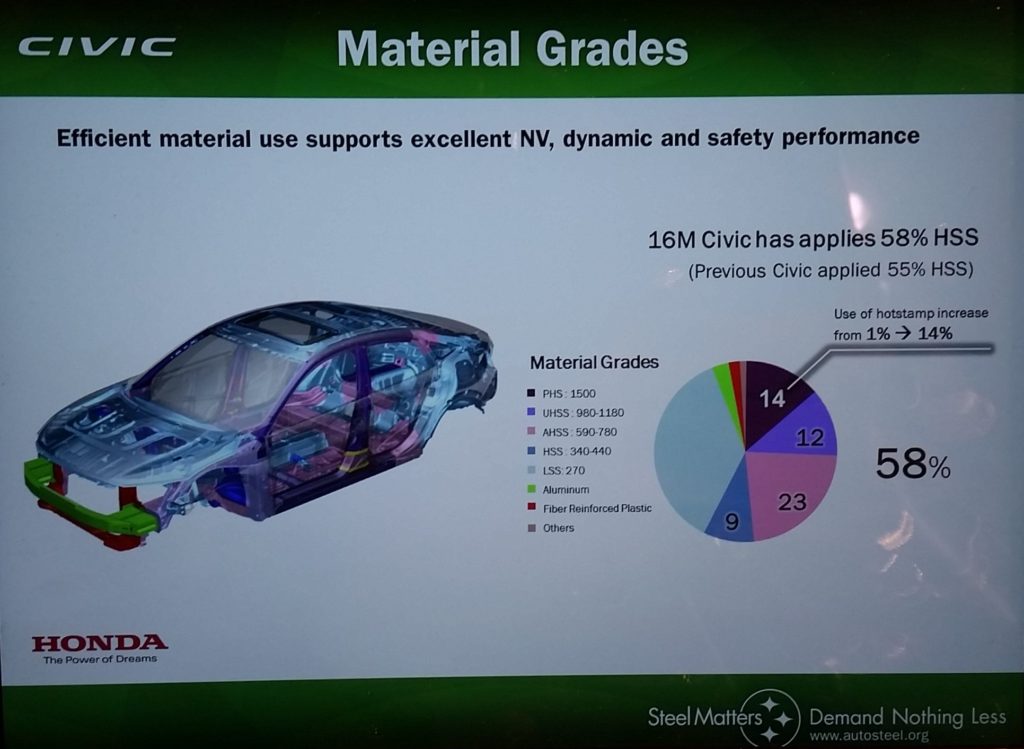 A quarter of the Civic is ultra-high-strength steel — which can carry strict welding or sectioning rules and be replace-only — and some 1,500-megapascal parts have special 500-800 MPa "soft zones" designed to manage collision energy.
Much of this will probably carry over to the Insight, and a shop will also need to take special precautions to avoid being electrocuted or compromising the electronics on the hybrid.
We've asked Honda if the Insight — which has a lithium-ion battery behind the fold-down rear seats — would have the special rear frame rails found on the four-door version of the 2016 Civic. Those 1,500 MPa frame rails feature 700-800 MPa soft zones designed to control rear-end collision energy. They're unsectionable, replace-only parts that Honda in 2015 said shops would remove through the trunk.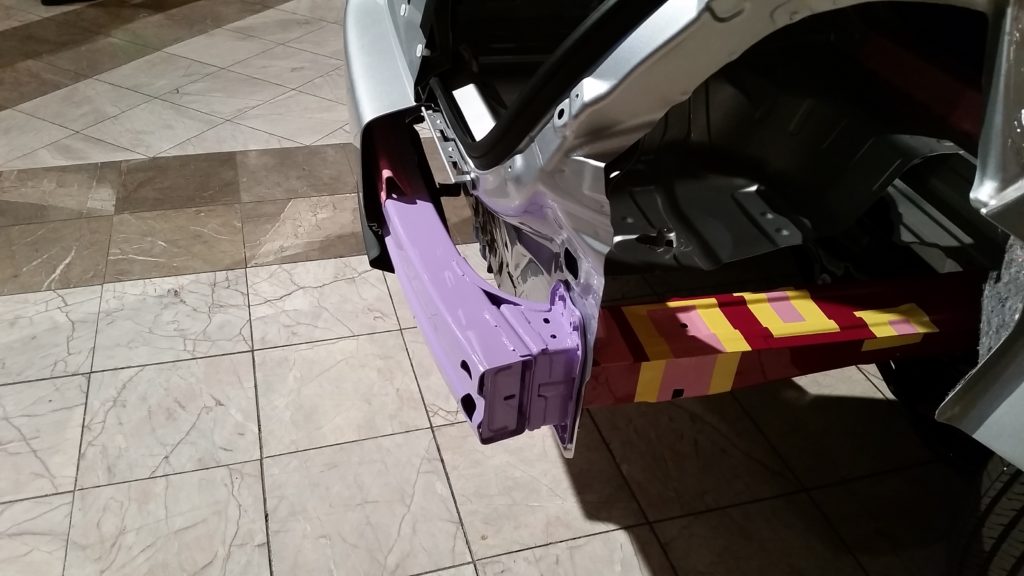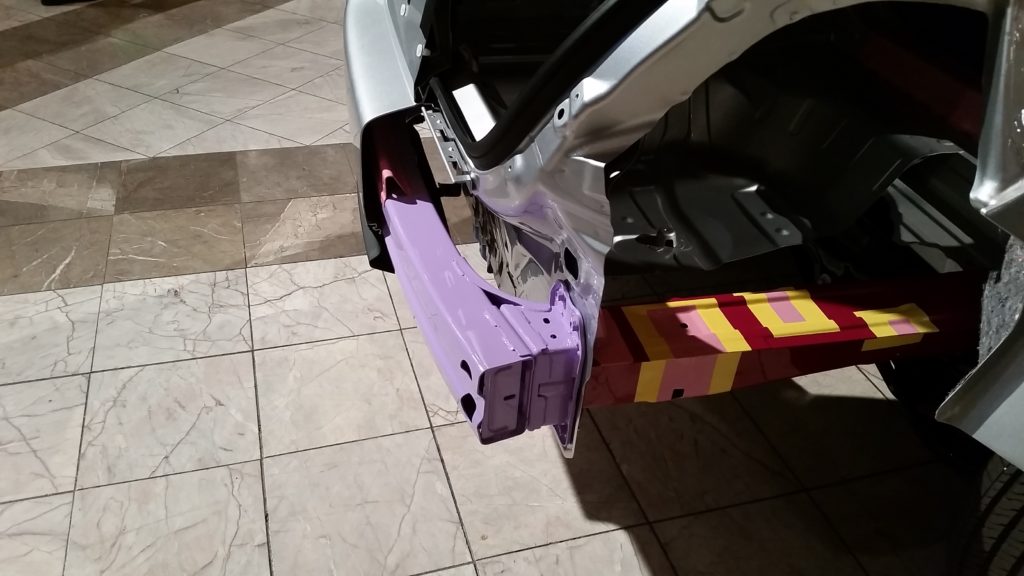 Honda collision marketing assistant manager Scott Kaboos confirmed that the rails will feature 1,500 MPa steel but couldn't provide more repair or metallurgy details.
"The Body Repair Manual for the Insight is still in process but the rear rails are 1500Mpa and Honda has never had a sectioning procedure for 1500Mpa steel as we do not allow for MAG butt welding on any steel over 780Mpa," he wrote in an email.
Other items possibly of interest to collision repairers:
The car has LED headlights and taillights. The top Touring trim has LED foglights and mirror turn signals.
The mirrors are heated on all trims.
The Touring trim offers over-the-air updates.
The Honda Sensing advanced driver assistance system suite is standard, and the standard rearview camera is "multi-angle." The EX and Touring trims have Honda LaneWatch, which shows what's going on in the adjacent passenger's-side lane whenever the driver hits the turn signal.
The Insight has a fully independent suspension including a "Macpherson strut front and multi-link rear," according to Honda. The Touring trim has "liquid-sealing compliance bushings at both ends," the OEM wrote. All Insights have three driving modes.
Steering wheel deceleration selectors allow drivers to pick from three types of regenerative braking.
"Unlike competing systems, Honda's two-motor hybrid technology works without the need for a conventional automatic transmission, with the electric propulsion motor directly powering the drive axles," Honda wrote. "During higher speed operation a lock-up clutch connects the engine to the drive axles to provide the most efficient operation during highway and freeway driving."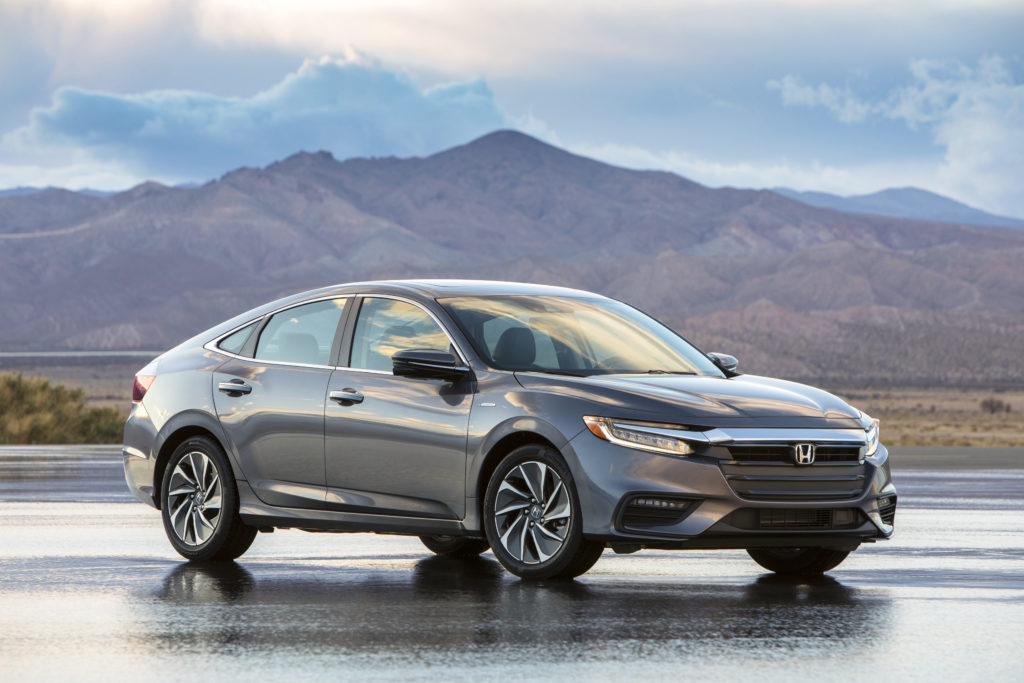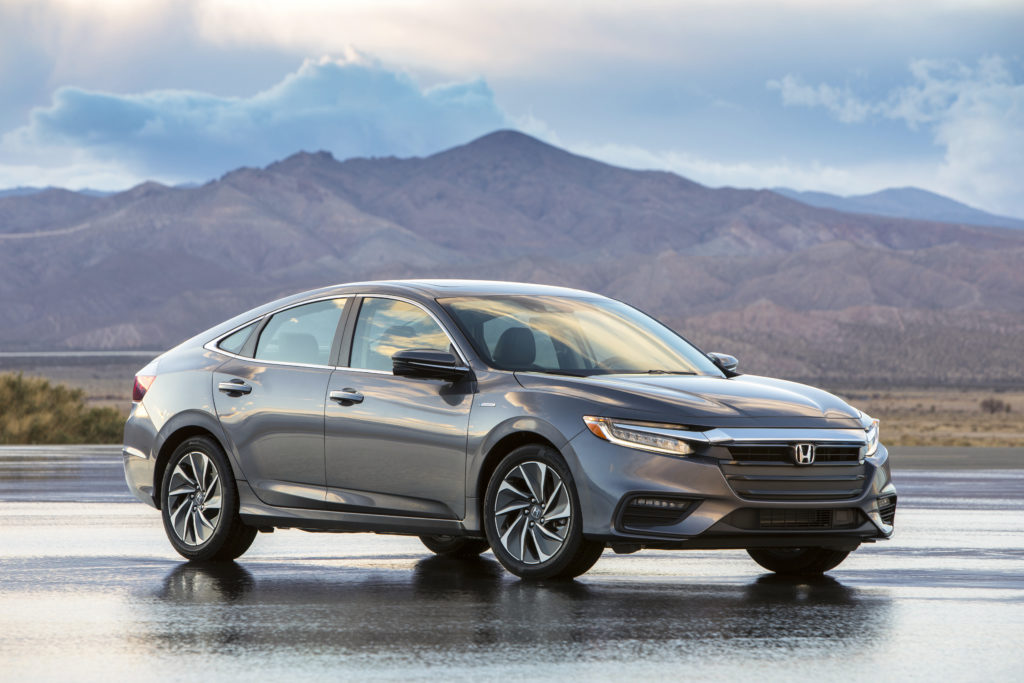 More information:
"All-New 2019 Honda Insight Production Model Makes Global Debut at New York International Auto Show"
Honda, March 26, 2018
Honda Body Repair News overviews
Honda OEM repair procedure portal
Images:
The 2019 Honda Insight has an aluminum hood but otherwise should largely resemble the body of the 2016 Honda Civic. (Provided by Honda)
A cutaway of the 2016 Honda Civic at Great Designs in Steel demonstrates the various steels and aluminum on the vehicle. The magenta parts are 1,500-megapascal ultra-high-strength steel, while pink parts are between 590-780 MPa. (John Huetter/Repairer Driven News)
This Honda slide from the 2016 Great Designs in Steel demonstrates steel grades on the 2016 Honda Civic. (John Huetter/Repairer Driven News)
Share This: