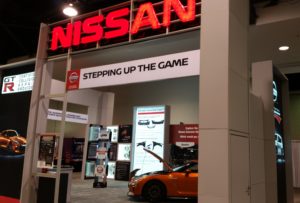 Collision repairers interested in joining Nissan's certified network had better act fast — and those on the network had better mind their Ps and Qs.
Unlike fellow Assured Performance OEMs like Ford, Nissan had for years planned to cap the number of shops it certified in the U.S., and it's nearing that point less than seven years after announcing the program.
Nissan now has more than 1,770 certified shops, collision parts manager Mark Zoba said in an interview Tuesday. It thinks about "another hundred more" should lead to about 98 percent of all units in operation (vehicles Nissan has sold) having a body shop no more than 20 minutes away from the owner, according to Zoba.
"We're excited about that," Zoba said.
With 250 more shops, "we think we can be at 100 percent," he said.
Zoba said it would be too difficult to list the 90 markets in which the OEM still could use more repairers.
But even shops in saturated markets might still have a chance to join the network.
Zoba said Nissan's focus this year will be ensuring their certified repairers are the "right shops," and it anticipates replacing some low performers based upon a new, enhanced series of metrics.
"My guess is there'll be a little bit of fluctuation," Zoba said.
Some shops might have had bad experiences with insurer scorecards in the past, but Zoba said such KPI systems were probably tracking "the wrong things" and unduly focused on "how cheap" and "how fast" the work could be done.
Nissan's will examine factors like total cost of repair and cycle time but also the shop's use of OEM procedures, parts selection and the overall net promoter score.
"It's most focused on getting the right repair," he said.
He said this attention to metrics would provide the "teeth" observers had asked Nissan about.
"Now we can come back and say, 'Hey, you are or you're not meeting the Nissan standards, and if you're not, we'll find someone that we can replace you with,'" Zoba said.
Asked how usage of OEM procedures would be monitored, Zoba said it was part of the quality control documentation system provided to shops by Nissan network manager Assured Performance.
Technicians would be asked if they used OEM instructions, and "it puts them in a difficult situation" if they lie. Though this is a self-reporting system, Zoba said Nissan would use its business partners to keep track of the usage, and the OEM would have ways to see whether the shop at least accessed the repair procedures.
Nissan will also have the capability to spot-check the documentation of the repair and technician's training to perform that repair which the shop has uploaded to the cloud.
"We have the ability to go in and do it," Zoba said.
It won't reinspect the actual vehicles, he said, describing checking them all as too expensive and "probably impossible."
Nissan in the past has allowed shops on the network to install used or aftermarket parts, even though it doesn't approve of either. The parts usage metric could change that and make it harder for shops — particularly direct repair program ones — to comply with insurer requests to use cheaper parts instead of original Nissan components.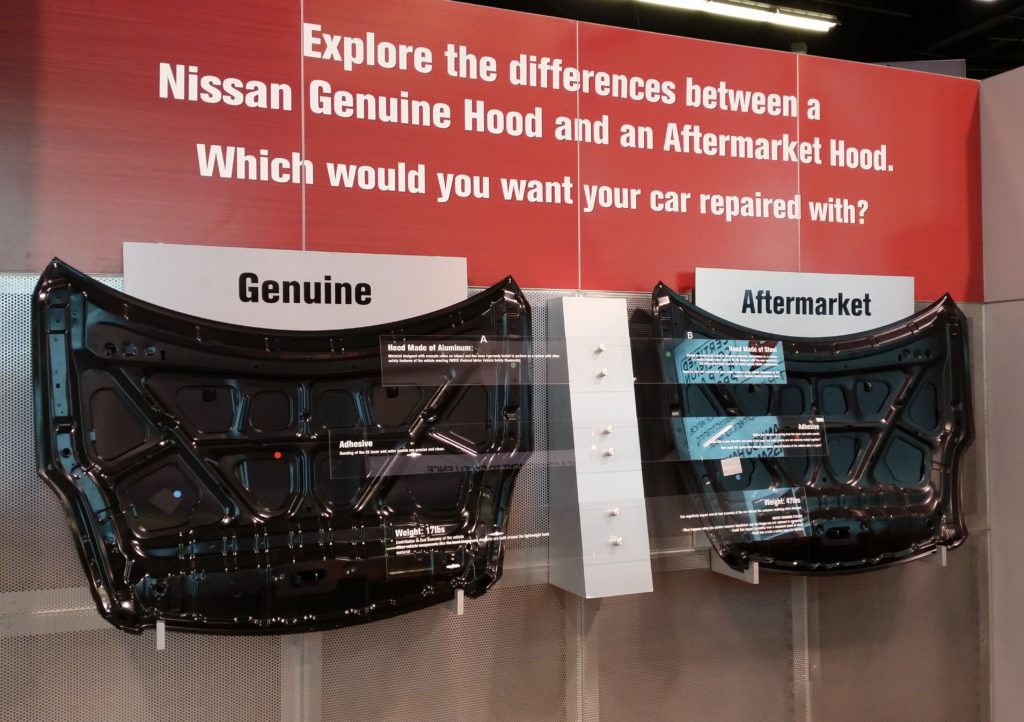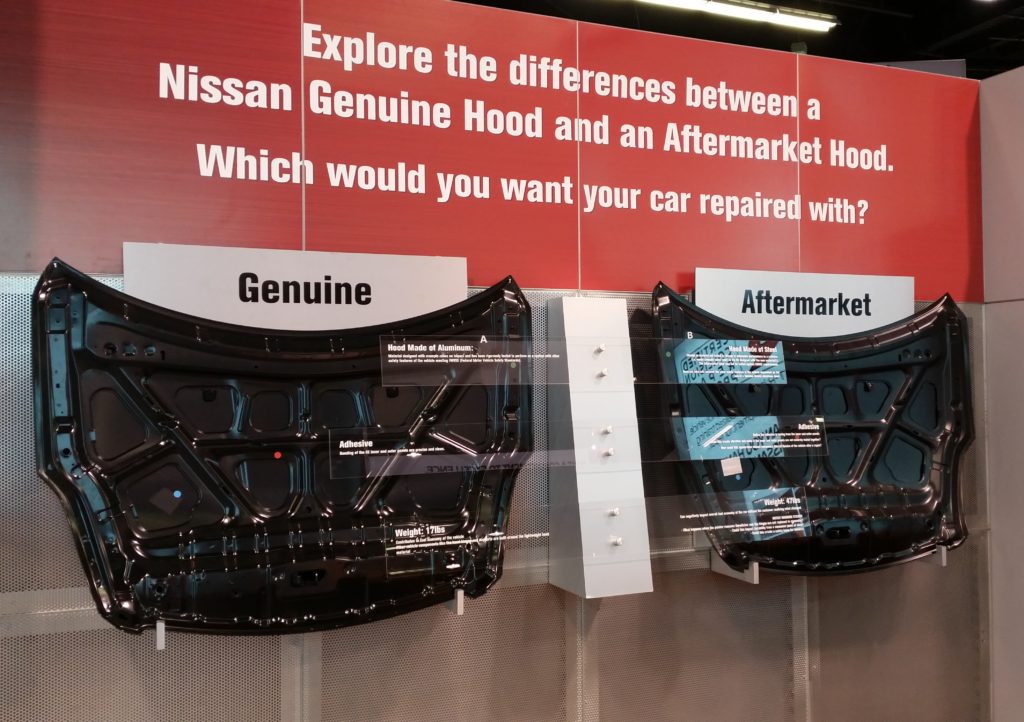 "The program was never designed to be a parts program," Zoba said. The network exists to serve Nissan customers and preserve brand loyalty. However, Nissan's view was that shops needed quality replacement parts to perform a quality job, he said.
Ironically, insurers might end up benefiting as well from the use of OEM parts.
"We're finding some interesting things," Zoba said. Some "partners" — possibly a reference to insurers — are finding better cycle time and better repairs with OEM parts, he said. One found a 10 percent higher net promoter score when certified network shops and more OEM parts were used, he said.
"In the end, we're seeing better repairs, with better parts … and not really seeing severity go up substantially," Zoba said.
It might increase a little in the near-term, but "I think that'll balance itself out over time," Zoba said.
He said insurers are even starting to come around and specify certified shops, and when they see severity isn't worse than their direct repair program shops, everyone wins.
We asked how a shop could control severity given that most of the repair bill was a function of following OEM procedures and the cost of parts — things that Nissan, not the shop, controls.
Zoba said conquest parts prices aimed at staying competitive with aftermarket components and other benefits for network shops could alleviate severity.
"We're not dictating labor rates or anything like that," he said.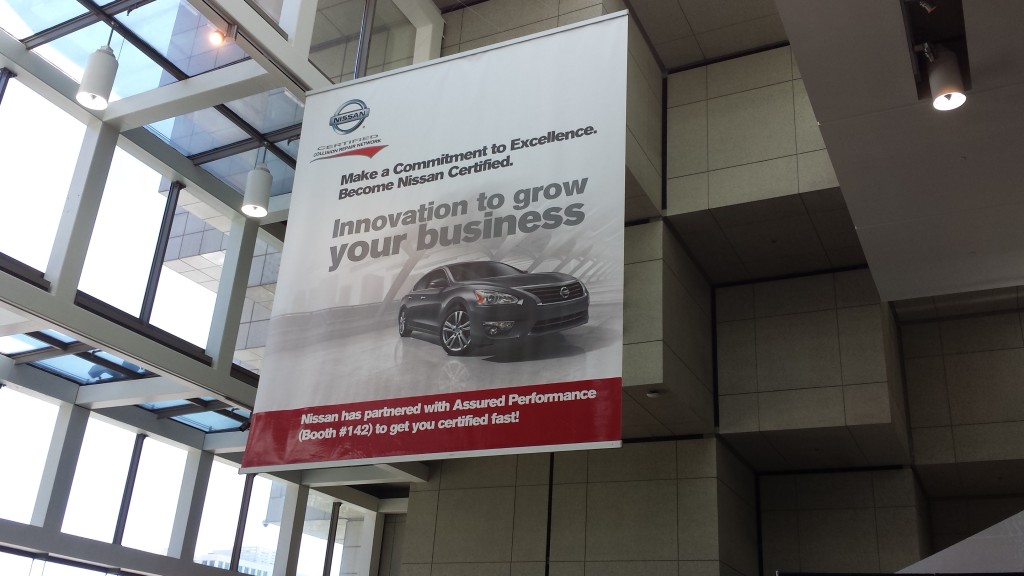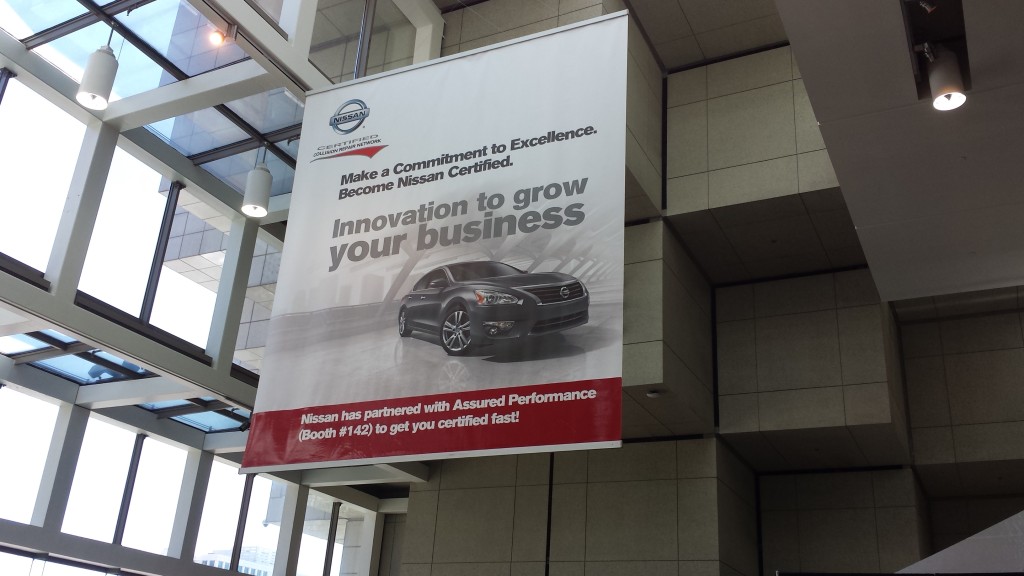 Nissan was examining severity more on a monitoring and tracking basis, Zoba said.
"I'm not looking to control that aspect of it," he said.
Besides, while Nissan's shops seemed to be providing greater overall satisfaction and fixing vehicles correctly, doing so didn't seem to be costing anybody more, according to Zoba.
Nissan also offered free towing to one of its certified shops, providing a saving that the insurer wouldn't recognize, according to Zoba.
"It's little things like that" that can lower the cost of a claim, he said.
We asked if Nissan would go the route of Ford and begin to require specific equipment for particular vehicles (in Ford's case, its aluminum trucks and SUVs), rather than hold the shops to the core requirements shared by multiple Assured Performance OEMs. He said the OEM might see an opportunity for such a practice but he couldn't discuss future vehicles, and "it's going to be vehicle-driven" if Nissan went that route.
More information:
Nissan certified collision program website
Assured Performance Nissan requirements
Nissan OEM1Stop repair procedure portal
Images:
Nissan's booth at NACE 2016 is shown. (John Huetter/Repairer Driven News)
Nissan at NACE 2016 presented an older display of another aluminum hood erroneously duplicated in steel (and weighing 30 pounds more) by an aftermarket producer. The steel version even had a warning label about the possibility of hood support failure. (John Huetter/Repairer Driven News)
A banner touts Nissan certification in the Cobo Center during NACE 2015. (John Huetter/Repairer Driven News)
Share This: