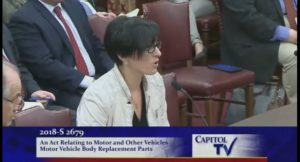 Seeking to assuage fears expressed by insurers, LKQ and representatives of the Automotive Recyclers Association, advocates told a Rhode Island House committee last month that a body shop-backed bill requiring OEM repair procedures wouldn't prohibit all alternative parts.
The concern arose earlier that month during a Senate Judiciary Committee hearing on Senate Bill 2679, and it's likely to arise again Tuesday when the bill returns to that body sometime after 4 p.m.
Senators at the April 3 hearing seemed to view the measure favorably, and it'll be interesting to see what transpires Tuesday.
The bulk of the bill and its companion House Bill 8013 heard April 24 by the House Corporations Committee extends from 30 months to 48 months the time in which customers must provide written consent for aftermarket parts.
It also applies that rule to "any collision damaged part on the vehicle" — not just "body" parts — and formally grants that right to third-party claimants — not just the "first-party" vehicles specified under current Rhode Island law.
Concerns with some of these elements were raised during the April 24 hearing as well. But a major point of contention involved the bill's creation of Rhode Island General Laws 27-10.2-2 (d), which would declare:
"No insurance company may require any repairer to use repair specifications or procedures that are not in compliance with the recommendations of the original equipment manufacturer for those parts."
Bill opponents argued that this language effectively prohibited the use of anything other than new OEM parts given manufacturer position statements.
Frank O'Brien, vice president of state government relations for the Property Casualty Insurers Association of America, said that paragraph "to us is worse than all of the other parts of the bill combined."
O'Brien said the bill wasn't drafted with this goal in mind, but  "it would essentially ban the use of aftermarket parts" in Rhode Island, for no OEM recommends anything other than their own parts.
He also argued that the language could be construed to prohibit vehicle repairs anywhere but OEM-certified auto body shops. After all, some OEMs recommend those shops specifically, he said.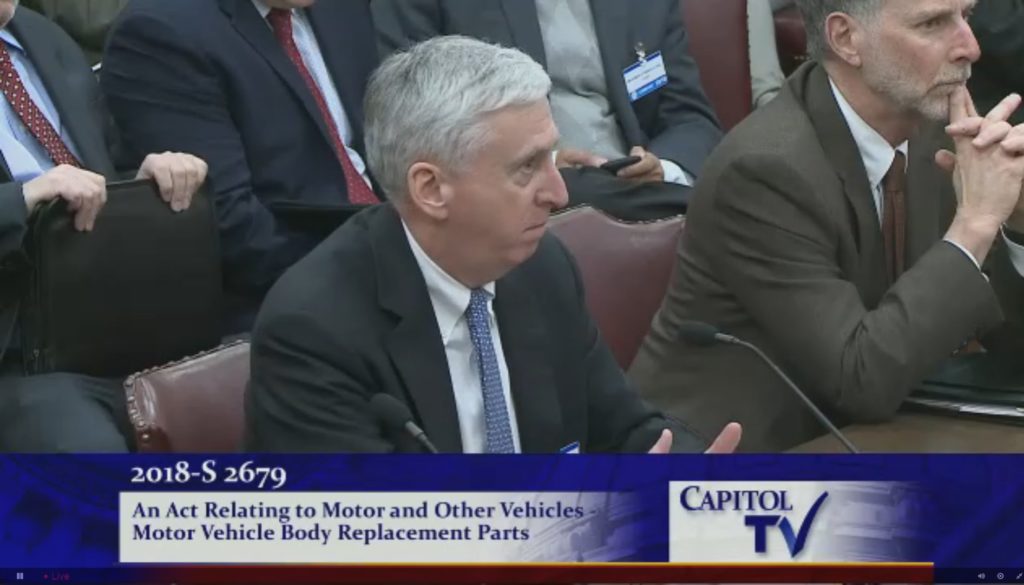 A body shop spending the money to be Mercedes- or Cadillac CT6-certified might be a good investment for the shop, he said. "It probably is a good investment," because it does show that the "shop has the experiment and the expertise to do that kind of repair," he said. But "is it good public policy" if the Legislature effectively mandates those shops only?
"We feel very strongly about this," he said.
Automotive Service Association Massachusetts/Rhode Island Executive Director Stephen Regan (Regan Strategies) said he took exception to O'Brien's characterization.
"That's not what that language says," Regan said. He said didn't see it restricting part type or location, only repair procedures, later citing the multimillion-dollar verdict in Texas for a body shop which didn't follow OEM repair procedures. (The case was later settled for an unspecified amount.)
"I don't see that language written in that same way," Regan said.
Automotive Recyclers Association of Rhode Island manager Ron Matthews (Car-Part.com) said his association opposes Part (d) the way it's currently written.
"It leaves us out of the equation," he said. "… This will hurt us tremendously."
Matthews said the ARA would be willing to sit down with collision repairers and adjust the language to something more acceptable.
"Our used parts are OEM," said ARA Secretary Scott Scott Robertson (Robertson's Auto Salvage).
Automakers recommend against recycled parts because they have no idea of those components' history, as a bill supporter explained. (Was it in a crash before, for example?) However, Robertson argued that automakers don't condemn the rest of a vehicle which wasn't directly damaged by an accident as unacceptable used parts.
Asked how much of his inventory came from crashes, Robertson conceded, "Some, yes." However, he said the last thing the company wants to do was send out an unacceptable part.
LKQ Northeast government affairs manager Andreas Heiss said that as an attorney, he looks at the "worst-case scenario" for the language, which would involve it banning anything but OEM parts. He too said LKQ could work with automakers and body shops to produce something "a little more concise" rather than the "too broad' wording today.
Like Reagan, body shop representative Jina Petrarca said the Part (d) language really was about a national issue in which insurers seek to repair vehicle to an "'industry standard' even though that doesn't exist. (After failing miserably at presenting that "industry standard" argument at the April 3 hearing, insurers didn't attempt to float it again April 24.)
OEM repair procedures were the way to fix a vehicle, said Petrarca, an attorney at Petrarca & Petrarca Law Offices.
"That's what we're trying to address," she said.
The notion that the bill would outlaw everything but new OEM parts, "I don't read it that way," she said. The language applied to only the parts addressed by the law.
"It doesn't say all parts in the world," she said.
Randy Bottella, owner and operator of Reliable Collision, agreed. "That wasn't meant to exclude all parts," he said.
It was only supposed to apply to parts used in a repair. If the manufacturer says to weld or calibrate a part, it needed to be done as the OEM specified, he said.
"That's what that speaks to," he said, though he allowed that perhaps it wasn't written clearly enough or was misunderstood.
Lawmakers should keep a few points in mind before attempting any rewriting of that passage to address the concerns raised.
First, if the bill does permit recycled or aftermarket parts in contradiction of OEM recommendations, those parts should at least be installed following all other OEM repair procedures. You don't want a situation where that single exception (parts allowed to be used) allows the rest of the OEM playbook to be discarded.
Second, clarifying that insurers are allowed to install used or aftermarket parts in contradiction of OEM repair procedures could if worded too broadly open the door to unintended consequences, such as safety-critical components being allowed to go aftermarket or recycled at an insurer's whims.
Third, what did Rhode Island consumers think they were paying premiums for the seven years before a crash to receive? Is it really so outlandish that their replacement parts be OEM, even after 48 months of vehicle age? There's still a market for aftermarket and recyclers to serve with DIYers and customer-pay repairs, after all. And why should third-party claimants have to settle at all?
Finally, adjustment of this section might also be necessary to ensure repairers and insurers behave properly with respect to all other parts on the vehicle. Given the bill's reference to "any collision damaged part on the vehicle" (which would presumably extend to one-time use parts), it would seem to leave the door open to unscrupulous insurers requiring undamaged parts be R&I'd in a manner violating manufacturer procedures.
Bill supporters said that wouldn't be the case.
"Based on where the new language is placed in the law, we don't see a reason why this wouldn't speak to the overall repair procedure, not just parts being replaced," Alliance of Automobile Manufacturers state government affairs senior director Wayne Weikel wrote in an email in early April.
"We don't see a serious issue with the language," Petrarca wrote in an email then. "Existing parts should be covered as well."
Still, a tweak or two might still be necessary to clarify as much and to demand OEM procedures be followed on vehicles older than 48 months as well, regardless of what parts might be installed at that point in time.
Be heard: Rhode Island legislator contact information can be found here and here.
More information:
Senate Judiciary Committee hearing on House Bill 8013.
Rhode Island Legislature Capitol TV, April 3, 2018
House Corporations Committee hearing on Senate Bill 2679
Rhode Island Legislature Capitol TV, April 24, 2018
Images:
Jina Petrarca (Petrarca & Petrarca Law Offices), spoke representing her father's company Providence Auto Body at an April 3, 2018, Rhode Island Senate Judiciary Committee hearing. (Screenshot from Rhode Island Capitol TV video)
Property Casualty Insurers Association of America state government relations Vice President Frank O'Brien appears at an April 3, 2018, Rhode Island Senate Judiciary Committee hearing. (Screenshot from Rhode Island Capitol TV video)
Share This: