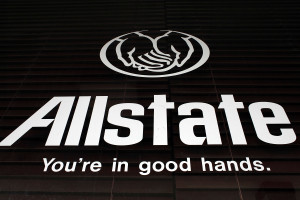 An Allstate attorney told the Rhode Island House Corporations Committee last month that its customers always can refuse aftermarket components in favor of new or used OEM parts at "no additional cost."
"Allstate's policy is: we give a claimant notice that they can choose an aftermarket part or OEM part," Allstate Northeast regional counsel Tim Knapp said at an April 24 hearing. "…. It's their choice, with no additional cost to them. that's our policy. Not all the carriers do that."
This is an important Allstate policy for consumers, auto body shops and adjusters to remember.
Direct repair program facilities and their insurance liaisons should particularly keep it in mind when discussing key performance indicators which indirectly involve parts type (such as parts cost and estimate conformity). If customers exercise their right to OEM parts under an Allstate policy, then it's not fair to judge the repairer on statistics skewed by such decisions.
A former Allstate DRP shop explained the company's "customer choice" policy as:
The "customer choice" part, from what I was always told, meant that a customer could get OE parts if they asked for them; only we couldn't tell them that.
They had to ask for them without any "coaching" if you will.
A consumer-facing 2016 Allstate blog post states:
You are also entitled to ask the body shop to use original equipment manufacturer parts (OEM) to repair your car instead of less expensive "after-market" parts. Keep in mind, however, OEM parts could be new or recycled, depending on how your policy is written.
An Allstate media representative confirmed the customer choice policy Knapp referenced considered either a recycled or new component to count as an "OEM part," a definition an Automotive Recyclers Association representative also put forth at the hearing. However, automakers do not see the two types as equal and do not recommend or warranty used parts for collision repair. (There's no way for them to know the parts' condition.)
"We honor customer choice for OEM," spokesman Justin Herndon wrote in an email. "The type of OEM is decided on a case-by-case basis."
The April 24 hearing examined House Bill 8013, the companion bill to Senate Bill 2679. Both bills extend from 30 months to 48 months the time in which customers must provide written consent for aftermarket parts. They also apply that rule to "any collision damaged part on the vehicle" — not just "body" parts — and formally grant that right to third-party claimants — not just the "first-party" vehicles specified under current Rhode Island law.
Finally, the bills state: "No insurance company may require any repairer to use repair specifications or procedures that are not in compliance with the recommendations of the original equipment manufacturer for those parts."
The requirement that the owner of a young vehicle should be allowed to have all of their damaged parts replaced with OEM components — not just traditional "collision" parts — would close a loophole in both Rhode Island law but also Allstate's "customer choice" policy. (And possibly in other insurers' parts practices as well.)
An Allstate May 2017 parts matrix states that "Cooling components including radiators, a/c condensers, fans, mechanical engine components, steering and suspension parts" "do not need customer approval."
Bill supporter Robert Godfrey, whose career includes years in the collision repair industry and as a licensed appraiser, told the hearing that parts like those deserve protection, while the opposition pointed to the high-quality, well-known mechanical aftermarket brands available.
Godfrey told the committee about two instances where aftermarket tie rods "failed."
"One, it didn't even get off of the bay before it snapped and broke," he said.
Under the Magnusson-Moss warranty act, the act of installing recycled or aftermarket mechanical steering or suspension part can't void your warranty by itself. But if its failure compromises a part still under warranty, the customer's out of luck, body shop representative Jina Petrarca (Petrarca & Petrarca Law Offices) told the hearing.
Timing
Knapp, whose company opposed the measure, also raised an interesting philosophical point: If non-OEM parts are so bad, why would "Month 49" or "Month 31" be an acceptable time to install them? He said the message seemed to be, "'There should be a ban,'" and pointed to language in the bill he and other opponents said appeared to ban alternative parts outright.
Asked by a committee member if perhaps aftermarket parts manufacturers were able to refine imitation parts quality the longer the components were in production, Knapp said he didn't know and would defer to the aftermarket representatives. LKQ Northeast government affairs manager Andreas Heiss did not address the question during his appearance.
Alliance of Automobile Manufacturers state government affairs senior director Wayne Weikel offered some other perspective on the matter of timing.
"We believe that consumers should actually always have a choice … regardless of age," he said. "… The purpose of buying any insurance is to make you whole after an accident, or a loss."
He proposed that if any time limit were set, "we think 60 months makes the most sense," for most consumers buy a car with a 60-month loan.
The hearing audio is available here. Knapp's comments start at about 03:05:00.
Be heard: Rhode Island legislator contact information can be found here and here.
More information:
House Corporations Committee hearing on Senate Bill 2679
Rhode Island Legislature Capitol TV, April 24, 2018
Senate Judiciary Committee hearing on House Bill 8013.
Rhode Island Legislature Capitol TV, April 3, 2018
Featured image: An Allstate insurance company sign is seen outside one of its stores Jan. 17, 2008, in Miami. (Joe Raedle/Getty Images News/Thinkstock file)
Share This: