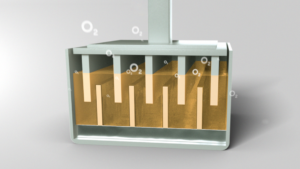 In a move that could trigger greater OEM use of aluminum next decade, Alcoa and Rio Tinto announced Thursday they had developed a means of smelting the metal without generating any "direct greenhouse gas emissions."
An Alcoa-Rio Tinto news release called the process "revolutionary" and "the most significant innovation in the aluminium industry in more than a century."
The giants will spin off a company named Elysis to market the process, planning to sell the technique commercially by 2024.
The technology lowers operating costs 15 percent and boosts production 15 percent, according to CNET. Elysis will also sell proprietary cathode and anode materials, "which will last more than 30 times longer than traditional components," and license the process for new or existing smelters.
The Canadian government, which invested $60 million in Elysis (as did the province of Quebec), said in a news release from Prime Minister Justin Trudeau's office that the system "can also reduce production costs and improve productivity."
If the development can lower the price of aluminum for automakers, it's possible they'd expand the use of it besides what's already been projected for the collision repair industry.
"This is a revolutionary smelting process that can deliver a significant reduction in carbon emissions," Rio Tinto Chief Executive Jean-Sébastien Jacques said in a statement. "It builds on the key role aluminium has to play in driving human progress, by making products infinitely recyclable, stronger, lighter and more fuel efficient. Rio Tinto is proud to work with Alcoa, Apple and the governments of Canada and Quebec, to drive an innovation that can transform the industry and our customers' supply chains."
"This discovery has been long sought in the aluminum industry, and this announcement is the culmination of the work from many dedicated Alcoa employees," Alcoa CEO Roy Harvey said in a statement. "Today, our history of innovation continues as we take aluminum's sustainable advantage to a new level with the potential to improve the carbon footprint of a range of products from cars to consumer electronics."
Lifecycle comparison
The development might also keep aluminum protected against a shift in how regulators worldwide crack down on greenhouse gases — thereby keeping the metal appearing in large quantities in auto body shops.
The automotive steel industry has been criticizing vehicles lightweighted with automotive aluminum as technically worse for the environment than steel cars. It's released research arguing that the fuel savings — and ensuing reduction in carbon dioxide car emissions — produced by building cars out of aluminum instead of steel aren't enough to offset what is overall a worse environmental footprint when one takes into account the entire lifespan of the metal in the car. (For example, the steps necessary to turn raw materials into something like an aluminum hood.)
Prime Minister @JustinTrudeau watches the launch of Elysis, our JV with @Alcoa: an aluminum smelting process that releases pure oxygen instead of greenhouse gases. Pretty cool, if we do say so ourselves. https://t.co/YDgIw7RdWn @RioTintoCanada pic.twitter.com/itGpSXJWIg

— Rio Tinto (@RioTinto) May 10, 2018
Alcoa President and CEO Roy Harvey announces a revolution in smelting technology along with @RioTinto Aluminum CEO Alf Barrios — #aluminum smelting technology that emits oxygen and no greenhouse gases! #breakthroughtechnology #elementofpossibility pic.twitter.com/up7jnePKk9

— Alcoa (@Alcoa) May 10, 2018
"There is a trade-off," study author Roland Geyer of the University of California, Santa Barbara, told the 2016 Great Designs in Steel conference in a presentation of preliminary results examining aluminum and steel life cycles.
If global regulators focused on that comprehensive mine-to-car-to-scrapyard/recycling lifecycle metric, steel would have the edge, the Steel Recycling Institute declared in February. It released a final version of a comparison of vehicles built out of advanced high-strength steel and aluminum found
"In many cases, the dramatic increase in materials production emissions for vehicles lightweighted with aluminum instead of AHSS is never offset by emissions reduction benefits during the vehicles useful lifetime," a Steel Market Development Institute news release stated.
The development announced Thursday seems as though it'd help aluminum keep aluminum in the running as a substrate if lawmakers followed the steel industry's advice and regulated the long game.
"In Canada, the technology could eliminate the equivalent of 6.5 million metric tonnes of greenhouse gas emissions, if fully implemented at existing aluminum smelters in the country," Alcoa and Rio Tinto wrote in a news release. "That represents an amount roughly equal to taking nearly 1.8 million light-duty vehicles off the road."
"The technology has the potential to significantly reduce the country's carbon footprint over the next decade, helping Canada reach its commitments under the Paris Agreement," Trudeau's office wrote.
More information:
"Alcoa and Rio Tinto Announce World's First Carbon-Free Aluminum Smelting Process"
Alcoa and Rio Tinto, May 10, 2018
"Lightweighting with Advanced High-Strength Steel Produces Lower Greenhouse Gas Emissions than Lightweighting with Aluminum"
Steel Market Development Institute, Feb. 8, 2018
Featured image: Alcoa and Rio Tinto announced Thursday they had developed a means of smelting the metal without generating any "direct greenhouse gas emissions." They spun off a company, Elysis, to commercialize the technology. (Provided by Elysis)
Share This: