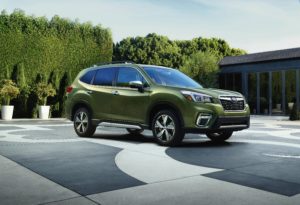 Subaru built 56 percent of the next-generation 2019 Forester body out of high-strength steels ranging from 440 megapascals to gigapascal-plus metal in areas like the B-pillar and frame rail, a composition which will likely mean body repair restrictions on the OEM's No. 2 seller.
Subaru sold 177,563 Foresters in 2017, around 11,000 or so behind the OEM's top-selling Outback, so it's clearly a vehicle repairers will encounter and need to research, particularly shops in regions full of Subaru die-hards.
"The 2019 Forester is built on the Subaru Global Platform to deliver significantly higher levels of driving pleasure, agility, crash protection, ride comfort and quietness," Subaru wrote in a news release March 28. "… The Forester's new platform integrates the latest version of the Subaru ring-shaped reinforcement frame design, proven over nearly two decades to provide excellent occupant collision protection."
A graphic provided by Subaru describes a body-in-white which was 44 percent 270 MPa mild steel; 12 percent 440 MPa high-strength steel; 31 percent 590 MPa advanced high-strength steel; and 6 percent 980 MPa, 1 percent 1,180 MPa and 6 percent 1,470 MPa ultra-high-strength steel. (We weren't permitted to reproduce the internal diagram, merely to write about it, so you'll have to check Subaru repair procedures for a better sense of the design.)
The higher the tensile strength, the more OEMs typically restrict sectioning, heat and straightening. Repairers will need to take care and consult Subaru's collision instructions to ensure their repair plans don't compromise the stronger but more sensitive metals or affect Subaru's crash energy management design. For example, heating higher-strength steel can reduce its tensile strength and crashworthiness, and improper sectioning of the metal can lead to the force of the crash being redirected somewhere that could harm occupants.
The 440 MPa high-strength steel can be found in what appear to be crush zones between the Forester's front frame rails and bumper beams, the floor, and a T-shaped area between the B-pillar and frame rail. The last of these are likely meant to manage side-impact energy in a controlled manner; Honda's similar-looking "soft zones" on the next-generation Civic serve this function. The radiator support is also 440 MPa high-strength steel, which might affect the ability of aftermarket manufacturers to copy it and remain competitive on price.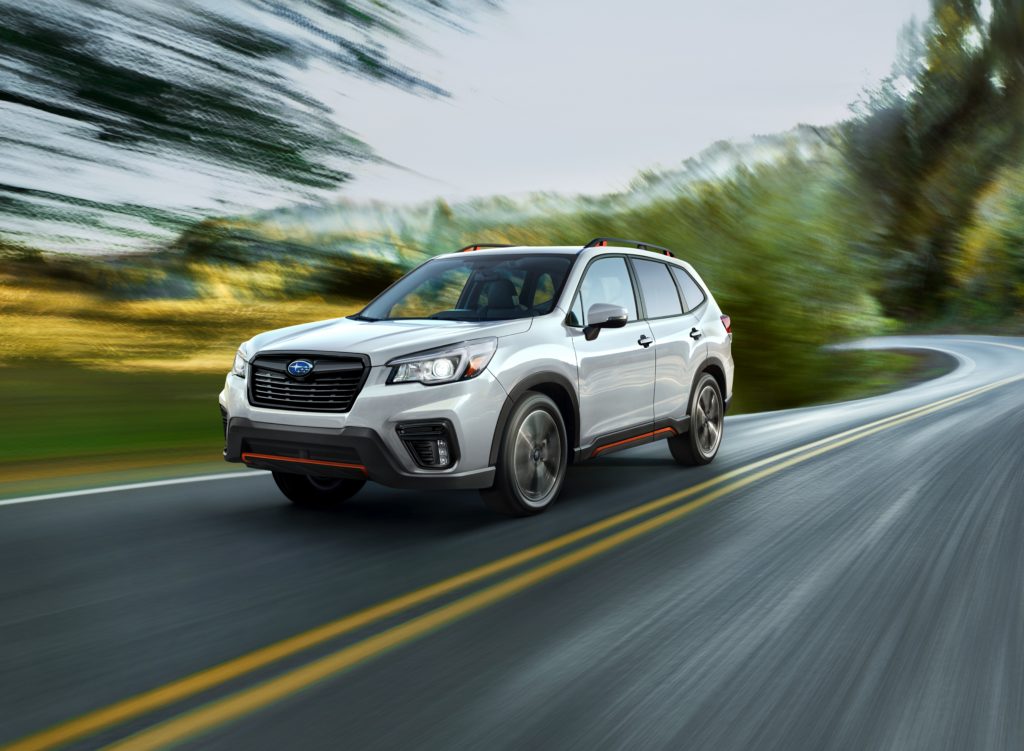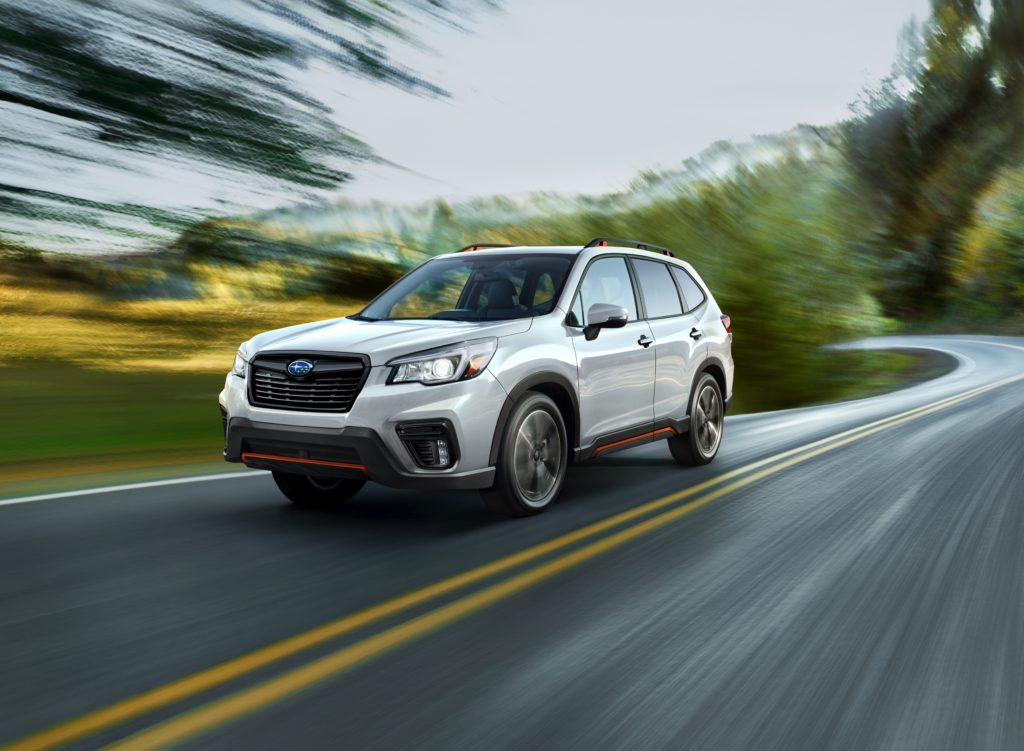 The 590 MPa advanced high-strength steel can be found in areas including the transmission tunnel, floor crossmembers, front, main and rear frame rails, B-pillar, and the front bumper beam.
The 980 MPa ultra-high-strength steel appears in the A-pillar and continues back the entire roof rail to the C-pillar. It also can be found in the main frame rail and a large floor crossmember just behind the B-pillar. The 1,180 MPa steel was used in the main frame rail sandwiched between the 590 MPa and 980 MPa steel and in the roof crossmember spanning the car between the B-pillars. Finally, the 1,470 MPa steel can be found in the B-pillar, rear bumper beam and in what appears to be the back of the front bumper beam. (The mix of 590 MPa and 1,470 MPa steel apparently found in that structure would seem to make it difficult for aftermarket manufacturers to copy the component.)
Subaru plans to make all of its next-generation models using the new global auto body platform through at least 2025, so if techs familiarize themselves with the automaker's recommendations (available here via I-CAR), they should be relatively comfortable with all next-gen Subarus. (Though shops should still double-check OEM procedures online on every car, every repair.)  But a technician wrong about one element of the modular platform's repair will likely repeat the error across all the Global Platform Subarus he or she encounters.
Of course, given the rapid technological change, the technician might have to adapt multiple times before the platform becomes obsolete.
"The platform anticipates further improvements in strength and new materials and has the potential to continue to offer the world's highest levels of collision safety even in 2025," Subaru wrote about the platform in 2016.
While we couldn't reproduce the Forester body-in-white diagram specifically, Subaru did give us this look at the 2017 Subaru Impreza wagon's skeleton. It shares the same global platform and some of the characteristics of its 2019 sister vehicle and might give you some of an idea what will be coming on the Forester: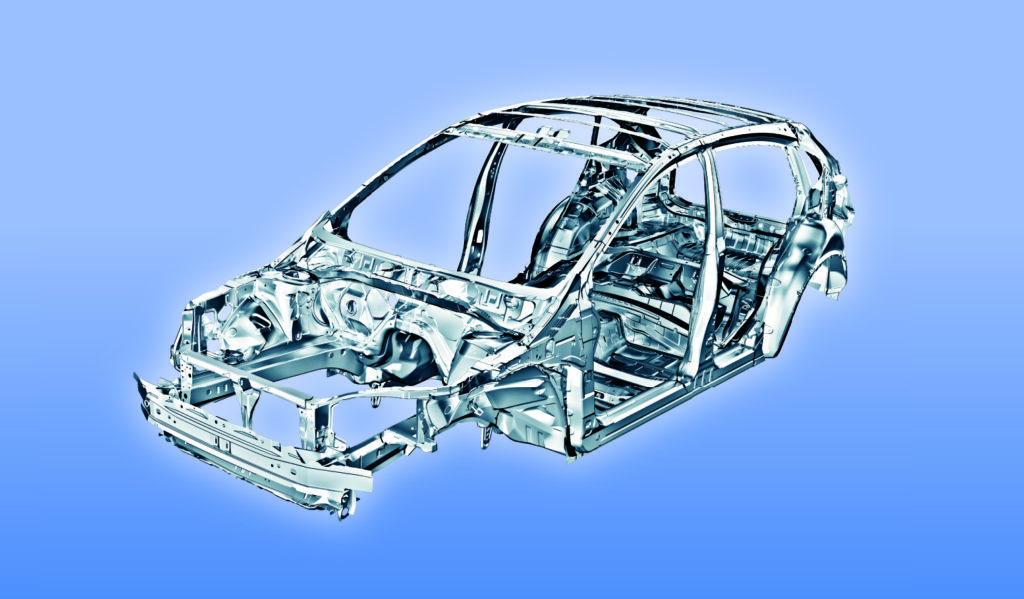 Other items to watch
There's a lot of other elements on the new Forester collision repairers might find of interest. Pay close attention to the technology on this one; there's some stuff you probably might not have encountered or expected to see on a mass-market vehicle, and it's all destined to increase repair severity and complexity.
Exterior: "Front, side and rear underguards are standard on all models, with color finish according to trim line," Subaru wrote. All trims also have "lower body side cladding." Roof rails are standard on everything but the base Forester.
Also, the SUV has a new standard system that automatically locks all the doors — and the fuel door — when the car exceeds 13 mph. This can be customized by the owner.
Lights: LED headlights are standard on all trims. The Sport version has an LED floodlight "that illuminates the area around the rear gate when it is opened."
Paint: New colors include "Jasper Green Metallic, Horizon Blue Pearl and Crimson Red Pearl," according to Subaru. That smacks of a more complex refinishing process estimators and adjusters will need to remember when preparing estimates.
Airbags: There's a standard driver knee airbag and standard front "pelvis/torso" airbags on the sides (which are different from the side curtain airbags the Forester also features).
Connectivity: New or certified used Foresters come free with a year of STARLINK Safety Plus (subscriptions cost $99 annually after that). It offers "offers SOS emergency assistance, enhanced roadside assistance, automatic collision notification, maintenance notifications, monthly vehicle health report, and diagnostic alerts."
A customer with this suite will have a Forester which can scan itself and possibly know if you missed something in your repair. The package also provides an avenue for Subaru to detect a crash and refer customers to its new certified network, should the OEM choose to follow GM's lead.
NVH: Follow OEM repair procedures or risk your customer coming back saying the SUV sounds different. Subaru wrote that the 2019 Forester offers the quietest Forester cabin ever, "thanks to the Subaru Global Platform's inherent resistance to noise, vibration and harshness (NVH)."
It's unclear if the vehicle has active noise mitigation technology — for example, equipment to detect and play the inverse sound waves of unwanted noises to cancel them out — or if Subaru refers to passive designs, but the OEM wrote that it "has worked to tune out certain frequencies to make conversation or listening to music at highway speeds more comfortable."
ADAS: All 2019 Foresters come standard with Subaru's EyeSight advanced driver assistance system package — which has the potential to cut crash frequency but imposes calibration demands and bars aftermarket glass. The suite includes autobraking and the ability to detect a crash is likely and reduce engine power, adaptive cruise control and lane-keeping. Reverse autobraking is among the other ADAS technologies available as options.
All but the standard and Premium trims include adaptive headlights, and the top two Limited and Touring trims add headlights which can turn with the car.
DriverFocus: The most elite Touring trim debuts Subaru DriverFocus, which the OEM called an exclusive for the segment. Not only does it keep tabs on the driver to see if he or she is sleepy or distracted and work with EyeSight's ADAS to cut accidents, it also can remember the preferences of five drivers and adjust various aspects of the SUV automatically to their presets. It's probably going to be yet another thing that cuts crash volume but will have to be calibrated (and hopefully, you can keep those presets and therefore customer satisfaction!) when crashes do occur.
"The all-new Forester is the first in its segment, and among the first vehicles in the industry to incorporate technology that can address the important societal issue of distracted driving," Subaru wrote in a news release.
More standard tech: "The 2019 Forester is the best-equipped ever, with the standard model adding features such as EyeSight, LED headlights, Auto Start/Stop, SI-DRIVE Engine Performance management, Active Torque Vectoring, Automatic Climate Control, Electronic Parking Brake, Trailer Stability Assist and Welcome Lighting," Subaru wrote. A power moonroof also comes standard on everything but the base Forester.
The 2019 Forester's tire-pressure monitoring system also now can tell you the pressure for each one of the tires.
The side-view mirrors are pretty smart: Subaru wrote that the mirrors "have a two-position memory function synchronized to the driver's seat position memory." They also tilt themselves downward when you put the Forester in reverse to make for easier parking, according to Subaru.
Steering, suspension, etc.: You knew it had all-wheel drive standard; it's a Subaru.
But the 2019 Forester also comes standard with Active Torque Vectoring, and all but the base model feature have "driver-selectable X-Mode® with Hill Descent Control" standard. The latter technology controls the engine, transmission, brakes, all-wheel drive clutch force, and Vehicle Dynamics Control to better manage slippery roads and steep hills. The standard trailer stability assist "utilizes yaw sensors to monitor trailer sway and then can brake individual wheels to stabilize the vehicle and trailer," Subaru wrote.
You're probably going to need to inspect and possibly calibrate at least some of this technology and the associated mechanical parts after they get banged around in a wreck.
More information:
"ALL-NEW 2019 SUBARU FORESTER® DEBUTS AT NEW YORK INTERNATIONAL AUTO SHOW"
Subaru, March 28, 2018
Images:
The 2019 Subaru Forester Touring is shown. (Provided by Subaru)
The 2019 Subaru Forester Sport is shown. (Provided by Subaru)
The 2017 Subaru Impreza wagon body-in-white, which uses the new Subaru Global Platform, is shown. (Provided by Subaru)
Share This: