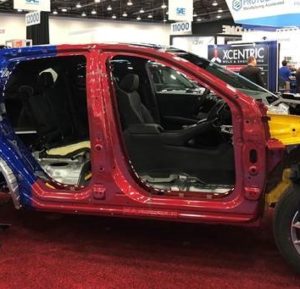 ArcelorMittal last month gave the world a closer look at what it called the "world's first inner and outer door ring system," an ultra-high-strength steel design collision repairers will encounter for the first time next year on the next-generation 2019 Acura RDX.
A tailor-welded hot-stamped door ring — an ArcelorMittal product which debuted on the 2014 Acura MDX — has been a staple of Honda's latest-generation Hondas and Acuras. However, RDX chief engineer Stephen Frey explained in January that only the outer ring had been hot-stamped on those vehicles; the inner ring wasn't.
ArcelorMittal showed off the new ring configuration at the WCX18: SAE World Congress Experience in Detroit, according to an April 19 news release from the steel giant. It wrote that the inner-outer door ring allowed Honda and ArcelorMittal to "better balance strength and performance while removing additional weight from the vehicle."
"A vehicle's front body structure – or the area surrounding the driver and passenger – consists of a ring that serves as a critical part of the safety cage. The outer ring is where the doors and styling components affix, while the inner ring is where the airbags and all interior features attach," RDX body development leader Joe Riggsby said in a statement. "Together, they make a continuous structure that encompasses the front door opening and offers a solution that is very stiff."
Acura in March said the RDX's body is more than 50 percent high-strength steel.
"It utilizes a new double-ring rear frame design and new two-piece ultra-high-strength steel front door rings, which significantly increase body rigidity, handling precision and cabin quietness," Acura wrote in a news release.
Acura eliminated the temporal side sill found in multibody construction and integrated it into the door ring as well, according to Frey. "This allowed us to do a variety of kind of interesting things with the seat belt placement and improved rigidity and strength and crash performance," he said in January.
ArcelorMittal said five different gauges of ArcelorMittal's ultra-high-strength Usibor 1500 steel combine to form the RDX's inner door ring, and four gauges were used in the outer ring.
"The various Usibor® steels are blanked at a blanking company then shipped to the newly opened ArcelorMittal Tailored Blanks facility in Detroit where the enabling technology, called laser ablation, takes place," ArcelorMittal wrote. "Once ablated, the steels are welded together, with multiple quality control processes being to ensure precision. The blanks are then sent to a hot-stamper to be stamped into the final part required by the automaker."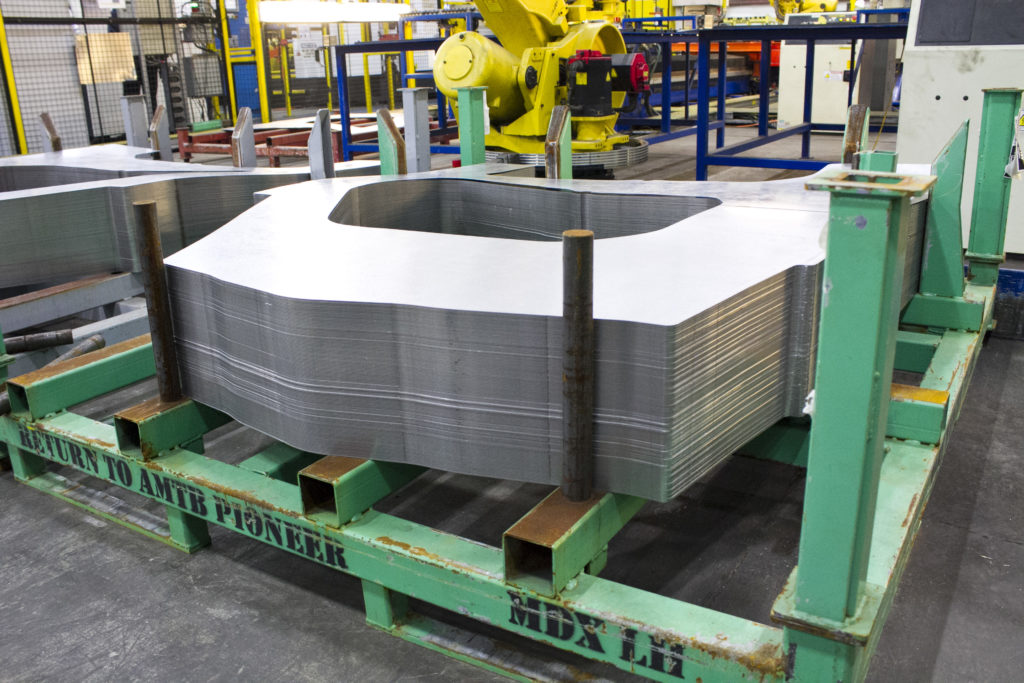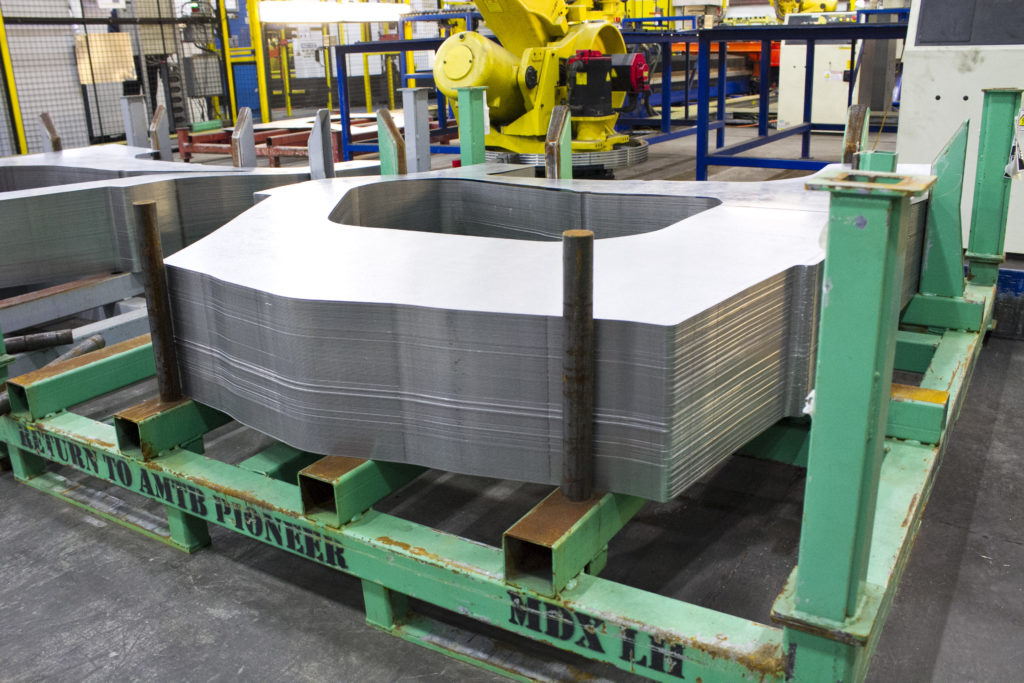 The existing door ring already carries significant restrictions upon auto body repair: No sectioning except where Honda tells you to section, and no repair. Honda proved the folly of deviating from these rules by crash-testing an improperly sectioned 2014 Acura MDX, one of the first vehicles to carry the original hot-stamped door ring configuration.
It seems unlikely this would change under the more advanced ArcelorMittal-Honda design, and shops disregarding Acura repair procedures would likely do so at theirs and their customers' peril, given the role of the structure in crash protection.
"The outer and inner door ring system takes our safety protection to the next level. The solution manages loads coming from the front of the vehicle and translates them through to the back of the structure. It also balances side type of crash modes to prevent intrusion into the cabin and protect the occupants from all directions," Riggsby said in a statement. "This vehicle also features a panoramic sunroof, and with two door rings, it really performs well."
The RDX's platform is Acura-exclusive. But repairers will recall that the 2014 Acura MDX door ring migrated to Hondas as well (something ArcelorMittal itself noted in the news release). We wouldn't be surprised to see the new inner-outer door ring doing the same even if other elements of the platform remain Acura-only.
According to ArcelorMittal, we shouldn't be surprised if the door ring appears on other OEMs' vehicles as well.
"We see the door ring and our hot-stamped solutions continue to move through the industry," ArcelorMittal Tailored Blanks representative Todd Baker said in a statement. "We are working with more customers to implement them into more vehicles, and we see it taking place across vehicles lines. The application isn't just limited to SUVs and minivans, we are seeing it in pick-up trucks and small cars. This validates our belief that the door ring and hot-stamped welded blanks offer a cost-effective way to make vehicles safer and lighter."
ArcelorMittal said Honda's new body design helped the OEM cut 42 pounds out of the 2019 Acura RDX compared to its predecessor.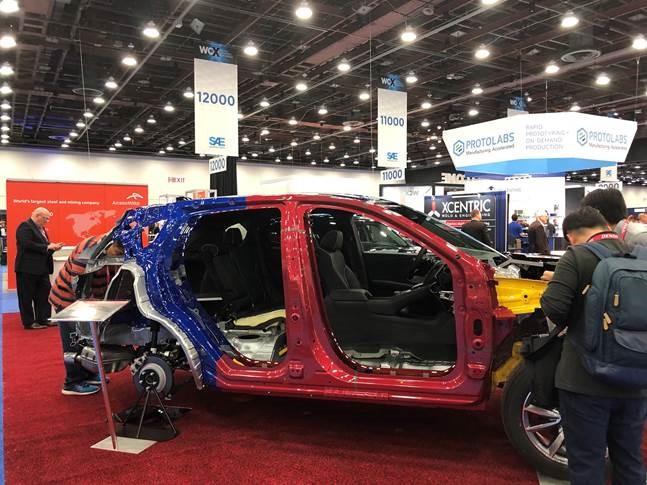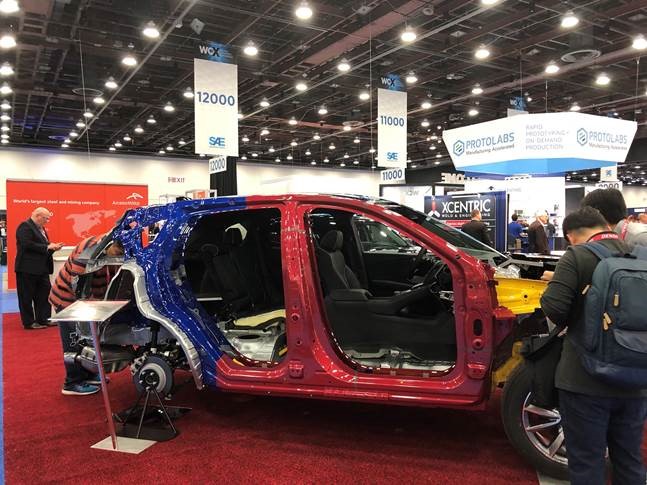 "The 2019 RDX sits atop an all-new body and chassis architecture designed to deliver a sophisticated and engaging driving experience," Acura wrote in March. "It starts with a 2.6 inch longer wheelbase, which aids both ride comfort and cabin space. The cargo area behind the rear seats has expanded 3.4-cubic feet with an additional 1.7 cubic-feet of compartmented underfloor storage. The new platform provides for a fully-flat rear floor, enabling first-class seating comfort in all three rear seating positions.
"The body structure is mated to an all-new chassis design with variable ratio dual-pinion electric power steering, a sport-tuned Macpherson strut front suspension, an all-new five-link independent rear suspension and available adaptive dampers."
As noted in Acura's March comments, repairers will encounter a different frame design on the RDX's rear as well. As Acura planned to restore Super-Handling All Wheel Drive, the SUV needed a new rear subframe and suspension, Frey said in January. The new design delivers "pretty significant improvements" in lateral rigidity, he said.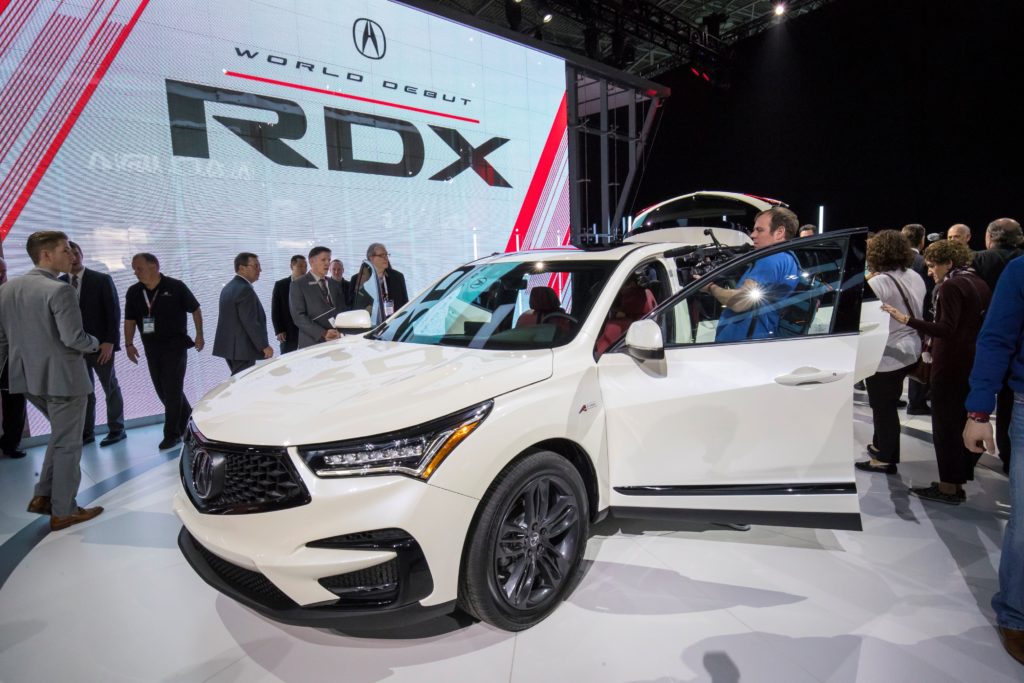 More information:
"ArcelorMittal unveils world's first inner and outer door ring system"
ArcelorMittal, April 19, 2018
"2019 Acura RDX Debuts in New York with Turbocharged, Torque Vectoring Powertrain and Onslaught of Premium Features"Acura, March 28, 2018
Images:
ArcelorMittal designed what it called the "world's first inner and outer door ring system," an ultra-high-strength steel design collision repairers will encounter for the first time next year on the next-generation 2019 Acura RDX. (Provided by ArcelorMittal)
ArcelorMittal tailored blanks are shown. Such blanks are used in the inner and outer door rings of the 2019 Acura RDX. (Provided by Acura)
The door ring of the 2019 Acura RDX is the first tailor-welded, hot-stamped inner and outer door ring system. (Provided by Acura)
Share This: