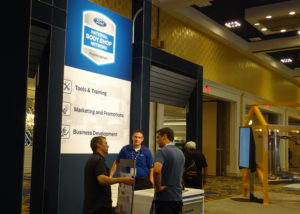 Editor's note: The 2018 International Bodyshop Industry Symposium Global Summit wrapped up Wednesday in Munich, Germany. As we were unable to jet-set it over to Europe, IBIS organizer and reporter bodyshop magazine was gracious enough to allow us to reprint some of their coverage.
One of the most interesting Munich speakers was Ford aftersales marketing and global collision repair director Jennifer Boyer, who spoke to the OEM's desire to be involved in the auto body repair process. 
Here's an abridged excerpt from bodyshop/IBIS' coverage. Get even more information by reading the entire June 12 article here.
With millions of Ford vehicles involved in collisions annually, Jennifer told delegates: 'Collision is part of the Ford ownership experience and we need to be prepared to serve our owners.' She continued, 'Collision needs to be understood as part of the Ford customer experience.'
Further to this, Jennifer then highlighted the results of a Ford customer survey which asked what was most important to them when choosing a bodyshop. The results showed 52% wanted a vehicle manufacturer approved facility; 21% desired a family or friend recommendation; 20% an insurer recommendation; and seven per cent were keen on something geographically convenient.
Jennifer then explained the Ford collision philosophy which is 'to provide Ford owners with quality collision repairs utilising Ford OE repair procedures and parts.' The philosophy takes into account five strategic pillars: prepare; develop; engage; provide; and grow.
'With our owners being the focus, we feel it our duty to educate them – and that is where the critical nature of relationships come into play. Relationships matter. We have not been as engaged in this industry as perhaps we should have been – 18 months ago in the US we had one person on the collision team, we have now added five people to that team,' explained Jennifer. She continued, 'Dedicating resources to this space is not just happening in the US – it is happening around the world.'
When questioned about Ford's movements within the market, Jennifer said Ford had been busy engaging the industry in order to create the right partnerships and also stated, 'We are very serious about our approach to the global collision repair industry.' She continued, 'the teams across the globe are starting to build the certified standard for a global network – we feel this is very important for the future.'
Read the complete June 12 article on the IBIS website here.
Connected cars and claims
Boyer also alluded to OEMs handling elements of the traditional claims process in an pre-IBIS interview with the Dutch Aftersales Magazine posted June 6. According to a Google Translate version of the Aftersales Magazine article:
Boyer expects car manufacturers to play a more active role in the coming years. "We are the stewards of the brand experience and experts in the techniques used. Moreover, I expect a change in the insurance world as we know it today. The reason for this is the connected vehicle that will take over the control of many processes. Finally, I expect that vehicles will be repaired by branded repairers who work according to our repair requirements given the complexity of vehicle systems. "
More information:
"SHARED VISION KEY TO SUCCESS"
IBIS Worldwide, June 12, 2018
"FORD: 'RECOGNIZED BRAND RECOVERY GAINING MOMENTUM' (Google Translate version of original Dutch headline)
Aftersales Magazine, June 6, 2018
Featured image: Ford's SEMA 2017 booth promotes its certified collision repair network. (John Huetter/Repairer Driven News)
Share This: