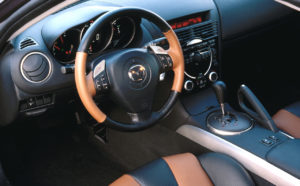 A new partnership with Mazda announced Wednesday will help CCC-using body shops alert customers to vehicles which still need a Takata airbag recall.
The March incorporation of the Mazda information causes CCC ONE to flag a particular vehicle as recalled but unrepaired. The body shop can bring up the issue to a customer, hand them a copy of Mazda's instructions and remind them a dealership will fix the airbag assembly issue for free.
The shop looks like an automotive genius who cares about the vehicle owner's well-being. CCC increases its value to both the OEM and repairer. Mazda gets a potentially unsafe vehicle off the road and helps out a customer it might not have otherwise connected with.
"An OEM's to-do list for targeting hard-to-find owners of older, pre-owned vehicles is daunting and expensive," the CCC Recall website states. "OEMs often must license a list of vehicles by state, pay for 3rd party support to put that data to work, and send multiple notices and touches to registered owners—time, money and effort invested in solutions finding and targeting elusive consumers who too often fail to act."
Mazda in 2017 announced a similar partnership with Mitchell.
"Vehicle and driver safety is our top priority," Mazda North America special assignments Senior Vice President Robert Davis said in a statement. "In the event a recall situation arises, we want to move fast, notifying drivers through as many channels as possible. The recall solution offered by CCC gives us another avenue to reach drivers of affected vehicles, who may not be aware of a potential recall, or whose vehicles have not yet been repaired. With so many collision repairers in the U.S. using the CCC solution every day, we found that CCC is an ideal partner for this important initiative."
CCC estimates that about 24,000 repairers see about 24 million vehicles a year, making it a good bet for Mazda and other OEMs that some of their vehicles under recall will appear before a CCC user.
The Takata airbags themselves are fine, but their associated inflators have a "propensity to rupture," according to the National Highway Traffic Safety Administration.  A mix of moisture, temperature and time can affect the propellant in a recalled Takata inflator, burning it so quickly it ruptures and blasts shrapnel at occupants.
In Mazda, the Takata airbag recall involves the 2004-09 B-Series, 2003-12 Mazda6, 2006-07 MazdaSpeed6, 2004-06 MPV, 2004-11 RX-8, 2007-12 CX-7, 2007-12 CX-9.
"Mazda has expressed its commitment to vehicle safety, and we're pleased to assist them and their drivers with these important recall notifications," CCC OEM Group Vice President Jim Kinsherf said in a statement. "As vehicle complexity has increased, the industry has also seen the number of recalls increase. Since launching our recall notification system in October 2016, we have detected more than 1.2 million recalls on our platform with a closure rate of nearly 40 percent. By supporting auto manufacturers in their recall efforts, we can help them make our roadways safer; a win for the consumer and a win for the industry."
The information provider had already announced CCC Recall deals with FCA and Honda. "We are working with and talking to other manufacturers to assist them in their recall efforts," Kinsherf said in a statement.
OEMs might further increase their odds of prodding a customer to recall a vehicle if insurers, who also have access to vehicle VINs through CCC and other means, got in on the act. Asked if insurers could receive the recall alerts from CCC, Kinsherf said, "Currently, the CCC Recall solution provides recall pop-up alerts in CCC ONE for shops. We're evaluating requirements and use cases for our insurance customers."
Mazda's CCC effort is restricted to the Takata airbag assembly-equipped vehicles, according to Kinsherf. However, shops have relatively easy ways of IDing other Mazda recalls and notifying customers.
Most, if not all, OEMs have their own recall website allowing users to input VINs; here's Mazda's. Or just use the National Highway Traffic Safety Administration VIN recall lookup.
More information:
"Mazda North American Operations and CCC are Working Together to Address Vehicle Safety"
CCC, June 13, 2018
National Highway Traffic Safety Administration VIN recall lookup
Takata Recall Spotlight webpage
Featured images: The 2007 Mazda RX-8 wagon dash is shown. 2004-11 RX-8s are among the vehicles recalled by Mazda over the Takata airbag issue. (Provided by Mazda)
Share This: