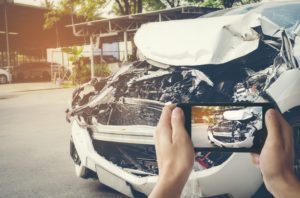 Insurers embrace photo estimating for reasons besides customers demanding faster, easier claims and personnel savings, according to Bodyshop Booster CEO Ryan Taylor.
Indirect savings from closing the claim faster are also motivators, Taylor told a webinar Thursday. Insurers make their real money from investing premium dollars until some need to be repaid in a claim, Taylor said.
However, their investment bankroll is curtailed with the filing of a claim, for state rules typically require a carrier to hold back 10 times the amount of the estimate until the claim is done, he said. A $5,000 sheet means the carrier must leave $50,000 sitting around gathering dust until the claim is closed instead of being invested and making money, according to Taylor.
$50,000 held in escrow for 50,000 auto claims means a carrier is just sitting on $2.5 billion dollars for the 30-60 days it takes to close a direct repair program claim, under the example Taylor gave. (State Farm handles 15,000 claims a day, he said.)
$2.5 billion invested in the S&P 500 a month ago would have made our hypothetical carrier $49 million today at the 1.96 percent return reported Thursday afternoon on CNN. Instead, the insurer made $0 waiting around for the claim to close.
A photo app can close a claim in about 2.4 days, thereby freeing up mounds of cash for the insurer, according to Taylor.
The other reason involves personal injury claims, according to Taylor. The longer between the assignment of a claim to the estimate start date, the more likely the customer will file a bodily injury claim and really start costing the carrier money.
"They can almost eliminate that" with photo apps, Taylor said.
Cutting a check to the customer quickly for the amount perceived in the photo estimate also means the job begins to take on characteristics of a customer-pay repair, according to Taylor, who presented data suggesting cash-pay repairs rose from 8 percent in 2005 to 22 percent today.
Shifting the feel of the transaction to cash-pay can potentially save the insurer some money. Insurance-pay work has a supplement ratio of 66 percent, while customer-pay work has a supplement ratio of 8 percent, Taylor said.
Customers who have the cash in hand following a photo estimating app payout might answer "no" when asked if they're going through their insurer, according to Taylor.
Taylor encouraged body shops to "use this little script" and instead of asking if the repair will go through an insurer, say, "Ok great, I've got your VIN number and I'll use that to look up your vehicle info, but to save some time… did you by chance use an insurance estimate App to make a claim on this damage?"
The customer thinks the shop can tell from the VIN number that a claim exists and will confirm that it's an insurance-paid job, according to Taylor.
"We want that customer to be honest with us," he said — it saves future frustration.
Insurers also think photo estimating will improve customer retention dramatically.
Despite photo estimating's benefit to a carrier, it can backfire.
Type 1 repairs, minor ones taking less than 12 hours, tend to be fairly accurately estimated from a photo alone, according to Taylor. However, in Type 2 (12-28 hours of work), carriers' estimates are bad, Taylor said.
By Type 3 (29+ hours), "that's just ugly," he said. Much of the damage is missed, according to Taylor.
Get too inaccurate with photo estimates, and a carrier risks customer defections.
This is incredibly bad for business. Because "their ad spend is astronomical," it costs insurers 70 times more money to get a new customer than it would to retain one, according to Taylor. An existing customer's also typically worth seven years of clean premiums before their next claim, he said — meaning that losing one because of a bad claims experience just cost the carrier thousands of dollars in interest-free or even negative-interest loans.
Taylor said "mishandled" or "corrosive" estimates erode consumer confidence. Repair costs are only 30-35 percent of an insurer's overall consideration — paling in comparison to their interest in customer retention and lowering personal injury bills.
Carriers were "starting to feel the whiplash" of customers upset over the lack of accuracy in photo estimates, he said.
However, the technology is likely to persist, and Taylor suggested body shops adapt to it by managing the photo estimating triage process on behalf of insurers.
Taylor presented a recent prediction by Snapsheet co-founder CJ Przbyl that 90 percent of claims in 2020 would be handled by virtual estimating.
"We have continued to build relationships with top insurance carriers, including industry leaders like USAA, Liberty Mutual and Metromile, validating our vision for a seamless, software-enabled claims lifecycle. Our platform is reimagining the claims process and enables 90 percent of all claims to be processed virtually," Snapsheet CEO Brad Weisberg also said in a 2017 statement after receiving $12 million in funding. "We're dedicated to investing in technologies like machine learning that will continue to improve workflows for the insurance industry. The funding and partnership with Tola Capital, an investor with deep roots in the enterprise software industry, will be a key enabler for us on this journey."
Taylor also offered a more conservative but still dramatic Mitchell and CCC-based estimate that 25 percent of repairable vehicle appraisals would be virtual by 2020, up from 11 percent in 2018, and the number would climb to 46 percent in 2021. He said he viewed the IP-based hypothesis as more likely than Snapsheet's.
About 38 percent of carriers perform virtual estimates today, and almost 100 percent at the last conference he attended planned to do so, Taylor said.
More information:
"Photo Estimating | The Good, The Bad & The Ugly"
Dave Luehr, Elite Body Shop Academy, June 14, 2018
Photo estimating is good for triage but not an effective estimating tool for damage requiring 12 hours or more of repair time, according to Body Shop Booster CEO Ryan Taylor. (flukyfluky/iStock)
Share This: