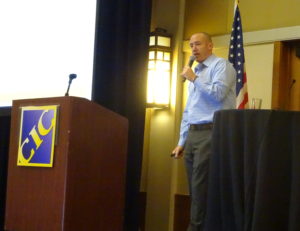 The Occupational Safety and Health Administration won't target repairers who call the agency seeking advice on workplace safety compliance, a representative told auto body shops this spring.
OSHA compliance assistance specialist John Olaechea told an April Collision Industry Conference his agency had "specific ways" of appearing at your shop for an inspection, but "calling us and asking a question is not one of them."
He offered himself as a contact — his role is purely outreach, no enforcement — and an OSHA list indicates he has compliance assistance counterparts across the country. (Some Spanish-language compliance assistance is also available.)
You can even call the agency's enforcement office with a question without fear it'll automatically red-flag your shop for an inspection, Olachea said.
Olaechea said federally funded OSHA consultation personnel also exist for every state. They'll inspect your shop like an OSHA compliance officer would — but "there's no citations," he said.
These consultants will perform samplings, help you write programs for your employees, and "say, 'Fix this, fix that,'" to help you pass an actual inspection down the line, he said.
It's "totally free" and "totally confidential," according to Olaechea. "They don't tell us what's going on," he said.
The staff helped 26,000 businesses nationwide in the 2017 fiscal year. However, Olaechea said they're kept pretty busy and are underfunded, so he told the April 12 audience to contact them now "if you want them to come out at Christmas."
For-real inspections
Oleachea also described the process which might bring the true inspectors out to your shop.
Certain areas or time periods run a greater risk of an inspection than others. OSHA can establish emphasis programs at the national, regional or local level targeting a specific issue, and Oleachea said his six-state regional OSHA office had performed more than 400 inspections in the automotive aftermarket because of one.
The programs target industries with a high rate of sick or injured workers or those with a hazard OSHA doesn't think is being addressed industrywide, he said. For example, OSHA's campaign against isocyanates from 2013-16 was a national emphasis program.
OSHA has two types of inspections, programmed and unprogrammed. Unprogrammed is the "top priority" and arise when the agency gets a complaint, referral or report of a death or accident.
If all's quiet on those fronts, OSHA will send out inspectors on routine, programmed visits to job sites. Though they're called "programmed," they're a surprise inspection for the business.
Many repairer issues will fall under what's called the General Duty Clause, a catchall that says employers are supposed to provide a safe workplace, free of obvious hazards, according to Oleachea.
"OSHA doesn't have a standard for everything," he said. "We can't."
More information:
OSHA national emphasis programs
OSHA local and regional emphasis programs
OSHA compliance assistance staff
OSHA small- and medium-sized business "mock inspection" consultation
Featured image: OSHA compliance assistance specialist John Olaechea told an April 12, 2018, Collision Industry Conference audience his agency had "specific ways" of appearing at your shop for an inspection, but "calling us and asking a question is not one of them." (John Huetter/Repairer Driven News)
Share This: