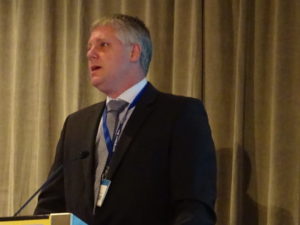 The Automotive Service Association announced Friday that President and Executive Director Dan Risley has resigned to take a job at CCC.
Risley's last day will be July 13, though he will remain as a consultant until the ASA formally picks a new leader. In the meantime, the trade group's CPA Beth Risch will serve as interim chief operating officer starting July 2.
"I want to sincerely thank Dan for his strong leadership during a crucial time in the history of the association," ASA Chairman Roy Schnepper (Butler's Collision) said in a statement. "His natural leadership talents, his financial prowess and inexhaustible energy led him to govern ASA with success and achievement. I know the entire board joins me in thanking him for his service and commitment to ASA."
Risley had joined the organization in 2013 as an executive vice president. He was subsequently named interim executive director after Ron Pyle resigned that year, and he later assumed the formal role of president and executive director. Prior to that, Risley had worked for six years at Allstate following a stint as Society of Collision Repair Specialists executive director.
The ASA credited Risley for adding three new affiliates, instituting "sound financial practices and processes after the association endured employee fraud," and launching a "strong revenue stream" in the form of a Corporate Sponsorship Program.
It also cited accomplishments related to NACE — which will take place in Atlanta less than a month after Risley's last day. Risley grew the popular MSO Symposium at the show and launched the Technology and Telematics Forum (previously known as the Advanced Technology Disagnostic Repair Forum) there. He also oversaw the trade show's merger with Automechanika following the 2016 event.
"ASA has served the industry for more than 60 years, and I'm proud to say I was part of its rich history and success," Risley said in a statement. "I look forward to staying engaged in ASA and contributing to its mission of serving its members. My family has always been my top priority so it will be nice to be back in my home base of Chicago for the long term."
Ironically given his new job, Risley also was one of the heads of the Collision Industry Conference committee dialoguing with — and grilling — CCC over its controversial Secure Share program. He served as a moderator over the past few CIC sessions which addressed the issue, including a January discussion of CCC's decision to drop its contentious fee plan.
The ASA will search for a new executive director over the coming months. The job will be posted soon, but the trade group wrote Friday it would like someone with association management experience.
Over the next few months, ASA will be conducting a search to find a new executive director, seeking an individual with association management experience.
"During this period of transition, it is our priority to find the best individual to lead while still maintaining a stable and effective organization," Schnepper said in a statement. "Associations are undergoing enormous challenges due to generational shifts, social changes and technology. It's crucial that we find the right leader who can address some of those challenges and give us a clear vision for our future."
More information:
"ASA President Resigns to Pursue Opportunity in Home State"
Automotive Service Association, June 29, 2018
"Dan Risley, ASA president, announces resignation"
ASA YouTube channel, June 29, 2018
Featured image: Automotive Service Association Executive Director Dan Risley speaks during a July 2017 Collision Industry Conference discussion of CCC Secure Share. (John Huetter/Repairer Driven News)
Share This: