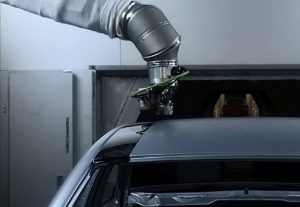 Auto body shops might see more two-tone vehicles in the coming years following an Audi announcement that it's figured out "overspray-free painting."
Audi is testing the system, calling it "unique in the industry" with black roofs at a factory in Ingolstadt, Germany. It plans to use it on production models in 2019.
"In this way, the automobile manufacturer will offer its customers even more possibilities for individualization," Audi wrote in a news release Friday.
The pilot program involves a robotic instrument measuring the laser-brazed seam between the roof and "side-panel frame," according to Audi.
"A special applicator then applies the black paint directly to the car body in individual strips with millimeter accuracy," Audi wrote in a news release. "The applicator places the strips of paint with sharp borders and without any spray mist – that is, without any overspray."
Audi pointed out the savings to the company. Employees don't have to spend time or materials masking off the area to be painted, and the OEM uses less paint.
The test example involves adjacent panels, which is obviously different than two-tone within a single panel. It's unclear if the overspray-free system could handle a single panel or if it needs to key off of a physical break like a laser-braze seam to work.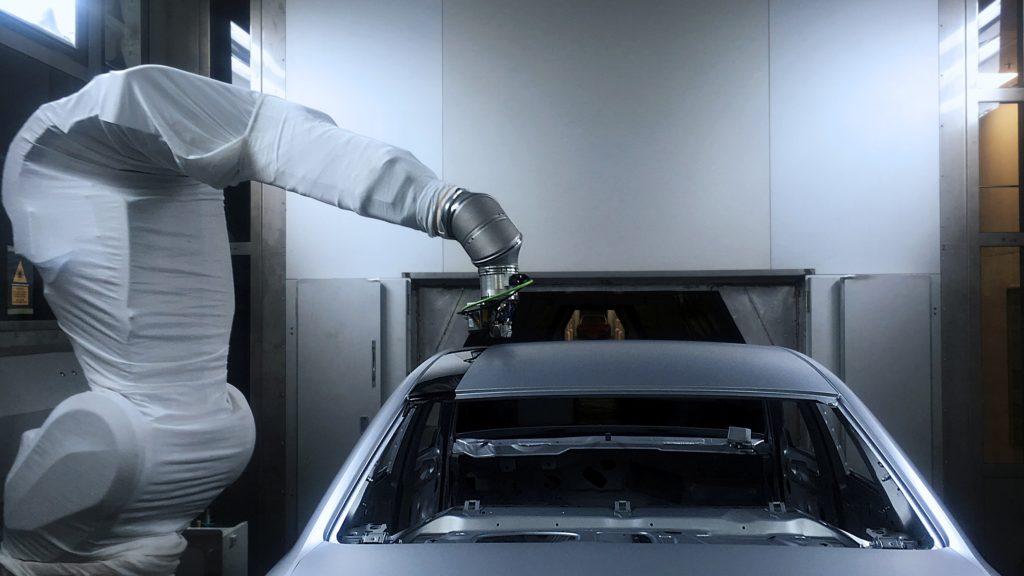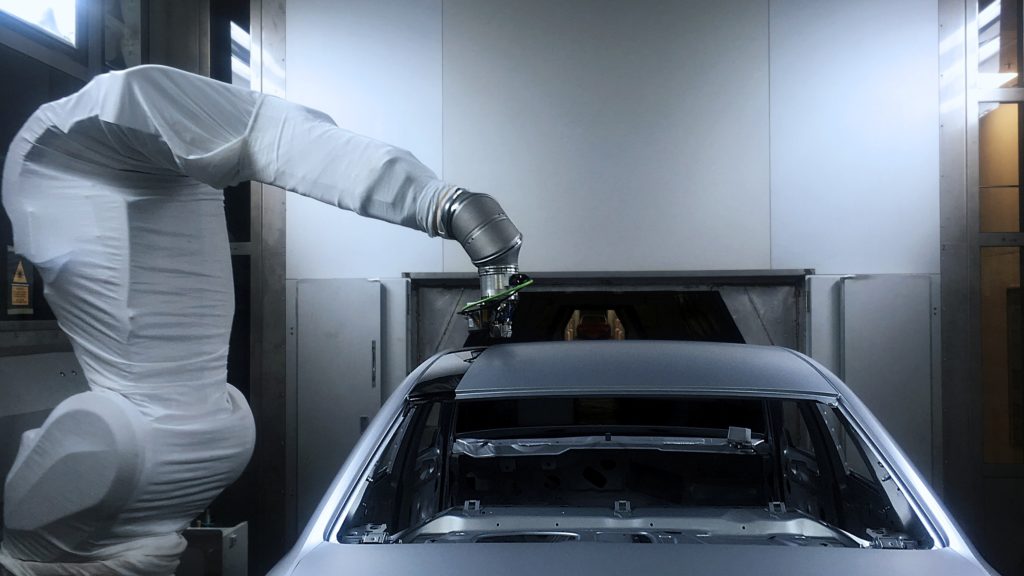 OEMs seem to anticipate a demand for two-tone vehicles. Toyota planned to start off with around 20 percent of the 2018 Camry's production run being two-tone to achieve sufficient market penetration but then taper off the percentage. The next-generation XC40 and first generation of the Hyundai's new Kona model will offer the paint option as well.
P-pages
Speaking of two-tone, here's the P-page guidance on such work in case anyone's interested:
CCC writes that its blending formula or basic refinish times aren't applicable to two-tone painting, which it represents with this image.
"Two-tone is defined as two different colors applied to the same panel," CCC wrote in a 2012 Database Enhancement Gateway Inquiry. "With this in mind, a Bumper Cover that is Green and a Hood that is Gold would not be considered a two-tone operation." (And we'd love to see that hypothetical car. It probably exists in Green Bay, Wisc.)
CCC directs estimators and adjusters to add 40 percent to the first panel time and 30 percent for any additional panels when two-toning. It also warns, "The following formula may be superseded by information published in specific parts text. Calculations should be made after deductions for overlap, and additions for edges if required."
Mitchell also defines two-toning as two colors on a single panel, according to its response to a 2013 DEG inquiry.
"THIS CAN BE DISCERNED BY OBSERVING THAT ONE OF THE P-PAGE INCLUDED OPERATIONS IS 'MASK PANEL,'" it wrote.
Its P-pages direct repairers to add "Add .5 per refinish hour (50%)" and "Deduct overlap (if applicable); add .3 per refinish hour (30%)" for any other panels.
The first panel's included operations are masking and scuffing the panel, mixing and applying the material and then cleaning equipment, according to Mitchell. Other panel refinish times would only include masking and scuffing the panel and applying the material, the P-pages state.
It's hard to tell if Audatex shares the same definition of what's considered two-toning.
"The refinish of the blackout on a door frame is a not included operation in Audatex and would require a manual entry," the DEG advised in January 2017, pointing to an inquiry about a 2003 Nissan Murano.
A user had in October 2012 requested a separate frame blackout operation, referencing a 2003 Murano window/door frame which "MUST BE MASKED OFF SO YOU CAN STILL SEE SOME WHITE WHEN YOU OPEN DOOR."
"OUR STUDY TOOK 1.5HR A DOOR," the user also wrote. "TWO TONE TIME IS NOT SUFFICIENT."
Audatex explained that the two-toning needed to be entered manually by the user.
"We have reviewed your inquiry and the refinish black-out of the window/door frame is a manual entry," the IP wrote. "This operation is not considered a two-tone or included in the refinish time of the door panel/shell. No other changes are warranted at this time."
However, in 2011, the IP suggested that a 2009 MINI Cooper roof of a different color than the body would be considered a two-tone job.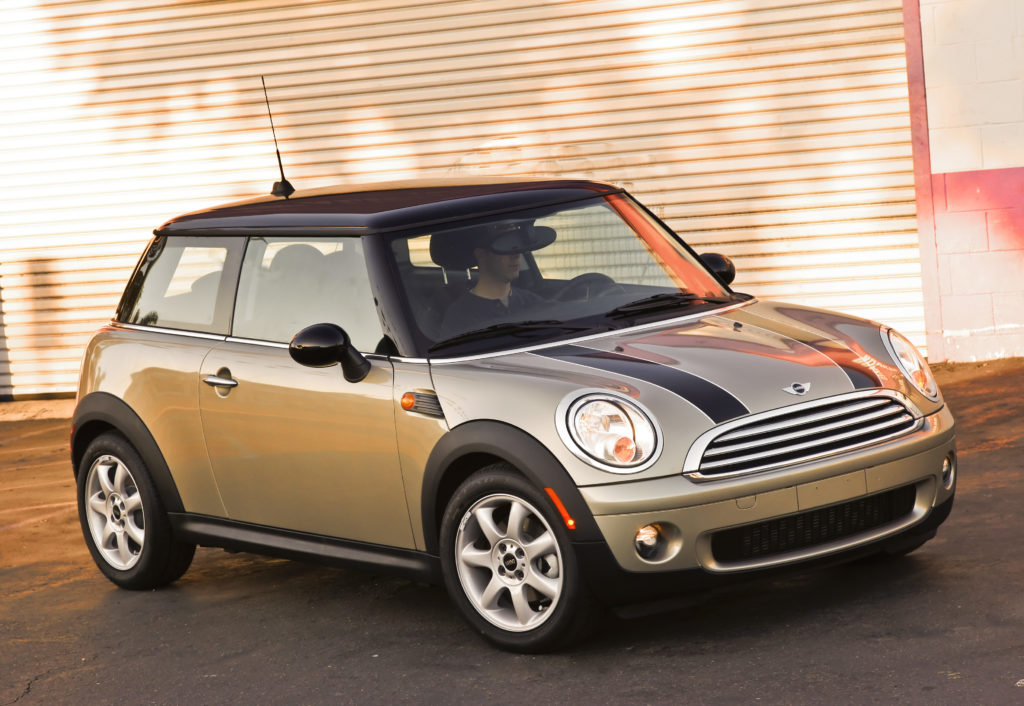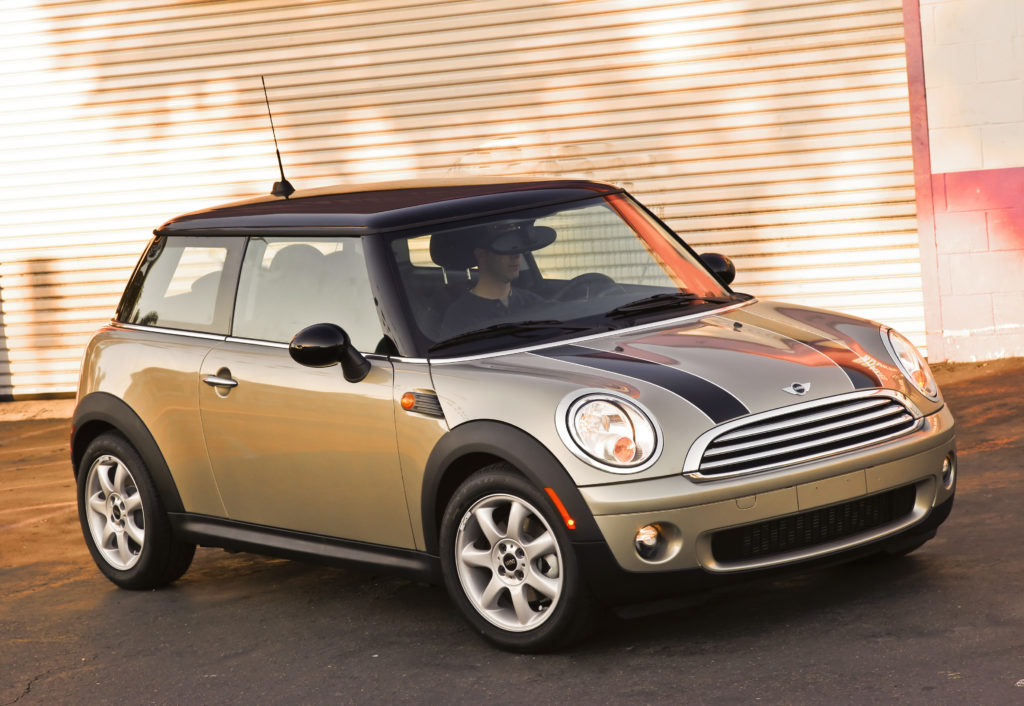 "We have reviewed your inquiry with regard to the roof panel on the 2009 Mini Cooper and using the November release data there is a two-tone option that needs be selected if the particular vehicle warrants it, there is no automatic two-tone feature," Audatex wrote then. "I have attached a copy of the parts page along with an estimate showing the two-tone availability, no other changes are warranted at this time."
Audatex's P-pages call for "Setup time of 0.4 estimate hours upon selection of the first two-tone panel, plus 30% of Audatex estimate refinish labor per panel selected."
You can make Audatex do the math for you. "Two-tone is automated in the Audatex system and can be selected as an operation on a panel-by-panel basis," the IP writes.
More information:
"Contrasting paintwork in just one spray process: Audi tests overspray free painting"
Audi, June 29, 2018
Database Enhancement Gateway homepage
Images:
Auto body shops might see more two-tone vehicles in the coming years following an Audi announcement that it's figured out "overspray-free painting." Audi is testing the system, calling it "unique in the industry" with black roofs at a factory in Ingolstadt, Germany. It plans to use it on production models in 2019. (Provided by Audi)
A 2009 MINI Cooper is shown. (Provided by MINI)
Share This: