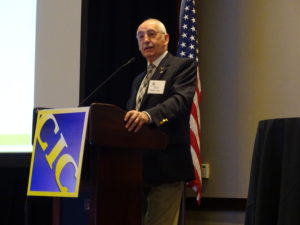 Former National Collision Repairer publisher David Newton-Ross, American repairers' collision brother from Down Under, retired last year following decades working with the industry on two continents after selling the magazine in summer 2017.
The Collision Industry Conference contributor and Repairer Driven News media partner sat down with us last year to discuss his extensive career and the past 20 years of the Australian collision repair market — a conversation with lessons for American repairers. We thought we'd share its highlights with our readers on both hemispheres around the anniversary of the sale.
Building and selling the business
Newton-Ross started to get heavily involved with the U.S. market as a representative of Sydney Automotive Paints and Equipment, which sold Autorobot frame measuring equipment and transferred him to America to rep it between 1986-90.
"It became our second home," Newton-Ross said.
Insurers demanding collision repairers have jigs yielded extensive demand for the product. "It was like 'Next,' 'Next,' 'Next,'" Newton-Ross said. If Autorobot reached a market before competitors like Car-O-Liner, "we would own the town," and vice versa, according to Newton-Ross.
"That gave me a real insight into the industry," Newton-Ross said. He was asked to contribute content on the collision repair industry to Motor Equipment News magazine, and would think, "'Did I write this? I'm pretty good'" after seeing the final product.
Returning home in 1990, "I found it very hard to settle down" after America. He worked for a couple of magazines, including an instance where "basically, I was running the magazine."
He called it "a good grounding for me," but concluded, "This magazine's not really right for the industry."
Twelve years ago, he founded the National Collision Repairer, and "the rest is history." He sold the magazine in 2017 to Joe and Josephine McFadries, the new publishers.
Newton-Ross said "it took me a long time to find Joe," he said. It's hard to sell your business when "it's you," he said — the buyer needs to share your philosophy.
He said he wish he had more time with family, a "tough" sacrifice made by small-business owners such as himself, and he encouraged fellow entrepreneurs to not wait to retire until 70 if possible. "Get out earlier if you can" and "enjoy it," he said.
Newton-Ross credited his wife, Vanley, who took the stage with him days earlier during his farewell address to CIC, for his success with the National Collision Repairer.
"She was part of the business," he said.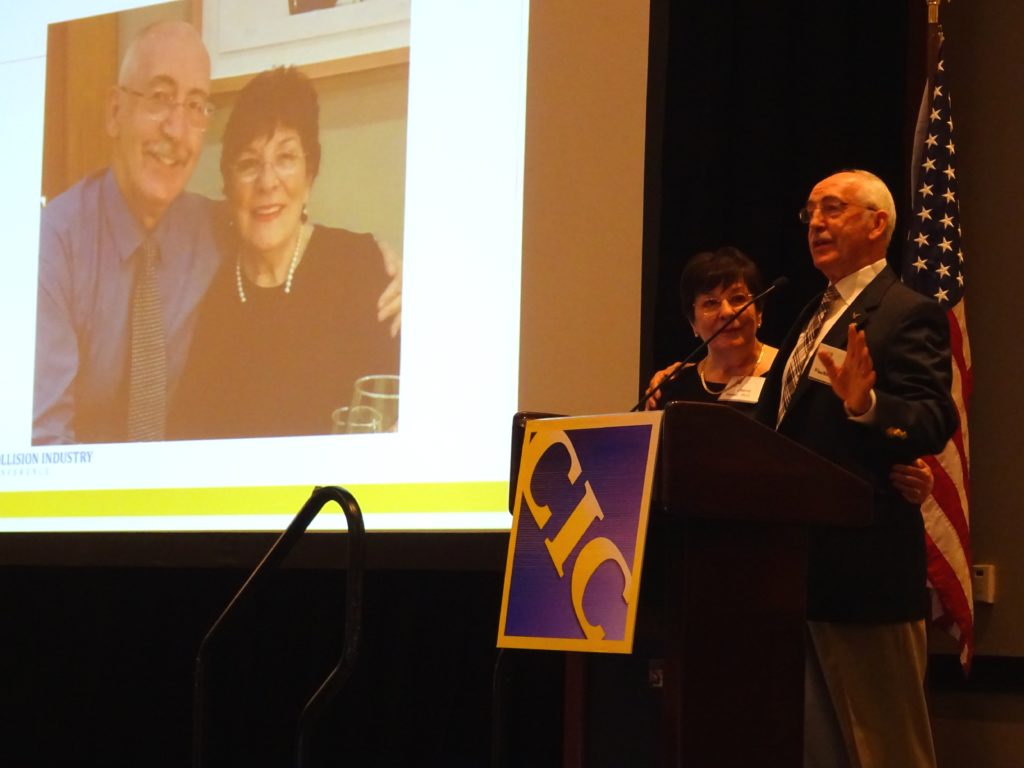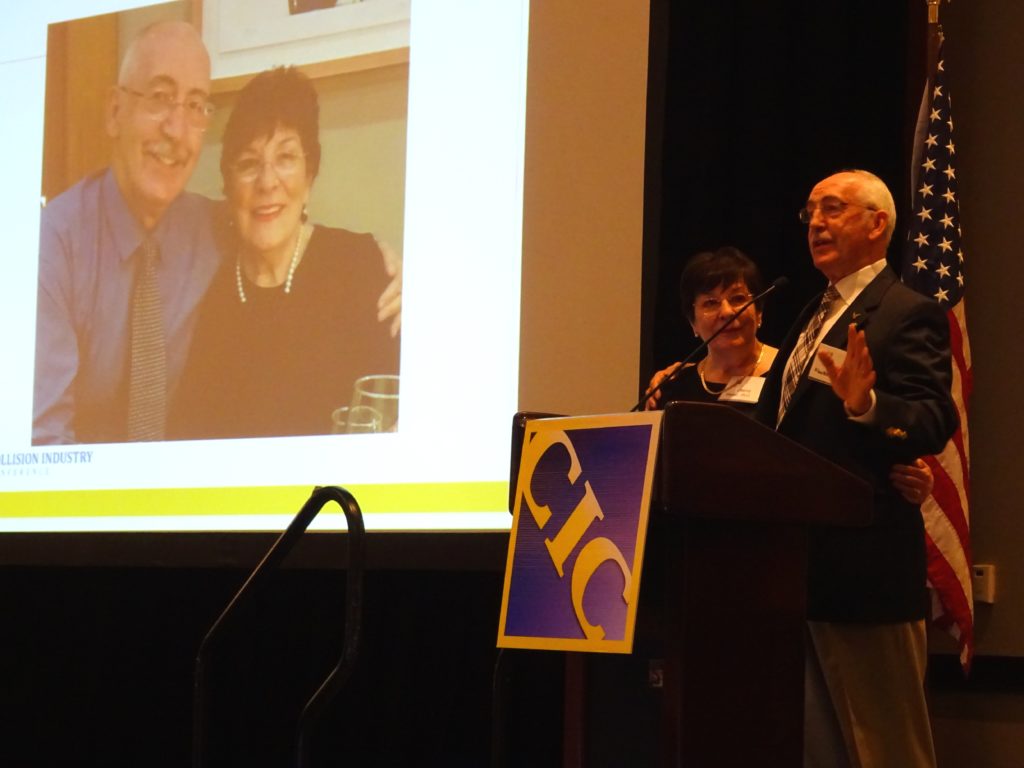 Collaborations
Newton Ross' work in the United States led to contacts and experience he could use to better the Australian collision repair industry. A great relationship with Collision Industry Conference Administrator Jeff Hendler, a former Society of Collision Repair Specialists chairman and Hall of Eagles member, led to conferences and seminars for the Australian sector, which "hopefully … helped the industry," Newton-Ross said.
He brought other American experts over to Australia to "impart their knowledge" in a cultural exchange of sorts that started with "terrific" seminars by Assured Performance CEO Scott Biggs, at the time head of Body Shop Video Magazine.
Newton-Ross also launched the Collision Repair Specialists of Australia, a body "very much like CIC," which was very successful but suffered from Australian shops' lack of interest in participating in panels, according to Newton-Ross.
"It's all back to one person" Newton-Ross said.
Ultimately, he decided, "I'd rather stop it before (sponsors) stop it" and pulled the plug.
1990s versus 2018
Newton-Ross recounted changes in the Australian industry between his return to the country in 1990 and today.
In the earlier days, "the insurance companies didn't have control," he said. That's different now, and the market is dominated by IAG and Suncorp, which together make up about 70-80 percent of the Australia and New Zealand markets, according to Newton-Ross. (IAG alone has 73 percent share in New Zealand.)
Back then, about 9 percent of work came in through insurance referrals, according to Newton-Ross. "Now, it's probably 99 percent," he said.
Unlike most American states, Australian insurers can dictate where a policyholder must go, though the carriers say 70-80 percent of customers don't have a preference anyway, according to Newton-Ross. But even in instances where the customer has shop choice, carriers will still try and steer the policyholder to a direct repair program shop, he said.
One major insurer offered a two-tier policy — $1,000 if the insurer could pick the shop, $1,200 for shop choice — but customers weren't interested in the more expensive option, according to Netwon-Ross.
OEMs are starting their own shop networks now as well, he said. Luxury networks had been around for a while, but now you see "Toyota trying to get in there now," he said.
He said he felt these competing OEM and insurer networks would end up "somewhere in between," giving the hypothetical of a Ford-State Farm team-up.
But "the biggest change now is technology," Newton-Ross said. Twenty years ago, with the exception of luxury brands, "anybody could get away with repairing a car," he said.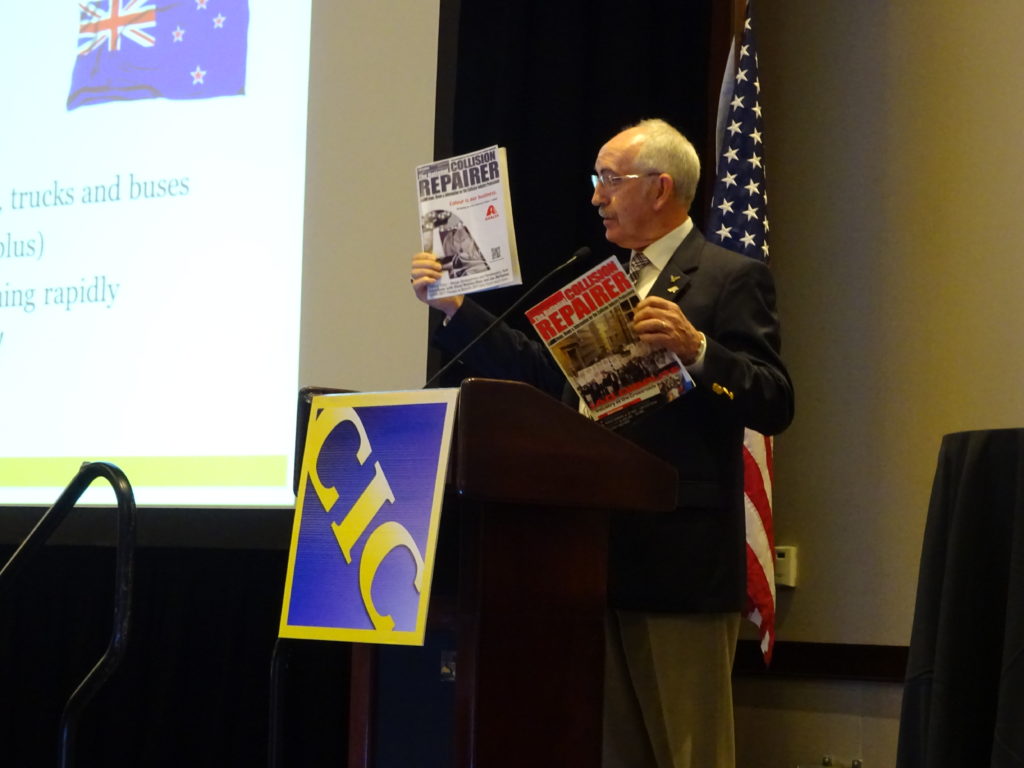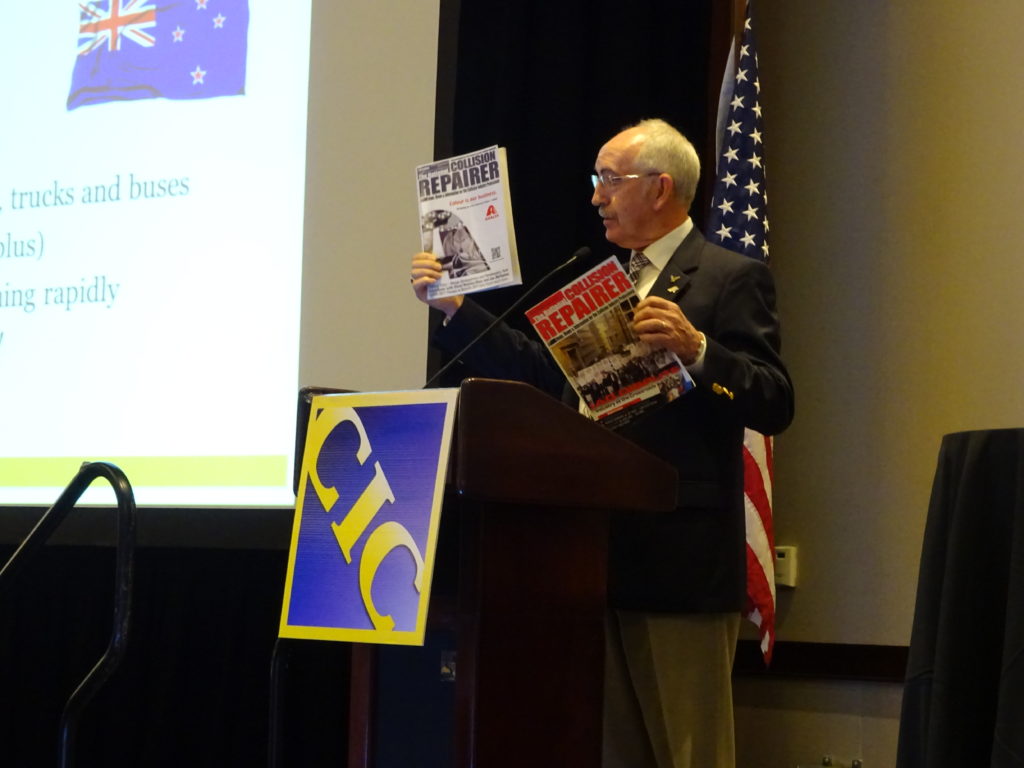 Technology and training
Newton-Ross said he felt the technology changed at about the same way in both countries, and "you repair them the same way."
However, Australia has apprenticeships and formal training America doesn't have, "and that's good and bad."
Technicians at least are guaranteed to have some basic training — a good thing — but they think they don't need any more, and don't engage in any continuing education, he said.
However, until he introduced I-CAR to the country, no continuing education option really existed anyway, according to Newton-Ross. He recalled bringing I-CAR New Zealand representatives over to Australia for a CRSA meeting. The body was asked to raise their hands if they did a particular prior to the actual repair. After several similar questions, no one had a hand raised — and this was 60 of the nation's best repairers, Newton-Ross said.
I-CAR came to Australia about 10 years ago, and "it's been the best thing for the industry," he said.
Techs now realize they need to be "trained and retrained." Older welders had posted a 70-80 percent failure rate, but once they took I-CAR, "they all passed."
However, some shops still are failing to invest in training and equipment, which simply had to be done, Newton-Ross said.
Some shops will buy equipment but fail to secure training, reasoning "'We can probably work it OK'" but perhaps missing shortcuts to use it more profitably.
Consolidation
Consolidation is an issue in Australia, but not to the degree it is in America. In a country of 3,400 shops, about 200 are owned by consolidators. The country is large, and its many rural areas pose a challenge for consolidators.
"It's personal," in those regions, Newton-Ross said. Consolidators have a hard time entering them, "especially if they're going to change the name," he said. Many repairers would love to sell to consolidators, but the shop owner doesn't want to give up the name, he said.
"I don't think consolidation is the way to go for Australia," Newton-Ross said.
Another interesting factor hindering consolidation in Australia: "The insurer doesn't want to lose control," Newton-Ross said. If a consolidator grows to the point it handles a high percentage of the carrier's business, the carrier loses control. Newton-Ross said he heard that most insurers only want to give about 15 percent of their work to a single consolidator.
In Australia, the insurer Suncorp also has about 30 of its own shops. "They're really well set up," Newton-Ross said.
The customer experience is good, they're sent home in a cab, and some repairs can be done in a day, he said.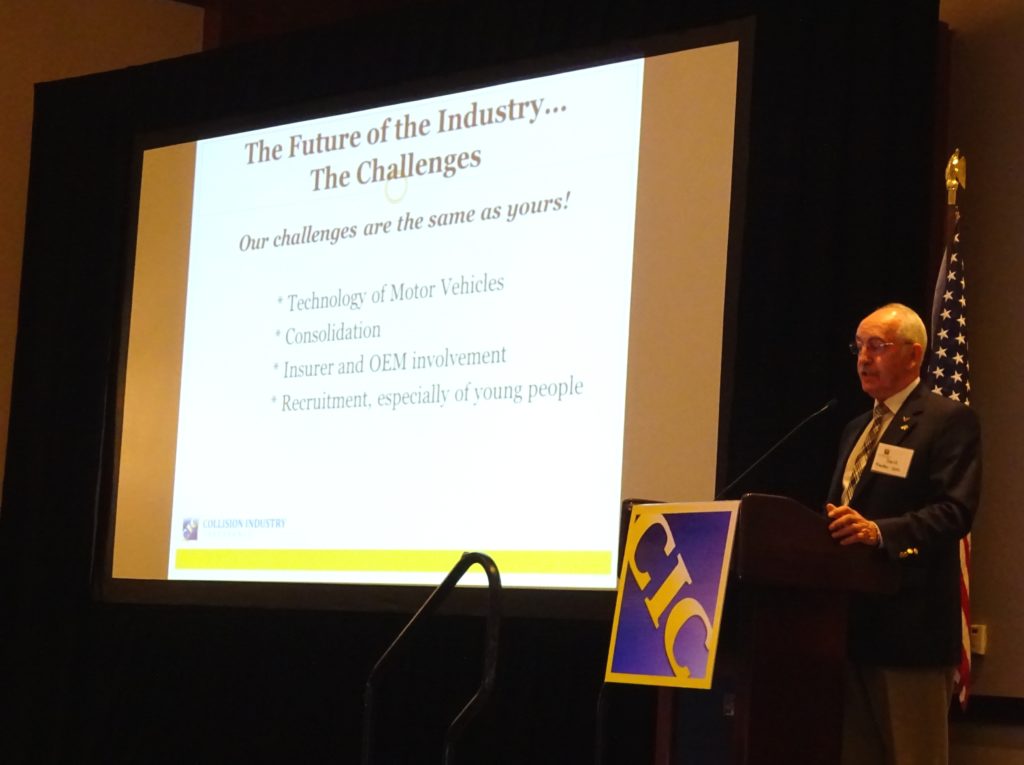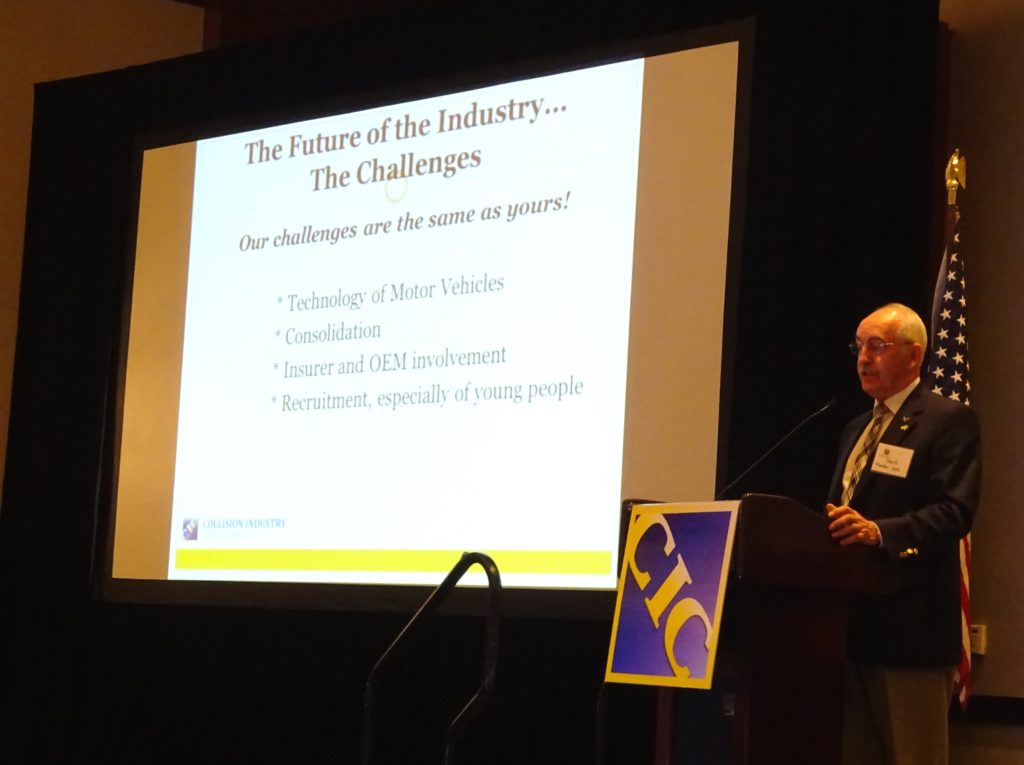 "They're not doing the big jobs," he said. But for most collision repairers, those small jobs were their "bread and butter" — and 150,000-200,000 of those repair orders were being lost to the Suncorp shops.
"The independent operator, to my mind, will always be there," Newton-Ross said. However, "they are going to have to train, and spend money" on training and equipment to keep the shop competitive.
"They may get away with it" for the next five years because of older vehicles still on the market, but once vehicle technology really hits its stride, it'll be "a different story" for the small repairer without such an investment, he said.
Youth
A final challenge is the need to attract younger staffers. "It's up to the industry to promote the industry," he said.
Yet shops are making the mistake of not bringing in young workers, arguing there's no time to train them and one can't make money on apprenices.
He said repairers also need to look not just for young men but also young women, noting that female painters "are just fantastic."
"It's a bit of a culture change in the shop," he said.
Insurers also need to make sure not to squeeze repairers too tightly, for this will lead to both a shortage of repairers and a shortage of shops — which then will annoy a customer who has to wait longer for a repair, according to Newton-Ross. However, he noted that to be fair, most insurers were supporting new tech development, recalling how IAG approached National Collision Repairer about sponsoring its Future Leaders section.
Marketing
Collision repairers often fail to market themselves, Newton-Ross said. He said he would tell repairers he brought to the U.S. on tours to study how shops marketed their business here. And don't dismiss a particular shop's marketing acumen just because their repair skills aren't good, he said. "Get beyond that," he said.
But with IAG or Suncorp mandating certain shops be used, is there enough business?
"We're all customers," Newton-Ross said. A bad experience means you're not going to return, he said.
Many shops tied into a direct repair programs don't know their customers at all — "it's just a number," he said. Work comes in regardless of the shop's quality — until suddenly the shops loses an insurer or other steady stream of business and has no customer relationships to fall back upon.
He advises not looking at a particular job as one job but instead considering all of the other cars that person might own, the other people they might recommend to you. Repairers also might tackle the single task in front of them but miss an opportunity to wow the customer by performing an additional piece of work for free, according to Newton-Ross.
He predicted that if shops looked after their business, they'd be fine. "There's still enough work to go around," he said.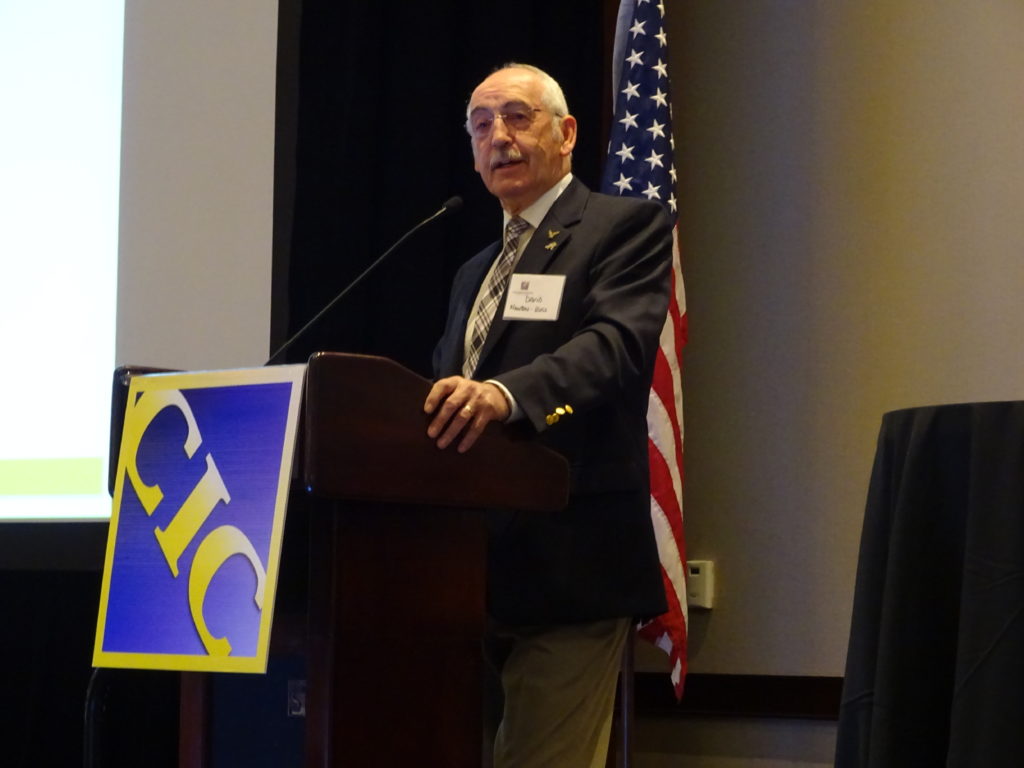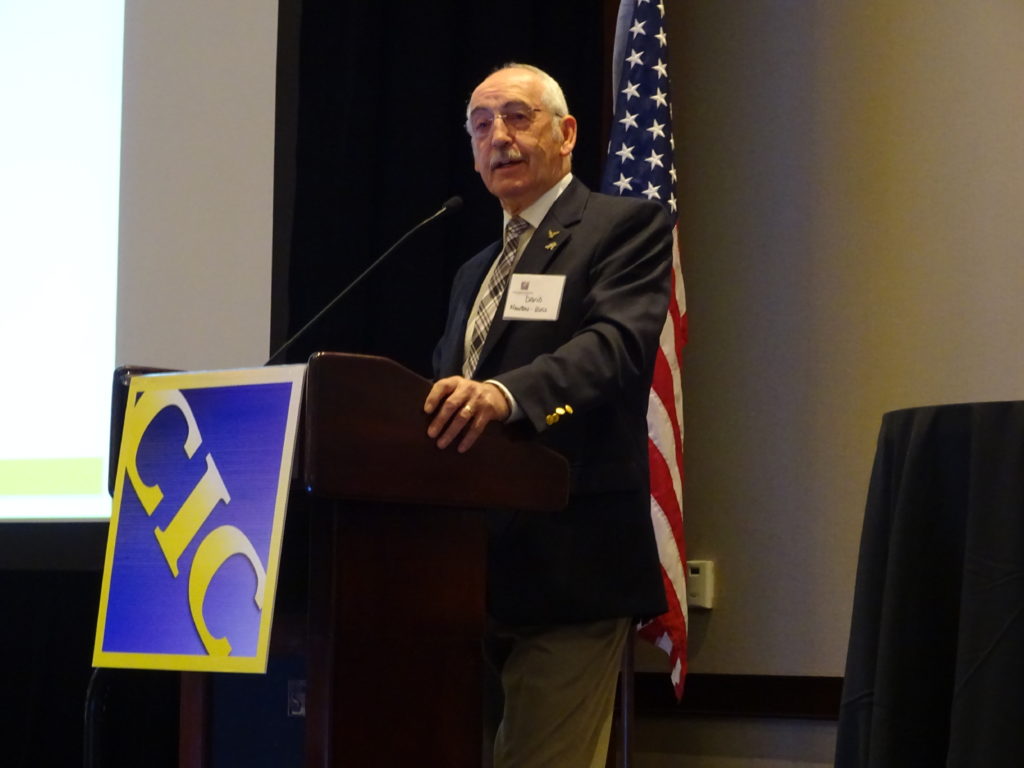 The guy complaining there's not enough work has no relationship with insurers — "which is a stupid thing" — and no relationship with customers, he said.
Newton-Ross said he felt specialization was one way for Australian shops going forward, offering the example of what he said was one of the best shops in Australia. The Canberra facility learned years ago to get OEM badges and spend money on the necessary training and equipment, he said.
"He's got that market sewn up," Newton-Ross said. Pick a brand and align oneself, he advised.
He also said Australian shops need to network. Not attending events like CIC was "the biggest mistake people make." The problem with the industry lay not with the people in the room, but those who failed to attend it but and supported by carriers "purely on price."
U.S. versus Australia
Conditions in America mitigate some of the issues seen by Australian repairers, according to Newton-Ross.
He recalled a shop in the U.S. telling him, "'I watch the numbers,'" and would not rely on any insurer for more than 20 percent of shop business. With two hugely dominant insurers in Australia, that's not possible, Newton-Ross said.
American shops also can rely upon fleet work as backup. "We just don't have that volume in Australia," he said.
Australia might also have too many shops for the amount of work available, he said. Shedding 1,000 would provide plenty of work for the remainder of Australian repairers, Newton-Ross estimated.
"They just want to stay in business for themselves," Newton-Ross said, "… Ego gets in the way." The repairer hangs on despite being in the red or barely in the black, he said.
"Profit's not a dirty word," Newton-Ross said. Australian shop insurer relationship elements like fixed-cost repairs "just doesn't make any sense" for a shop's balance sheet, he said, recalling a shop in a DRP-heavy market that estimated it made more repairing a fraction of the vehicles his competitors did.
Survival
This lack of familiarity with one's balance sheet was one of the major errors Newton-Ross said he saw shops making. A repairer has to know what hourly rate allows the facility to break even — and many shops don't, according to Newton-Ross.
"Just because they're busy, they think they're making money," he said. But at the end of the year, they might be $10,000 in the red.
Shops had to take steps such as computerized management systems to ensure their estimates aren't omitting anything. "You can't get it back," he said.
Despite the challenges, Newton-Ross predicted that the collision repair market would endure, recalling a joke that panel beaters and cockroaches are the only thing that will survive nuclear war. New Zealand shops lost parts margin when PartsTrader debuted, but still found a way to survive through techniques like becoming more efficient.
Shops need to realize "the good old days" aren't returning and adapt, Newton-Ross suggested. Younger repairers who've never seen those days days anyway aren't stuck trying to reclaim them, he said.
"They just get on with it," he said.
More information:
National Collision Repairer magazine
Collision Industry Conference, Oct. 31, 2017
Former National Collision Repairer publisher David Newton-Ross, American repairers' collision brother from Down Under, retired last year following decades working with the industry on two continents. He appeared at the November 2017 Collision Industry Conference with his wife, Vanley, left. (John Huetter/Repairer Driven News)
Former National Collision Repairer publisher David Newton-Ross bid the U.S. industry farewell at the November 2017 Collision Industry Conference. (John Huetter/Repairer Driven News)
Share This: