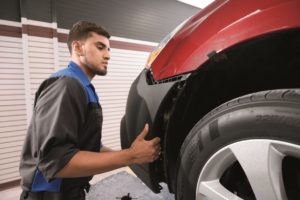 Subaru will include the percentage of Subaru OEM parts used by its certified body shops among the criteria the automaker will use to evaluate its collision repair network of dealerships and independents.
Subaru national wholesale parts manager John Lancaster said Tuesday that his company hadn't worked out the exact amount of OEM parts that would be necessary.
"We're still benchmarking this," he said.
Terms and conditions for certified repairers direct them to do so, but how frequently the parts must be used is still being studied, according to Lancaster.
Asked if this mention of percentages referred to specific classes of parts — for example, an aftermarket oil filter was acceptable, but an aftermarket bumper fascia wasn't, Lancaster said no.  He said nothing was set in stone yet, but offered this insight into Subaru's possible thought process:
If a customer came in with a 1999 Subaru Impreza, it might be "maybe unrealistic" to require 100 percent OEM parts, Lancaster said. (It'd probably total, he noted.) However, if the certified shop was working on a 2019 Subaru Ascent, "you better be" installing all OEM components, he said.
"If a collision repair is necessary, Subaru of America, Inc. strongly recommends that any repairs be performed by a reputable body repair facility using Genuine Subaru replacement body parts, mechanical components, and electrical parts including all safety devices such as airbags and seatbelts," Subaru wrote in 2013. "The use of Genuine Subaru original parts will help ensure the vehicle is restored back to its original pre-collision condition and the structural integrity of the vehicle will perform as it was designed and tested in the event of another collision. Safety of our customers is our number one priority."
The OEM also warns against using aftermarket windshields on vehicles with the advanced driver assistance system EyeSight technology.
Subaru won't be directly auditing repair quality by repeatedly examining work in progress or performing a post-repair inspection on a customer's vehicle, according to Lancaster.
"We're not doing surprise inspections or anything," he said.

Subaru will however be able to keep an eye on if some frequently necessary repair procedures are being done, according to Lancaster. The program requires shops to use AutoWatch (Subaru gives them a free subscription), which provides some KPI visibility but also allows shops to upload documentation such as estimates, OEM repair procedures, results of diagnostic scans (required since the 2004 model year), calibration verification and measurement output, he said.
"We can audit remotely," he said.
Subaru assumes that if a shop is providing the repair procedures, there's "a lot higher chance" its technicians are actually following them, Lancaster said.
Certification will include an annual inspection of the shop that might capture some repair errors.
"It's not like a pass-fail," Lancaster said of such discoveries. "… It's more educational."
A problem like seats not covered during the repair or parts being stored in a vehicle would instead be used as a teaching moment for the certified Subaru shop, he explained.
Customers are asked about their satisfaction, which gives Subaru another insight into the repair besides the come-backs which would appear in AutoWatch.
If enough customer red flags exist for a particular shop, Subaru might look at the repairs or perform a surprise visit, but hopefully it wouldn't come to that, he said.
Shops interested in being Subaru-certified should contact Wadsworth International at 877-257-0046 or email info@subarucertifiedcollision.com.
More information:
Subaru OEM1Stop repair procedure portal
Images:
Subaru will give its dealerships the first crack at its certified collision repair program before opening the network to independent collision repairers, possibly as early as this fall, national wholesale parts manager John Lancaster said Tuesday. (Provided by Subaru)
Subaru-certified independent shops will be able to use this logo, according to the OEM. (Provided by Subaru)
Share This: