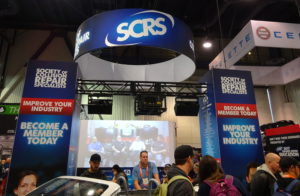 The Society of Collision Repair Specialists on Monday announced a new SEMA Week event featuring "10 fast-paced presentations designed to stimulate thought, innovation and resolution of business challenges with brash, outspoken and thought-provoking concepts."
The trade group offered a call to "thought leaders both in and out of the industry" to submit 5-minute video pitches for the "IDEAS Collide Showcase (IDEAS Collide), Visionary Disruption and Solution in the Collision Repair Industry." The "TED Talks"-esque forum will run 10 a.m.-noon Friday, Nov. 2, as a grand finale to SCRS' Repairer Driven Education series.
"IDEAS Collide is the perfect place for captivating individuals, concept-driven startups or tenured companies with an eye on the future to take center stage and present innovative ideas, business models and concepts that have the potential to revolutionize the future of the collision repair industry," SCRS wrote in a news release Monday.
"SCRS wants to explore concepts and business solutions that have the potential to create paradigm shifts in the businesses we serve."
Speakers should offer provocative proposals to solve current industry issues — or shake up the entire industry altogether.
"Industry Disruption will rattle the status quo with ambitious ideas that have a transformative effect on the industry," SCRS wrote. "From conceptual alternatives to existing business models, technological advancements that will shake up the automotive aftermarket landscape, to changing the consumer expectation of what is possible; this segment is certain to leave heads spinning with possibility. …
"Industry Solutions would offer conceptual keys to resolving existing market challenges, business considerations, resources and solutions that stem from, or can be implemented by, great minds within the industry." (Emphasis SCRS'. Minor formatting edits.)
---
Register today for Repairer Driven Education, Oct. 29-Nov. 2 and get a discount!


---
Send your proposals to info@scrs.com by July 31. Entries have a text and video component. Provide your name, job title, company, email address and session title and a session description (for promotional purposes) in the body of the email or in an attachment, and submit a 5-minute or shorter video pitching your idea.
"The video submission should highlight your comfort in conveying your message," SCRS wrote. "Consider your content and delivery, thinking outside the box as you put together the proposal. The proposal should 'sell' the selection committee on your concept, and ultimately, on the unique experience audience members will receive during your session."
The 10 speakers selected will receive a maximum of 10 minutes each at the IDEAS Collide Showcase. The audience will vote on the presentations, and favorite speakers will receive in-depth coverage in Repairer Driven News.
Details: Contact SCRS Executive Director Aaron Schulenburg at aaron@scrs.com.
More information:
2018 Repairer Driven Education series
Featured image: The Society of Collision Repair Specialists SEMA 2017 booth is shown. (John Huetter/Repairer Driven News)
Share This: