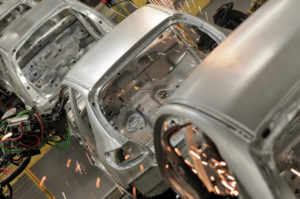 Though Collision Advice CEO Mike Anderson called adjacent panel damage "one of the most commonly overlooked items on an estimate," his latest "Who Pays for What?" survey also found auto body shops invoicing it reporting consistent success in getting reimbursed for the work.
About 65 percent of the several hundred shops replying to the Collision Advice-CRASH Network survey said the nation's Top 8 insurers paid the shop's bill "always" or "most of the time," down 1.4 percentage points from last year.
Only around 11-13 percent of shops reported they never asked to be compensated for fixing damage caused by the process of removing an adjacent panel. (The April body labor "Who Pays?" survey gives the example of repairing a quarter panel or trunk floor after taking off the rear body panel.)
"To me, adjacent panel damage (like weld burn damage) is one of the most commonly overlooked items on an estimate," Anderson wrote in the latest "Who Pays?" report. "When a technician removes a damaged welded-in panel for replacement, it is almost always necessary to repair the adjacent panels that were damaged during the removal process. That damage is unavoidable. After removing a rear body panel, for example, a technician may have to repair the left and right frame rail flanges, the left and right tail light pockets, the floor pan area, and possibly floor or quarter panel extensions."
As is consistently the case in the "Who Pays for What?" surveys, State Farm and USAA were the best about compensating shops who asked to be paid, while GEICO and Progressive were the worse.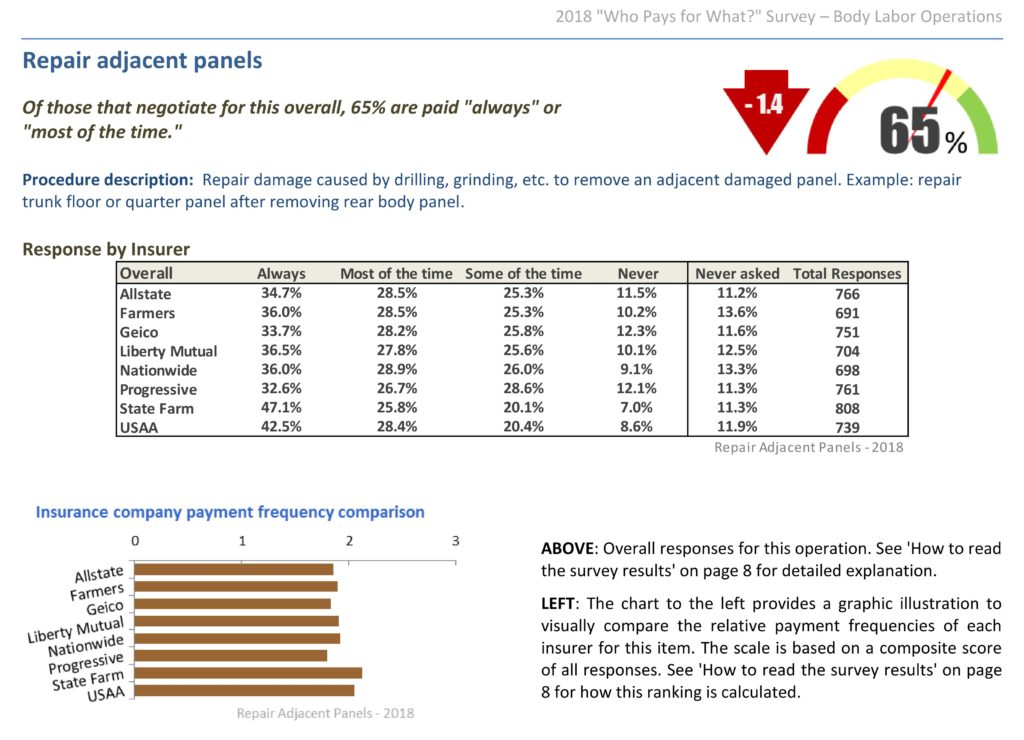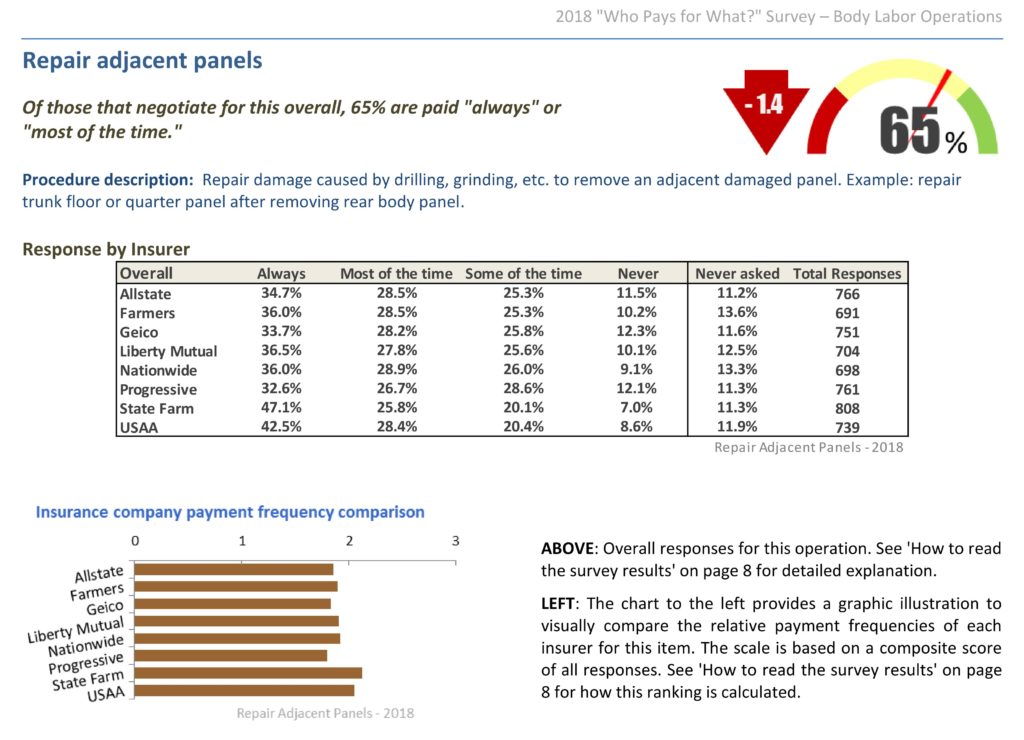 Help the industry by taking the current "Who Pays for What?" survey on frame and mechanical operations here through July 31. All answers are kept confidential — data is published only in the aggregate — and participants receive a copy of the report. Collision Advance and CRASH Network encourage a shop to designate the person "most familiar with the shop's billing practices and the payment practices of the largest national insurers" to complete the poll, which they say takes about 15-30 minutes.
What do the IPs say?
Inquiries to the free Database Enhancement Gateway resource also suggest repairers and insurers don't fully understand how to handle the operation in the three major estimating systems.
In March, a user working with a 2013 Honda Odyssey asked, "Does the replacement labor for the quarter panel include additional labor to repair the panel being replaced and the adjacent panels where we had to grind, repair, weld and straightened."
Audatex wrote back, quoting its P-pages to explain, "Replace labor does not include additional labor to repair the replaced panel and or adjacent panels which may become distorted, burned or damaged by welding, drilling, grinding and straightening."
It added, "When a welded panel is replace, the labor allowance includes bringing the welded seam area up to the new, undamaged condition. This would include the removal of any bonding material or bonding adhesive. If any adjacent panel is damaged and requires repair, that is not included. Audatex does not define the welded seam area with any sort of linear measurement."
Block sanding ("Process of using sandpaper mounted to a block to ensure the area is smooth."), dual-action sanding ("Sand body filler in the area where the welded panel was attached.") and applying body filler on welded areas are included, according to Audatex.
It also cited its P-pages guidance on feather, prime and block:
Audatex recognizes that Feather/Prime/Block are required operations when replacing welded-on panels. Time to perform this operation is included in the Audatex time for welded panel replacement in the seamed areas, to bring the panels to the condition of a new, undamaged panel for the purpose of refinish. Although the time is included, Audatex does not provide a material allowance for the Feather/Prime/Block process. If necessary, the determination and assessment for materials is best provided by the estimate preparer for consideration and allowance during the estimate preparation process.
Another user that month demanded CCC include adjacent panel repair on a 2016 Ram 1500.
"When replacing bedside panel the inner panel front panel, wheelhouse and rear pillar are damaged," the user wrote. "Need to have additional time added for REPAIR and paint for weld burn and drill, grind and hammer dolly procedures."
CCC quoted its P-pages entry on "Weld Zone / Adjacent Panel" to reply that there was no way it could anticipate the amount of damage to the adjacent panels:
Suggested refinish operation times do not include additional time for repair of damage to adjacent panels resulting from normal cutting, welding and grinding procedures. The amount of damage can vary considerably depending upon process and technique used by the servicing technician, and therefore is impractical to anticipate in this publication. MOTOR recommends these factors be considered before finalizing any repair cost estimate. Typical areas to be considered are illustrated below.
A September 2017 inquiry related to an insurer-repairer dispute drew Mitchell's perspective on the issue
"Shop attempting be paid for adjacent panel repair on the body tech side," the user wrote about a 2012 Chrysler 300. "Shop supplemented for additional labor for adjacent panel repairs at (tail light pockets, l and r gutter, top and bottom of floor, both l and r quarters). The document in Mitchell p-pages states is not included labor operation on behalf of body tech. additional labor should be allocated for access, grinding, welds burns etc. Shop has supplemented and has been denied the additional repair cost. Insurance company has stated they have spoke with Mitchell and Mitchell states that all adjacent panel repair times are included with the time allocated time in the date base time for the panel replacement. as i read Mitchells p-pages, body tech adjacent repair time is not included in the replacement time. is this accurate or has Mitchell changed their P-page thought and is now stating the replacement time now includes ALL repairs to ALL adjacent panels repaired or does it still stand that adjacent panel repair is a separate labor operation to be as a separate repair."
Mitchell referred the user to its answers to similar inquiries dating back to 2011, and offered a similar conclusion:
REPAIR TIME TO ADJACENT PANELS DAMAGED BY DRILLING, CUTTING AND REMOVING THE REAR BODY PANEL HAS BEEN INCLUDED TO THE EXTENT THAT ROUTINE ALIGNMENT OR DOLLYING OF A PANEL IS SUFFICIENT TO STRAIGHTEN AND ALLIGN THE AREA OF THE ADJACENT PANEL BEING JOINED WITH THE REPLACED PANEL.
NOT INCLUDED WOULD BE ANY REPAIR TIME TO ADJACENT PANELS DAMAGED BY AGGRESSIVE REMOVAL OF A DAMAGED PANEL. PLEASE REFERENCE THE FOLOWING FROM THE PROCEDURE PAGES P-28 NOT INCLUDED OPERATIONS: FEATHER, PRIME & BLOCK PAINT DAMAGE TO ADJACENT PANEL AND/OR PANELS JOINED BY WELDING DUE TO BURN DAMAGE (SEE FEATHER, PRIME & BLOCK DEFINITION UNDER REFINISH GENERAL INFORMATION) ALSO THE FOLLOWING FROM PROCEDURE REFIISH PROCEDURE 28 -FEATHER, PRIME & BLOCK : IS THE NOT-INCLUDED REFINISH OPERATION THAT COMPLETES BODYWORK REPAIR FROM 150 GRIT SMOOTHNESS TO THE CONDITION OF A NEW UNDAMAGED PANEL, AND THE POINT AT WHICH REFINISH LABOR TIME BEGINS. THE LABOR AND MATERIALS ASSOCIATED WITH FEATHER, PRIME AND BLOCK MAY VARY DEPENDING UPON THE SIZE OF THE REPAIR AREA, AND SHOULD BE EVALUATED WHEN DETERMINING THE WORK TO BE PERFORMED. SEE WELDED PANELS UNDER ESTIMATING INFORMATION
More information:
Take the 2018 frame and mechanical operations "Who Pays for What?" survey
"Who Pays for What?" body repair operations results
OEM1Stop OEM repair procedures portal
Images:
A vehicle factory is shown. Removing panels in the aftermarket might damage adjacent panels. (RicAguiar/iStock)
About 65 percent of the several hundred shops replying to an April 2018 Collision Advice-CRASH Network "Who Pays for What?" survey said the nation's Top 8 insurers paid the shop's bill "always" or "most of the time," down 1.4 percentage points from last year. (Provided by Collision Advice and CRASH Network)
Share This: