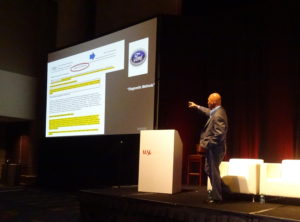 Collision Advice CEO Mike Anderson demonstrated Thursday how multiple OEMs without position statements on scanning still clearly say within repair procedures that diagnostic testing should occur.
When shops say there's no position statement to scan a car, Anderson's reaction is "'you suck'" and "'you're lazy'" for failing to check the repair manuals, he noted while presenting how Mitsubishi instructions call for scanning despite the OEM's lack of diagnostic position statement.
Anderson said OEMs representing the vast majority of the U.S. market all have issued position statements clearly demanding some combination of pre- and post-repair scanning.
But what about the remainder, which included companies like BMW, Audi, Ford, Volkswagen and Mitsubishi? Anderson estimated he received 30 emails a week from shops asking about position statement-less manufacturers.
Those shops clearly hadn't read the repair procedures, based on Anderson's presentation to the NACE MSO Symposium.
Audi doesn't has a position statement on scanning. But the instructions for a 2012 Audi A4 tell shops to scan the vehicle, according to Anderson: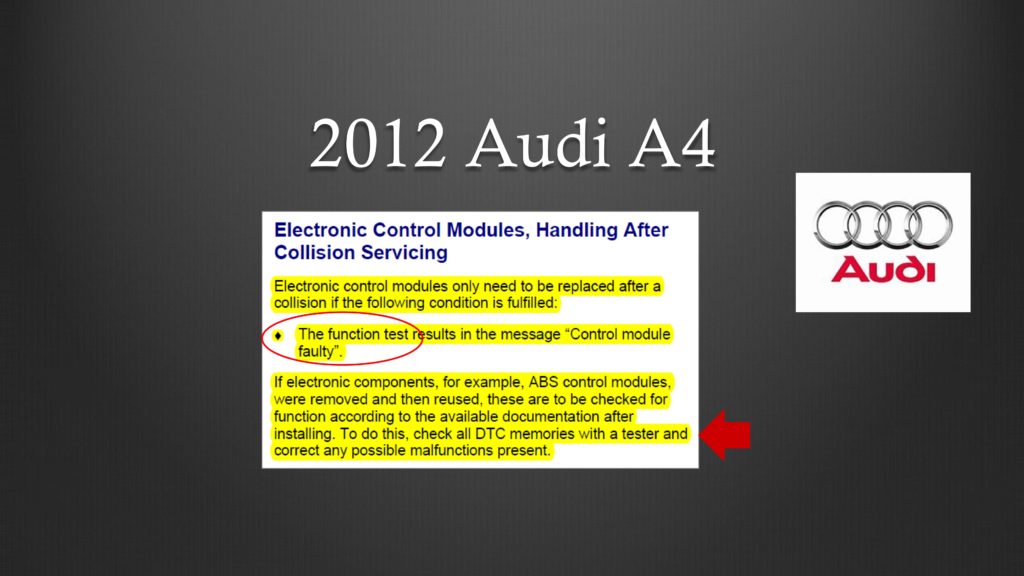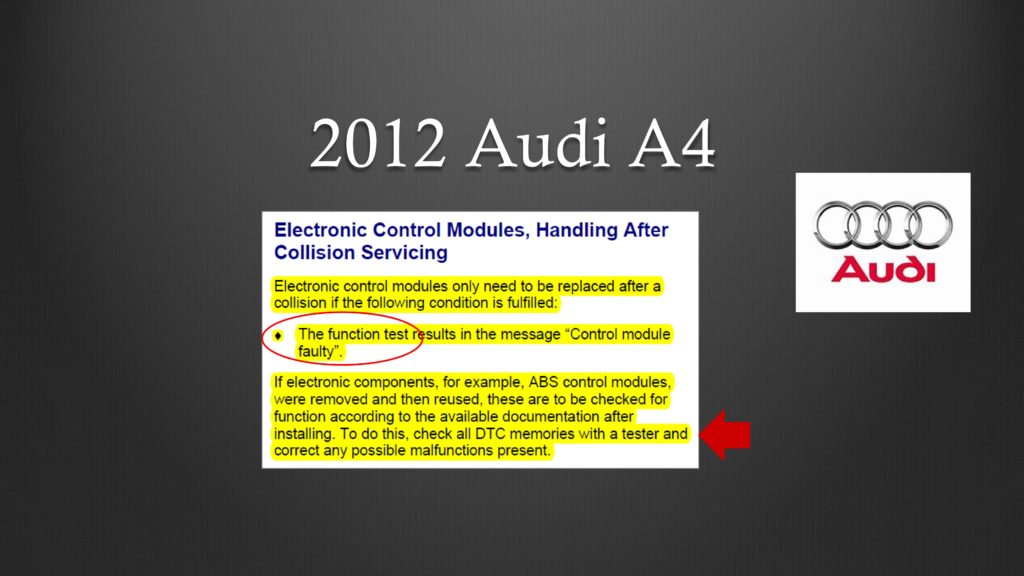 In guidance for electronic control modules on the six-year-old car, Audi says those modules need to be replaced after a crash if "The function test results in the message 'Control module faulty'."
Audi continues:
If electronic components, for example, ABS control modules, were removed and then reused, these are to be checked for function according to the available documentation after installing. To do this, check all DTC memories with a tester and correct any possible malfunctions present.
Twelve years ago, Audi's sister company Volkswagen discussed scanning within the repair procedures for a 2006 Jetta.
Volkswagen wrote that shops must install a new electronic control unit after a crash in any of four situations:
• The housing is obviously deformed or damaged.
• The support surface or bracket is deformed; there is no visible external damage to the unit itself.
• The connector is damaged or corroded.
• The functional check on the unit self-diagnosis procedure indicates the fault "Control unit defective". (Minor formatting edits.)
A functional control check requires a scan tool, Anderson said.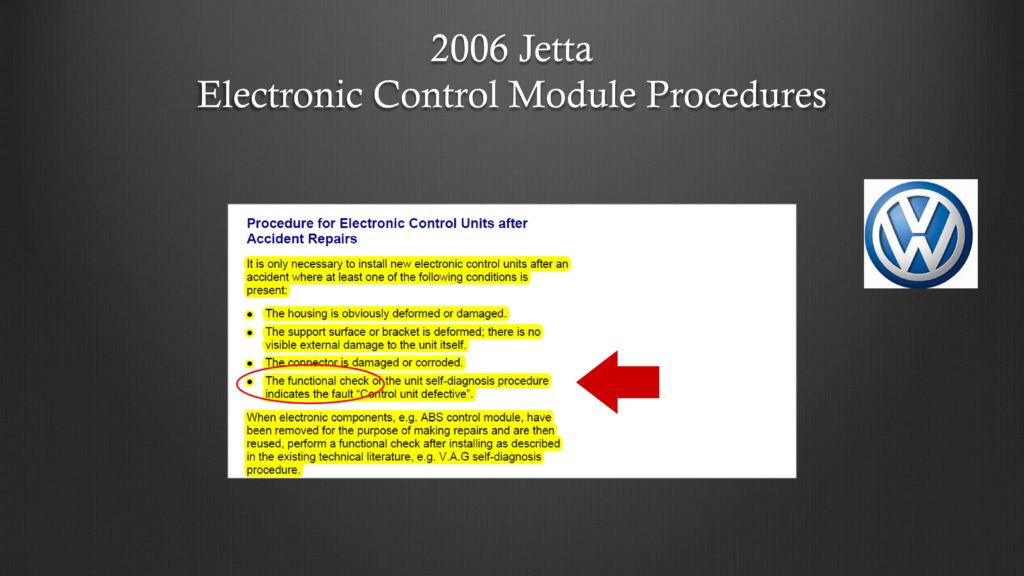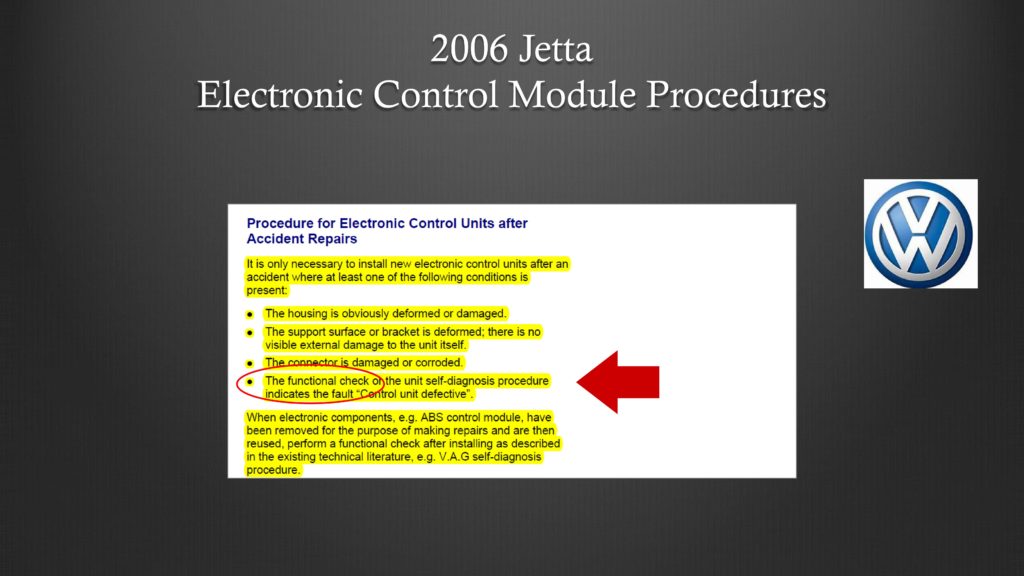 "When electronic components, e.g. ABS control module, have been removed for the purpose of making repairs and are then reused, perform a functional check after installing as described in the existing technical literature, e.g. V.A.G self-diagnosis procedure," Volkswagen also wrote.
The repairer checklist for a decade-old 2009 Volkswagen Passat CC involved in a collision states that safety systems must be scanned.
"Safety related systems such as: ABS/Electronic Differential Lock (EDL), Airbag, electronically regulated vehicle systems; Electromechanical, Electro hydraulic steering and other driver assistance systems must be queried for fault codes that could possibly be stored, using the vehicle diagnostic tester," Volkswagen wrote. "If faults were stored in the Diagnostic Trouble Code (DTC) memory for the system mentioned, then these systems must be serviced according to the specifications in the repair manual. After performing repairs, check the fault stored in the DTC memory of the affected system again, to make sure that proper function can be ensured again."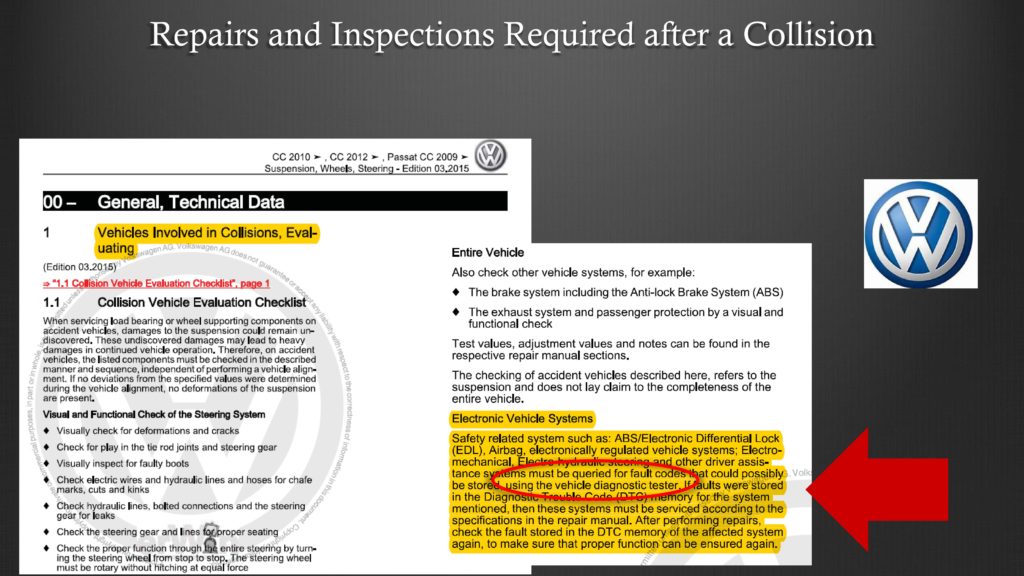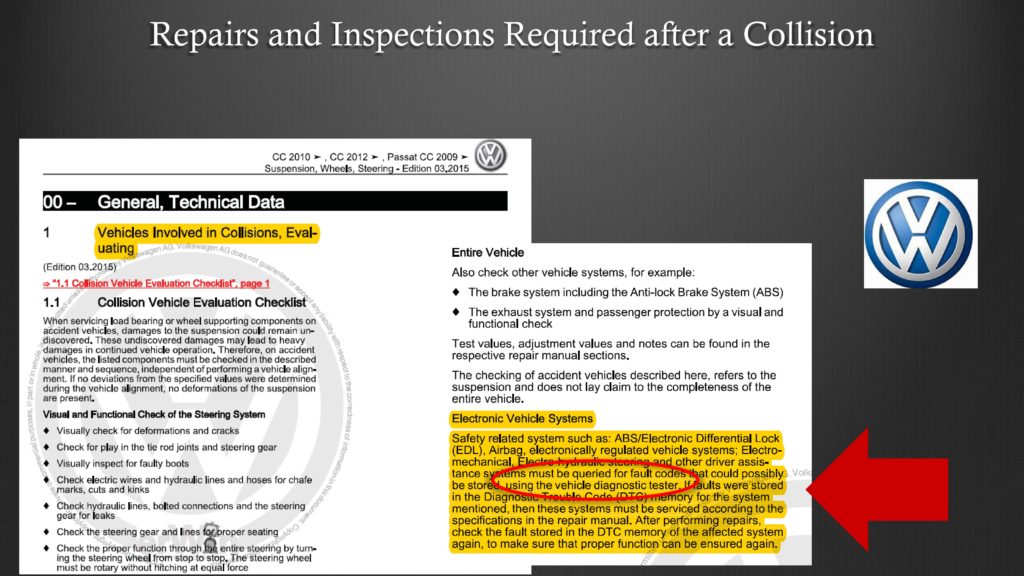 Mitsubishi makes it even more obvious that it wants you to scan in "POST-COLLISION DIAGNOSIS" guidance stating to perform an SRS-ECU memory check "on post-collision vehicles … regardless of the deployment or activation statuses of air bags and seat belt pre-tensioner," according to another Anderson slide.
The OEM even tells you which scan tools to buy.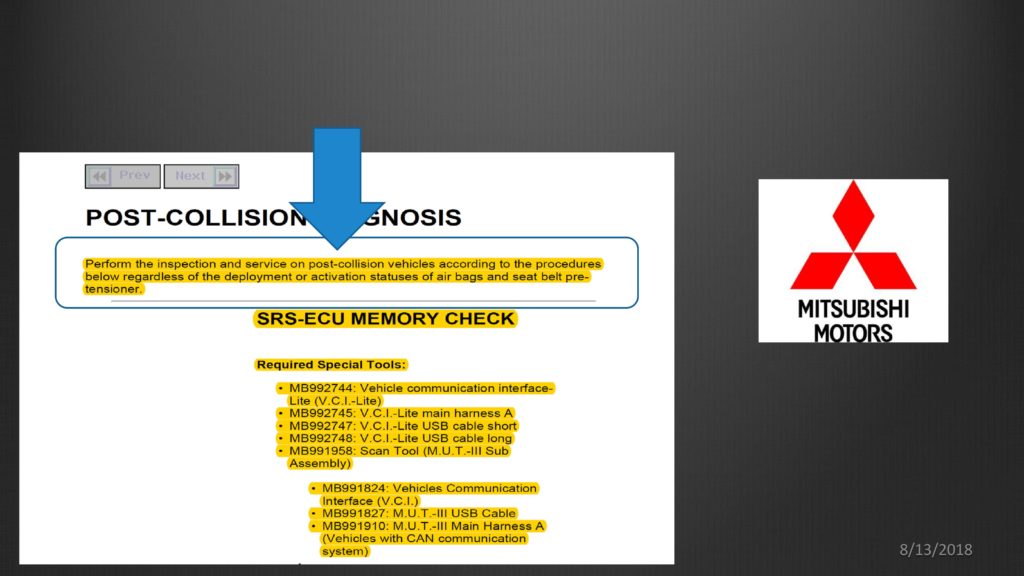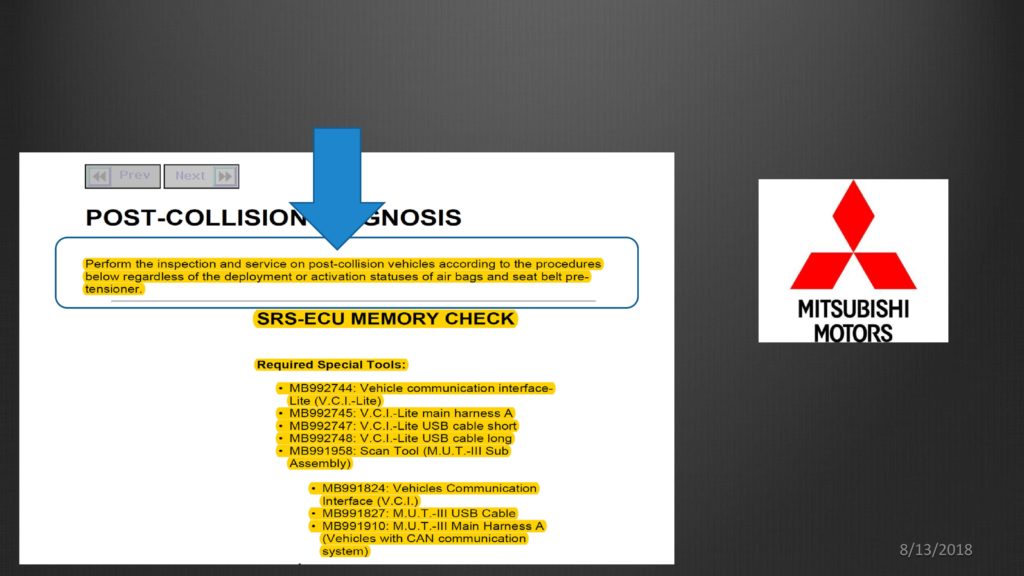 What about Ford, the largest of the OEMs without a position statement?
A year ago during the 2017 MSO Symposium, Ford collision marketing manager Mark Mandl said that while Ford didn't have a position statement on pre- and post-repair scanning, "it's very clearly" in the OEM's repair procedures.
"It absolutely should be done," he said then.
Echoing a tip from asTech industry relations director Jake Rodenroth, Anderson on Thursday showed excerpts from how the "Diagnostic Methods" instructions for a 2017 Lincoln Continental declare that a repairer must clear certain diagnostic trouble codes.
"Continuous Memory DTCs caused by the issue being repaired or created during the diagnosis and repair must be cleared or they will confuse future diagnosis," Ford wrote. "NOTE: Do not clear DTCs from unresolved vehicle issues."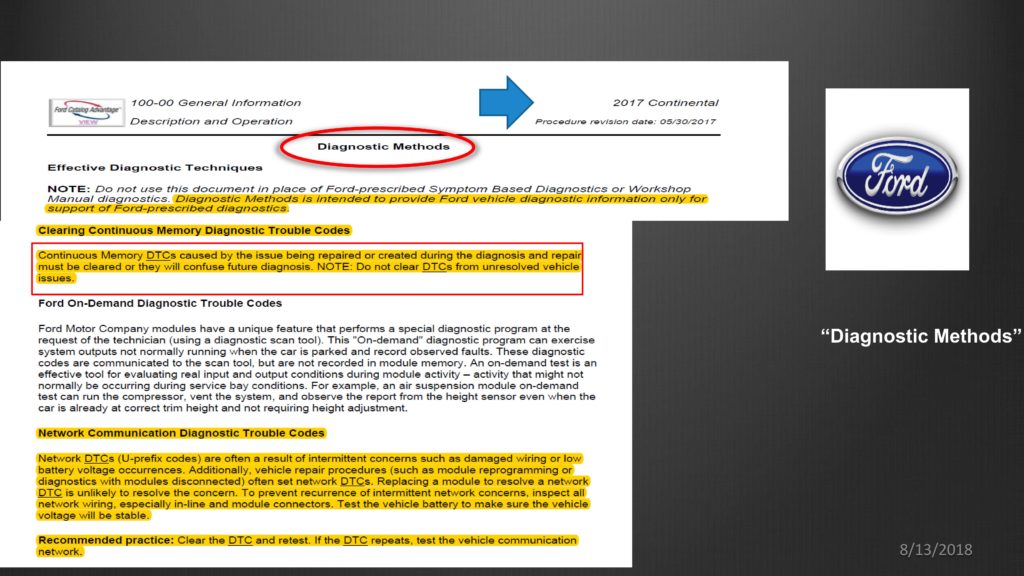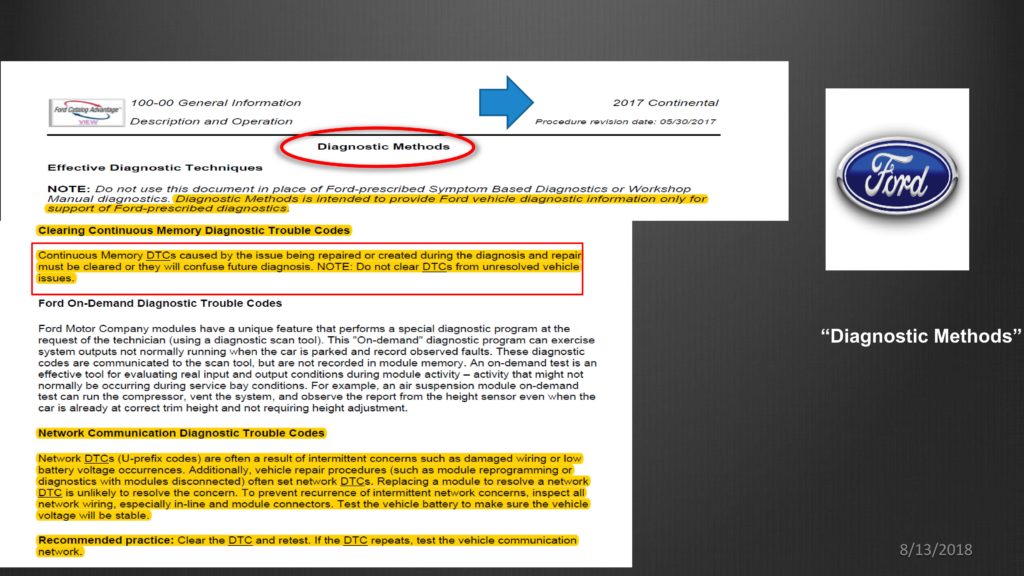 We found similar instructions in the opening pages of the 2017 Ford F-150 and Escape repair procedures (Ford's No. 1- and No. 2-selling vehicles last year).
Anderson also highlighted Lincoln's discussion of network DTCs.
"Network DTCs (U-prefix codes) are often a result of intermittent concerns such as damaged wiring or low battery voltage occurrences," Ford wrote. "Additionally, vehicle repair procedures (such as module reprogramming or diagnostics with modules disconnected) often set network DTCs. Replacing a module to resolve a network DTC is unlikely to resolve the concern. To prevent recurrence of intermittent network concerns, inspect all network wiring, especially in-line and module connectors. Test the vehicle battery to make sure the vehicle voltage will be stable.
"Recommended practice: Clear the DTC and retest. If the DTC repeats, test the vehicle communication network." (Emphasis Ford's.)
BMW requires a repairer to have a scan tool just to handle a particular exhaust, based on other procedures Anderson showed.
"If the actuator drive is over the end stop and cannot be connected with the torsion spring to the exhaust flap, the actuator drive must be moved to the installation position by using the diagnosis system," BMW wrote. "To do this, connect the connector for the actuator drive before installation."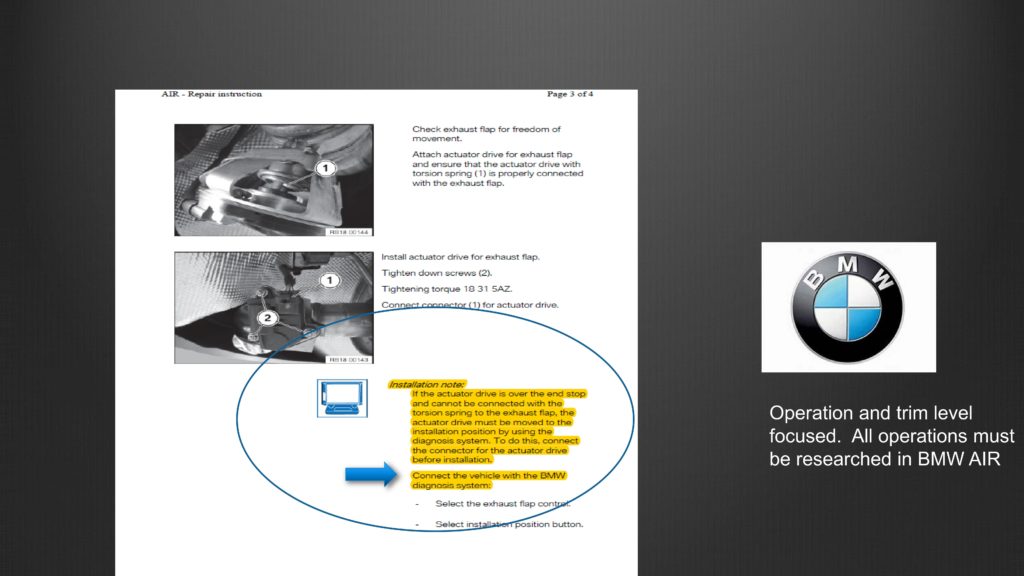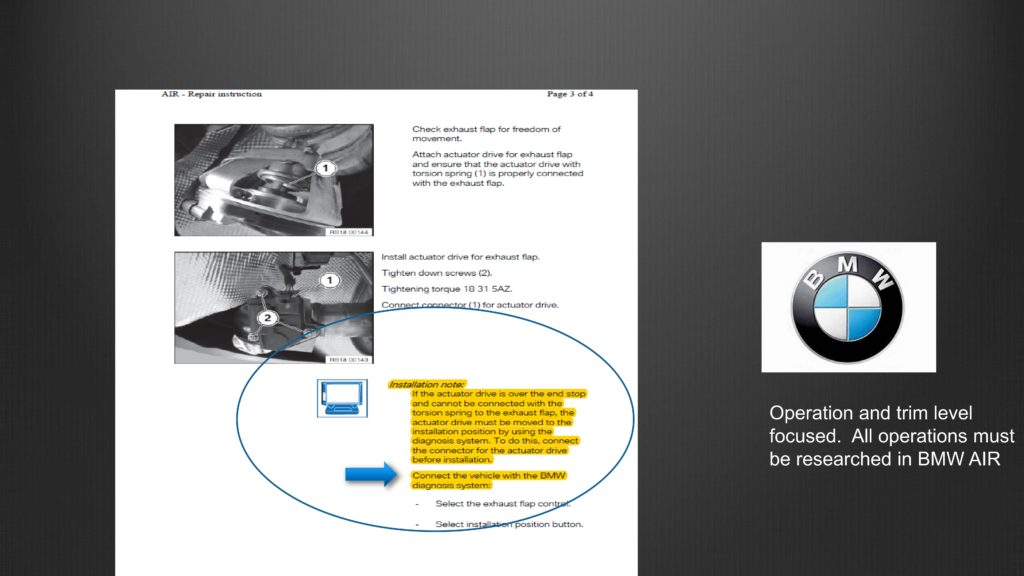 The OEM then instructs the shop to connect the exhaust to a BMW diagnostics system.
"I am concerned that as an industry, We are becoming too reliant on 'OEM Position Statements' to tell us how to repair a vehicle safely!" Anderson wrote in a slide displayed before the MSO Symposium.
"OEM Position Statements CAN NOT and SHOULD NOT replace the emphasis and importance of researching OEM Repair Procedures!"
Audi collision and equipment manager Mark Allen made a similar point earlier in the MSO Symposium, telling the audience that he wasn't really writing Audi repair position statements anymore.
The same information existed in the Audi repair procedures, he explained.
"You have to stop being lazy," he said.
Repairers also need to read more of the manual besides the body collision section, based on his presentation. Allen referenced the possibility of the relevant information being housed in body electrical or body safety sections, rather than the body collision portion.
"The information is there," he said.
More information:
OEM repair procedures on OEM1Stop
Images:
Collision Advice CEO Mike Anderson demonstrated Thursday how multiple OEMs without position statements on scanning still clearly say within repair procedures that diagnostic testing should occur. (John Huetter/Repairer Driven News)
Audi doesn't has a position statement on scanning. But the instructions for a 2012 Audi A4 tell shops to scan the vehicle, according to Collision Advice CEO Mike Anderson. (Provided by Collision Advice)
Twelve years ago, Audi's sister company Volkswagen discussed scanning within the repair procedures for a 2006 Jetta. (Provided by Collision Advice)
The repairer checklist for a decade-old 2009 Volkswagen Passat CC involved in a collision states that safety systems must be scanned. (Provided by Volkswagen)
Mitsubishi makes it obvious that it wants you to scan in "POST-COLLISION DIAGNOSIS" guidance stating to perform an SRS-ECU memory check "on post-collision vehicles … regardless of the deployment or activation statuses of air bags and seat belt pre-tensioner," according to a slide from Collision Advice CEO Mike Anderson. (Provided by Collision Advice)
Collision Advice CEO Mike Anderson showed the 2018 MSO Symposium excerpts from how the "Diagnostic Methods" instructions for a 2017 Lincoln Continental declare that a repairer must clear certain diagnostic trouble codes. So repairers and insurers shouldn't confuse the absence of a Ford or Lincoln position statement with the OEM not wanting scans to be done. (Provided by Collision Advice)
BMW requires a repairer to have a scan tool just to handle a particular exhaust, based on OEM repair procedures Collision Advice CEO Mike Anderson showed the 2018 MSO Symposium. (Provided by Collision Advice)
Share This: