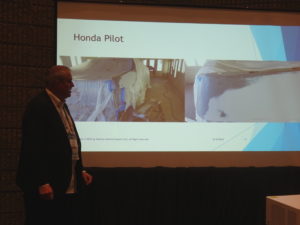 Monitoring and taking a bite out of the "internal comeback rate" could easily save a shop a couple of thousand dollars a month, a collision repair expert advised Friday.
Mark Olson, CEO of Vehicle Collision Experts, set up the tip by asking what the audience had paid to attend the NACE course. $100 was the reply. He could "tenfold your money right now," he said.
Internal comebacks, which he said could occur within seven transition points in a shop, such as the body department to the paint department, or the painter to a detailer.
"It's always at the passoff," Olson said.
Each stage carries the opportunity for what Olson classified as a soft, medium or heavy comeback if the department handing off hadn't held up its end of the repair. He illustrated the concept with a body-paint department transition.
The painter receives the vehicle and notes a panel with 80 grit scratches. Groaning that "'it's Joe,'" the painter decides "'I'll just fix it. I'm not bugging Joe. Joe's got hammers.'"
The painter's not being paid to fix Joe's omission; they're tasked with taking the vehicle from 180 to the necessary final grit in the feather, prime and block process.
Vehicle Collision Experts research finds that the painter loses 10-15 minutes of work time. "Is that money?" Olson asked.
Under a medium comeback, the painter decides that the issue is too extensive for them to address. They grab Joe, who has to stop what he's doing, look at the problem, and fix it. This takes a minimum of 20 minutes, and more likely 30-45 minutes — plus materials — Olson said.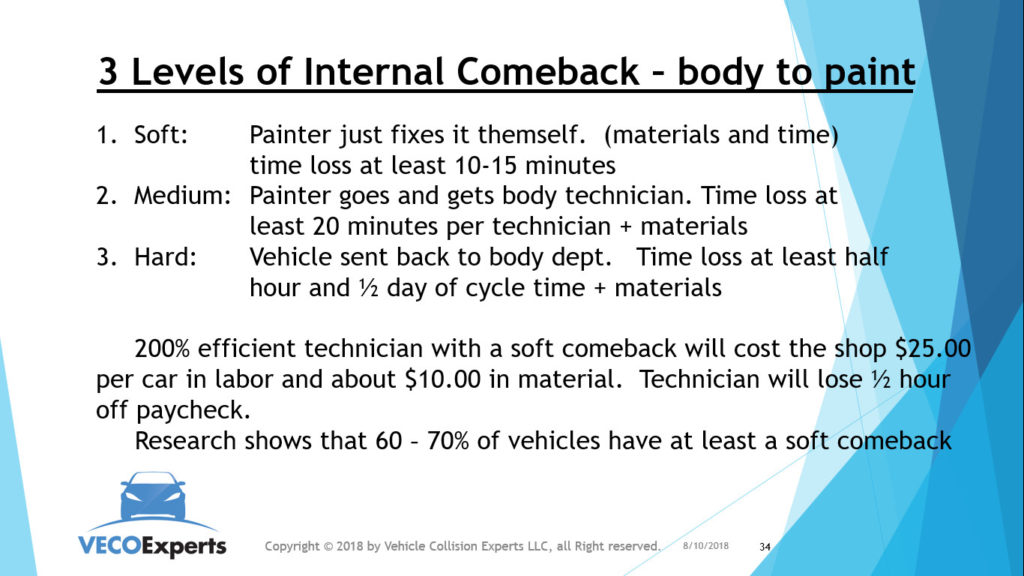 A hard comeback has to be sent back completely to the body department, demanding at least a half-hour per technician and costing the shop a half-day of cycle time, according to Olson.
Olson used a $50/hour labor rate for the sake of easy math. (CCC estimated an average body rate of $48.85 last year and NABR earlier this year found a $57 average, so the example works out pretty well.) On a soft comeback alone, a "200% efficient technician (80.0 labor units in 40 hours) … will cost the shop $25.00 per car in labor and about $10.00 in material," Olson wrote. "Technician will lose ½ hour off paycheck."
Olson cited research finding that 60 to 70 percent of all vehicles have at least a soft comeback. If 100 cars a month have merely a soft comeback preventing the tech from doing $25 worth of billable work instead, the shop is flushing $2,500 a month.
"That's a nice boat," Olson said. Over 12 months, that's $18,000 a year your shop lost.
Think it's not happening in your shop? "Let me interview your painter," Olson said.
He suggested asking one's painter in this situation to keep a list of every time this occurs. This isn't done to get anyone in trouble. "Let's go train Joe," Olson said.
Either Joe's not trained, not performing per your shop's expectations, or he outright doesn't care he's not up to snuff, according to Olson. The last is a factor of the shop's culture and the owner's fault, Olson said.
He offered a real-life example of a vehicle in which a painter received a Honda Pilot destined to reveal flaws once it sat in the sun after delivery.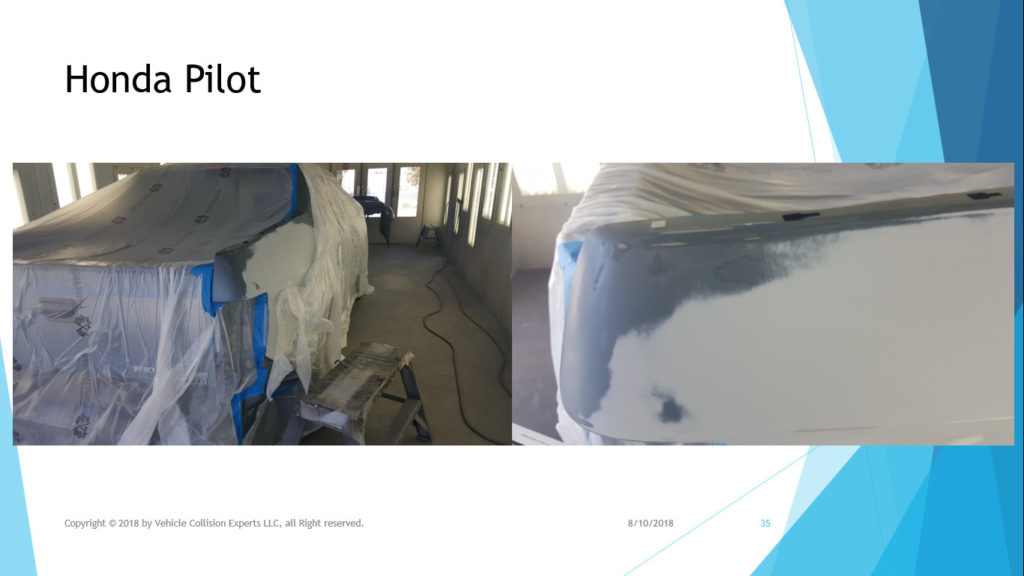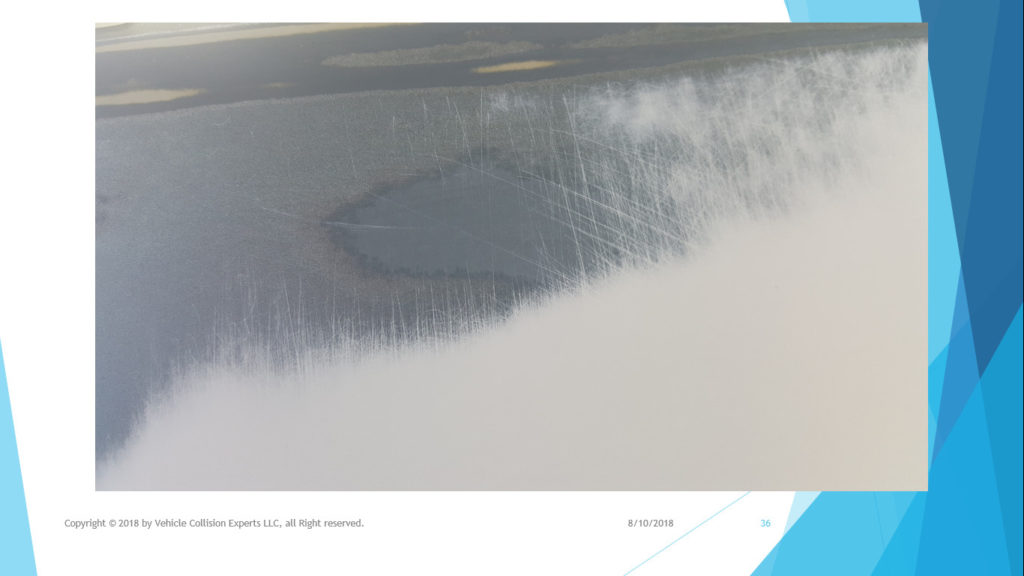 The painter acknowledged the issue with the bodywork, but didn't want to talk to the "'mean'" body tech about it, stating "'I don't want to mess with him,'" according to Olson.
It's just a result of a lack of process and quality control, Olson said.
Olson asked the body technician about the work, and the tech said he was just doing what everyone else did. It's time to have a conversation about "plastic filler over 180," Olson said.
Go in the shop today, and "that ain't happening."
"It's just a conversation," Olson continued.
Images:
Vehicle Collision Experts CEO Mark Olson offered this "internal comeback" example of a painter who received this Honda Pilot from the body department. The vehicle was destined to reveal flaws once it sat in the sun after delivery, Olson said. (Provided by Vehicle Collision Experts)
Monitoring and taking a bite out of the "internal comeback rate" could easily save a shop a couple of thousand dollars a month, Vehicle Collision Experts CEO Mark Olson said. (Provided by Vehicle Collision Experts)
Share This: