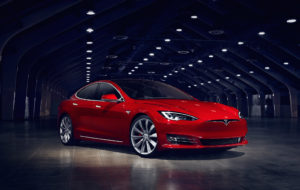 An Insurance Institute for Highway Safety analysis of Tesla Model Ss before and after the OEM enabled Version 1 of its ADAS suite in 2015 found the technology cut property damage claims 11 percent.
The statistically significant result is the latest indicator of the effect advanced driver assistance systems might have upon collision repair industry volume.
Tesla triggered adaptive cruise control, forward collision warning and automatic high beams over-the-air in Teslas with Version 1 hardware in January 2015, and the OEM launched autobraking and blind spot warnings in March 2015. In October 2015, customers who'd paid for the Autopilot option received that technology.
The Highway Loss Data Institute researchers chose to classify post-February 2015 claims on 2014-16 Tesla Model Ss with Version 1 — anything built after Sept. 19, 2014, and through Oct. 19, 2016 — as the "With Tech" group. They threw out all 2016 vehicles with Hardware 2. Claims on 2012-14 Teslas built through Sept. 19, 2014, and the Version 1 vehicles through Jan. 31, 2015, were classified as "Without Tech."
2014-16 Teslas with Version 1 (and potentially Autopilot, for some owners), produced 11 percent fewer property damage claims and 21 percent fewer bodily injury claims than the 2012-14 Model Ss. However, first-party medical claims rose 29 percent, and first-party personal injury protection claims rose 39 percent.
Collision claims on the ADAS Teslas rose 1 percent, but this wasn't a statistically significant change.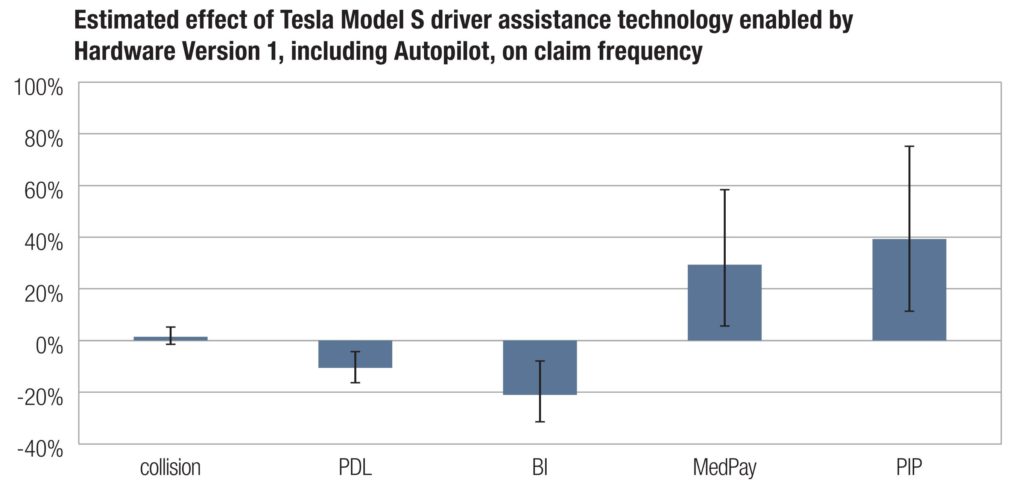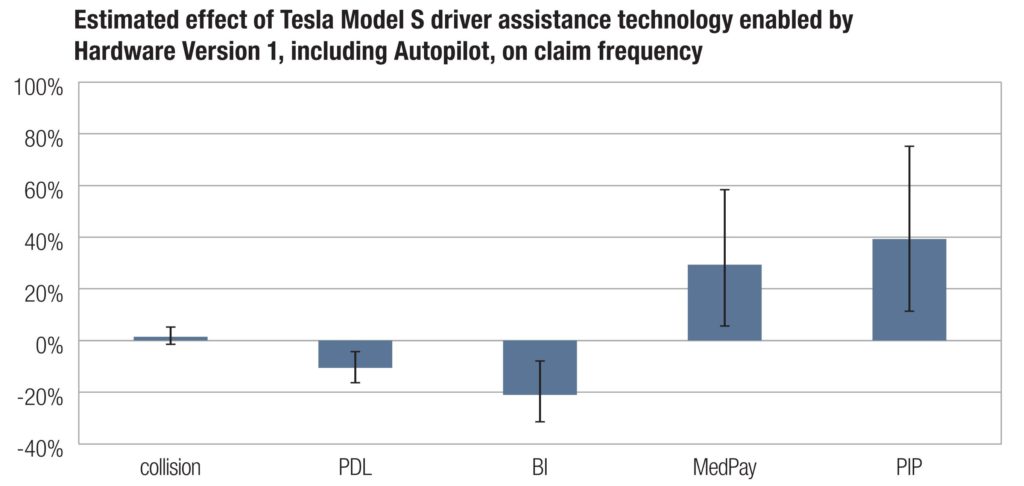 "To get a better picture of how Autopilot is affecting claims, we need more data on how many Teslas are equipped with Autopilot and how often it is used," Highway Loss Data Institute Senior Vice President Matt Moore said in a statement. "The reductions in the frequency of third-party physical damage and injury liability claims associated with Tesla's version 1 hardware are in line with the benefits HLDI has documented for comparable systems from other manufacturers."
As Autopilot is optional and only has nine months of Version 1-but-no-Autopilot data to serve as a control group, the Highway Loss Data Institute had a hard time evaluating the effectiveness of the add-on. It called its findings a "limited analysis" and called for more data.
However, while third-party property damage and third- and first-party medical claims didn't do anything statistically significant following the launch of Autopilot, collision claims fell 13 percent.
"When we evaluated Teslas with the version 1 hardware after the Autopilot software was deployed, we saw a significant reduction in collision claim frequency but no other changes," Moore said in a statement.
This is interesting in that it seems to suggest that the technology (which includes Autosteer, Lane Change, Lane Assist and Autopark) might indeed be a better driver than a human — so long as the human monitors the road. Electrek in 2016 reported Tesla data that the technology consistently keeps the car in the center of the lane compared to human drivers. The National Highway Traffic Safety Administration Office of Defects Investigation in 2017 reported data showing a 40 percent reduction in airbag deployment following Autopilot, though as Bloomberg reported, questions about the credibility of this data remain.
"Although of a smaller magnitude, this is consistent with the Office of Defects Investigation's finding that airbag deployment rates dropped by almost 40 percent after Autopilot installation," the Highway Loss Data Institute's formal paper states. "The difference could be attributable to the difference in metrics. Airbags typically deploy in only moderate to severe crashes, so many collision claims would not be associated with an airbag deployment. Additional data are needed to determine if these results continue to persist or if Autopilot translates into benefits or disbenefits for other coverage types."
An interesting piece of data buried in the formal report surrounds claim severity. The HLDI found collision claim severity fell by a statistically significant amount on the Version 1 vehicles, and property damage severity declined as well, though not enough to be a conclusive result. However, when claim frequencies were factored into the mix, insurers ultimately saw their overall property damage loss bill fall by a significant amount and a reduction in their collision expenses, though not by enough to call the results proof.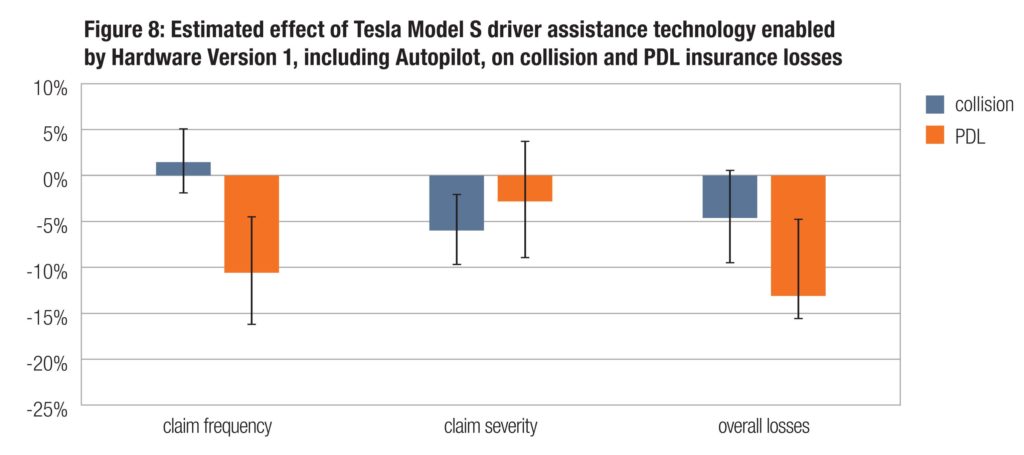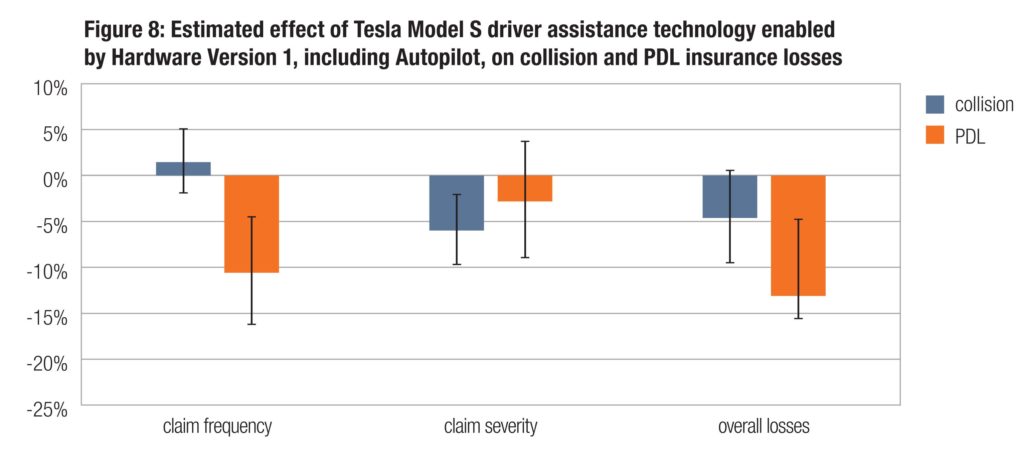 This seems to support data from studies by CCC and Honda and Allstate demonstrating that ADAS cuts severity as well as frequency, despite the potentially higher cost of parts on the ADAS vehicles. The theory is that the technology mitigates the crash enough to offset the cost of parts. (For example, a radar system behind a bumper fascia is destroyed, but the car was slowed enough by the ADAS that its airbags didn't blow.)
"Collision severities have also been declining for the Tesla Model S," the HLDI wrote. "This may be attributable to economies of scale, driving down the cost of replacement parts. According to Autoblog, a Tesla Motors representative said "Tesla is committed to making the production and service of our cars increasingly cost effective for our customers and our company. As we continue to produce more vehicles, economies of scale naturally decrease the price of individual parts" (Blanco, 2015). More recently, Tesla is claiming a 35 percent reduction in battery costs due to its Gigafactory 1 (Lambert, 2017) that could further reduce repair costs."
Potentially of interest to luxury repairers, Tesla Model Ss had produced more property damage liability claims than other large luxury vehicles in 2013 and 2014 but just 8 percent more in 2015. By 2016, the Model S was producing more claims, but the number wasn't statistically significant. Teslas also had a 32 percent higher collision frequency in the 2012 model year, rising to 40 percent for 2014 but falling a little in each of the next two years.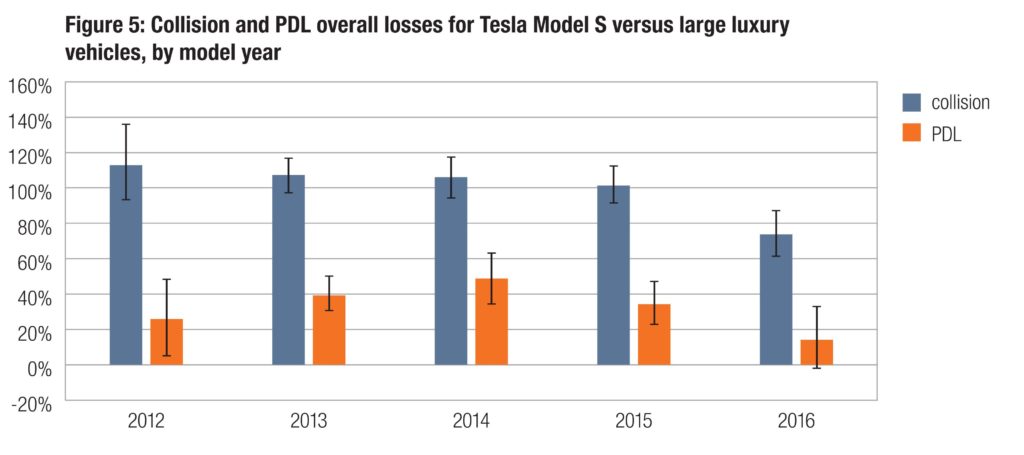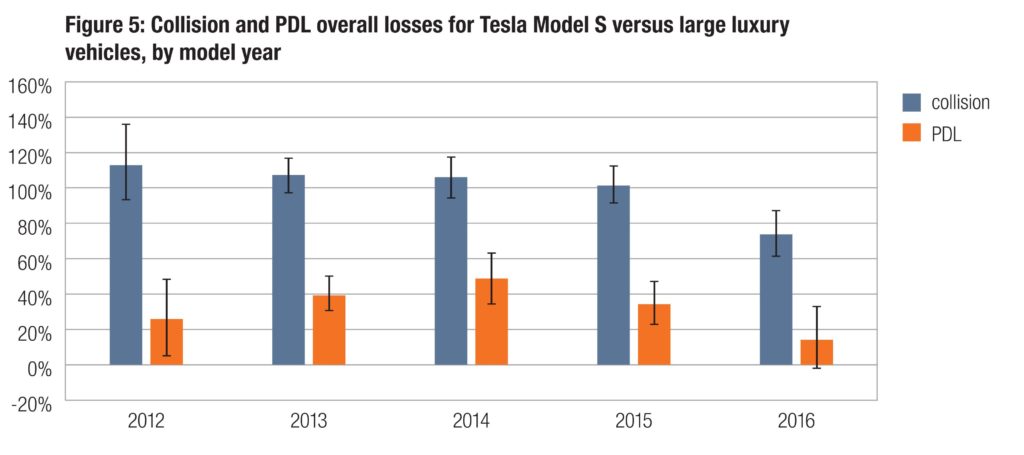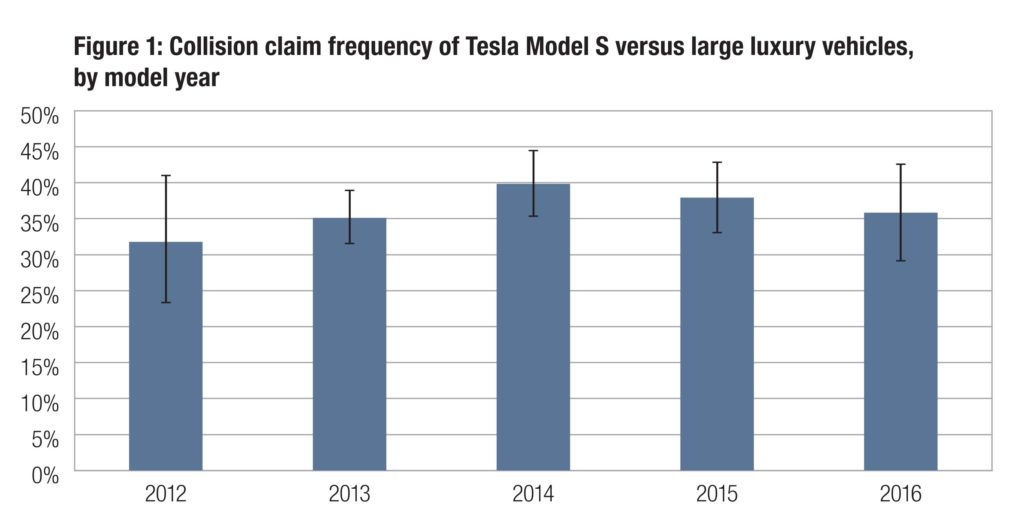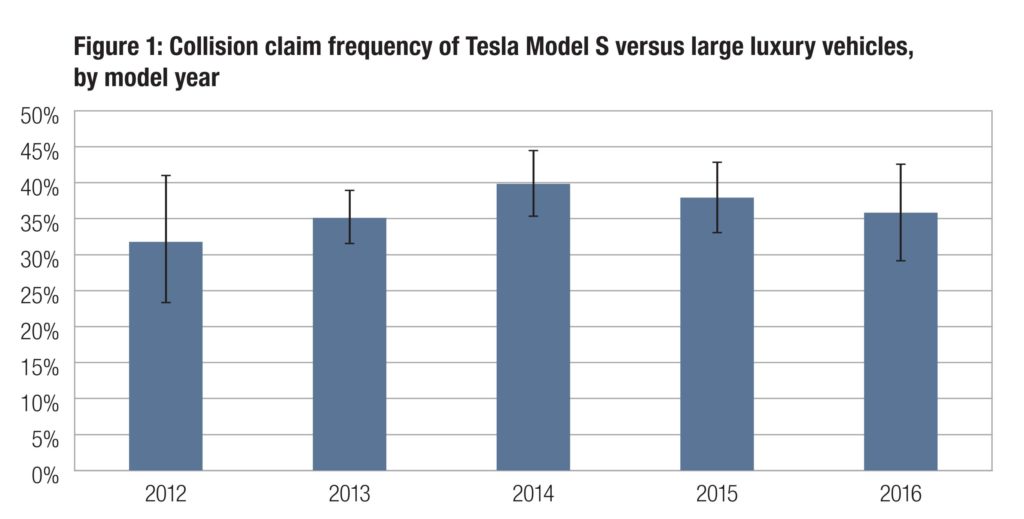 "This study does not account for increases in the prevalence of driver assistance technologies on the conventional large luxury vehicles," the HLDI wrote. "However, except for Autopilot and its associated features, once enabled, these systems were standard features on the Teslas with Hardware Version 1, while on conventional large luxury vehicles, they were typically optional."
Tesla Model Ss also produced significantly more collision claim severity than other large luxury vehicles, though this amount fell from 62 percent for the 2012 model year to 28 percent more in the 2016 model year. One wonders if this is a supply-and-demand situation reflecting a rise in Tesla-certified body shops and part availability.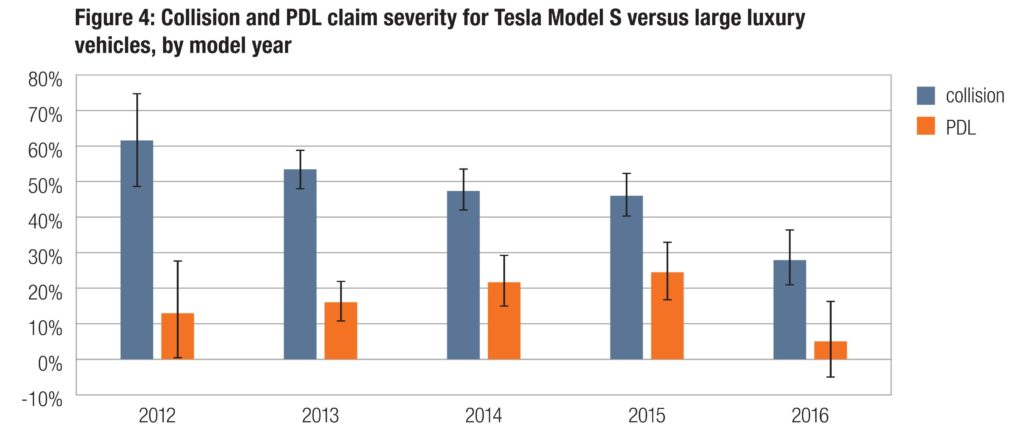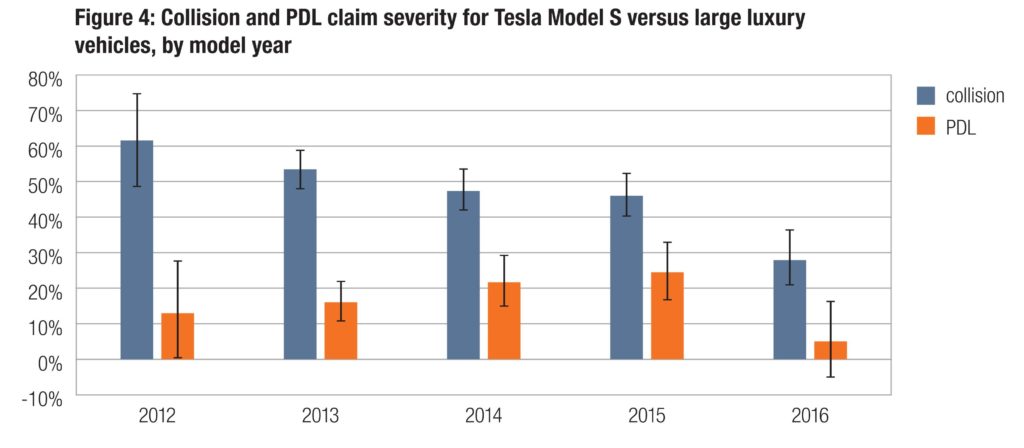 Share This: