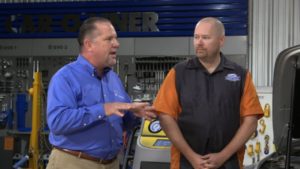 Collision repairers and insurers need to prepare for the additional time and cost associated with the R-1234yf refrigerant becoming more common in vehicle air conditioning systems, based on a May Collision Hub "Repair University Live."
"It's really coming," CPS Automotive sales and marketing Vice President Chuck Abbot said on the show.
Right now, two refrigerants are commonplace in the marketplace: R-134a and R-1234yf. Under an Environmental Protection Agency mandate, R-134a will be phased out and R-1234yf refrigerant must be in all new cars by 2021.
The latter is already appearing in vehicles and is "here to stay," he said.
R-134a (also known as HFC-134a) was a replacement for CFC-12, the ozone-hurting chemical flagged as problematic in the 1970s-90s. But while R-134a won't ruin the ozone layer and has a tenth of what the EPA calls the 10,900 "global warming potential" of CFC-12, it still worried the EPA.
Abbot said FCA since 2013 had been transitioning to R-1234yf, and Ford was about 50 percent of the way there. General Motors will be 100 percent R-1234yf by the end of the year, he said. Japanese manufacturers were also moving in that direction, and OEMs "across the board" were making the switch, he said.
Some European OEMs, such as Mercedes, either use carbon dioxide or are looking at doing so, Abbot said. "It's not a great refrigerant," he said.
However, only one of those vehicles has made it to the U.S. market, according to Abbot, who said his "personal opinion" was that American collision repairers wouldn't see CO2 systems over the next five to 10 years.
Vehicle Collision Experts CEO Mark Olson noted that many technicians will attempt to use an adaptor and just fill the A/C with whatever is already on hand. Abbot said cross-contamination of different refrigerants is a problem and illegal.
However, the SAE and EPA anticipated repairers would try to pull such a stunt, and a new standard requires A/C equipment to have a refrigerant identifier that can tell if the car is 100 percent filled with one refrigerant or the other, according to Abbot. If the machine detects a mix of refrigerants, it won't recover it, he said.
An R-134a machine can still be used by a shop to work on newer R-134a cars, Abbot said, but a shop can't avoid buying R-1234yf equipment to work on those vehicles.
An estimator or technician could tell the difference on a customer's car by looking up details like the VIN, but the ports are also different on the two cooling systems. You can't hook a R-134a machine up to an R-1234yf port, and vice versa, according to Abbot. "That's by design," he said.
Machines with separate capabilities for both systems exist. (Think of the welders with separate guns for steel and aluminum.)
A shop also shouldn't use the R-134a oil it'd been using for the "last 10 years" in a R-1234yf air conditioning system either, Abbot said.
"The yf vehicle won't last long if you put that oil back in the system," he said.
While CPS did sell a backwards-compatible oil, Abbot said this should only be used for top-offs. If a repairer was refilling the entire system, "use the factory oil," he said.
More cost, 'more time'
The new R-1234yf is also "very expensive" and also requires "more time," according to Abbot.
An audience member asked how much labor a shop working on a R-1234yf car would need to add to the typical 1.4 hours in an estimating system database designed around R-134a.
Abbot said 0.25 hours at a minimum, plus the extra cost of refrigerant.
He said the average vehicle had about 11 ounces to 2 pounds of refrigerant, and Olson noted the car featured on the show had a pound.
An audience member asked how much labor a shop working on a R-1234yf car would need to add to the typical 1.4 hours in an estimating system database designed around R-134a.
Abbot said 0.25 hours at a minimum, plus the extra cost of the refrigerant.
A pound of R-1234yf costs $80-$110, according to Abbot. That's potentially a $200 materials bill, Collision Hub CEO Kristen Felder noted.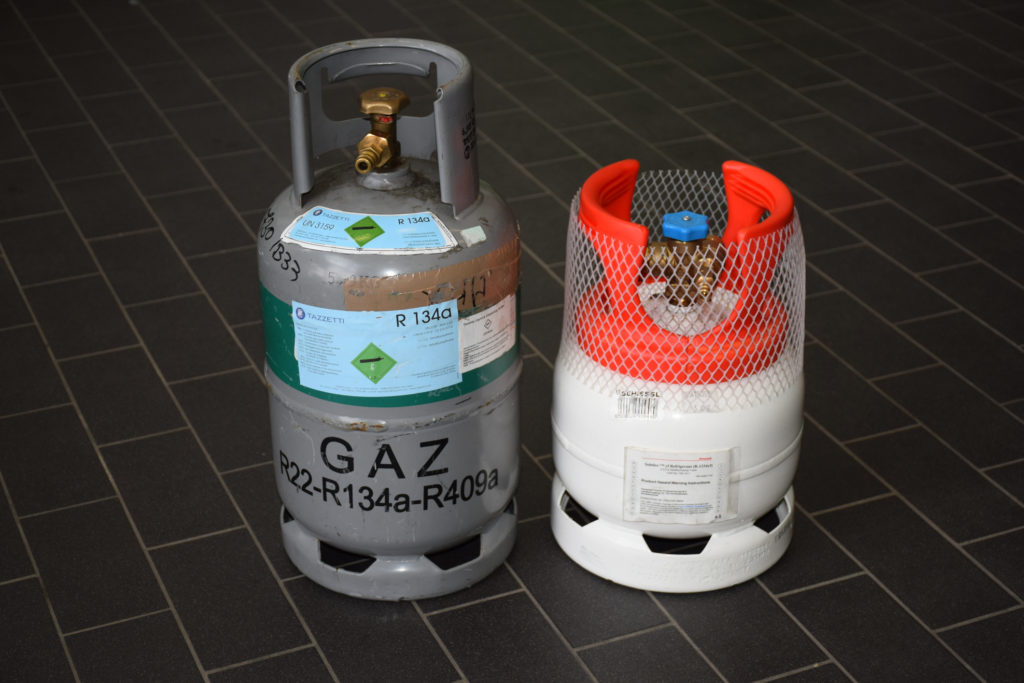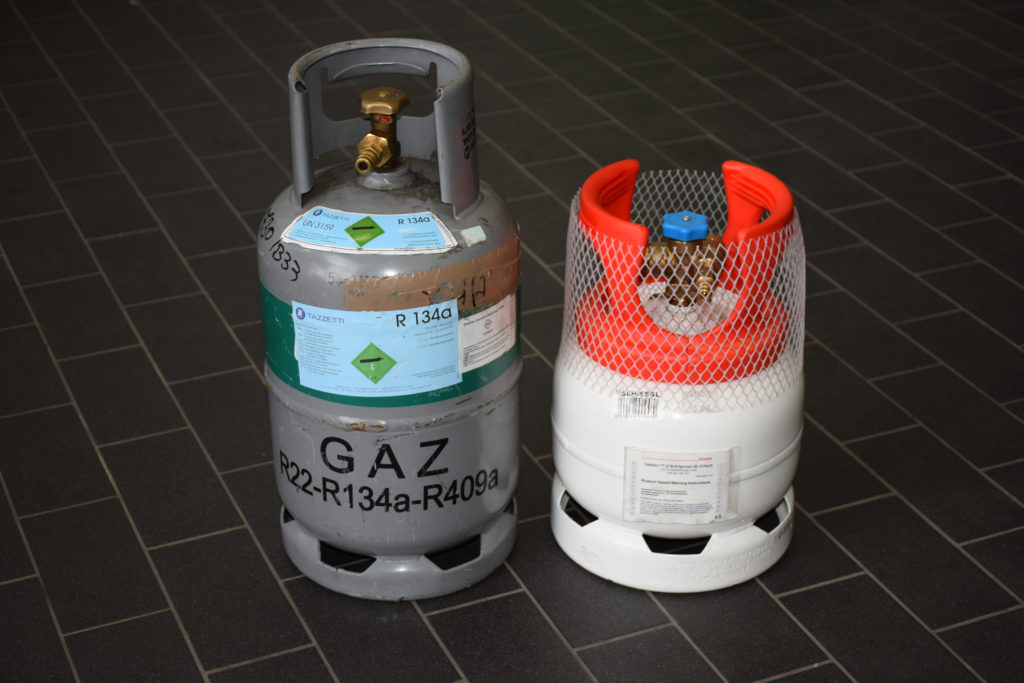 Abbot said R-134a is $3 a pound, so if the shop doesn't charge for it, it's less of a big deal. But if a shop fails to invoice R-1234yf, "you're eating it," he said.
A 1,000-vehicle-per-year shop not invoicing materials or representing them in their paint materials rate is losing $3,000 a year under the old refrigerant. Giving R-1234yf away for free is potentially like $100,000 loss. That could have bought at least another shop employee or a bunch of new equipment.
The changeover to R-1234yf poses a new safety consideration for auto body shops besides those typically tied to A/C systems.
In general, OSHA basically cares about how refrigerant could affect an employee's eyes, lungs and skin, Felder said. Refrigerant isn't toxic, but it's heavier than air and will sink to the bottom of a technician's lungs upon being inhaled — potentially suffocating them, for it can't be exhaled, Olson said. Protective equipment for skin is necessary because of how cold the substance is.
But R-1234yf is also "mildly flammable," Abbot said. It's probably not a good idea to smoke around it, and if a R-1234yf evaporator is damaged, the replacement must meet current SAE standards, he said.
"We don't want that flammable refrigerant getting loose in the passenger compartment," Abbot said.
More information:
Collision Hub, May 22, 2018
Images:
CPS Automotive sales and marketing Vice President Chuck Abbot, left, told a May Collision Hub show that R-1234yf refrigerant is "here to stay." (Screenshot from Collision Hub video)
Warsaw, Poland, March 9th, 2016: R-134a, left, and R-1234yf refrigerant are seen in Warsaw, Poland, on March 6, 2016. (Tramino/iStock)
Share This: