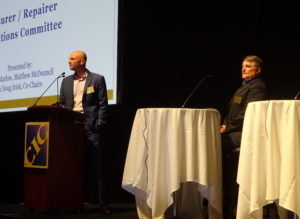 Changing consumer, industry and vehicle conditions mean a collision repairer might have to adapt their business model to endure.
The Collision Industry Conference Insurer-Repairer Committee this month offered three strategies a repairer could try — along with the potential risks and rewards of each.
Smartphones for shops
Committee Co-Chairmen Matthew McDonnell (Big Sky Collision) and Doug Irish (AccuracyDriven4) at the Aug. 7 CIC proposed a shop could adapt photo estimating for their own ends, a strategy championed earlier this summer by Body Shop Booster CEO Ryan Taylor. The committee also proposed embracing mobile phone communications besides oral conversations.
McDonnell presented data that 80 percent of all adults have a smart device. According to the Pew Research Center, 77 percent of Americans in January 2018 had a smartphone. 53 percent of Americans have a tablet, and 73 percent have a desktop or laptop computer.
Think about how you do business personally today, Irish suggested. He said he tries to handle everything online, and it was probably a "great time" for the collision industry to play in that retail space.
McDonnell offered an example of getting in a crash and being unable to think about scheduling a repair or research until 8:30 p.m., after the kids went to bed.
While the shop wasn't physically open, it could be possible for a customer to still message a call center, which could offer to make a traditional appointment or provide an estimate from photos submitted from an app the customer would download, McDonnell said. It's the customer's choice.
"We're in the business of service," McDonnell said. Shops fixate on being in the business of fixing cars correctly and can forget this other component, he said.
Think about what the customer wants, McDonnell said. They're shopping for a body shop online — can they reach you when they do so, such as via a text message?
Last week, he said, a customer sent McDonnell a picture of quarter-panel damage. The shop could schedule the repair based upon it — the customer didn't have to come in to make the appointment.
McDonnell said his shop uses photo estimating as a means of triage. What a customer thinks is a minor impact to a quarter panel might really be far more severe.
AsTech industry relations director Jake Rodenroth said photo estimating can get an unwarranted "blast" on social media, agreeing that there were benefits to the process.
He said shops could use it to decline work for vehicles they weren't certified to fix and refer customers to a shop who is. The shop turning down the work should convey describe their shop not being "'tooled'" for a particular vehicle, rather than stating that the shop "'can't repair it,'" Rodenroth said. Customers appreciate this and will reciprocate with other work, he said.
Rodenroth said photo estimating could also help a shop avoid getting tripped up on parts backorders by noticing the damaged part, immediately ordering it, and scheduling the customer for when the component would arrive.
He also said the practice could be also used to train new estimators at a shop.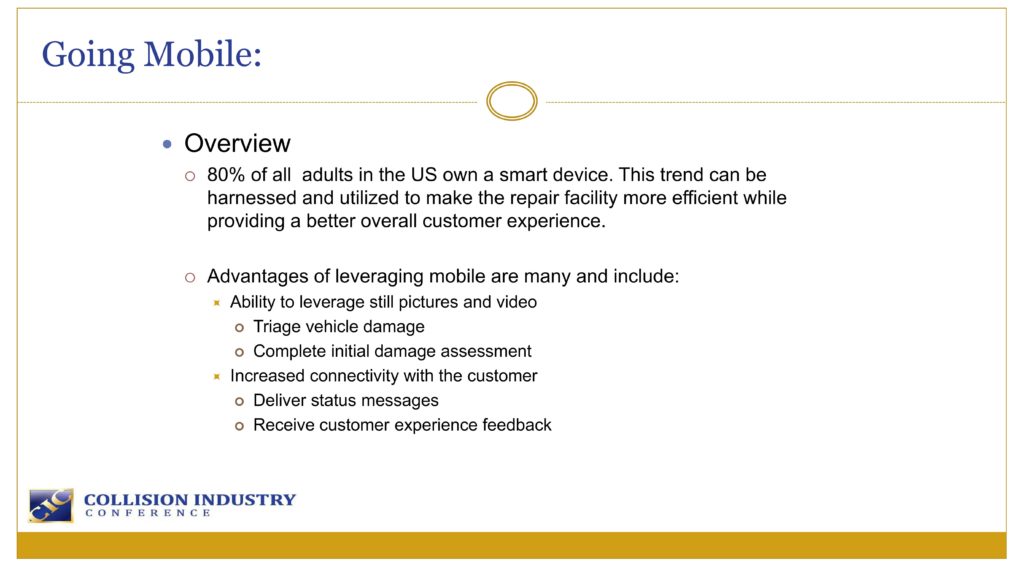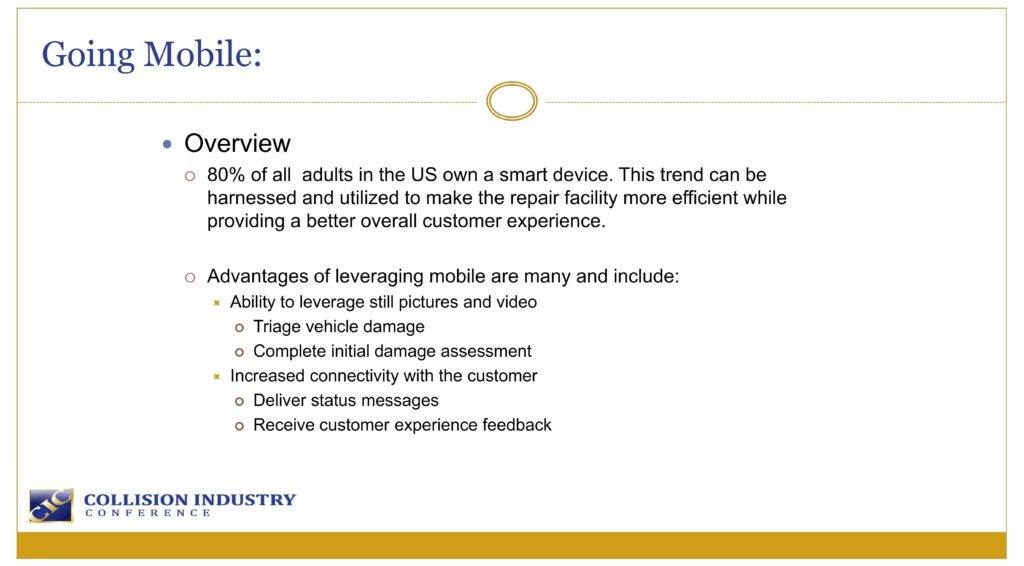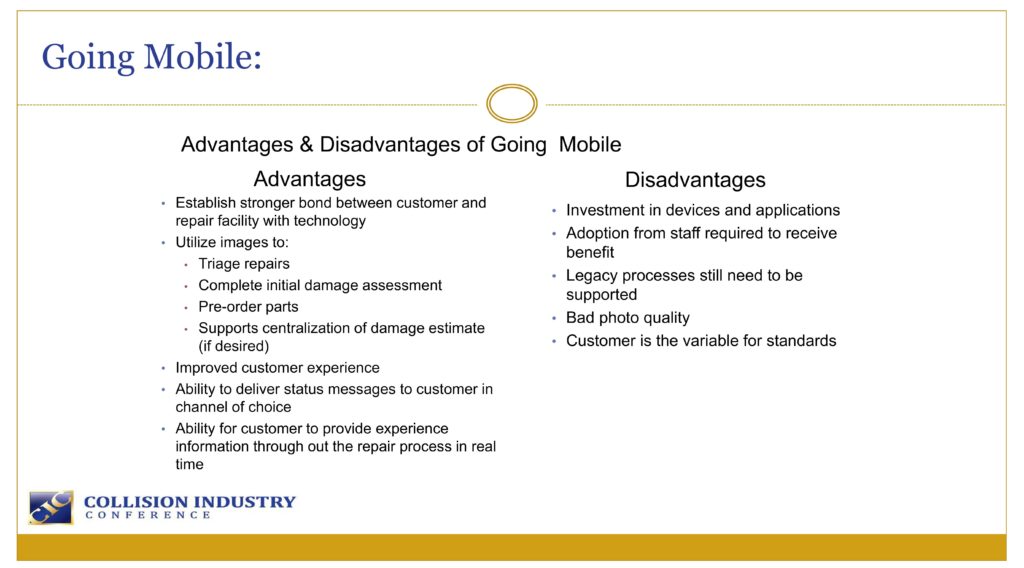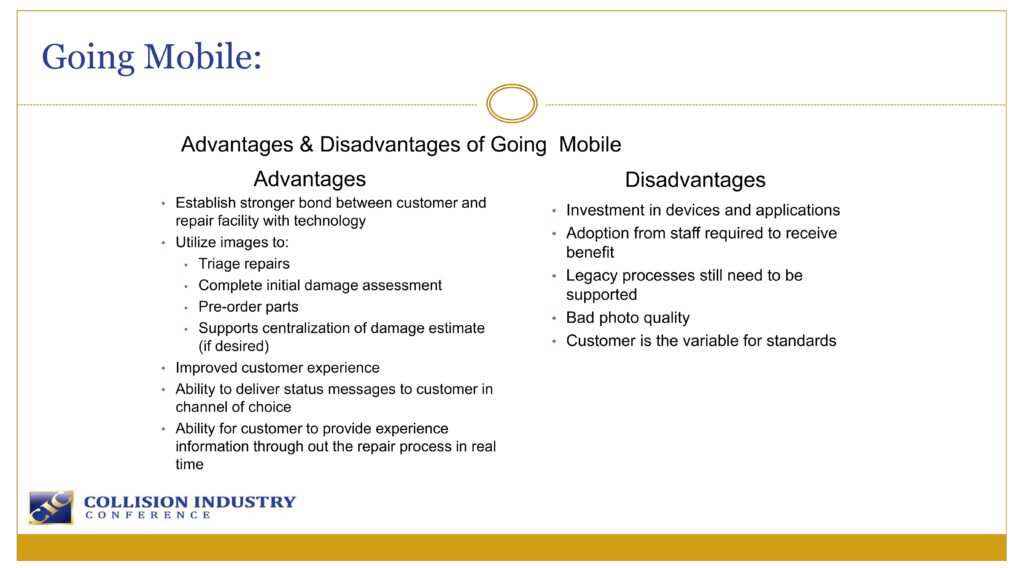 Irish said that if everyone agreed that a photo estimate couldn't achieve 100 percent accuracy or even 80 percent accuracy, the process could be seen as a way of capturing business and giving the customer more control.
He said it was important to set expectations up front that the photo wasn't going to reveal all of the damage on the vehicle to prevent the customer from displaying a "shocked look" that the shop didn't tell them about the additional costs initially.
"There is some obligation" to ensure the customer understands this, Irish said.
However, CARSTAR Mundelein co-owner Jeanne Silver warned during that session's Q&A that in Chicago, it was illegal to underestimate the repair on the first pass.
Giving customers an estimate based on a photo provides a "false expectation" and will "plant the seed of dishonesty" in the customer's mind after a $500 photo estimate becomes a $2,000 estimate after teardown, she argued.
Silver said the word "estimate" has been banned from her shop. Instead, the company sells repairs, develops a repair plan, and then tells the customer what the price will be — keeping CARSTAR Mundelein "safe," she said. She argued earlier that the entire audience knew vehicles needed disassembly to see damage.
Throw out the idea of an estimate and focus on a "good, proper, honest, well-stated repair," Silver said.
Other potential downsides include the necessary investment on top of the need to support legacy processes, according to the committee.
Specialist shop
Former CIC Chairman Randy Stabler (Pride Collision Centers) introduced the second concept: a shop specializing in one OEM. Some shops already do this, McDonnell said.
Stabler offered the analogy of health care. Surgery has made huge strides in a short period of time and is segmented into specialties. Collision repair had become "so advanced" that the notion of having a body shop serve as the trauma center for every type of injury wasn't efficient, he said.
An emergency room doesn't bring a patient to full health, Stabler said. They focus on stabilizing the person so that others can manage the longer-term care, he said.
A shop specializing would be far more efficient, and all of its employees would be experts in that field, Stabler said. Training would be more streamlined as well, he said.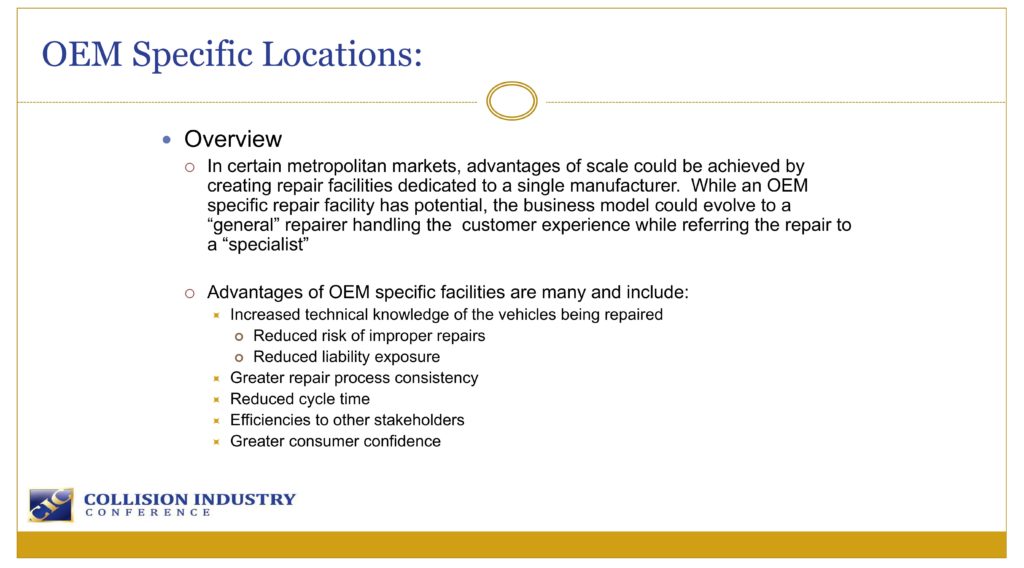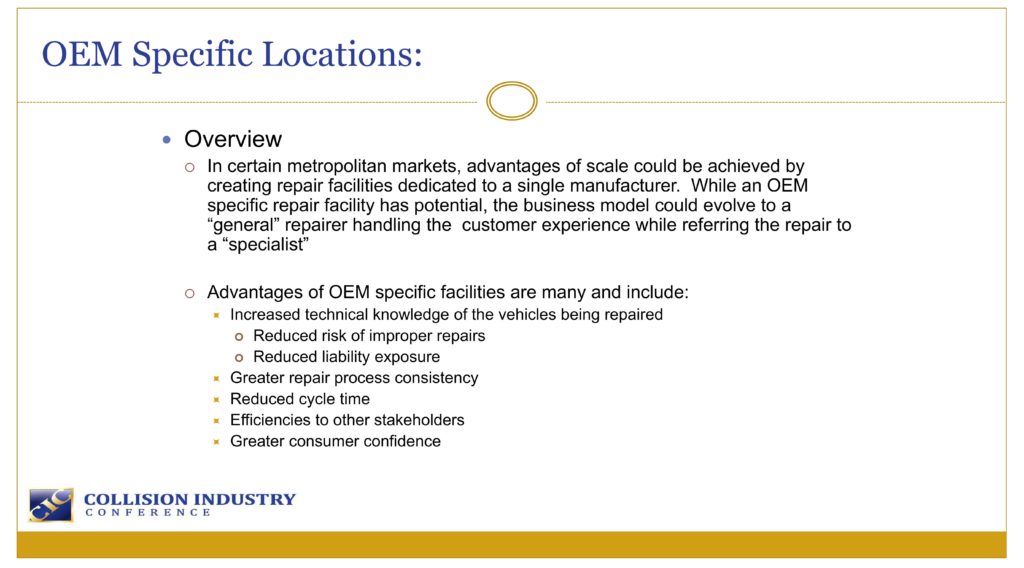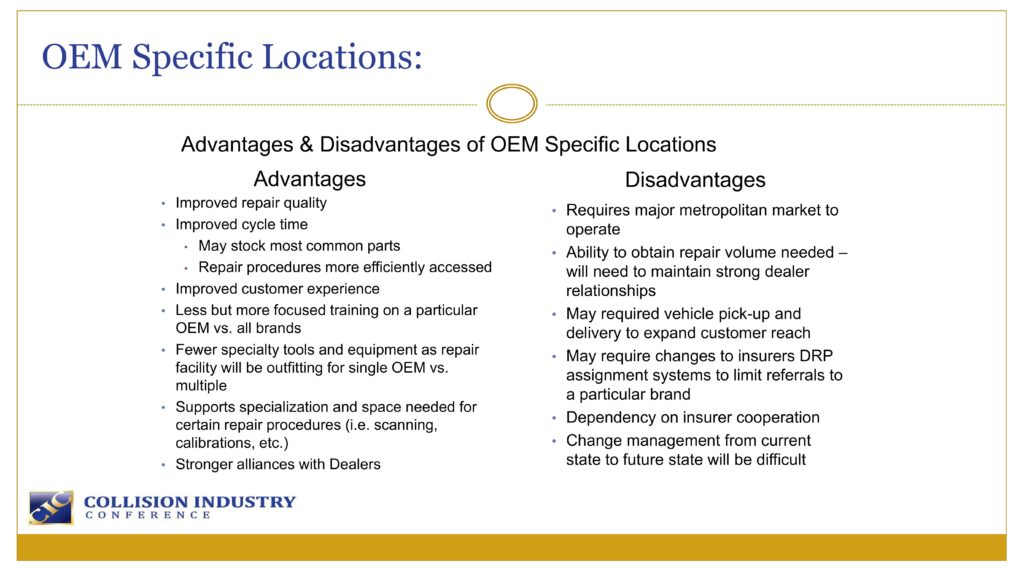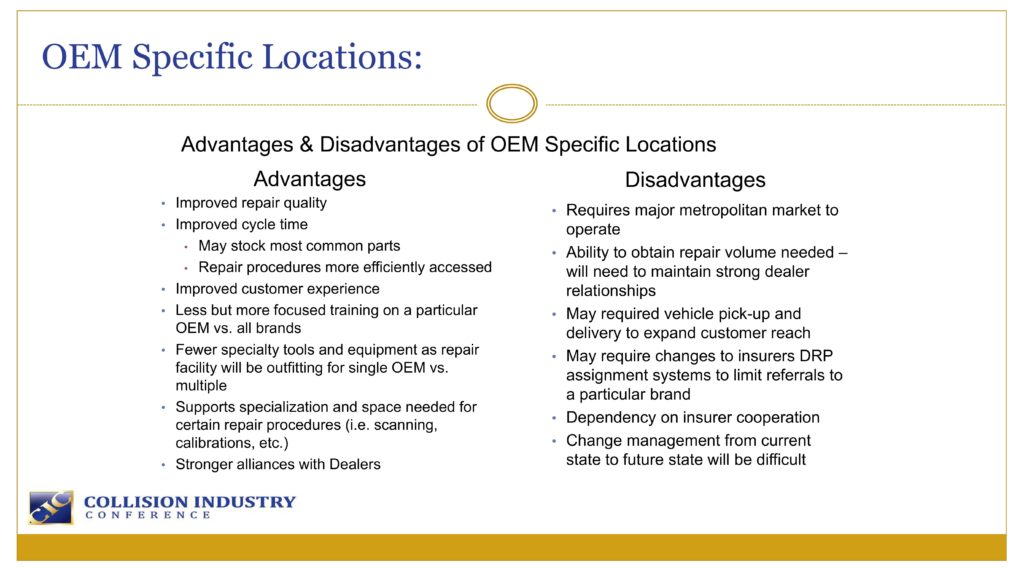 Disadvantages include a heavy reliance on a single automaker, McDonnell said. It also might need a major metropolitan market to be viable, according to a slide from the committee.
"Everything has risk exposure," Stabler said. A doctor only performing hand surgeries is similarly at risk from supply and demand issues, he said.
The trick is transitioning from the old way, Stabler said, noting that insurers having difficulty shrinking their claims department can probably relate.
McDonnell said he liked the idea, and noted that a shop in his home of Montana could probably have a shop specializing in pickup trucks.
'Off Retail' locations
The committee's final suggestion involved a retail storefront with an inspection bay which could accept vehicles and funnel them to the actual "Off Retail" collision repair facility somewhere else.
A similar strategy drew attention in 2017 after Gerber Collision parent company Boyd Group announced it had bought Canadian collision Assured Automotive.
Between 2012-16, Assured grew from 16 "intake centers" tied to Canadian auto dealerships to 30 sites, and Boyd Group CEO Brock Bulbuck in 2017 called those gains "a validation that it's working for both parties."
The intake sites typically are staffed with a single employee and perhaps a little office furniture — "no collision repair equipment," he told analysts last year.
The intake centers simply capture business for Assured's actual collision-capable facilities and help the dealerships retain their customer loyalty. The actual collision repair is done elsewhere and subsequently returned to the intake center.
Bulbuck said he thought that from a customer perspective, it was "not obvious, and not really relevant" that the collision repairs weren't done at the dealership.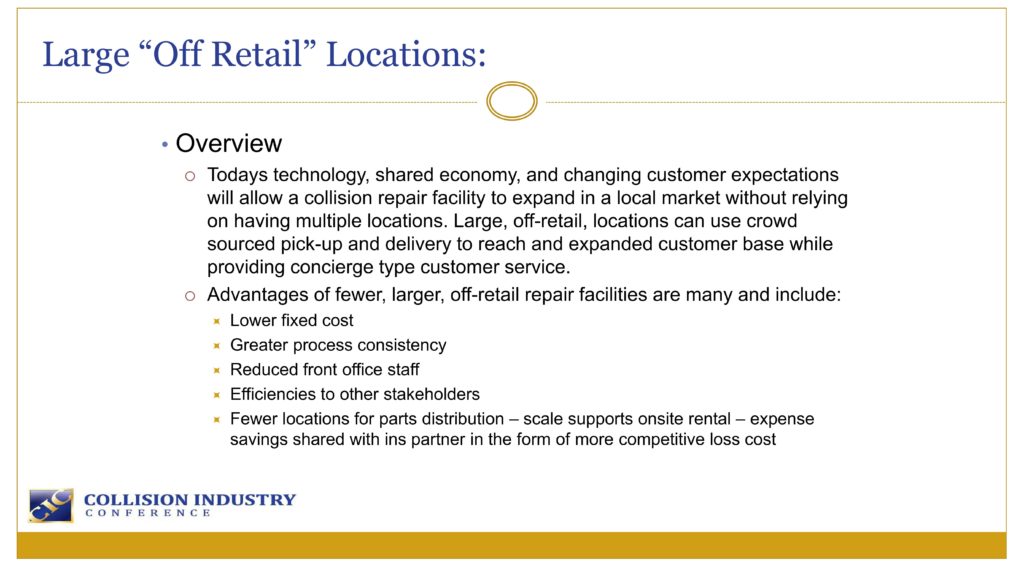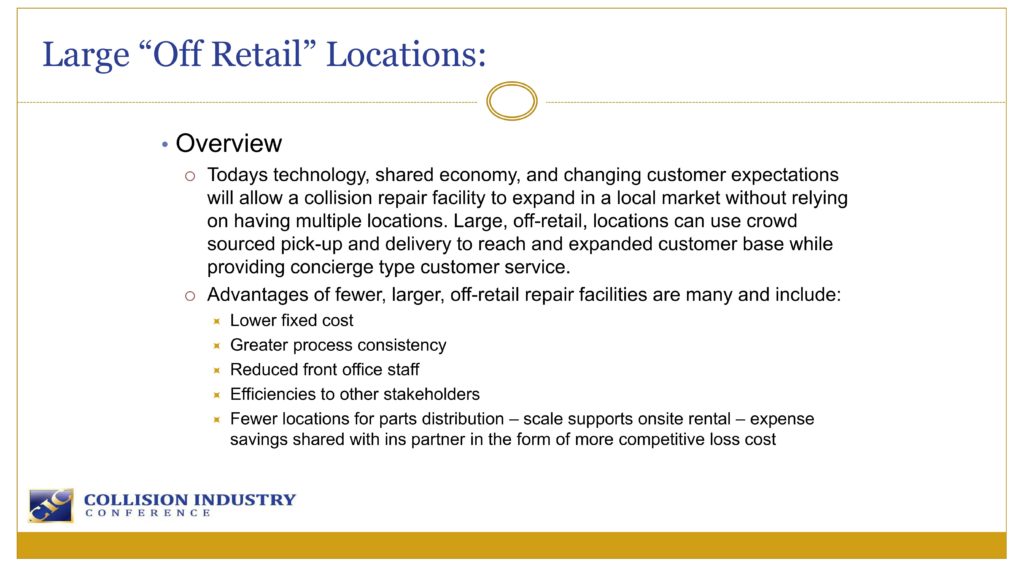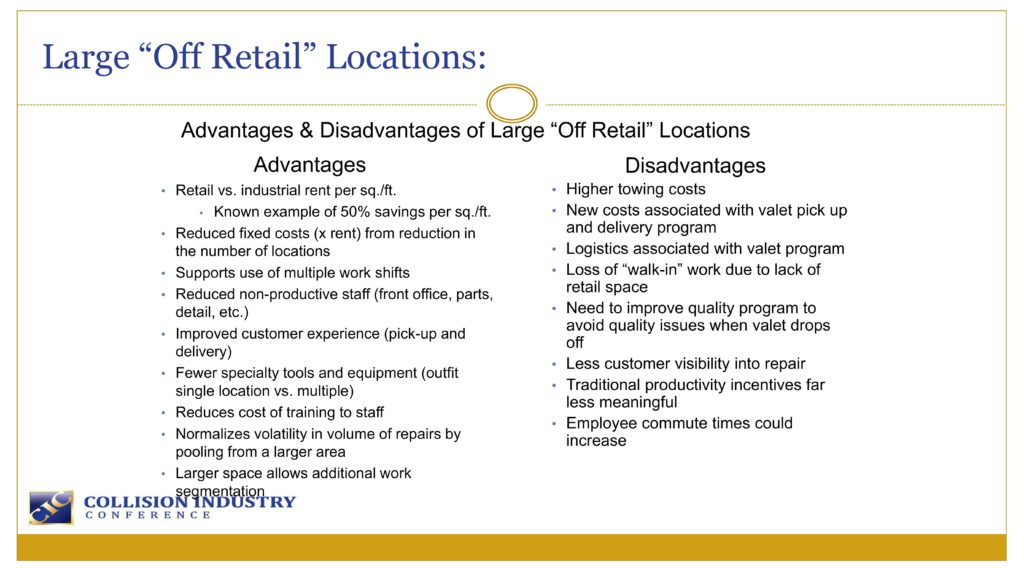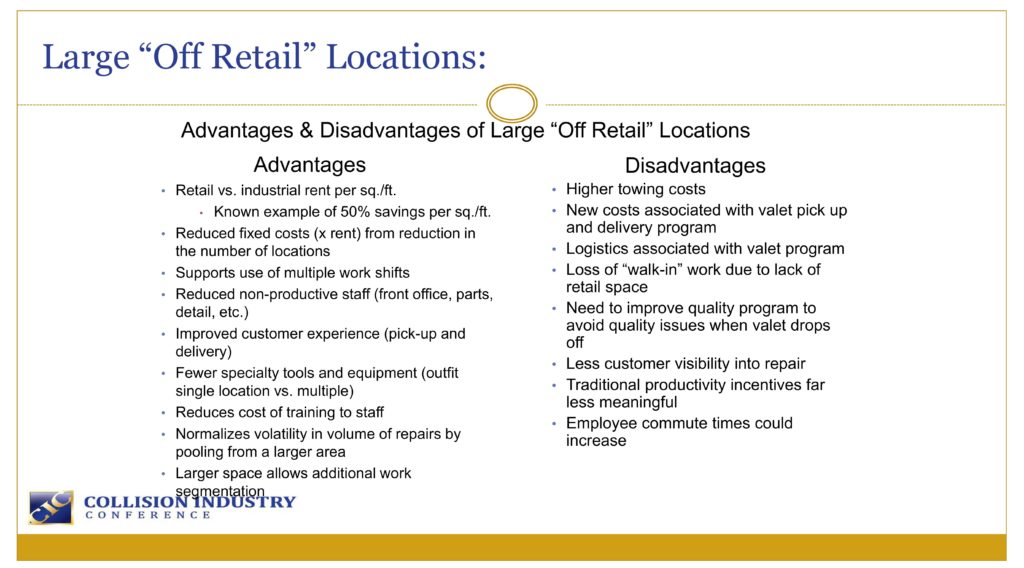 The "Off Retail" model articulated by the committee described storefronts on land shared with a dealership or completely under the collision repairer's brand. The customer drops off the car, thinking the facility is the body shop, and the body shop takes it somewhere else for "full surgery," according to McDonnell.
McDonnell also suggested a situation where a shop drives a flatbed carrying a rental Chevrolet Tahoe and promoting both the collision and Enterprise rental brands out to the owner of a Tahoe in need of repair. The flatbed then hauls the damaged Tahoe out to the collision facility.
Irish said he encountered the "Off Retail" model in New York. An MSO had a storefront, and he said he thought it was "kind of novel." He said it was a great way to expand a business and serve the customer without the additional expense of a full-blown new location.
More information:
"Future Proofing: A View into Future Trends and a Discussion on their Impact" slides
Collision Industry Conference Insurer-Repairer Relations Committee, Aug. 7, 2018
Images:
Collision Industry Conference Insurer-Repairer Relations Committee Co-Chairmen Matthew McDonnell (Big Sky Collision), left, and Doug Irish (AccuracyDriven4) at the Aug. 7 CIC offered three new business strategies a repairer could try. (John Huetter/Repairer Driven News)
The Collision Industry Conference Insurer-Repairer Relations Committee at the Aug. 7 CIC proposed a shop could adapt photo estimating for their own ends. The committee also proposed shops leverage customers' mobile phones for communication besides oral conversations. (Provided by Collision Industry Conference)
The Collision Industry Conference Insurer-Repairer Relations Committee at the Aug. 7 CIC proposed a shop could attempt to specialize in a single OEM. (Provided by Collision Industry Conference)
The Collision Industry Conference Insurer-Repairer Relations Committee at the Aug. 7 CIC proposed a shop could attempt to open a storefront receiving customer vehicles and sending them to the actual repair facility elsewhere. (Provided by Collision Industry Conference)
Share This: