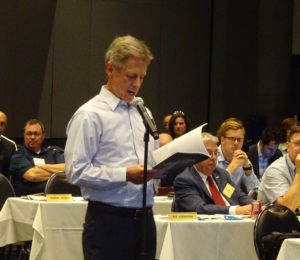 I-CAR announced earlier this month it was offering a new "Electrical/Diagnostics Technician" professional development role as part of its extensive 2019 curriculum overhaul.
It's the latest endorsement of a concept proposed earlier this year by LaMettry's Collision operations president and Automotive Service Association board member Darrell Amberson, whose Minnesota multi-shop operation features such a position.
Amberson, who discussed the role during the past two Collision Industry Conferences, has described the role as a technician able to scan and calibrate vehicles but also able to perform associated body-tech related operations like removing trim. He said LaMettry's hybrid techs also handle wiring replacement work.
During the Aug. 7 CIC, he said there "certainly is a growing need" for such an  "Advanced Driver Assist & Safety Systems Tech" role, defined by the ASA as:
Automotive Technician skilled in computer functions, advanced diagnostic equipment, and new vehicle technologies. Knowledgeable in OEM repair procedures, having mechanical aptitude and qualifications, with primary focus on (SRS) Supplemental Restraint System and (ADAS) Advanced Driver Assistance Systems.
He said some new independent and existing companies are hiring staffers fitting the role, and LaMettry's continues to add this capability to its staff.
Amberson said scanning was almost blase — LaMettry's pre- and post-scans "virtually every" vehicle — and calibrations of advanced driver assistance systems are becoming the "new thing." LaMettry's recently started offering Toyota radar calibration — and did seven of them in a week, said Amberson, who expected that would be a "small number" in just a few months. Camera calibrations also were "becoming quite common," he said.
I-CAR CEO John Van Alstyne later that day revealed I-CAR's plan to create the electrical/diagnostics technician role, discussing it a day ahead of I-CAR's formal announcement Aug. 8. He read the official I-CAR definition, which states:
The Electrical/Diagnostics Technician follows OEM information for scanning and calibration during the collision repair process. The technician may perform a Pre-Repair Scan/Health Scan to capture codes, a Post-Repair Scan to identify and clear codes, and/or a Post-Repair Calibration/Initialization following the removal, installation, and/or repair of many safety and driver convenience system parts, or if there is damage to the mounting location(s), R&I or R&R of the cameras/sensors/mounting locations, R&I or R&R of parts in front of, or behind, cameras and/or sensors, or R&R or R&I of closure/trim panels.
I-CAR will continue to offer a separate mechanical technician (currently called an electrical/mechanical technician) PDP among under the new system. That job will be defined as:
An Mechanical Technician diagnoses and repairs collision-related mechanical damage including – but not limited to – steering, suspension, air conditioning, engine, brake, restraint, and electrical systems. This individual uses measuring and alignment equipment to diagnose damage and return front and rear wheel alignments to manufacturer's specifications. Hand tools and power tools are used to remove or repair damaged parts and properly install new parts.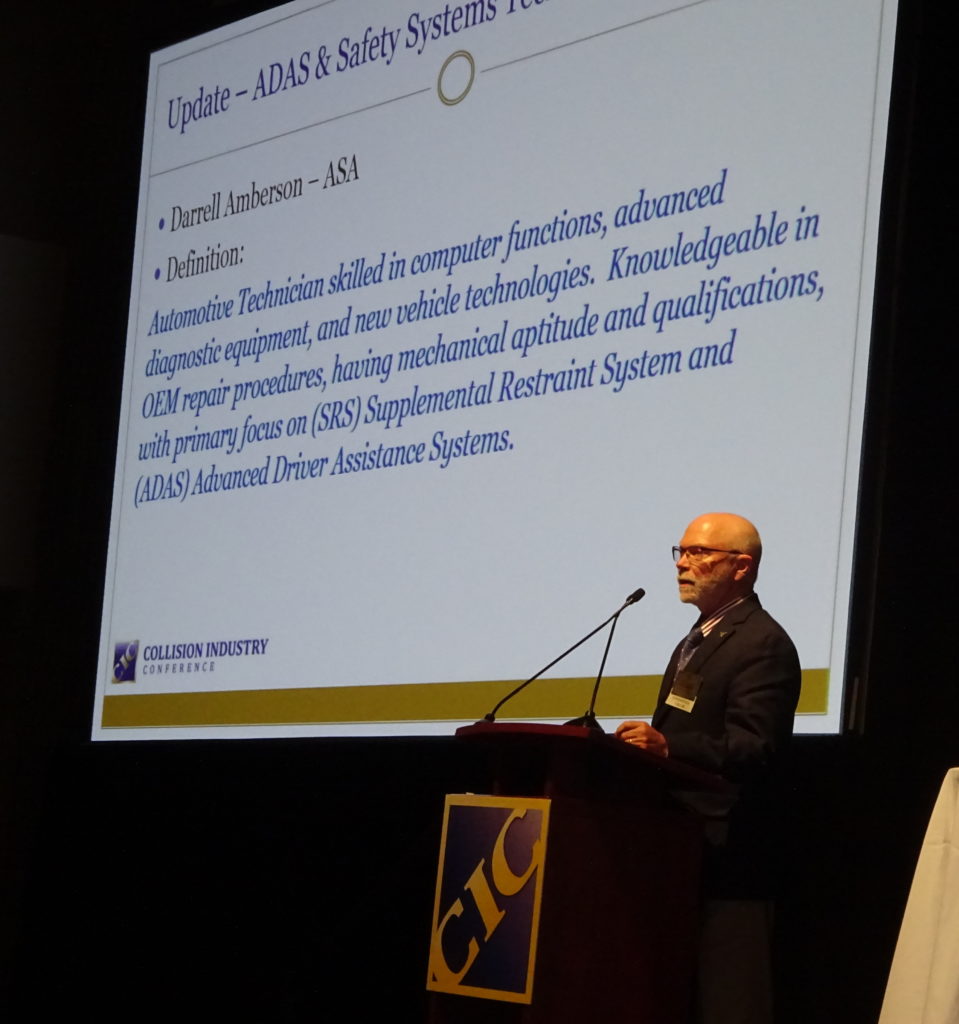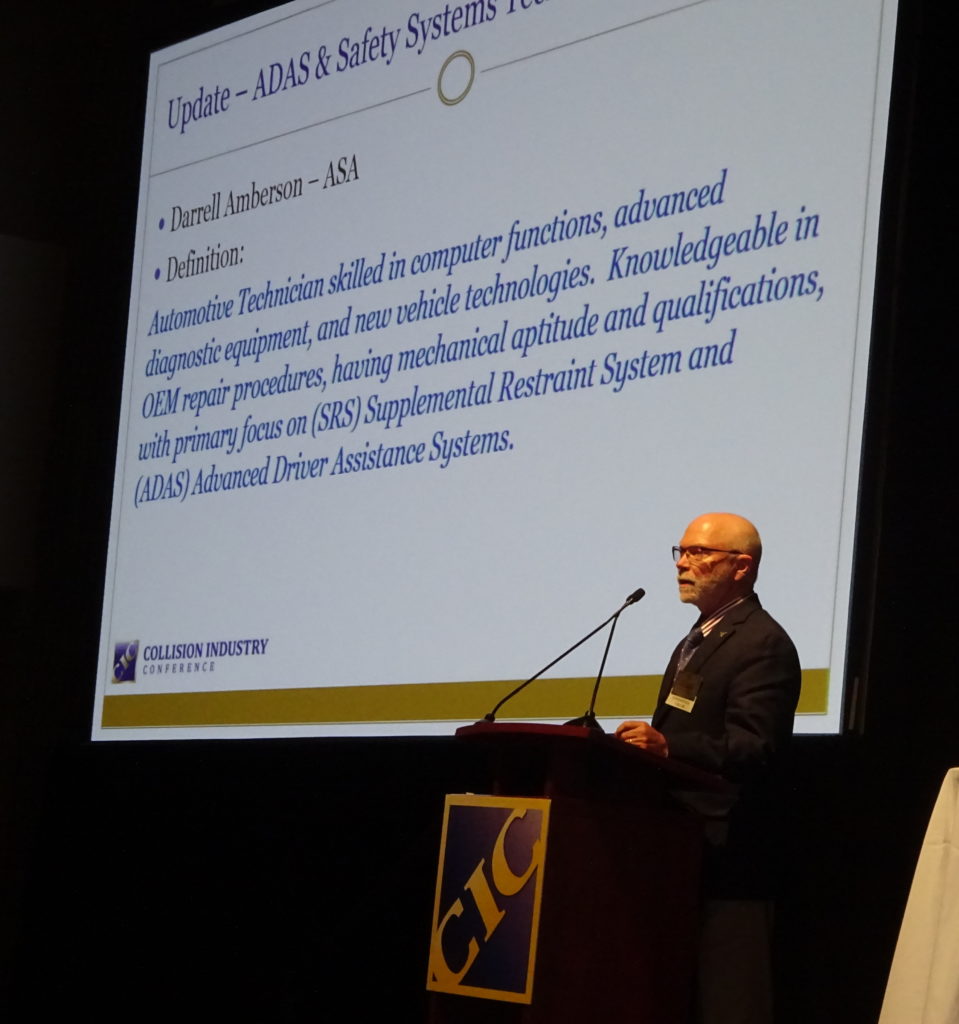 LaMettry's charges mechanical rates for its hybrid technicians, for it has to pay these employees a great deal to keep them, Amberson said in an April interview. However, he said then he was advocating for an entirely new labor category within the estimating services rather than just declaring such specialized utility players mechanical technicians.
Given this recognition by I-CAR, it'll be interesting to see if the estimating systems agree.
I-CAR's new industry training guide and skills protocol show the kind of skills and I-CAR coursework (or equivalent training offered by an OEM, supplier or other "Alliance" educator) the new hybrid tech would need. Van Alstyne noted I-CAR's skills protocol are for 2019 far more detailed than the vague PDP job descriptions demanded today.
For example, the upcoming electrical/diagnostics tech needs to be able to "Remove and Install Bolt-On Parts," according to I-CAR's new protocol descriptions. The organization follows that up by stating that this ability at ProLevel 1 means:
Explain interior disassembly commonly associated with gaining access for diagnostic and mechanical repair.
Underhood, instrument panel, Steering column, heating and A/C parts.
Explain exterior disassembly commonly associated with gaining access for diagnostic and mechanical repair.
Sunroof, suspension assembly, fuel tank parts.
Identify trim removal tools, storage of hardware and trim removal techniques.
Explain interior component removal considerations as well as removal considerations for seats, doors and headliners.
Discuss exterior trim component removal considerations, as well as removal considerations for antennas, doors, and lock cylinders.
They also need to be able to identify vehicle body materials at ProLevel 1:
Details how materials are identified using repair information resources (OEM, Service Information).
Each type of construction material such as steel, aluminum, magnesium and carbon fiber along with their characteristics, common locations and applications are explained.
Details the different types, strengths of steel (Mild, HSS and UHSS) and common locations of each.
Examines the different aluminum alloys commonly found for automotive applications.
Identifies magnesium applications and precautions when working around magnesium.
Discusses characteristics and applications for carbon fiber.
How to identify carbon fiber when visible and non-visible weave patterns are used.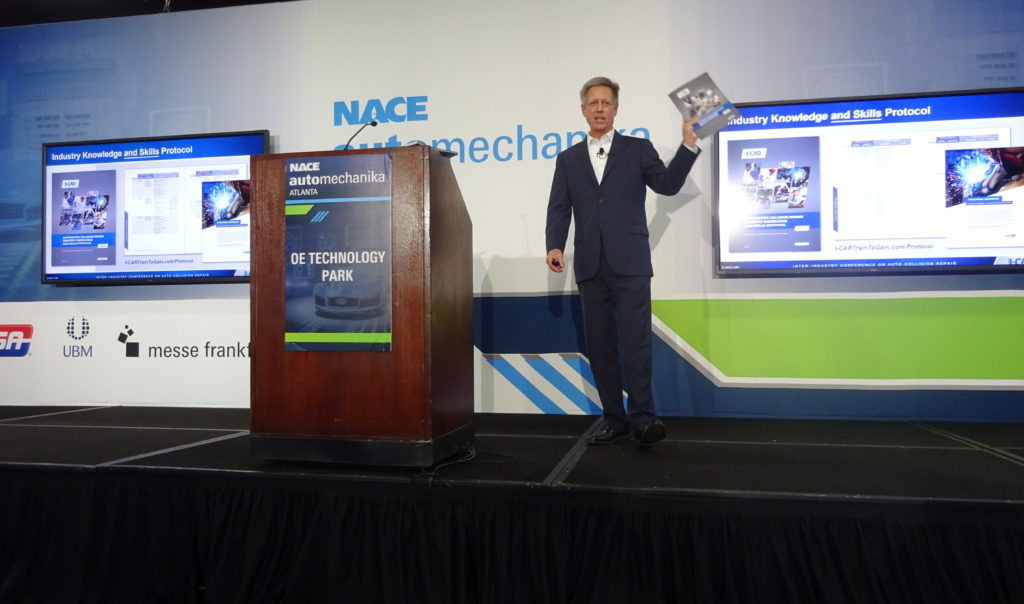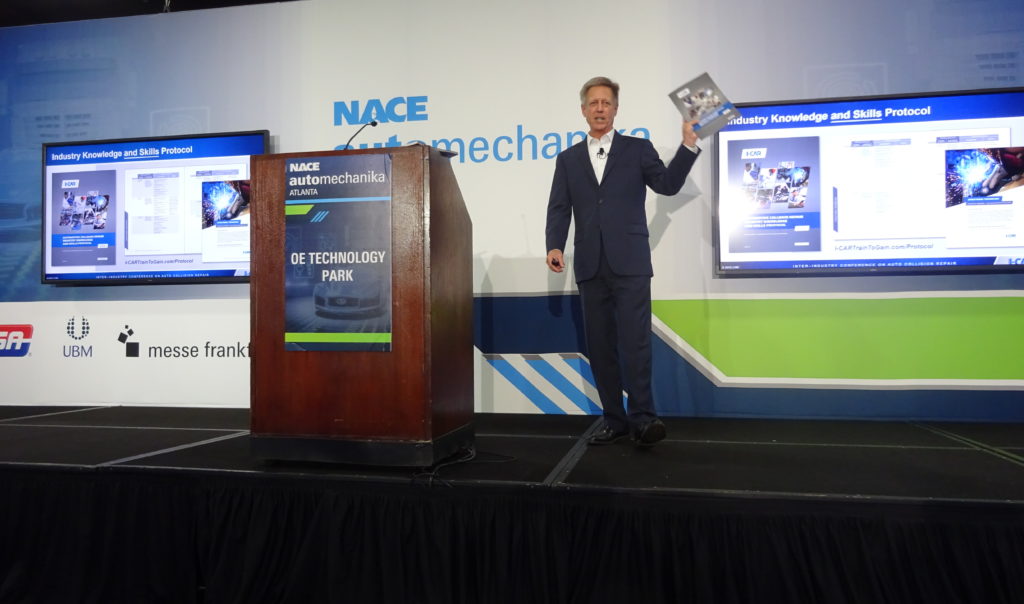 The tech at ProLevel 3 must be able to be able to use diagnostic codes, reprogram modules and perform calibrations.
According to I-CAR, ProLevel 3 competency at using the codes means:
Identify characteristics of basic vehicle communications networks.
Discuss the characteristics of electronic control modules, controller area networks, and multiple data bus systems.
Examine different scan codes and code relationships (active, pending, history and freeze frame) for evaluating faults.
Communicates the importance of performing pre- and post-scans based on the required trouble codes and calibration requirements of each system.
Discuss strategy based diagnostics.
Discuss troubleshooting a problem with and without DTC.
Discuss troubleshooting without troubleshooting procedures.
Examine troubleshooting an intermittent problem.
Module work means:
Discuss the requirements for replacing control modules.
Identify the equipment needed to perform a flash reprogramming.
Explain the terms flash programming and burning the program.
Identify what the interface SAE J2534, J2534-1 and J2534-2 is used for.
Discuss the difference between the terms programming and coding.
Determine when an Locksmith Identification Number (LSID) is needed.
ICAR's calibration discussion is a little vaguer, discussing a skill area of "Perform Electronic System Initializations and Calibrations" as:
Examine the types of information that scans provide.
Discuss the purpose of initializations and when they are needed during a repair.
Discuss the purpose of calibrations and which safety systems may require them.
Examine where calibration procedures can be found.
If the guy in charge of scanning at your shop doesn't know all this, you might want to hire someone who can or get someone off to I-CAR training, stat. As Hunter Engineering's John Shewbridge suggested during the Aug. 7 CIC, employers might wish to look for "nerds."
Repairers interested in learning more about how I-CAR's extensive 2019 revamp will affect their business should register for the Wednesday Society of Collision Repair Specialists featuring one of I-CAR's top executives.
More information:
I-CAR "Industry Training Relative to I-CAR Knowledge and Skill Areas" guide
I-CAR, Aug. 6, 2018
I-CAR "Automotive Collision Repair Industry Knowledge and Skills Protocol" guide
I-CAR, July 10, 2018
"Registration Open for SCRS Live Webinar with I-CAR"
Society of Collision Repair Specialists, Aug. 14, 2018
Register for SCRS-I-CAR webinar on upcoming I-CAR changes
I-CAR "Train to Gain" training overhaul website
Images:
I-CAR CEO John Van Alstyne on Aug. 7, 2018, revealed the upcoming I-CAR electrical/diagnostic technician Professional Development Program role to the Collision Industry Conference. (John Huetter/Repairer Driven News)
LaMettry's Collision operations president and Automotive Service Association board member Darrell Amberson discussed the concept of a hybrid body-mechanical ADAS and safety systems technician during the Aug. 7, 2018, Collision Industry Conference. His shop employs such technicians. (John Huetter/Repairer Driven News)
I-CAR CEO John Van Alstyne on Aug. 8, 2018, holds up the new I-CAR "Automotive Collision Repair Industry Knowledge and Skills Protocol" for 2019. (John Huetter/Repairer Driven News)
Share This: