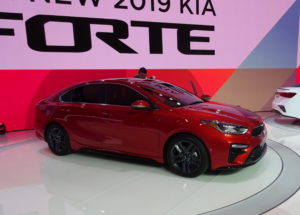 Kia said Wednesday the 2019 Kia Forte "strengthens its bones" for its third generation, describing a body made up of 54 percent advanced high-strength steel.
The vehicle — Kia's top seller in 2017 — also added "hot-stamped components," a reference likely to indicate ultra-high-strength steels.
This new configuration is likely to restrict what auto body shops can do to the popular sedan. Higher-strength steels tend to carry heat, sectioning and repair restrictions because of their metallurgy or role in crash protection.
"Because body stiffness plays a major role in NVH performance, engineers worked to increase rigidity for a quieter cabin and better handling tuned to match the Forte's sporty and dynamic exterior appearance, resulting in a 16 percent stiffer body in white," Kia wrote in a news release Wednesday. "New subframe designs help to improve lateral responsiveness, while steering feel is upgraded compared to its predecessor's thanks to enhancements within the Motor Driven Power Steering (MDPS) system that reduce artificial steering feel and friction."
Kia also changed the suspension geometry for a better driving feel, and it wrapped the continuously variable transmission in a sound insulating cover to cut 5 decibels out of the NVH.
Externally, the OEM said the Forte's design stole from the Kia Stinger muscle car design but also has a similarity to the Sportage in the form of a "sleek horizontal trim piece" between the taillights.
"Creases in the hood contribute to the Forte's muscular appearance while the combination of a newly designed signature tiger nose grille and aggressive black lower valance enhances its individual character," Kia also wrote.
The vehicle also has air curtains in its front. LED headlights and taillights are available.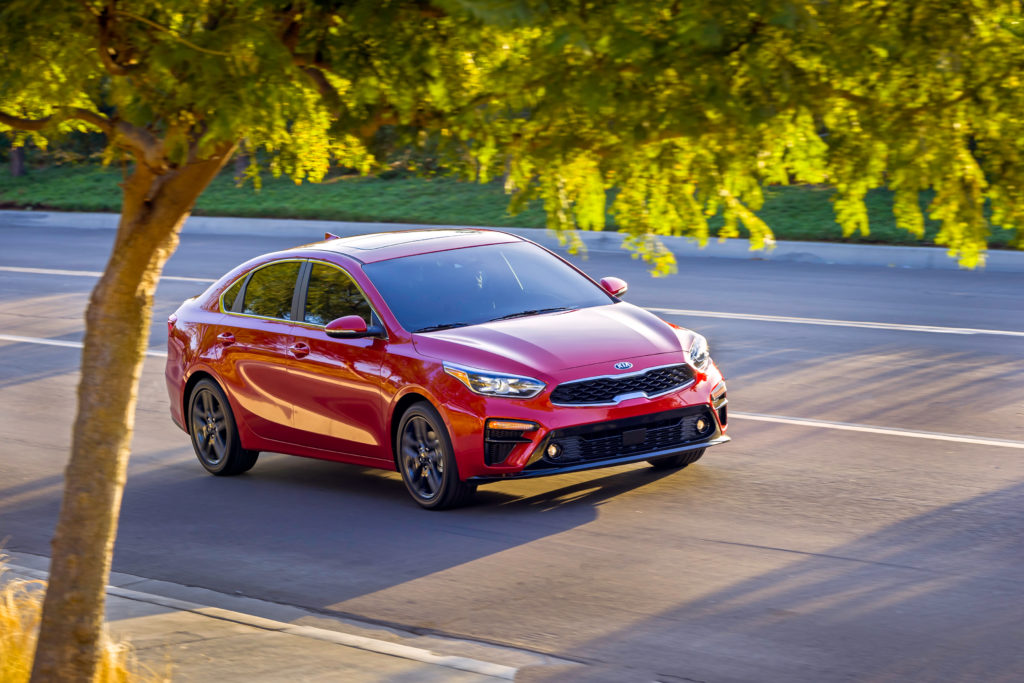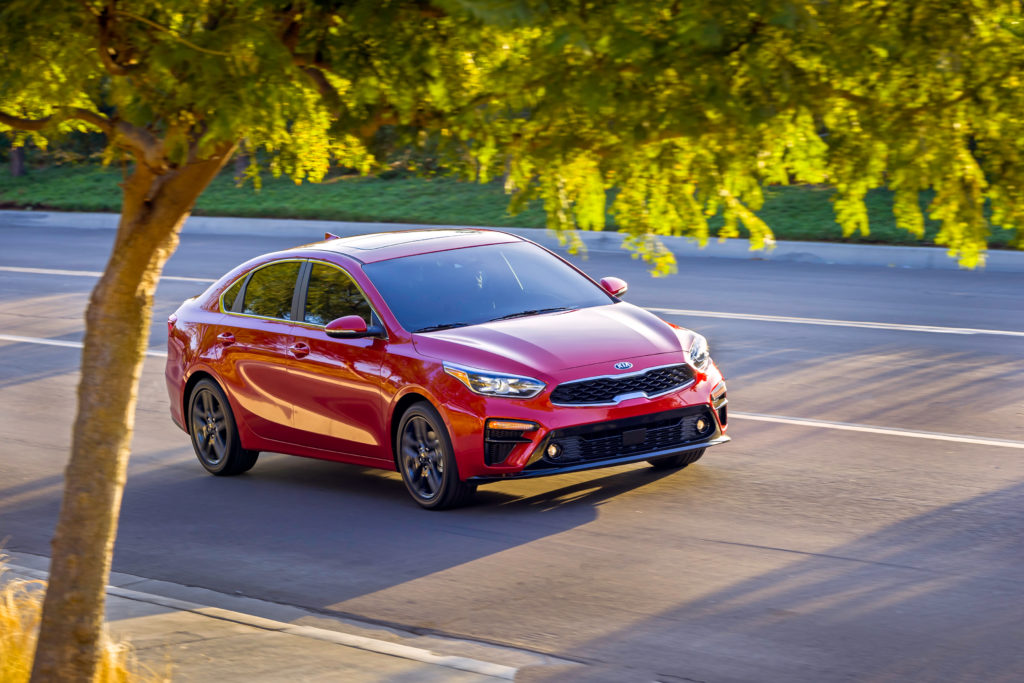 The Forte also gets more brains, making crash-reducing advanced driver assistance systems like lane-keeping and auto braking standard on all four trims, according to Kia. Howeer, one of the OEM's specification sheets omits the FE trim and calls the tech standard on just the S and EX, not the LX. Kia also said the driver attention system which debuted on the 2018 Stinger will be standard on all four trims.
"The system monitors a number of inputs from the vehicle and the driver and will sound a warning chime and display a graphic in the instrument binnacle that it's time to take a break from driving if it senses the driver's attention level has been significantly reduced," Kia wrote in March of the driver monitoring.
The Forte's optional systems include adaptive cruise control and a warning system combining both blind-spot and rear cross-traffic monitoring.
These systems mean repairers will likely see fewer Fortes crashing but potentially need to perform calibration work on the ones that do.
Shops might also have to refrain from actions like installing an aftermarket windshield or repairing or excessively refinishing too close to radar, based on warnings other OEMs have issued regarding ADAS technology.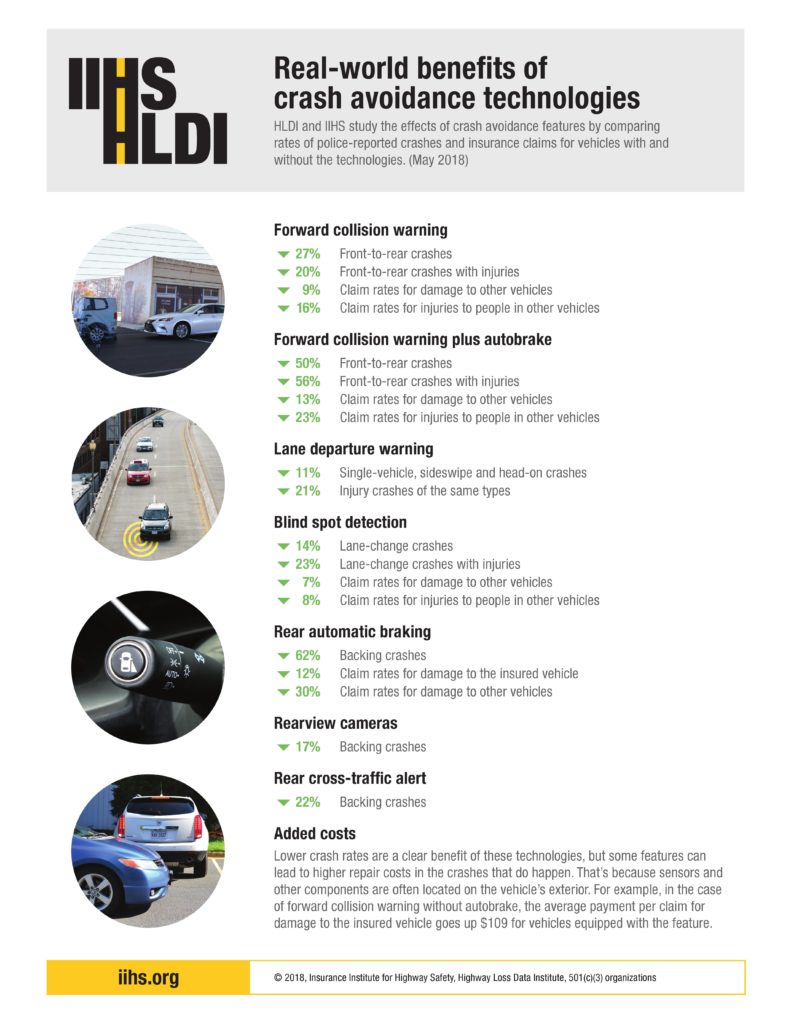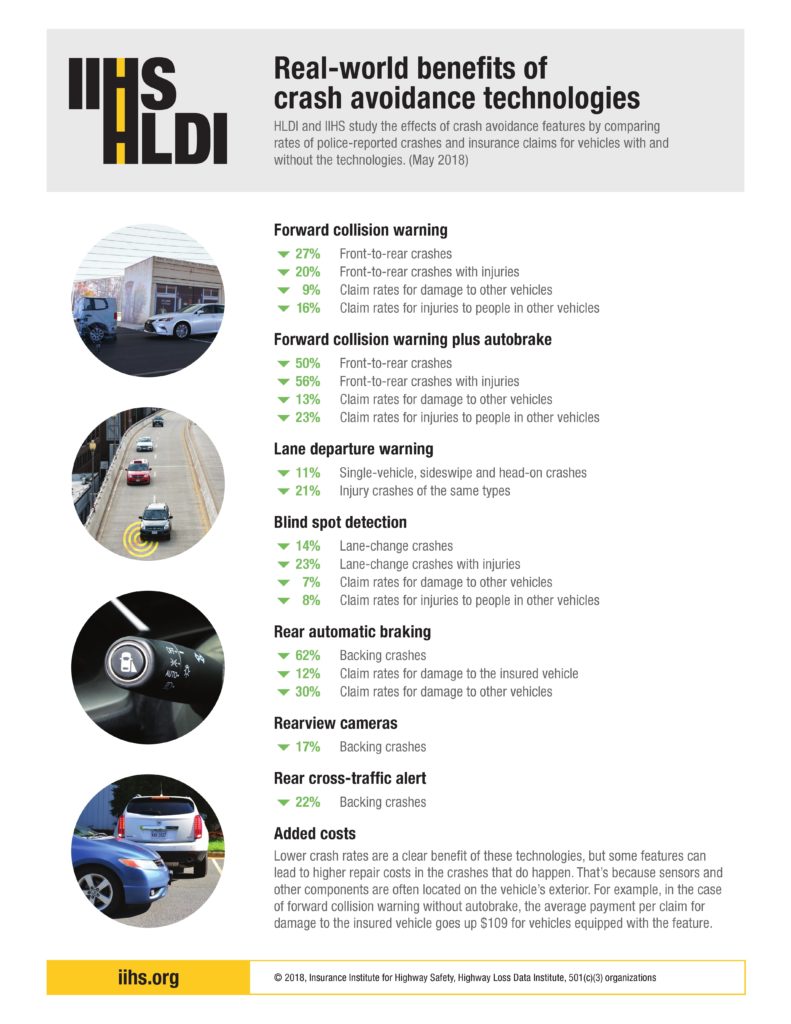 More information:
Kia, Aug. 22, 2018
Kia repair procedure portal on OEM1Stop.com
Images:
The 2019 Kia Forte appears at the North America International Auto Show on Jan. 15, 2018. (John Huetter/Repairer Driven News)
The 2019 Kia Forte is shown. (Provided by Kia)
Insurance Institute for Highway Safety Highway Loss Data Institute research has determined that numerous common advanced driver assistance systems are effective in reducing crashes. (Provided by Insurance Institute for Highway Safety)
Share This: