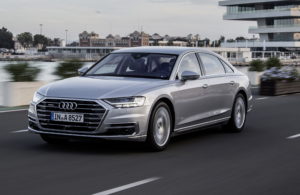 Audi has been a staple OEM participant at collision repair events in recent years, and the manufacturer continued its history of outreach to the industry on Tuesday with the announcement it had become SCRS' newest corporate member.
"SCRS has a long history of working closely with Audi and other OEMs to help our audience gain access to the information they need," Society of Collision Repair Specialists Chairman Kye Yeung said in a statement Tuesday. "From live events at our OEM Collision Repair Technology Summit to behind-the-scenes perspective as a fours group, the lines of communication have always been open, and the support as high-level members only reinforces that mutual commitment. The real objective of it all is that the consumer can have confidence that the manufacturer and repairer facilities are on the same page as is relates to safe, quality repairs."
Audi has participated in every SCRS OEM Collision Repair Technology Summit at SEMA since the event debuted in 2014, most recently with Audi collision and equipment manager Mark Allen joining a 2017 forum on liability. Trainer Shawn Hart also served as a panelist on the 2016 edition of SCRS' big spring event, the Repairer Roundtable.
Allen has been a frequent Collision Industry Conference and NACE attendee or participant as well. Most recently, he headlined a presentation on advanced driver assistance systems and collision repair at the Aug. 9 MSO Symposium and served on a panel discussing inconsistencies in OEM certification demands.
"It's important to us at Audi to be able to reach a wide audience with a shared point of view with the many different factions," Allen said in a statement. "We see key challenges in the readiness of the collision repair and insurance industries to accurately assess collision damage and the ability to affect appropriate repairs, given the materials in the vehicle structures. The understanding of cause and effect between proper repair to the structure and the driver's assist/safety/collision avoidance systems needs to be strengthened, and we believe that support of organizations that have been on the forefront of exposing the industry to increased levels of information exchange for the industry is important.
"We create position statements and documented procedures for repair of our vehicles. It is important to us to be proactive with organizations like SCRS for outreach, as well as through participation in the OE Collision Repair Roundtable. We need to make sure these entities are prepared when faced with questions, and that those they interact with have access to hands-on training where they learn the importance of using the proper tools and equipment, as well as our OE repair procedures on the relevant brand cars."
Proper understanding of Audi collision repair procedures will be crucial as the OEM's vehicles grow more advanced in terms of their mixed-material compositions and ADAS. The OEM had even announced the 2018 A8 would be able to drive itself under certain conditions — with the motorist truly able to take their hands off the wheel. The OEM ultimately put its plans to introduce "traffic jam pilot" in the U.S. on hold, but it's only a matter of time before American shops are confronted with the responsibility of restoring such a piece of technology.
The OEM also plans to introduce its first completely electric vehicle, the 2019 e-tron, early next year.
SCRS' Audi news comes on the heels of the July announcement of a similar commitment by another OEM, Nissan. Honda, FCA, Ford, General Motors, Hyundai, Mercedes and Toyota also support SCRS at the highest level, and the auto industry-administered repair procedure portal OEM1Stop is also a corporate member.
Repairers, suppliers, and others seeking information about the various SCRS memberships — which help fund free resources like Repairer Driven News and the Database Enhancement Gateway — should email info@scrs.com or visit www.scrs.com. The organization and its 37 affiliate organizations represent 6,000 collision repair companies and 58,500 professionals.
More information:
"SCRS Announces Newest Corporate Member – Audi of America"
Society of Collision Repair Specialists, Aug. 28, 2018
Audi repair procedure portal on OEM1Stop
Featured image: The 2019 Audi A8 is shown. (Provided by Audi)
Share This: