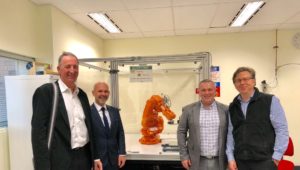 The AMA Group and subsidiary Gemini, which together make up Australia's largest collision repair interest, will contribute their "considerable weight" to the "Repair-bot" project from Tradiebot Industries and Swinburne University, according to a news release provided to us by Tradiebot.
The "stage one" $1,264,695 AUD (about $910,827 USD) Repair-bot effort involves using robotics, 3-D printing and "novel materials" to fix plastic vehicle parts autonomously and quickly, according to an Aug. 21 news release provided to us by the Sydney-based Tradiebot.
The Australian government's Innovation Manufacturing Cooperative Research Centre also supported the effort and funded $400,347 AUD (about $287,951 USD). According to the IMCRC:
The project will use 3D printing technologies in conjunction with novel polymer material solutions to enable a low cost rapid repair service for automotive plastic trim and assembly components.
This will be achieved through integrating additive manufacturing, 3D scanning and robotics for in-situ automotive part repairs. It is expected that when this technology is commercially implemented, it shall enable a same day repair service that eliminates the need for replacement parts when a repair option is feasible.
The technology is intended to be commercialised as a repair platform in which the repairer purchases the technology and subscribes to the service and training. This may also be expanded to provide distributed services for the repair and refurbishment of commercial and consumer end parts.
"The Repair-bot solution uses robotics to cradle and position the part as a headlight in preparation for repair via 3d printing," Tradiebot founder and Plastfix CEO Mario Dimovski wrote in an Aug. 25 email.
Asked if the process would work on other plastic parts, Dimovski wrote Aug. 29 that "it will target headlights phase 1 then move into any plastic parts meeting the repair criteria."
He noted we should "please keep in mind this project is in development phase only."
"With advances in vehicle technology, parts costs rising and skills availability ever challenging, we are constantly looking at ways to advance the industry, refine our operation and continually deliver on our ability to provide value to our clients and customers," AMA-Gemini corporate general manager Dave Calder said in a statement.
"The ability to repair previously non-repairable parts using world-first technology will reduce overall repair times and repair costs," Dimovski said in a statement in a February Swinburne University news release.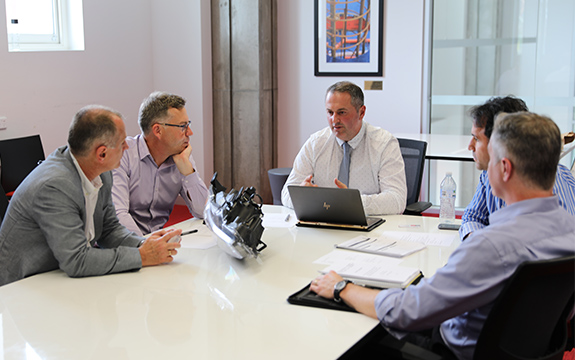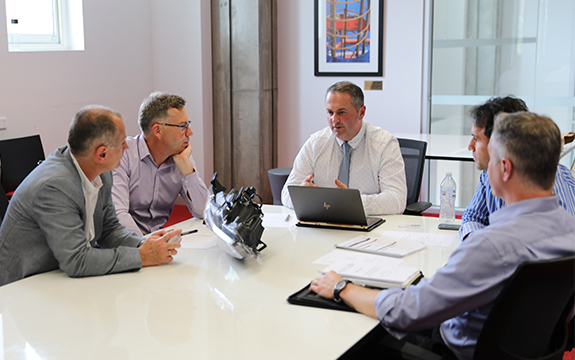 "This sector is highly concentrated and ferociously competitive, so a solution like the Repair-bot has the potential to be truly transformational, using Industry 4.0 technologies to reduce material wastage, ease the pain of ever more complex and restrictive design elements, and take on routine tasks in an increasingly tight skilled labour market," Swineburne University senior research fellow Mats Isaksson, a roboticist, said in a statement.
Tradiebot will be an interesting company to watch.
Its website also details a "Prep-bot," which it says "uses smart software, 3D scanning and robotics to carry out basic labour duties such as parts preparation, cleaning and quality inspections on bolt on panel components."
Another collision-focused effort is described as: "Using advanced materials such as plastics and carbon fiber, the aim is to determine the feasibility to supply on demand 3d printed parts.
"Working with Collision industry partners to create a more efficient and cost-effective method for manufacturing parts that are unavailable to be bought separate, out of stock or discontinued."
More information:
"AMA / GEMINI JOINS COLLISION REPAIR TECHNOLOGY COLLABORATION WITH TRADIEBOT INDUSTRIES & SWINBURNE UNIVERSITY"
Provided by Tradiebot Industries, Aug. 21, 2018
"The hi-tech future of automotive plastic repairs"
Swinburne University, Feb. 14, 2018
Images:
From left, Tradiebot Industries manager of collaborations and partnerships Gordon McRonald, AMA and Gemini corporate general manager Dave Calder, Tradiebot founder
Tradiebot founder and Plastfix CEO Mario Dimovski, center, is seen. (Provided by Swinburne University)
Share This: