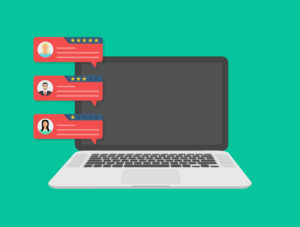 Nylund's Collision Center's manager remembered a "great" interaction with a pleasant State Farm catastrophic adjuster, according to shop owner Robert Grieve.
"The guy paid for everything," Grieve said Thursday. There were no issues, no turbulence at all.
But the next day, Aug. 30, a Google review from the adjuster appeared blasting the shop, Grieve said.
"NOT recommended," poster David Hudson wrote on Google. "They ask for repairs that they dont need, and try to pass the rediculous costs onto the insurance companies. Before using them, know they have a long list for all to see at the front door regarding field adjusters NOT allowed on their premises! What kind of place does that?"
"We are extremely guest-centric here," Grieve said. The appearance of a review triggers alerts to all of the relevant personnel, he said.
The 1-star attack without any seeming provocation came as a surprise.
"He cost me a tenth of a point," Grieve said. Nylund's rating fell from a 4.8 out of 5 to a 4.7.
Grieve replied to the review on Google, challenging the adjuster's attack.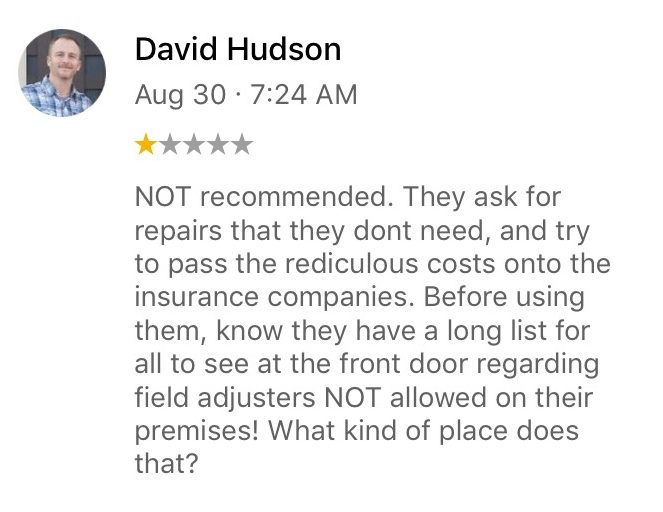 "For those reading this review. please understand it is from an Insurance Adjuster," he wrote.
"It's unfortunate that some adjusters in the insurance industry have taken to public criticism of those who won't bow down to their aggressive and misleading tactics. It is true we have a list of adjusters not welcome on the premises. It is there because they have no interest in repairing the vehicle correctly or matting our guests whole. They are there for one reason only and that is to minimize the repair at all costs at the expense of our guest. We gladly provide them with the manufacturer recommended repair procedures which is the basis for our repair methodology. Many adjusters are not accustom to this as so many shops do not even look up how the manufacturer wants repairs preformed on the vehicle. Our guests and their safety is and always has been our number one concern."
Grieve also posted an account of the issue on LinkedIn, which has drawn numerous replies. Another prominent collision repairer posted a report of it on his own Facebook page, drawing more social media commentary.
Grieve said many in the industry "gave huge support," and he thought that some of those people reported it to Google. He said he didn't attempt to flag the post to the search engine giant himself, feeling a complaint about a negative review by the reviewed business "doesn't have the same clout" and might just be viewed as sour grapes by Google.
"It's clearly against their guidelines," Grieve said, arguing that a reviewer must "have done business" at the company he or she is reviewing. Google isn't as clear-cut as Yelp about who shouldn't be reviewing a business, but it does at one point note, "Your reviewers are already customers."
---
Get advice for marketing your shop at Repairer Driven Education
Learn more about marketing during the SEMA show in Las Vegas at "Auto Body Growth Hacks" with Ryan Taylor of Bodyshop Booster and Mathew McDonnell of Big Sky Collision and "Developing an Effective Digital Marketing Strategy in Collision Repair" with Lee Emmons and Brent Betts of AP Digital. The sessions are part of the Society of Collision Repair Specialists' Repairer Driven Education Series Oct. 29-Nov. 2. Register here for individual RDE classes or the series pass package deal.


---
Grieve said the adjuster was a member of State Farm's catastrophic team, and while he thought Hudson was a full-time employee rather than an outside contractor, he wasn't positive. We attempted to find Hudson on LinkedIn but were unsuccessful.
Grieve said he did raise the issue with a local State Farm representative, who was "very concerned" and reported it to Hudson's supervisors. "Kudos to him," Grieve said.
Grieve doesn't know if the review's disappearance — which occurred nearly a week after Grieve first contacted State Farm — was Google's doing, the result of State Farm compelling Hudson or if Hudson "compelled himself."
Attempts to find contact information for Hudson, who remains a Google Local Guide, were unsuccessful.
"State Farm has nothing to share with RDN," State Farm Colorado spokesman Benjamin Palmer wrote in an email Friday.
An email to a Colorado State Farm spokesman has not yet been returned.
Grieve said he was blown away by the industry support, which he said included new positive reviews and flagging Hudson's critique on Google.
"I'm grateful for everybody's support," he said.
Flagging content
Google, Yelp and Facebook all have policies for reporting questionable reviews and definitions of what's questionable.
Facebook actually will let you turn off all reviews completely, but that might be a terrible idea from a marketing perspective. Grieve said he gave a lot of attention to the platform — more on this shortly — and had received a 4.9 out of 5 average rating from customers.
"That's a big deal," he said.
Peers flagging inappropriate reviews appears to make sense under the three sites' terms of use. However, despite their good intentions, fellow repairers might want to refrain from leaving positive reviews for a shop. It seems likely to trigger the same conflict of interest issue that Hudson's review would.
"Yelp works hard to be a trusted resource for consumers, so reviews should be written by someone with an unbiased consumer interest," Yelp writes. "This means we'll remove a review if it's clear that it was posted by someone with a conflict of interest, including reviews from current or former employees, competitors or peers, or friends and family members of the business owner – even if they insist they were actually a customer and were uninfluenced by their relation to the business."
Google is a little more vague, writing, "Maps user contributed content is most valuable when it is honest and unbiased." It gives three examples of "disallowed practices": "Reviewing your own business," "Posting content about a current or former employment experience" and "Posting content about a competitor to manipulate their ratings." However, Google notes these aren't the only things it'd take down.
"Your content should reflect your genuine experience at the location and should not be posted just to manipulate a place's ratings," Google also writes.
Facebook refers users with complaints about a review to its Community Standards. Unfortunately, they tend focus on far more dramatic issues like hate speech, child porn and false news, and appear to be pretty useless in conveying more mundane concepts like what's a fair recommendation of a business.
"Authenticity is the cornerstone of our community," Facebook wrote in about the closest thing we could find to the question of conflicts of interest in peer or adjuster reviews. "We believe that people are more accountable for their statements and actions when they use their authentic identities. That's why we require people to connect on Facebook using the name they go by in everyday life. Our authenticity policies are intended to create a safe environment where people can trust and hold one another accountable."
Organic review growth
Grieve said he doesn't aggressively seek out reviews, merely at delivery asking customers who seem pleased with the outcome of the repair to leave a review. He doesn't press the point with repeated communication to do so, nor does he give incentives like an offer to save $100 off a deductible. (Yelp will actually warn consumers off of businesses that it thinks are incentivizing or buying reviews.)
"We don't haunt anybody for it," Grieve said.
He said he doesn't specify the customer use a particular platform, reasoning that everyone has their own favorite site to post reviews. The shop's review library grew organically on various sites like Google, Yelp and Facebook, according to Grieve.
"This is going on 12 years," said Grieve.
Yelp frowns on asking customers to leave reviews, while Google both encourages it and warns against doing so if you're limiting this practice to happy customers. We couldn't find an answer about Facebook.
"Yelp's recommendation software is designed to highlight reviews from people inspired to share their experiences with the community," Yelp wrote. "Most businesses only target happy customers when asking for reviews which leads to biased ratings, so the recommendation software actively tries to identify and not recommend reviews prompted or encouraged by the business. The Business Owner Guidelines section of our Content Guidelines, which are part of our Terms of Service, also makes clear that businesses should not ask for Yelp reviews."
Yelp recommends businesses professionally respond to positive and negative reviews. Google encourages responses to reviews in general, stating the answers can build relationships and trust. It also urges professionalism. We couldn't find a Facebook answer.
Grieve said "I may or may not respond to it" on Google.
He said Google's policy of giving reviewers points sometimes can prompt fake critiques, and if he doesn't recognize a critic or can't find them in Nylund's records, he'll introduce himself and urge the reviewer to contact him.
Inevitably, that user never reaches out. "It's just about them making points," he said.
However, Grieve said he will always respond on Facebook, for it is an example of what he called the "Internet 2.0" of communication and building relationships.
"We handle Facebook completely different," he said.
More information:
Review and photo information on Yelp
Yelp information for business owners
Google review information for business owners
Review reporting guide on Facebook
Images:
Managing one's online reputation might be critical for a collision repairer these days. (IIIerlok_Xolms/iStock)
David Hudson, a member of State Farm's catastrophic team, wrote about Nylund's Collision Center on Google in a review that has since been removed. (Provided by Nylund's Collision Center)
Share This: