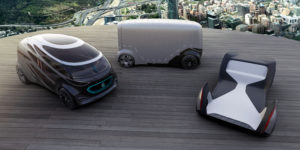 Call it the body-on-frame of the future.
Mercedes on Monday announced an autonomous and electric concept van which appears to use the "skateboard" powertrain frame common to electric cars as a base for two different bodies.
We don't normally cover concept cars since most aren't going to come to market, but this one caught our eye as a plausible future scenario shops might encounter. One theory for autonomous vehicles is precisely what Mercedes is describing: Carry passengers at day, then switch to delivering goods at night.
Mercedes wrote Monday that its "Vision URBANETIC" has one body able to carry 12 people in its 12-foot load space, while another body can carry 10 EPAL pallets. (The European pallet is 31.5 inches by 47.24 inches while a common North American pallet is 48-by-40 inches). The entire vehicle is 16.8 feet long.
"Further use cases are also conceivable as the concept can be equipped with a wide array of bodies for other sectors and applications," Mercedes wrote in a news release.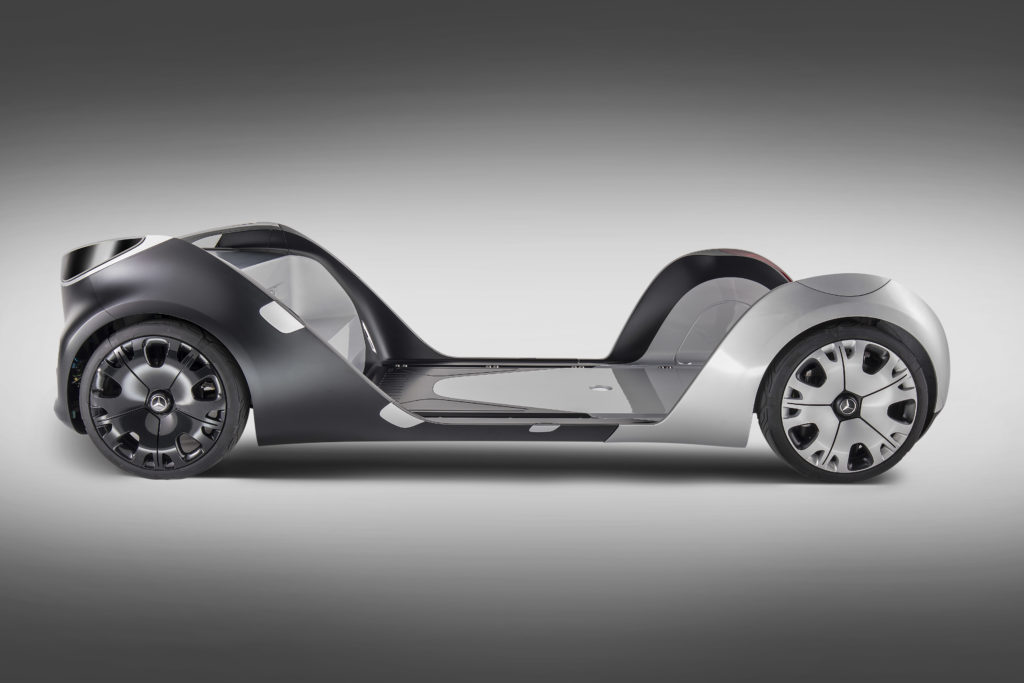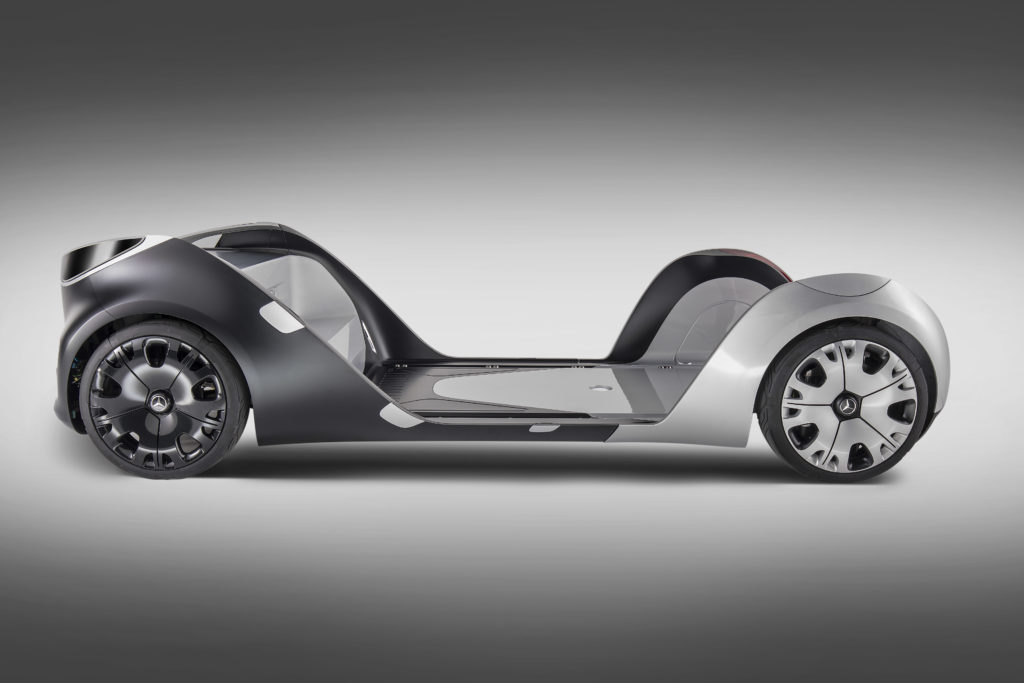 In Mercedes' vision, the bodies can be swapped out "either automatically or manually, with the automated process taking just a few minutes."
"Plus, the concept incorporates an IT infrastructure that analyzes in real time the supply and demand within a defined area," Mercedes wrote. "The result is a self-driving fleet, with routes planned flexibly and efficiently on the basis of current transportation needs. All of this makes Vision URBANETIC a groundbreaking concept for future urban mobility."
This idea is interesting because one can imagine it working as an urban-area business model even without an autonomous vehicle. Offer a route-optimized ride-sharing shuttle service like Uberpool or Lyft Shared during the day or during major events. At night, swap out the body and do route-optimized deliveries. Fast-charge the battery chassis during the transition or just have another one on hand to minimize downtime. Rinse and repeat. It'd be a lighter-duty variation on how a tractor-trailer can swap out different shipping containers.
However, by using the low-speed, micro-route business model floated by autonomous shuttle company May Mobility and keeping these vans in geofenced, well-mapped areas, an autonomous version of something like this might be possible sooner than you'd think. Mercedes also proposed the van could be used in "restricted areas" like a factory or airport, which lend themselves even more easily to automation as variables like kids or cyclists aren't present. (Mining vehicles are automated today, after all.)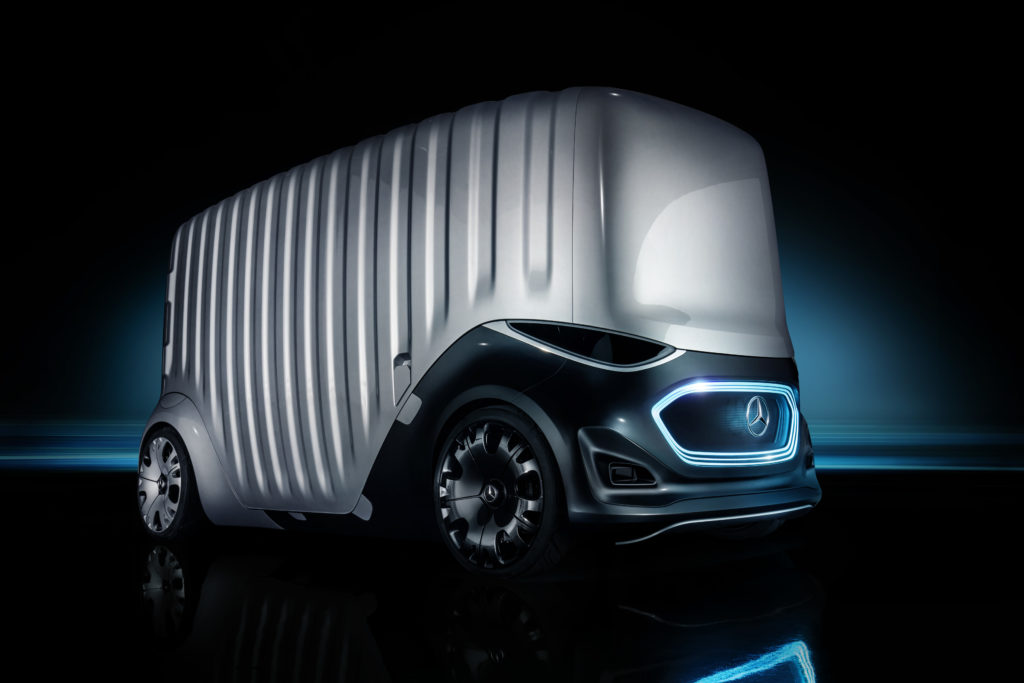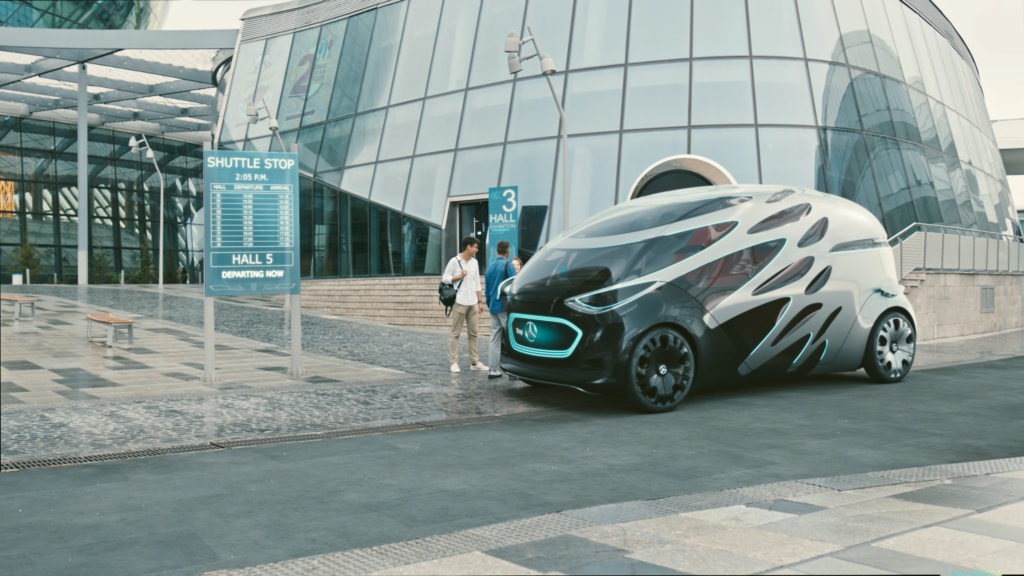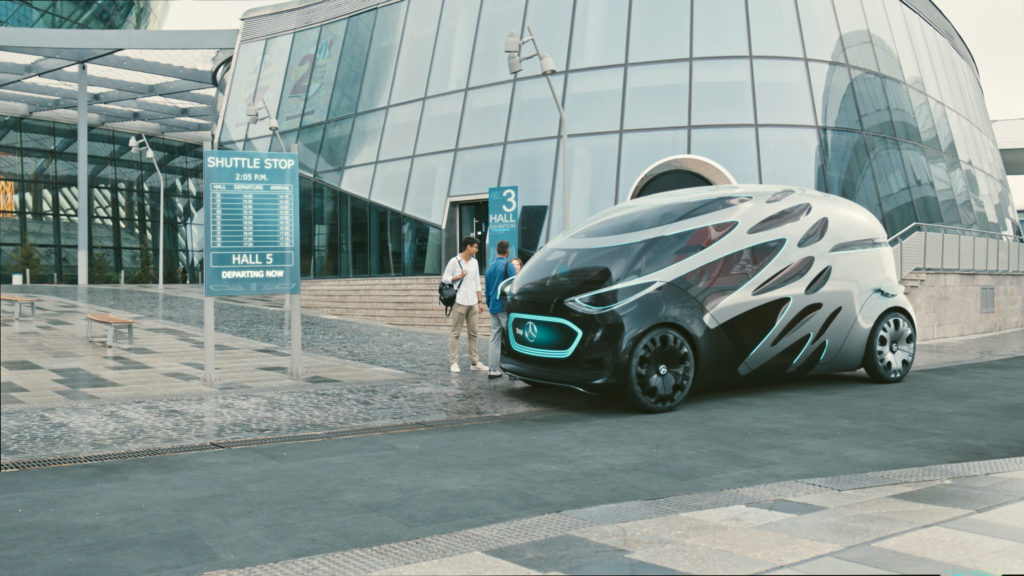 By going autonomous, the Vision URBANETIC can save the cost of a driver and free up space for more passenger or cargo, according to Mercedes. This alsos solve a shortage of skilled drivers in the U.S. and apparently in Germany.
"Companies are already finding it extremely difficult or impossible to fill vacancies," Mercedes wrote. "In light of this, a German trade magazine voted 'Fahrermangel' (lack of drivers) the 2017 Logistics Word of the Year."
Mercedes even proposed sticking all of the brains and apparently most or all of the sensors in the concept van's chassis, allowing the electric "skateboard" frame to drive itself to the next job site. "Absolute safety is guaranteed by redundant components for all relevant actions such as steering, braking and acceleration," Mercedes wrote.
"Thanks to full networking, the evaluation of local information – such as concerts and events – and intelligent control, the system not only analyzes current needs, it can also learn from them," Mercedes wrote. "It is thus able to anticipate and react to future needs. This can optimize processes and help shorten waiting and delivery times and avoid traffic jams. For instance, the overall system can use the data captured by the vehicle control center – which collates and analyzes needs – to identify a crowd of people gathering in a certain area. It can send vehicles there to quickly and efficiently satisfy the increased demand. The system can react flexibly and is not based on rigid routes or fixed timetables."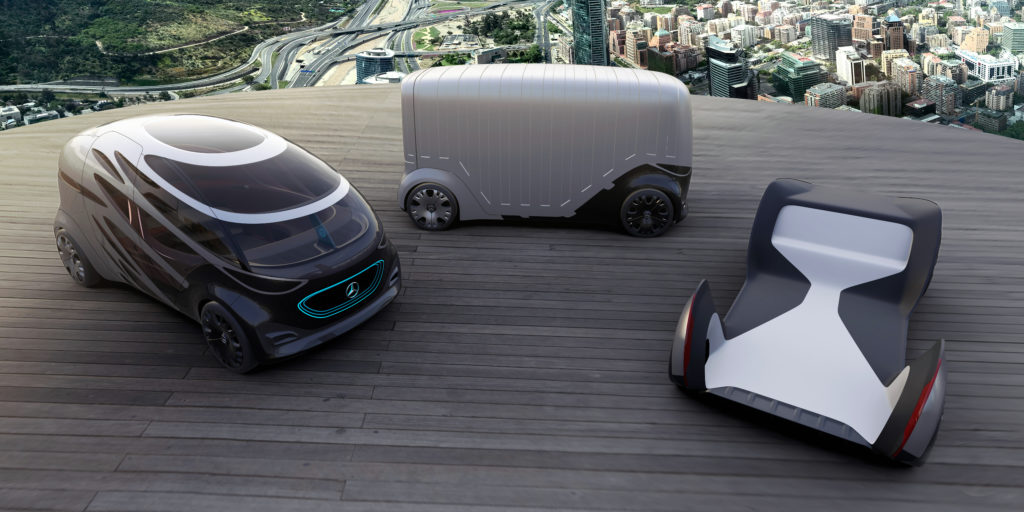 This one isn't science fiction either. Give someone like Google your smartphone location, and it can tell when a bunch of people are in one place. (Or you just use common sense and figure out that a bunch of people will need rides after a concert ends or the bars close at 2 a.m.)
The OEM also proposed using a display on the front of the Vision URBANETIC to demonstrate it noticed pedestrians and build trust, while lights on the side of the vehicle also show other pedestrians it sees them by showing outlines of bodies passing by.
The concept follows Mercedes-Benz Vans' unveiling of the next-generation Sprinter earlier this year and announcement of pricing this month.
More information:
Mercedes, Sept. 10, 2018
Featured images: Mercedes on Monday announced an autonomous and electric concept van which appears to use the "skateboard" powertrain frame common to electric cars as a base for two different bodies. (Provided by Mercedes)
Share This: