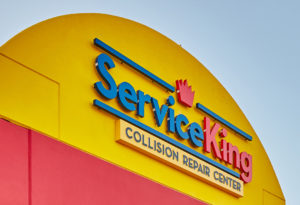 Shops across the country might want to take a vehicle owner's lawsuit against Service King over her Tesla Model S's crash as an opportunity to re-evaluate their own operations and exposure.
Lommatzsch v. Tesla et al states that Service King had worked on the Model S before the car crashed into a stopped Unified Fire Authority mechanic's truck on May 11. The lawsuit doesn't state how the work improperly affected the vehicle, which was in Autopilot during the crash. Plaintiff Heather Lommatzsch sued Tesla as well.
"During the year leading up to the subject accident, Defendant Service King provided service to the Tesla Model S and had replaced a sensor on the Tesla Model S," the lawsuit states.
"… Service King owed a duty of care to Plaintiff while testing, maintaining, servicing, and/or repairing the Tesla Model S.
"Defendant Service King breached the duty of care by negligently testing, maintaining, servicing, and/or repairing the Tesla Model S."
The South Jordan Police Department, however, cited Lommatzsch for failing to keep a proper lookout while driving.
"The driver of the Tesla Model S … was subsequently interviewed by the South Jordan Police and said that she had been using the 'Autopilot' feature in the Tesla," South Jordan police wrote in a news release. "While Tesla's Autopilot feature indicates that a driver must be attentive at all times, the driver admitted that she was looking at her phone prior to the collision. Based upon witness information, the driver of the Tesla did not brake or take any action to avoid the collision."
Service King had not responded to an email request Friday for comment by its personnel or counsel. Companies typically refrain from discussing pending litigation themselves.
But in Service King's defense, we note again that the lawsuit lacks specifics on what error Service King is alleged to have made during the repair. The complaint just says Service King fixed the car, declares the shop to have been negligent, and calls it a day without connecting the dots to the crash.
Service King wasn't mentioned in the police news release regarding the collision, and South Jordan police Sgt. Samuel Winkler said that to his knowledge, it wasn't brought up as an avenue of investigation at the time. "I wasn't made aware of any of that information," he said,  indicating that the lawsuit might have been the first time the company's alleged role had been mentioned by Lommatzsch.
Federal regulators also have launched their own independent inquiry into the incident, but NHTSA does not offer preliminary information about its investigations.
The body shop wasn't mentioned in the police news release regarding the collision; a spokesman did not reply to a Friday email inquiry asking if local authorities investigated the repairer's work.
Litigation or regulatory scrutiny related to such crashes might be unavoidable even if shops do everything right — and right now, there's no evidence that Service King delivered anything but the correct repair.
Therefore, it will be critical that repairers dot their Is and cross their Ts when repairing any vehicle with advanced driver assistance systems — particularly ones drawing the kind of attention as Tesla's Autopilot. Deviate from OEM repair procedures at your own peril. After all, your inevitable OEM co-defendant has an incentive to clear its own name by checking whether your shop's failure to follow repair procedures compromised vehicle systems.
These aren't just concerns for Tesla-certified shops. For example, Nissan sells ProPILOT Assist, which is its version of Autopilot. Cadillac's CT6 offers the truly hands-off "Super Cruise" technology.
The stakes for shops could grow even higher if the NHTSA, the National Transportation Safety Board or trial attorneys ever take a look at crashes involving less sexy ADAS technology.
---
Get advice on minimizing liability at Repairer Driven Education
Learn more about protecting your shop from liability during the SEMA show in Las Vegas at "Understanding Shop Liability in this new Era of Diagnostics, Calibrations and Programming" with Michael Quinn and Chuck Olsen of AirPro and "Facing Increased Complexity and Liability – How to Protect Your Collision Repair Business!" with David Willett and Shaughn Kennedy of Intrepid Direct Insurance, Ron Reichen of Precision Body and Paint, Bill Eveland of Eveland Brothers. The sessions are part of the Society of Collision Repair Specialists' Repairer Driven Education Series Oct. 29-Nov. 2. Register here for individual RDE classes or the series pass package deal.


---
Autopilot gets press and scrutiny because a) it's Tesla and b) the OEM has hyped that the car will do a lot of the driving work for as long as the owner pays attention and holds the wheel. However, Autopilot really isn't much more than a slickly marketed bundle of systems like lane-keeping and adaptive cruise control that many mundane vehicles have. As the Wall Street Journal famously observed, a Honda Civic comes standard with most of these capabilities today — Honda just brands them individually instead of as a package handling the physical driving.
If the feds or trial attorneys ever wake up to this reality and decide to investigate crashes involving any car with ADAS — notably the autobraking the government prompted to be standard by 2022 — a wider population of shops could face the hot seat.
"But the driver's supposed to watch the road at all times and not rely on the ADAS," you say. "The shop can't bear responsibility for such collisions." Following that sentiment to its logical conclusion reveals some glaring problems with that mindset.
1. If testing establishes that the technology was likely to have engaged and mitigated a similar crash — something the IIHS demonstrates can be studied today — but didn't, how's that going to look to a jury?
2. By that rationale, you don't have to fix airbags correctly either. Hey, the driver wasn't supposed to get into a crash in the first place, right?
More information:
"Final Report – Crash involving Tesla Model S – 10400 South Bangerter Highway"
South Jordan, Utah, Police Department, May 16, 2018
Featured image: A Service King in Fremont, Calif., is shown. (Provided by Service King)
Share This: