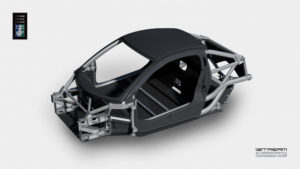 McLaren F1 designer Gordon Murray's firm last week announced a new iteration of its iStream system, declaring the design capable of cutting body weight by "up to 50%."
The announcement could impact shops who work on vehicles mere mortals drive as well as those handling supercars.
The design house wrote in a news release that the aluminum and carbon-fiber iStream Superlight platform "can be adapted to suit every segment of vehicle from sports cars and ultra-efficient electric city cars to SUVs and light commercial vehicles." It proclaimed that the platform brought "Formula One-derived construction and technologies to mainstream car production."
"The new iStream Superlight approach to vehicle manufacturing is a paradigm-shifting innovation for the global automotive industry," Murray said in a statement. "It is a breakthrough that will deliver the lightest chassis technology for decades to come. The Gordon Murray Design team has created a unique, adaptable and cost-effective way for manufacturers around the world to dramatically improve vehicle performance and efficiency."
---
Learn more about advances in vehicle tech at SCRS OEM Summit
Trying to wrap your head around the rapidly changing vehicle technology? Learn more during the SEMA show in Las Vegas with "The Rules and Challenges of Structural Repair on Modern Vehicle Architecture." The Nov. 1 session is part of the OEM Collision Repair Technology Summit within the Society of Collision Repair Specialists' Repairer Driven Education Series Oct. 29-Nov. 2. Register here for individual RDE classes or the series pass package deal.


---
Gordon Murray Design said the iStream Superlight's skeleton is aluminum tubing, while its panels are honeycomb carbon-fiber, saving up to 50 percent of the weight of "conventional stamped steel" body-in white.
The firm said the lightness of the aluminum construction allowed the body-in-white to be built for an amount "cost neutral" to stamped steel. The aluminum "iFrame" provides the attachment point for the vehicle's "hard points (i.e. suspension, steering etc.)."
The aluminum structure uses less aluminum than a typical body-in-white made from the metal, according to the design house. It's unclear if this was merely a result of replacing aluminum with carbon fiber or if significant aluminum savings were also the result of optimized designs; Gordon Murray Design noted that the iStream Superlight had much "flexibility in optimising aluminium section shapes to ensure structural efficiency."
The aluminum would include inexpensive, "high recycled content aluminum alloys," while the carbon fiber would be recycled, Gordon Murray Design wrote.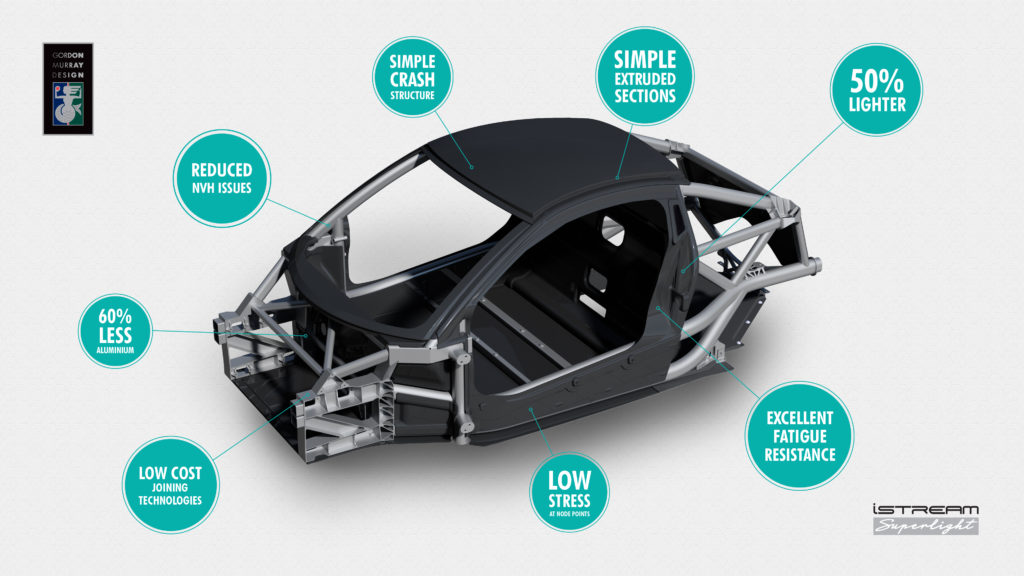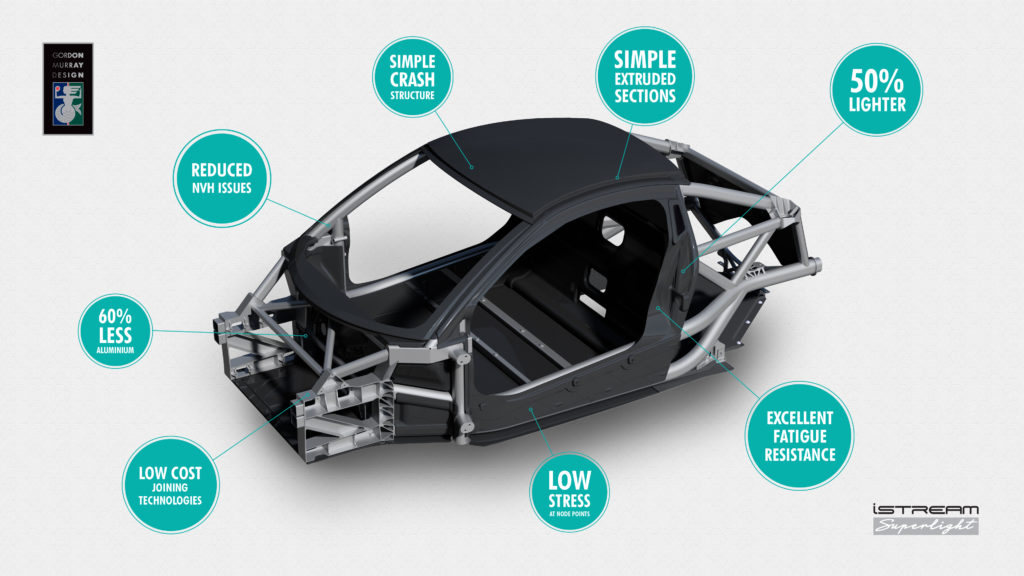 The body-in-white would also have better corrosion resistance than "coated steel," according to Gordon Murray Design. Its aluminum would have a "More efficient frame stiffness" because of the carbon fiber panels.
The firm said distortion and production time would be cut through "Cold metal transfer welding," and the "Carbon sandwich" design of the panels had a cycle time of a little more than a minute and a half.
More information:
"New Gordon Murray Design technology cuts vehicle body weight in half"
Gordon Murray Design, Sept. 11, 2018
Share This: