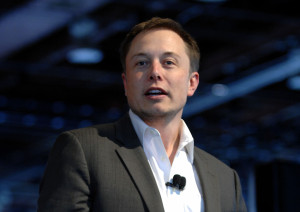 Tesla CEO Elon Musk on Sunday tweeted "Tesla is bringing most collision repairs in-house," blaming cycle times of "weeks to months" on the rest of the auto body industry.
But he also acknowledged how Tesla's inability to supply replacement parts quickly contributed to the problem and promised it would be "the top Tesla priority" soon.
"Yeah, that's our problem," Musk replied to an inquiry by game programmer Scott Velasquez. "Service & parts supply in general will be the top Tesla priority after we get through the insane car delivery logistics of the next few weeks."
The company had earlier blamed shop inefficiency for repair delays. However, on Sunday, Musk attributed the issue to the collision repair industry's lack of specialization.
"Outside repair shops are jack of all trades, which means supporting 1000's of makes & models," Musk tweeted. "Tesla collision repair specializes in three. Having all parts in stock & not waiting for insurance approval also make a world of difference."
Other Twitter users on the thread complained that the fault for the delays rested on Tesla's parts shortage. One expressed fear that Tesla would service its own shops at the expense of independents.
More repair opportunities are always a good thing, but I'm worried Tesla will give preferential treatment to their own shops. Biggest issue has been Tesla not providing parts in a timely manner. Please address this and make it easier for 3rd parties to repair Teslas.

— Tyler Martin (@Gur814) September 17, 2018
According to CCC's 2018 "Crash Course," direct repair program shops averaged 7.8 days of cycle time in 2017 for driveable vehicles — the kind Musk is presumably planning on turning in a day. Non-driveable vehicles averaged 17.4 days as those shops. Enterprise in Mitchell's new Industry Trends Report calculated the average second-quarter length of rental (another measure of cycle time) was 11.6 days.
"As pointed out in previous updates, there remains a significant delta between average and best in class," Enterprise collision industry relations and sales Assistant Vice President wrote. "Collision centers that invest in extensive training, consistently execute a robust scheduling strategy, and properly utilize the ARMS® Auto application, routinely outperform market-average LOR metrics."
Based on that industrywide data, it's not accurate for Musk to declare that a typical body shop's "jack of all trades" status leads to "weeks and months" of delays.
Musk didn't elaborate on why an in-house Tesla shop wouldn't also have to wait for insurance approval, though this could be accomplished through a variety of strategies also available to the industry as a whole. Direct repair programs can allow the shop to get started immediately, or the shops can simply bill customers and let them seek reimbursement from a carrier.
Tesla also has a couple of options a typical shop or even its certified MSOs like Service King wouldn't. The company has floated the idea of launching its own insurance if carriers don't give the premium discounts Tesla wants. Tesla also doesn't need to rely on service and repair operations to make its money. This means the OEM could just release a car quickly to reap the marketing/PR/customer service rewards and continue hashing out payment with the insurer afterwards — a strategy which might be questionable for a traditional repairer.
Musk tweeted that some of the Tesla collision repair work had already been turned within a day.
"Exciting to see some Tesla collision repair operations already completing within 24 hrs," Musk wrote. "Aiming for same day soon, then under an hour."
Under an hour is probably a stretch, but speedy repairs might be more feasible than you'd think if Tesla gets its parts issue under control. Specializing on only Teslas means a smaller vehicle population to be repaired, and a smaller still population of those actually getting into crashes. That might be a small enough demand for its techs that Tesla can produce far better touch times than the rest of the industry.
The average driveable vehicle only saw 3.6 labor hours per repair day and 2.9 hours per shop day in 2017, according to CCC. The average non-driveable one only averaged 2.9 labor hours per repair day and 2.2 hours per shop day.
He wrote that Tesla aimed to make the vehicles "better than before accident."
"Should always be true if damaged/used parts are correctly replaced with newer parts," Musk continued.
The shops will also do glass work, Musk told Apple software engineer David Kilzer.
More information:
Elon Musk's Sept. 16 body shop Twitter thread
@elonmusk on Twitter, Sept. 16, 2018
"Average Length of Rental for Repairable Vehicles: Q2 2018"
Enterprise Rent-A-Car in Mitchell third-quarter Industry Trends Report, Sept. 11, 2018
Featured image: Tesla CEO Elon Musk talks about the Model S electric vehicle during the press preview for the world automotive press at North American International Auto Show in Cobo Center on Jan. 12, 2010, in Detroit, Michigan.(Bryan Mitchell/Getty Images News/Thinkstock file)
Share This: