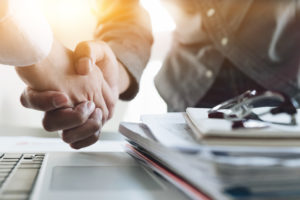 It seems so obvious: Come to a negotiation prepared.
But while a consumer might do a ton of research on something like a vehicle purchase, a businessperson might frequently "take a hard position" with no actual facts to support it, according to asTech market area manager Eric Newell.
Most people go in "without any information" or "underlying method," Newel said, citing data that found more than 80 percent of negotiations lacked any sort of method.
Most negotiators are "just blind," he said.
Newell will teach other tips for negotiations with anybody — be they an insurer, supplier, customer, or employee — at "Preparing for Negotiations" 9:30-11:30 a.m. on Tuesday, Oct. 30, during the Society of Collision Repair Specialists' Repairer Driven Education series at SEMA. He said Thursday it should be a good class whether you think you're good at negotiating or "really suck" at it.
Newell learned negotiation serving as the union president of the Professional Firefighters of Schererville, a job which overlapped with his time as Tom and Ed's Autobody corporate compliance manager and chief operating officer. He took the lessons from the firefighting group — unions are good at negotiating and take it seriously, he noted — and applied them to the auto body repair industry.
The class will cover the preparation Newell said was necessary "to build value in your position" along with questions to ask every time one engages in a negotiation.
"There's a specific list you can follow each time," he said of the latter.
Besides arming yourself with the factual data to support your position, your research should also include studying your counterpart to deduce how your position falls into their interest, Newell said. That way, you can "specifically tailor" your pitch to the other person's interest, according to Newell.
If you say you want $10 for a particular item and your counterpart says $8, "there's a reason on both those sides," he said.
However, compromise at $9 might not be viable, we proposed — it might lead to you doing the work at cost. What then?
Newell said negotiators also need to know their "circuit breaker" and Best Alternative to a Negotiated Agreement, known as "BATNA."
BATNA is like the "middle ground," he said. He gave the example of asking for $10 and getting $9.10, at which "you'd be OK" still.
The "circuit breaker" is the point at which "you're getting up and walking away." (For example, let's say the $9 involved you taking a loss. That's probably not a deal to accept.)
Sometimes, the two can be the same value, Newell said.
Attend Newell and other speakers' sessions by taking advantage of early registration for the Repairer Driven Education series and OEM Collision Repair Technology Summit at SEMA.
Classes and individual OEM Collision Repair Summit sessions are $75 now, $85 after the Oct. 12 early bird deadline. The best deal is the full-series pass for $375, $400 after the deadline. It grants the repairer access to every RDE class, all three sessions of the Thursday, Nov. 1, OEM Collision Repair Technology Summit, the Sky Villa afterparty in Elvis' old Westgate penthouse that night, and the brand new IDEAS Collide TED-style event Friday, Nov. 2.
More information:
SCRS Repairer Driven Education lineup
Featured image: It seems so obvious: Come to a negotiation prepared. But while a consumer might do a ton of research on something like a vehicle purchase, a businessperson might frequently "take a hard position" with no actual facts to support it, according to asTech market area manager Eric Newell. (Natee Meepian/iStock)
Share This: