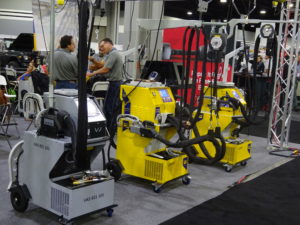 Collision Advice CEO Mike Anderson on Tuesday celebrated data showing the percentage of collision repairers reporting frequent success being paid for test welds had more than doubled since 2015.
"This summer, more than 1 in 4 shops – 27 percent – reporting being paid to set-up and perform destructive test welds 'always' or 'most of the time' by the eight largest national insurers," Anderson said in a statement. "That's more than twice the percentage – just 12 percent – who found that to be true back in 2015 when we started the surveys."
The newly released data came from Collision Advice and CRASH Network's July frame and mechanical work "Who pays for What?" survey of more than 700 auto body shops nationwide. The quarterly studies ask how often collision repairers are successful in collecting reimbursement from some of the nation's largest insurers for a variety of operations not always included within estimating system times.
Help the industry by taking the current "Who Pays for What?" survey on frame and mechanical operations here through Oct. 31. All answers are kept confidential — data is published only in the aggregate — and participants receive a copy of the report. Collision Advance and CRASH Network indicate the survey takes about 15-25 minutes and should be completed by "a shop owner, manager or estimator who is familiar with the shop's billing practices and the payment practices of the largest national insurers."
Anderson also said that about 81 percent of 2015 survey participants never even asked to be paid for the test welds, which experts and OEMs (here's Toyota, for example) have called necessary — even if the welder's computer says the weld is fine. By 2018, this amount dropped to "about 64 percent," according to a news release.
"Whether through the surveys or other training, shops are increasingly understanding the need to perform test welds, and can choose whether to bill for it when appropriate," Anderson said in a statement.
Between 486 and 557 shops replied to an inquiry on whether they asked eight of the nation's Top 10 insurers to be reimbursed for test welds and how frequently that particular insurer approved the request. ("Always," "Most of the time," "Some of the time" or "Never.")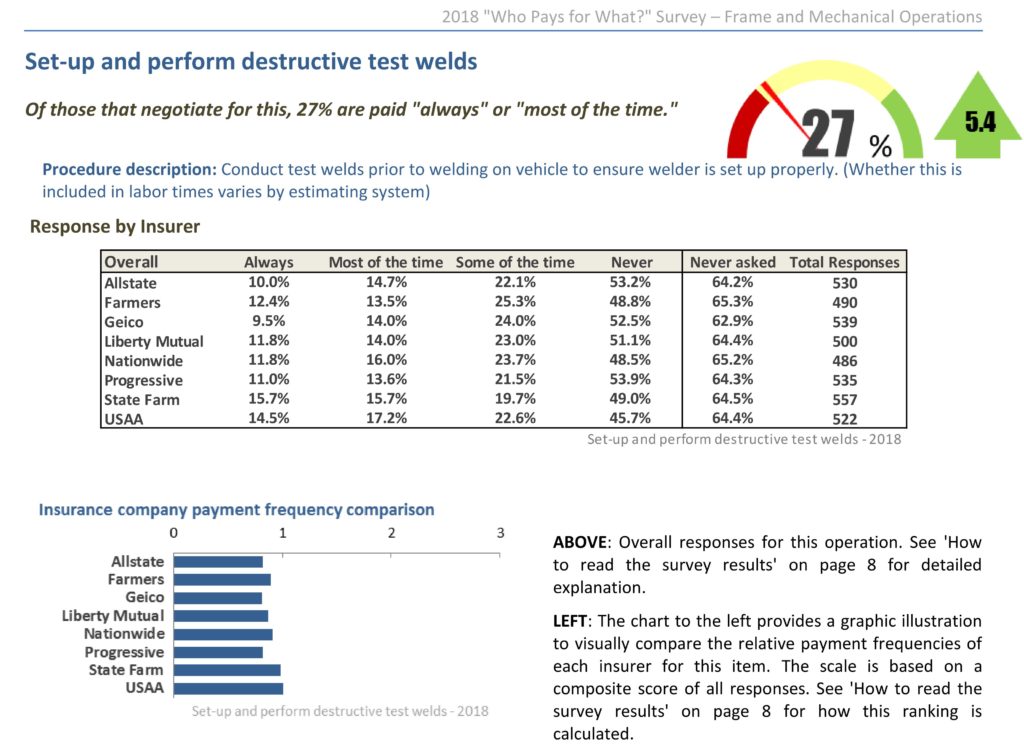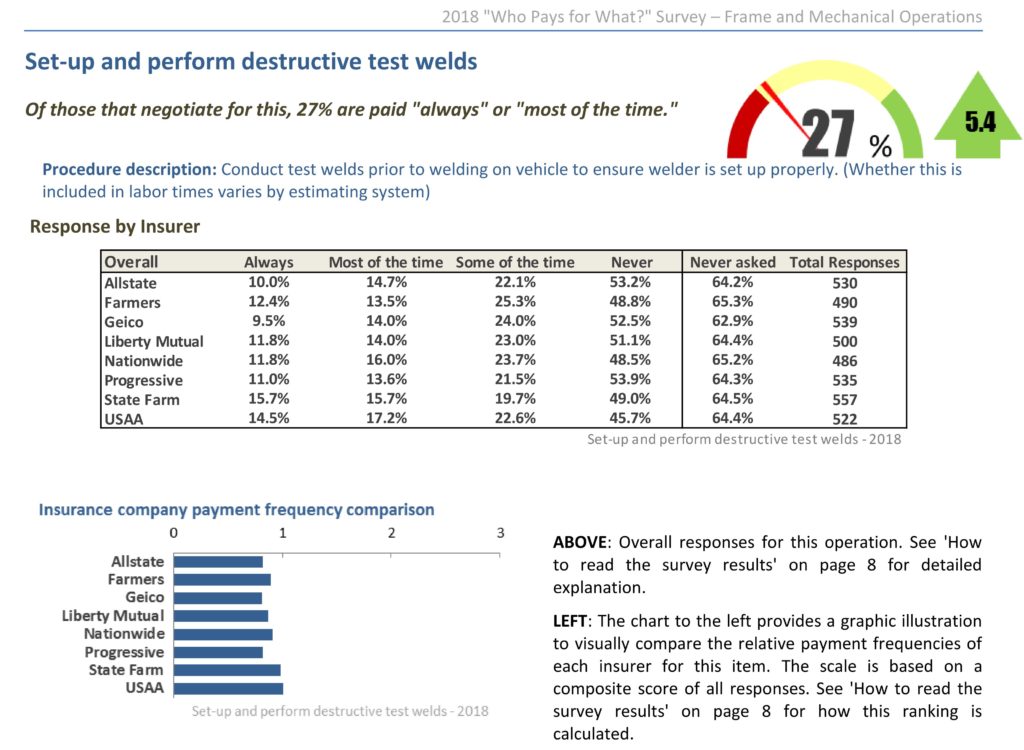 "It's encouraging to me to see this go up," Anderson wrote in the report. "With all the new materials (and combination of materials) in new vehicles, this step is becoming more and more important. A proper weld involves so many factors (the correct type of welder, at the correct settings, with the correct wire, and the correct gas mixture) that it is nearly impossible to tell if the settings are correct without first performing destructive test welds. In fact, many OEMs require it in their repair procedures. I have seen some repaired cars with welds that could be popped loose simply by prying on them with a screwdriver. That is a scary situation that can be avoided by verifying the welder settings by completing a destructive test weld."
State Farm and USAA were the most consistent about approving payment for the work when asked.
However, all eight of the insurers were still basically 50-50 on "never" paying for the operation when asked. USAA had the lowest proportion of shops reporting "never" being reimbursed, at 45.7 percent. Progressive was the highest, at 53.9 percent.
The study put the overall 715-shop study margin of error at 3.7 percentage points with a 95 percent confidence level.
According to the "Who Pays?" survey, whether test welds were included in information provider labor times "varies by estimating system."
However, Database Enhancement Gateway inquiries mentioned in the "Who Pays?" report show none of the three major IPs classifying the destructive tests as included procedures.
Audatex confirmed in response to an August 2017 DEG inquiry that destructive test welds weren't part of its labor time for a 2014 Audi A8 quarter panel replacement. The DEG user had reported that an insurer was claiming they were.
"Welder setup and test welds are not included in the labor allowance," the IP wrote. "Language regarding this has been added to a list of future considerations for the Database Reference Manual."
---
Learn more from Mike Anderson during Repairer Driven Education
Seeking more insight from "Who Pays?" co-author Mike Anderson? Learn more during the SEMA Show in Las Vegas with his course "OEM Repair Procedure Best Practices" on Oct. 31. The session is part of the Society of Collision Repair Specialists Repairer Driven Education Series Oct. 29-Nov. 2. Register here for individual RDE classes or the series pass package deal.


---
CCC said the same in response to an August inquiry about a 2014 Audi S8.
"In the CCC/ GTE Guide to estimating (P Pages) Welder Set up and Preparation is NOT INCLUDED which is located under Labor Time Premise," CCC wrote.
"All the quarter panels or anything we are performing welds on,our technicians are making practice welds," the DEG user had asked. "Destructive test welds. How do we get paid for this? Can we get paid for this? My understanding is that it's required from all OEM to perform this test."
A March inquiry about a 2017 Honda Civic found Mitchell declaring test welds a not-included procedure — though welder setup was included.
"Welding equipment set up is included in welded panel replacement," Mitchell wrote. "Destructive test welding is NOT INCLUDED."
More information:
Take the 2018 aluminum, administrative procedures and shop supplies "Who Pays for What?" survey
July 2018 "Who Pays for What?" frame and mechanical work results
GYS welders appear at NACE 2018. (John Huetter/Repairer Driven News)
Collision Advice CEO Mike Anderson on Oct. 3, 2018, celebrated July "Who Pays for What?" data showing the percentage of collision repairers reporting frequent success being paid for test welds had more than doubled since 2015. (Provided by Collision Advice and CRASH Network)
Share This: