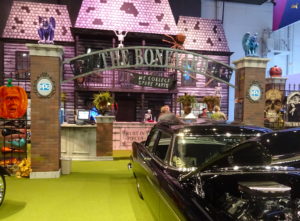 Just as OEMs might require a different joining technique for the aftermarket than in a factory, certain vehicle colors might only be matchable with a different groundcoat color than originally found on the vehicle, according to PPG.
It's an example of how coatings manufacturers might have to accomplish an OEM's desired shade two different ways: one technique for the factory, one for the aftermarket. It demonstrates why manufacturer repair procedures must be followed — even sometimes in contradiction to the process visible on factory-coated parts.
PPG collision segment director of marketing Jennifer Boros said Monday that sometimes the undercoat in a vehicle refinish will be a different color than what the OEM used on the vehicle. Repairers may balk at applying the different-looking undercoat, even though that's the only way to ultimately achieve the color match in the aftermarket, according to Boros.
"For some, that's hard to overcome," Boros wrote in an email.
But "it's all about an invisible repair," she wrote.
Boros on Monday gave the example of a particular color which was matchable using a "salmon"-hued groundcoat — even though the OEM used a silver groundcoat.
Achieving a color match in the aftermarket might require different colors and layering than at the factory, she said.
Boros described a refinish color first formulated to be applied like the OEM original. It looked good on a 4×6 panel, but when an actual repair was performed, it stood out and couldn't produce an acceptable blend.
"We had to scrap that," she said. But with a new groundcoat color, it was possible to refinish the vehicle in a way that gave an invisible repair into the OE finish.
"We learned a lot," she said.
PPG seeks a refinishing process that matches the color while delivering as easy an application process as possible, according to Boros. It's a balancing act between making the painter's life easier and achieving the original OEM appearance, she said.
Boros said that sometimes surface preparation can also play a role in meeting the desired look. She described a situation in a quad coat "you have to finely sand the clear" before applying the color coat. If that isn't done, the metallic doesn't lay down properly, and the color won't match, she wrote.
She wrote that shops would want to apply sealers as smoothly as possible. She also noted that surfacers aren't as good at creating a seamless blend, as they can often leave a hard edge and may change the pigment's appearance.
Boros will discuss matching new and future OEM colors during the Society of Collision Repair Specialists' Repairer Driven Education series at SEMA with the course "Current and Future OEM styling trends and the Impact on Refinish," scheduled for 3-5 p.m. Tuesday, Oct. 30. She'll be joined by Frank Jemiola, pigments global technical manager; Darin Poston, collision segment application specialist; and John Thomas, PPG automotive OEM color technical manager.


Attend the PPG team and other speakers' sessions by taking advantage of early registration for the Repairer Driven Education series and OEM Collision Repair Technology Summit at SEMA.
Classes and individual OEM Collision Repair Summit sessions are $75 now, $85 after the Oct. 12 early bird deadline. The best deal is the full-series pass for $375, $400 after the deadline. It grants the repairer access to every RDE class, all three sessions of the Thursday, Nov. 1, OEM Collision Repair Technology Summit, the Sky Villa afterparty in Elvis' old Westgate penthouse that night, and the brand new IDEAS Collide TED-style event Friday, Nov. 2.
More information:
SCRS Repairer Driven Education lineup
"Current and Future OEM styling trends and the Impact on Refinish" course listing
Featured image: The PPG booth at SEMA 2017 is shown. (John Huetter/Repairer Driven News)
Share This: