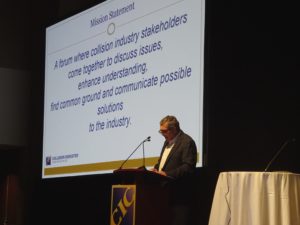 Repairers still making plans for SEMA Week might want to set aside time Tuesday, Oct. 30, for the final Collision Industry Conference of the year.
If you've never been to a CIC before, it's kind of like those summits world leaders are always holding. The quarterly conferences offer an opportunity for all of the different interests in the collision repair ecosystem to discuss some of the industry's hottest issues. Also, they're a fantastic chance to network.
"The Collision Industry Conference (CIC) is a forum made up of participants from all industry segments for the expressed purpose of discussing and exploring the issues that occur among them, to fulfill the mission of 'A collision industry in which all segments work together to enable a complete, safe, and quality repair'," the organization describes itself. "Through discussion and research during meetings and extensive interim committee work, CIC attempts to form consensus on various issues, aware that all such findings are nonbinding and voluntarily accepted."
The November CIC runs from 8 a.m.-5 p.m. Tuesday, Oct. 30, at the Renaissance Hotel in Las Vegas, with a reception at 6:30 p.m. at the Westgate Las Vegas.
SSF Imported Auto Parts & Certified Collision Group have sponsored a shuttle, which will depart every 15 minutes from the East Tower of the Westgate between 7-8:45 a.m. and every 15 minutes from the Renaissance between 5-6:15 p.m.
Registration is $75 at the door; $65 in advance. Check for hotel availability by checking online here.
The organization on Thursday announced the agenda for the session.
"Presentations are centered around the current and future issues faced in the collision industry, giving the most insightful information available," CIC wrote in a news release Thursday. "During the discussions at this unique forum, participants also have opportunity for giving feedback and asking questions of the leadership or body at large."
Among the agenda highlights:
8:45 a.m.: Incoming CIC Chairman Jeff Peevy (Automotive Management Institute) and his Education Committee Co-Chairman Gene Lopez (Seidner's Collision Centers) will review their "OEM study on Required Training Skills," according to the agenda. They'll also provide more details about their research into industry credentials.
In April, Peevy said he'd like to see promotion that repairers should be earning and requiring professional credentials, and the task force sought to compile a list of what was available today. In August, it identified 62 credentials existing in the industry.
According to Peevy, 1 in 10 landscaping company owners and managers has an industry credential. "They're ahead of us," he said. In the medical field, 75 percent of a hospital's staff has professional credentials, he said.
An informal audience poll found 71 percent of the 137 respondents felt "role-based, verifiable credentials" would assist "next generation recruitment/industry perception." Another 23 percent said it "Somewhat" would, while the others said nay.
65 percent of 141 respondents to another informal poll question felt such credentials would "improve the industry's perception of itself." 36 percent said "Somewhat."
10:45 a.m.: Governmental Committee Chairwoman Janet Chaney (CaveCreek Business Development) and Vice Chairmen Darrell Amberson (LaMettry's Collision) and Bob Redding (Automotive Service Association) will present "New Vehicle Technology and Regulatory Relevance."
"Wrapping up the morning session, the Governmental Committee will continue by state and federal public policy outlook with a snapshot of the views of collision industry segments," CIC wrote in a news release.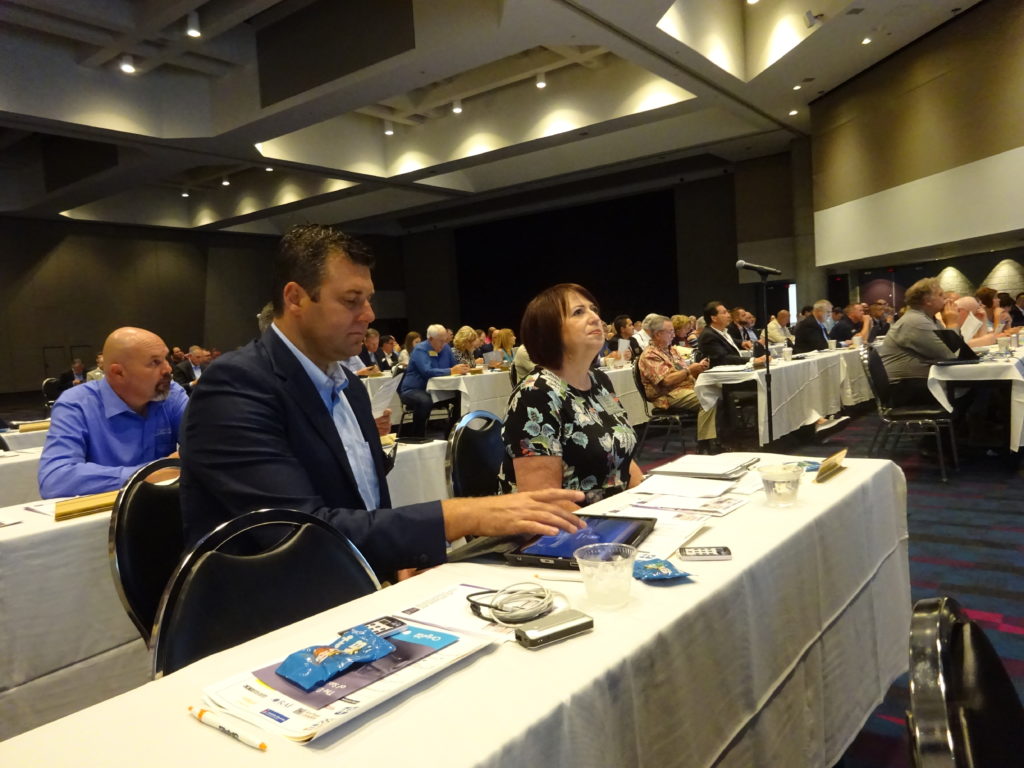 1:30 p.m.: AsTech Chief Technology Officer Frank Terlep effectively launched the Open Systems, Data Access and Sharing Task Force Task Force in 2017 with a presentation about CCC Secure Share, and he'll return to discuss the body's activity and outcomes. The task force has been fairly quiet publicly since CCC announced its revised plans for the system, but the CIC called it "a very active and publicly accomplished group in 2018."
2 p.m.: Insurer-Repairer Relations Committee Co-Chairmen Doug Irish (AccuracyDriven4, Fayetteville Technical Community College) and Matthew McDonnell (Big Sky Collision) will present a panel discussion on third-party auto repair claims.
CIC wrote that the session will include "including first notice of loss, damage assessments and when the 3rd Party is also a repairer."
A couple of special presentations ought to be interesting as well:
8:30 a.m.: Collision Industry Foundation President Bill Shaw (PPG) and board member and disaster relief Chairman Michael Quinn (AirPro) will make a presentation. It's possible it could include news of those helped following Hurricanes Florence and Michael, although so far the organization hasn't received any takers post-Florence.
The 501(c)3 charity provides replacement tools and necessities to collision professionals and shops impacted by catastrophes. In November 2017, it reported helping 63 auto body repair industry families, three "severely impacted" shops and one vo-tech school last year following disasters like Hurricanes Harvey and Irma. Quinn in September said CIF was "still mopping up from Irma" into this year.
10 a.m.: Former Honda collision marketing group assistant national manager Gary Ledoux will present on his new book "Yesterwreck: The History of the Collision Repair Industry in America."
3:30 p.m.: Hear a special presentation from Abagayle Boden, recipient of one of the 3M Hire our Heroes scholarships awarded to family of current service members or veterans and a bronze medalist in the 2018 SkillsUSA high school collision repair category.
She'll appear with Collision Repair Education Foundation development director Brandon Eckenrode, who will present on the CREF Career Fairs. (Three more are still planned before the end of the year for North Carolina, New York, and Ohio.)
If you're feeling discouraged about the technician shortage, hearing from those two will probably make you a little more optimistic about the future of the workforce.
More information:
Oct. 30, 2018, Collision Industry Conference agenda
Images:
Collision Industry Conference Chairman Guy Bargnes (Painters Supply & Equipment) appears at the August 2018 CIC in Atlanta. (John Huetter/Repairer Driven News)
The August 2018 Collision Industry Conference audience in Atlanta is shown. (John Huetter/Repairer Driven News)
Share This: