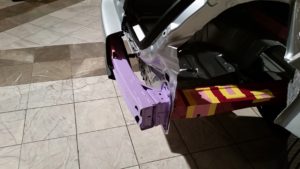 Seven parts — at least one of which was an assembly harvested for additional items — and multiple joining methods are necessary to replace a single rear frame rail on a late-model four-door Civic EX, a Honda collision expert demonstrated to a VeriFacts Guild 21 audience last week.
Without repair procedures, an auto body shop would have a "zero percent chance" of guessing the correct procedure for removing and replacing the 1,500-megapascal part, according to Honda collision marketing national assistant manager Scott Kaboos.
The rear tire pan (which needs to be replaced during the frame rail operation) has five different attachment methods, Kaboos said.
There's no way anyone could correctly guess the locations and methods for all five, according to Kaboos. And anyone MAG-welding 1,500 MPa steel somewhere Honda doesn't allow has "basically destroyed the panel," he said. (Higher-strength steels lose their strength when subjected to heat.)
If you don't research a part's composition prior to starting repairs, it's likely you might render a vehicle "unrepairable," Kaboos said.
The "worst-case scenario" would be a vehicle misrepaired getting back on the road and failing to behave correctly in the next crash, Kaboos said.
Kaboos also demonstrated the peril of making assumptions about the damage itself. The EX in question had what appeared to be minor damage to the rear bumper fascia. "This looks like a pretty simple job," Kaboos said.
But looking under the vehicle revealed left rear frame rail damage, Kaboos said.
Longtime former State Farm executive and former Collision Industry Conference chairman George Avery on the call pointed out that a photo estimate might have missed the frame rail damage. Kaboos said he has heard from ProFirst shops that some photo estimates miss significant issues.
"We really don't know what it's going to take" without going through the process of blueprinting and disassembly to find the extent of damage, Kaboos said.
A shop must pull repair procedures from the Web fresh with each vehicle to avoid missing an OEM update to the instructions. For this reason, Kaboos warned the audience not to print out the instructions he showed Thursday for use on their next Civic repair. They might be out-of-date by then.
Shops also must ensure they're looking up the right version of the car online. Kaboos recounted instructions for a 2017 four-door Honda Civic EX on the call, but he pointed out that there are separate repair procedures for seven different configurations of the 2017 Civic.
The five-door Civic hatchback has 1.2 mm thick 590 MPa advanced high-strength steel rear frame rails, while the four-door Civic EX had 1.1 mm 1,500 MPa rear frame rails.
The five-door and two-door Civic have lower strength steel, which can be sectioned and cold-straightened (within Honda repair procedure parameters, of course) in what Kaboos called "a very generous repair procedure." But the 1,500 MPa steel can't be sectioned or cold-straightened.
Kaboos said he has encountered some vehicle owners having a subscription to Honda's repair procedures to ensure their vehicle's being fixed right. "That's kind of interesting," he said, noting that he "didn't expect that."
---
Learn more from Scott Kaboos at 2018 Repairer Driven Education
Learn more from Honda's Scott Kaboos during the SEMA Show on Oct. 30 with "Understanding Shop Liability in this new Era of Diagnostics, Calibrations and Programming", also featuring Michael Quinn and Chuck Olsen of AirPro, Aaron Clark of Assured Performance, Nick Notte of I-CAR, Jack Rozint of Mitchell and Todd Tracy of the Tracy Law Firm. Also, find out more about structural repair Nov. 1 at "The Rules – and Challenges – of Structural Repair on Modern Architecture" with Dan Black of FCA, Robert Hiser of the Auto/Steel Partnership, Shawn Hart of Audi and Mike Kukavica of Porsche. The sessions are part of the Society of Collision Repair Specialists' Repairer Driven Education Series Oct. 29-Nov. 2. Register here for individual RDE classes or the series pass package deal.

---
Failure to check repair procedures and look up a part's characteristics could even see a repair botching the job at the mere fit check stage (which is also called for in the Honda repair procedures).
Kaboos pointed out that a repairer couldn't use certain techniques to fit the frame rail. The 1,500 MPa part has restrictions on MAG welding, so that could be nixed. The rail also can't be attached with a screw or cleco fastener for the fit check, because both put a hole in a part that isn't allowed to be altered. Kaboos said he's seen a shop put hundreds of self-trapping screws in a part — only to realize it can't be MAG welded.
Shops also need to review both the instructions for installation as well as removal — Honda has separate tabs online for both, and shops often wind up looking at one but not the other.
"You need to look at both of them," Kaboos said.
A repairer also must understand that Honda's body and paint team writes repair procedures off of the body-in-white, according to Kaboos. (The vehicle might not be out on the market yet, he said.) "They don't use a complete car," he said.
Because of this, an estimator or repair planner needed to look at the service manual as well as the body manual, according to Kaboos. The former instructions would house the disassembly procedures needed just to get down to the body-in-white. For example, removing the rear axle assembly, fuel tank and interior items, he said.
A shop also needed to think about what the procedures meant for the repair process. Kaboos' presentation pointed out how the rear panel gusset on the 2017 Civic EX needed two- and three-plate spot welding and 10 mm MIG-braze plug welds.
"This means you cannot drill through the gusset welds on the rear panel if you are not going to replace the gusset," the presentation stated. "We will be replacing the left gusset, as it is included with the replacement frame rail."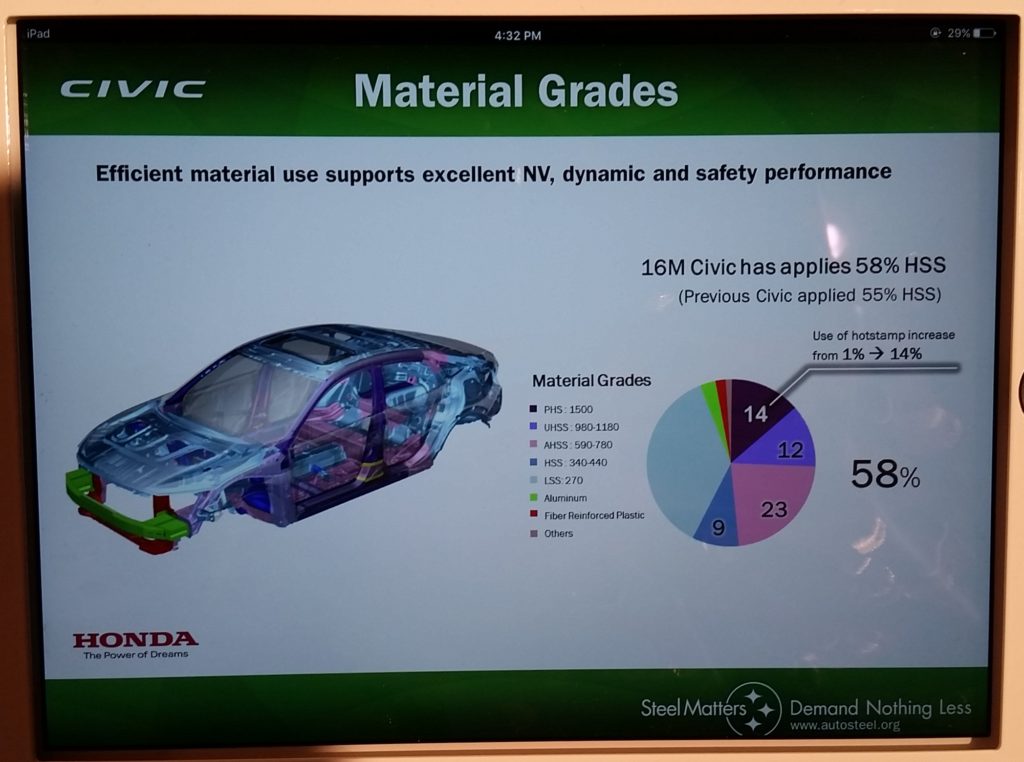 The slide also pointed out that the repairer's position during the replacement process matters.
"The tail light pocket calls for plug welds on the horizontal joint but the quarter panel requires spot welding so these welds need to be removed from the rear panel side," the presentation stated.
Kaboos also mentioned that the bulkhead gussets and front side stiffener aren't actually available as individual parts, a situation he said has drawn inquiries from shops. A repairer must order the crossmember RR upper floor subassembly (Part No. 65740-TBA-A20ZZ). After studying the attachment methods, figure out what drilling and grinding is necessary and where so you can remove and install them. (A position statement discusses how to disassemble factory assemblies, according to Kaboos.)
"It's fairly simple" to remove those parts once you figure out how to install them, according to Kaboos.
He said he felt knowing that those three parts were part of an assembly would be helpful to many repairers.
Kaboos said he thought it was interesting to show that the existence of a "small amount of damage" on a frame rail didn't mean a repairer wouldn't have to "go a lot deeper" into the vehicle for a repair.
These steps applied to the four-door Honda Civic generation from its 2016 model year debut to present, according to Kaboos. He said the next-generation 2018 Accord (he didn't specify which variant or variants) is even "a little more intrusive," requiring replacement of the inner rocker all the way to the A-pillar.
"It didn't get better with the '18 Accord," Kaboos said.
The question of whether the Civic would be a total loss was raised during the presentation. We'll leave it up to you estimators and blueprinters to work out the math based on the repair procedures and your own shop and state conditions and see if there's any merit to that concern. But for context, a 2019 Honda Civic EX sedan has an MSRP of $23,400 (delivery bumps it up to $24,295). A 2016 Civic EX sedan — the oldest Kaboos mentioned — has a typical dealer listing price of $17,807 ($18,207 certified pre-owned), according to Kelly Blue Book.
The next Guild 21 call is scheduled for Nov. 8 at 2 p.m.
More information:
Veri
Images:
Soft zones on the 2016 Honda Civic can be seen in this Honda slide from the 2016 Great Designs in Steel. (John Huetter/Repairer Driven News)
A cutaway of the 2016 Honda Civic at Great Designs in Steel demonstrates the various steels on the vehicle. (John Huetter/Repairer Driven News)
This Honda slide from the 2016 Great Designs in Steel demonstrates elements of the 2016 Honda Civic. (John Huetter/Repairer Driven News)
Share This: